Surface Pro 3 picks up another firmware update fixing Wi-Fi and 'reliability of the graphics display performance'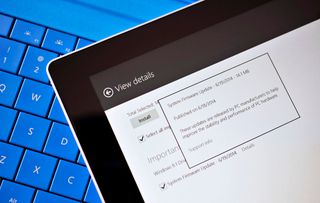 Microsoft is keen on keeping the Surface Pro 3 running in tip-top shape, and that includes rolling our frequent firmware updates to get the hardware to perform at its best.
Starting at 1 PM ET today, Surface Pro 3 users can now grab the October 28 System Firmware Update, the second for this month. The changelog is detailed and significant, addressing many aspects of performance including the graphics, Wi-Fi, and even Windows 10.
October 28 release
The following updates will be listed as "System Firmware Update – 10/28/2014" when you view your update history.
Surface Pro UEFI update (v3.11.250.0) enhances the system stability, increases the reliability of the graphics display performance, and adds a status bar to the experience when applying future System Firmware Updates.
Surface Pro Embedded Controller Firmware update (v38.7.50.0) increases the reliability of sleep state transitions with a Surface Pro 3 Docking Station connected.
Surface Integration update (v2.0.1168.0) addresses setting the Hibernate value in Windows 10.
Intel(R) 8 Series PCI Express Root Port #3 - 9C14 update (v2.0.1151.0) addresses cases when the Wi-Fi adapter is not available upon resuming the system from sleep.
Wireless Network Controller and Bluetooth driver update (v15.68.3059.117) improves Wi-Fi throughput, especially after rebooting with Bluetooth devices that are paired, enhances power consumption situations and addresses instances of system instability.
The update appears to address the longstanding bug where the Surface resumes from standby but is unable to restart the Wi-Fi adapter. The Wi-Fi performance on the Surface Pro 3 has had a buggy ride, but due to the complexity Wi-Fi these days, such problems are, unfortunately, common across devices. Microsoft though has been aggressive in trying to tackle the bugs and hopefully this one takes care of it. (For what it is worth, we have not had any issues in months with ours)
The rest of the updates seem self-explanatory, including the much needed 'status bar' for future firmware updates, as opposed to a static screen you will have when applying this update. The Windows 10 fix for hibernate is also a nice nod to early adopters who are giving the Technical Preview a first ride on their Surface.
To grab the update, just head into Settings on your Surface, and then to Change PC Settings and head to Update and Recover to force a check for the new firmware. Microsoft mentions, however that not everyone will get the update right away due to a staged rollout (ours luckily did have an update waiting). The update should not take longer than 10-15 minutes, depending on hardware configuration.
Source: Microsoft (opens in new tab)
Windows Central Newsletter
Get the best of Windows Central in your inbox, every day!
Daniel Rubino is the Editor-in-chief of Windows Central, head reviewer, podcast co-host, and analyst. He has been covering Microsoft since 2007 when this site was called WMExperts (and later Windows Phone Central). His interests include Windows, laptops, next-gen computing, and for some reason, watches. Before all this tech stuff, he worked on a Ph.D. in linguistics, watched people sleep (for medical purposes!), and ran the projectors at movie theaters because it was fun.
Maybe another 17 or so wifi fixes later, they'll finally fix the problem. I think this is like the 6th time they've fixed the wifi issue lol

In fairness, there have been multiple issues, including throughput, 5GHz connections (common), the resume/adapter issue, etc. Personally, I have not had any problems in months, so it has gotten much better imo.

I still have the resume issue after the update.

I agree that it has got better, but I still see the resuming error. I'll see if this update fixes that too.

Wi-Fi updates have been ongoing since the first Surface tablet, it's a little crazy that we're on the third iteration of the product and Microsoft is still putting out updates for it. I've never had a laptop or ultra book that has required so many Wi-Fi updates.

I really would like something for my SP2. It does run fine, but if I install this important update it messes up my display, then i have to reconfigure and uninstall drivers, which then retriggers windows wanting to reinstall the same important update. Anyway, I wouldn't trade this thing for anything other than a SP3 :)

Hopefully this is help. My wifi got worse after the last wifi "fix".

Please fix WiFi problem for windows phone 8.1 update 1 my phone's battery drain out very fast when my WiFi turned on.

Make sure data connection in 2g not in 3g.. In fact keeping your phone network in2g improves battery.

Normally i am using 2G but On 2G or 3G battery life is ok, but when i turn on my wifi the battery starts draining even if i am not using my phone. When i turned off WiFi my phone's battery stops draining.

thats ought to happen live tiles are running behind

I would like them to fix the scaling problem when connecting to an external monitor. Since you can't scale each display, the image on the external monitor gets too big, or on the surface pro 3 too small.

Microsoft has had 3 Surface Pro iterations with the same Marvell adapter and all have had WiFi problems. Maybe when they get to SP10 they'll get a clue....

When they release their next Surface they need to use exactly the same Wi-Fi chipset so all the issues are already fixed...

I love that MS is doing such a great job perfecting their top of the line product!!!! Can't wait to get one but still milking my SP for all it's worth.

Another one bites the dust. Just as slow as before. I get a whopping 2mbps download speed from my SP3 i7, while every other device in my home can hit 56mbps.

I had similiar issues until i did a "refresh". I have not had any wifi issues since then.

If only all the other Windows 8.1 tablets got their WiFi fixed, too. It's still bad on the Asus T100

Dual frequency SSID's locking to 2.4ghz and transfers capped at 72 megabit fixed at last?

Meanwhile, my SP2 still crashes every 5th wakeup from standby.

Anybody else have problems getting the SP3 to turn on after a firmware update?

Strange, mine isn't finding the update.

Read the part about it rolling out at the end.

I haven't had any problems since the previous update but I am curious what kind of graphics performance updates we will see. Anyone have any benchmarks?

Man I hope this REALLY fixes the WiFi - Bluetooth issue!

Hopefully this allows me to use Wi-Fi in windows 10

I am waiting for the Performance restoration update for the Samsung 840 evo in my sp3.

Check for updates -> A firmware update is available... -> Install and Restart (click) -> Not needed: 1 update Huh? SP3 i7/512

I'm having the same issue with the 11/18 firmware update. Did you ever get it to apply? If so, what was the magic incantation? Thanks!

All I see is a windows defender udpate.

Has anyone "upgraded" to Surface Pro 3 from a surface Pro 2 using the Microsoft store warranty? I was told when I bought the Sp2 that Microsoft understood that people were just dropping their SP1s to upgrade and therefore would accept working Surface Pro 2s for Surface Pro 3s but that it would use up one of the insurance claims.

No update yet for me. Still waiting.

I fixed my wi-fi not connecting after resuming from sleep by installing Windows 10. It's amazing just how liberating it is to not have to reset my wireless adapter 50 times a day. Considering I never had the issue at all until they "fixed" the wi-fi in the previous firmware update, I'm terrified to see how my wi-fi will work after my Surface installs this new update.

Really wish it had an Ethernet port ​

Just buy a USB3 to Ethernet adapter. You can get them for < $20 on Amazon. USB3 has plenty of bandwidth to support a Gb ethernet connection.

I'm not seeing the update. Do Windows 10 preview users get this update? Thanks in advanced.

Thinking maybe no because I still don't see it. We should be the first ones getting it, with so many people complaining about not even being to use Wi-Fi. Windows 8.1 users are experiencing issues but can eventually connect, there are a large number of W10 users (I checked when I submited to MS feedback, over 100 users ahd already reported the issue) that cannot connecto Wi-Fi at all. As important a need this is, I'm using this as my gague as to how responsive they are to their new feedback system.

Yeah it's looking like it's either going to take more time (we're not the first wave) or Win10 isn't in. hmm time will tell.

Wow!!! No more WiFi issues for me when coming back from standby mode.

Can anyone verify this shwos up in w10 tech preview?

I have never had a problem with my surface pro 2 wifi....

Don't forget there is a lot of power packed into a small package... Some things are bound to be problematic....