Surface Pro 7: Everything you need to know
At Microsoft's big 2019 Surface event, the company unveiled the Surface Pro 7, complete with some tasty spec bumps.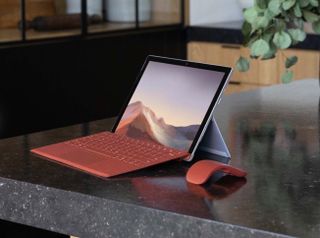 (Image credit: Windows Central)
The Surface Pro 7 is the latest in Microsoft's category-defining line of 2-in-1 PCs, and while its reveal was overshadowed by the Surface Duo, Neo, and Pro X, the Surface Pro 7 remains a formidable option for many.
The Surface Pro 7 doesn't reinvent the wheel, but it does have a few nifty new features and subtle tweaks that elevate the overall package. If you're considering picking one up, here's everything you need to know.
Surface Pro 7 What's new?
When it comes to specs, the most noteworthy changes are the inclusion of 10th Gen Intel chips and, finally, USB-C. While it isn't full Thunderbolt (no external GPUs yet), you'll still get a ton of bandwidth for external devices, with similar data-throughput to the Surface Connect port itself.
The RAM has also been bumped up to DDR4. Microsoft says that the Pro 7 is up to 40 per cent faster than the previous Surface, with double the graphics processing power owing to Iris Plus. We won't know what that looks like in real terms until we go hands-on with our review unit in the near future, but it should be pretty impressive.
Speaking of the Surface Connect port, the new Pro 7 also sports Microsoft's fast-charging solution, which Redmond is calling Surface Connect+. This will allow the Pro 7 to go from 0 to 80 per cent battery in around an hour. Microsoft says the battery lasts around 10.5 hours, although real usage tends to fall short of manufacturer-listed durations. We'll have more information on that in the full review.
Finally, the displays have been updated to be more power efficient, while also being brighter. The Pro 7 also has dual far-field studio microphones, which should make it better at taking Cortana voice commands from across the room.
Surface Pro 7 Specs
The full specs list looks very familiar on the face of it, with Microsoft largely sticking to a persistent formula for the Pro 7.
Swipe to scroll horizontally
Category
Surface Pro 7
Operating System
Windows 10 Home
Display
12.3 inch Pixelsense, 3:2 aspect ratio, 2736x1824 (267 PPI)
Processor
10th Gen Intel Core i3-1005G1
10th Gen Intel Core i5-1035G4
10th Gen Intel Core i7-1065G7
Memory
4GB LPDDR4x
8GB LPDDR4x
16GB LPDDR4x
Storage
128GB SSD
256GB SSD
512GB SSD
1TB SSD
Rear Camera
8MP autofocus (1080p)
Front Camera
5MP (1080p)
Security
Windows Hello face authentication camera
Connectivity
Bluetooth 5.0
Wi-Fi 6
Ports
1x USB-C
1x USB-A
1x microSDXC
1x Surface Connect+
Surface Keyboard connector
3.5mm headphone jack
Battery
Up to 10.5 hours
Weight
From 1.7 lbs (770g)
Colors
Platinum
Black
Surface Pro 7 Release date and preorders
The Surface Pro 7 is available to preorder right now, and will begin shipping for an October 22, 2019 general release date.
Surface Pro 7 Which should you buy?
Microsoft's Surface Pro 7 devices start at a fairly modest $759, running all the way up to a beefy $2,299 owing to its i7 processor, 16GB RAM, and 1TB SSD. The $749 model will make for a solid productivity device for Office and light entertainment, maybe even some low-end gaming. As you progress higher, you could probably play some well-optimized contemporary games like Fortnite, World of Warcraft, and Overwatch, while performing more intense tasks such as Adobe Premier video editing.
All models come in Platinum, but as of writing, only three come in black.
Swipe to scroll horizontally
Color
CPU
RAM
Storage
Price
Platinum
10th Gen Intel Core i3-1005G1
4GB
128GB
$749.00

(opens in new tab)

Platinum
10th Gen Intel Core i5-1035G4
8GB
128GB
$899.00

(opens in new tab)

Platinum
Black
10th Gen Intel Core i5-1035G4
8GB
256GB
$1,199.00

(opens in new tab)

Platinum
10th Gen Intel Core i5-1035G4
16GB
256GB
$1,399.00

(opens in new tab)

Platinum
Black
10th Gen Intel Core i7-1065G7
16GB
256GB
$1,499.00

(opens in new tab)

Platinum
Black
10th Gen Intel Core i7-1065G7
16GB
512GB
$1,899.00

(opens in new tab)

Platinum
10th Gen Intel Core i7-1065G7
16GB
1TB
$2,299.00

(opens in new tab)
Powerful 2-in-1
(opens in new tab)
10th gen Intel cores, USB-C, familiar design

The Surface Pro 7 doesn't reinvent the wheel, but takes a notable spec bump with 10th gen Intel chips and USB-C to boot.
Jez Corden is the Managing Editor for Windows Central, focusing primarily on all things Xbox and gaming. Jez is known for breaking exclusive news and analysis as relates to the Microsoft ecosystem while being powered by caffeine. Follow on Twitter @JezCorden and listen to his Xbox Two podcast, all about, you guessed it, Xbox!
A few questions I haven't been able to find answers for. 1) Can the USB-C port do fast charging? 2) Is there a new Surface Dock in the works? 3) Would the Surface Pro X be able to run Mixed Reality?

1. It looks like it. Someone on the Surface subreddit hooked up a charger with the same power output as the Microsoft one and it charged at the same rate through USB-C.
2. MS hasn't announced anything and there aren't any rumors. Given the inclusion of the dock connector with the SP7, I doubt it.
3. It has the power to (MS says about the same amount of power as an i5 SP6) but the programming won't be there. Programs have to be made for ARM Windows or be 32-bit x86 programs. 64-bit x86 programs can't run and the loss of performance when running 32-bit x86 programs hasn't been measured.

I still think I'm going to get the SP7. I played with the SPX over the weekend and it's really nice. I like the increase in screen size and the addition of LTE but the lack of 64-bit x86 still bothers me (I like to play casual games through Steam), I don't like not having a microSD card reader built-in either. I paid $35 for a 400GB card, that will be just fine for media storage freeing up the built-in storage for programs. It's easier to just pop that in than it is to carry an external drive. I really like the design of the SPX better but those two shortcomings, especially about program compatibility, have me steering towards the SP7.

I think a lot of reviewers get a little jaded. Sure it could have slimmer bezels. Microsoft never re-invents the wheel. I am sure next year or the year after the Surface Pro will get slimmer bezels. Without the 13" slim bezels I don't think too many people would buy the Pro X and Microsoft wants to sell those. That being said I think the Surface Pro 7 is a worthy upgrade for a few reasons. The ice lake chip is a significant upgrade and with it comes faster ram which I haven't heard too many comment on. Not only is it ddr4 but it is faster than 2400 or 2666 spec ddr4 ram. The cpu is about 40% faster they say which probably equates to 20-30% in real life usage. The battery life is a little worse but considering the ram it makes sense. Also the speakers are 1.6 watts which is nice as well. I am very interested in getting the i7 model with 16gb ram and 256 gb ssd. Seeems like the best performance and value. Overall I am pretty excited by the new Surface Pro. Microsoft has the best 2 in one out right now. No bloatware and excellent build quality are also a plus. I really don't see the appeal of the pro x. The lte is nice but I can use my phone as a hotspot any time I want so that is a non issue. The arm cpu still can't compete overall with intel. Other than the screen I don't see anything compelling personally. I know there is a market and for some it will be great.

We waited. We got USB C. Curious to know if it is possible to double fast charge by using the surface connector and usb c simultaneously to charge(?). What is the charging speed of usb c? Four things I think Microsoft could have done to update the surface pro (oh, so much potential for this device!!! I love it!): 1. bigger battery
2. add gps
3. update the rear camera to 12 mpix
4. Ad two extra, enduser programmable, buttons to the Surface Pen. Improvements to Windows 10 for Surface Pro: 1. fix tablet mode (support autorotate of two snapped apps between portrait and landscape in tablet mode, add support feature to able to snap app both vertically or horizontally in portrait and/or landscape mode, add a time and date stamp to the action center (much like in windows 8 action center), support pinning all file types as live tiles to start, more live tile design options (now only 1x1, 2x2, 4x4, 2x4 sizes supported, would like to see 4x2, 1x2, 4x2, 1x4, 4x8, 8x4 and 8x8 tiles), be able to control individual live tile transparency, color and background relative to the live tiles (like windows phone)) and a few more)
2. fix language bugs for the onscreen virtual keyboard. With multiple keyboard languages the keyboard at times spontaneously changes to another keyboard language without user input.
3. fix prediction algorithm for swipe keyboard and wordflow. Recognition is still poor. Many wordt still rank 4th or lower in the top display of the keyboard, despite regular normal use. I haven't seen good prediction on windows since the windows phone 8 days, that swipe keyboard was very good. Fixes for apps:
-Be able to designate a template page to the Surface Pen button. Right now I can only designate a default blank page, not a personalized customized page. Fun ideas for accessories:
-bring back the powercover, but then 2.0, with built in bluetooth, for those moments the keyboard needs to be used disconnected from the keyboard connector. Awesome combo! -a mophie juicepack case for Surface pro, for connection and more batterylife...and protection. The device has 3 potential connectors for extra powerdelivery.
Windows Central Newsletter
Thank you for signing up to Windows Central. You will receive a verification email shortly.
There was a problem. Please refresh the page and try again.