You might see a Surface Pro 3 when you check into a Mandarin Oriental Hotel room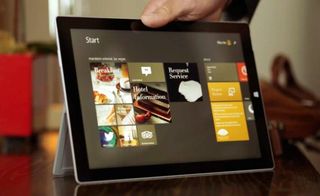 Microsoft has announced it will collaborate with Mandarin Oriental Hotel Group (mandarinoriental.com) to provide guests with a new premium digital experience. There's an initial target installation of 1,000 tablets, including the Surface Pro 3, in four of their award-winning properties in London, Washington D.C., Las Vegas and Tokyo. The Windows 8.1 tablets feature a custom start screen and five apps that allow guests to quickly and easily request hotel services, such as in-room dining, concierge and housekeeping requests.
Mandarin Oriental wants hotel information and guest services more easily accessible to its digitally savvy guests. These services are normally accessed via the television, telephone or guest directory.
Offering an even further customized experience, Mandarin Oriental guests may log into the Surface Pro tablets using their own Microsoft Account to access personal email and files on OneDrive, as well as use their favorite apps associated with their Microsoft Account profile. Upon checkout, the device is automatically wiped clean of personal guest data and restored to the hotel's customized homepage design.
Early feedback from Mandarin Oriental guests has been extremely positive, and the Group will continue to tailor the solution as they extend the deployment to more of their markets.
Would you want to see a Surface Pro 3 upon entering a hotel room? Let us know in the comments! Also, if you haven't seen it yet, make sure to check out our full Surface Pro 3 review.
via Surface Blog
Get the Windows Central Newsletter
All the latest news, reviews, and guides for Windows and Xbox diehards.
Now that is one premium experience for any hotel guest

Replace all hotels with surfaces and Lumia tablets against those ipads

SP3 over Lumia 2520 any day.

Replace all hotels, that doesn't sound good :P

Better that than replacing them with iPads! lol

@Aashish13.... I couldn't agree more. I was depressed having to use the iPads provided by Secrets Silversands resort in Cancun. The Surface Pro 3 is certainly a breath of fresh air.

I might expect to see an iPad in a two star hotel, but a Surface Pro 3 in a five star hotel.

But is there a way to track a stolen SP3 natively? I haven't found it if there is.

I don't believe so, but there are many mobile device management options which will do it very well.

Not interested in 3rd party solutions though. After the fits they caused on my SP1, keeping this one clean.

You gave the hotel all the data they need to report the theft... you don't want to stole it.


Very fancy, very fancy indeed!

People can't be trusted not to nick the towels, for crying out loud!

I think they'd very quickly notice a missing $800+ tablet...

Lol! Even soap and shampoo. That's true. But I think it's a great idea to introduce the Surface. Anyway it will be auto charge to the guest's credit card if it goes missing. But I don't mind Haha! Posted via Windows Phone Central App

That was MY concern too! Lol =P

You can be sure the Surface would be accounted for by the time you check out. They also would have your credit card info on file and would bill you for it if you stole it.

This is smart if handled well. The more exposure the Surface products get in the world will only help to instill brand recognition.

Just as long they don't kill the brand and replace it with Microsoft Lumia, that should be reserved for RT tablets and Phones.

I agree. I like Surface having it's own distinction.

Wow! Now that's real class. Posted via Windows Phone Central App

Keep it up Microsoft!!! Hoepfully this will catch on with other hotel chains.

I get 50% discount with them, excelent!

This sounds like a neat idea.

I had a Surface Pro 3 and took it back before the 14 days return time from Microsoft Retail Store were up. It was so buggy with the touch screen not being responsive in desktop mode. or super slow WiFi connection and data transfer that it just wasn't worth the money. I have a Surface Pro 2 and when I brought back the SP3 the Miscrosoft store offered to exchange the device as they thought the issue may have been device related. That may have been true, but other than a bettter looking display I saw nothing in the SP3 that my SP2 cannot do. In other words, the SP3 doesn't really do that much more than my SP2 to justify spening that money again, less than a year after getting a SP2.

Are you saying SP2 is faster than SP3 in transferring data? I am not sure why people don't understand that desktop side doesn't provide any particular handlers to handle touch. The desktop side is built for mouse clicks and stylus. Why didn't you read before purchasing what changes to expect from SP2 and SP3? -Better battery with instant wake (within 4 hours of no activity). -better pen-nice notes talking experience. -Pen which opens the onenote -bigger and crispper screen etc.etc. -What were you expecting to see in sp3? Again another thing you didn't mention which particular SP3 model did you pick? How different is the configuration from your SP2. Your very brief review is lame and doesn't help anyone here. If you already have SP2 why you even bother with SP3 when you don't need any of the things which are new to SP3. For me SP2 is still like a tablet (a little heavier one- not really the right size to replace my laptop) but SP3 is something I can use it as a laptop and obviously as a tablet.

It was the SP3 128 GB, just like my SP2 128 GB. I don't use a pen nor One Note so what's the use there? I use pen and paper for note taking and a longer battery is useless if I cannot connect. I expect the SP3 to do like the SP2, only better. Open Outlook, Word, Excel spreadhseets, web pages.....all fast and consistently. It did none of these consistently, much less the same as the SP2. Oh and as for touch, I excpect the SP3 to open and close apps from the Start screen, or to drag to multi-task....again it would not do this well on a consistent basis. Ctl-Alt-Delete became my biggest tool so I could get the Task Manager to close an app....from the Start screen.. In closing, thank you for your "lame" response. I did not type a diatribe as this article was more about a hotel and less about the differences between the SP3 and SP2. SP3 is a good device....if you don't have the SP2. If so, it's not worth the money....that was the point you seem to miss. Haters gonna hate....

I have the SP3 and the size, kickstand, and aspect ratio alone were worth the wait for me. The wifi bug occasionally happened but was quickly fixed with the firmware update by MS.

I do miss the kickstand....I really did like that. But a kickstand isn't worth $1300. The f/w update didn't help at all. It would take anywhere from 45 - 60 seconds after turning on the SP3 before I could access anything on WiFi and that was after the update last Tuesday. And then most web pages would freeze up while loading. Yet the SP2 was sitting next to the SP3, using the same WiFi, and would connect instantly upon starting up and would load the same pages (like WP Central) while the SP3 kept trying to load.

Ok, I know where to get a SP3 for free now. /S

Speaking of sp3 anyone see under the dome last night?

Never seen it. How is that show? I've been seeing windows devices in a few shows.

Surely when I check in to a room I'd be doing it at the desk.

I stayed at the Mandarin Oriental in Tokyo once. It was probably the nicest hotel I've evern stayed in. Surfae Pro 3 would fit in nicely there. They should pre-load it with Xbox games too.

Very nice but do they need to use a Surface Pro 3? If guests are only going to be using the start screen apps they may as well just use a Surface 2.

True but Microsoft wants people to test what's current. They are hoping to get customers out of this. People want to buy what's new. I have a surface 2, but I still like some features in the pro 3. The pen feature especially.

I see one every day in my hand, not to be an asshole.

Time to live in this hotel.

I'm intrigued by this idea. Anxious to see how guests react.

Oh great, all I need is more distractions when meeting with the mistress over the lunch break.. :P

Just put a security tag or chip inside the tablet. If said device leaves the hotel room an alarm goes off. This strategy has worked well at a local library. Since its implementation tablet theft has dropped to nearly zero.

Cool idea for strictly hotel services usage, but I would not be surfing the web with the thing. I would not trust any hotel, or any entity to "wipe clean" my browsing history after use.

This is awesome thinking and great marketing. A person that uses a different device could get a hands on experience. Newcomers could play before they buy if they are in the market for a tablet.
If Microsoft thought about stuff like this years ago, windows phone and surface might be ahead.