Surface Pro Pride Type Cover now available for preorder
Microsoft is preparing to celebrate Pride month with a new Type Cover and skins.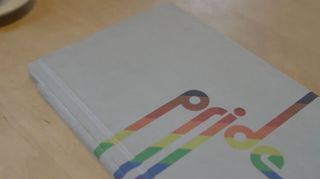 What you need to know
June is LGBTQ+ Pride month, and Microsoft is celebrating with new skins and a special Surface Pro

(opens in new tab)

Type Cover and skins.
Microsoft hasn't officially announced the ne Type Cover and skins, but a leaked video dives a bit into their design process.
The Surface Pro Pride Type Cover is now up for preorder

(opens in new tab)

for $160.
Updated May 31, 2019: The Pride Type Cover is now up for preorder (opens in new tab) for $160. Microsoft also has a listing up for the Pride skin (opens in new tab), but it's currently listed as out of stock. The original story follows.
LGBTQ Pride month begins in June, and Microsoft is preparing some new Surface accessories to celebrate. In a promotional video posted by prominent Microsoft leaker WalkingCat on Twitter, Microsoft shows off a special Pride Type Cover and skins for the Surface Pro (opens in new tab) that, presumably, will go up for sale next month.
In the video, Ralf Groene, head of Microsoft's device design, goes into the design process behind the skins and Microsoft's Pride campaign. You can check it out below:
June was chosen as Pride month to pay homage of the Stonewall riots, one of the most important events in the struggle for LGBTQ rights in American history. The Stonewall riots took place in June of 1969, so this year marks the fiftieth anniversary of the event.
We expect Microsoft will debut the new Type Cover and skins once Pride month kicks off in a couple of days.
Convertible power
(opens in new tab)
Surface Pro 6 is Microsoft's flagship convertible, and it's more powerful than ever. Starting at $800, there are a wide variety of configurations available for this on-the-go hybrid.
Our favorite Surface accessories from Microsoft
Every one of these valuable Surface accessories is Windows Central Approved and guaranteed to please.
Surface Precision Mouse (opens in new tab) ($77 at Amazon)
The Surface Precision Mouse is not only one of favorite Surface accessories, it's one of our favorite mice for any PC. It's packed with valuable features and customizable buttons. Its scrolling and tracking are seamless and spot-on. And it's rechargeable so you never have to buy new batteries for it.
Surface Pen (opens in new tab) (From $72 at Amazon)
Every Surface owner needs this Pen. Period. It supports 4,096 levels of pressure sensitivity, tilt support for shading density, and enjoys supremely low latency. When paired with a Surface PC, the potential is endless. And it comes in a bunch of cool colors.
Surface Dock (opens in new tab) ($136 at Amazon)
With two Mini DisplayPorts, four USB-A 3.0 ports, an Ethernet port, and a 3.5mm audio jack, this dock gives you the ports you need to stay connected to all your favorite devices. Plus, it easily turns your Surface into a desktop power hub. We highly recommend it.
Windows Central Newsletter
Get the best of Windows Central in your inbox, every day!
Dan Thorp-Lancaster is the former Editor-in-Chief of Windows Central. He began working with Windows Central, Android Central, and iMore as a news writer in 2014 and is obsessed with tech of all sorts. You can follow Dan on Twitter @DthorpL and Instagram @heyitsdtl.
Amazing! I need one of those in my life.

I'm all for equal rights, and I have friends of all preference...
What I will never understand is someone saying "I'm proud I'm straight"... Who cares about who you fu*k? Lol. I guess enough people care for some people to have to say they are proud of their preference, and that's just stupid. Get a life, world, get over yourself, and stop oppressing people with your BS.

LGBTQ people spent generations being shamed for their nature. Gay pride is an explicit statement that they have nothing to be ashamed of and is why the term has been adopted.

You don't have to explain this to me.. My comment is about the fact that they shouldn't have to explain themselves, and the fact that they do feel like they have to is ridiculous. It means that we still have a long way to go towards stopping people's ignorance.

Fair enough, I thought you were being critical. You are right, a world where nobody has to feel less for simply being would be great, but we are a long way from that world.

They aren't explaining themselves. They are (passive aggressively) claiming to be victims. It is what Americans and Europeans seem to be "in" to these days. Ironically, many victims (of whatever stripe) actually enjoy special attention and supports ALONG with enjoying a rather trendy lifestyle! There is nothing noble or "brave" about such victim claims or "pride". It is merely fashion. Now, wanna see what it is like to be a victim TODAY? Try walking through NY or LA with a MAGA hat!!! THAT is brave.....open and widely**encouraged** harassment and violence will be highly likely. Remember, that is TODAY....not the 1950's.

Holy irony. It's sad that Trump people think they're the actual victims today, not historically persecuted minorities. Your perceived victimhood is pathetic.

"feel less for simply being" How Orwellian.

Well, just as the silly accusation of "racism, racism! Everywhere!"......the victim status pride of this group is also disingenuous. Those days are long past. N. American and European nations are practically OBSESSED with supporting these supposed "victims". Even in the deep south, it is totally common to see mixed couples and genders and identities everywhere. At this point, it appears to be a matter of being an "identity" (as long as it isn't a boring old straight, white person.... yuck!). Enjoy your freedom, cover your cars and devices in (fill in the blank) "pride" as much as you like. But at this point, it is merely trendy. Nothing more. It goes against my personal grain.....and, for myself, I would feel downright silly putting any "pride" advertisement on my stuff on any aspect of my own life. People WANT to be victims....they practically compete to have the next, coolest victim status....it has become our national past time. The other trendy thing is to be "offended" (a highly related issue)

You're the one who seems to be offended by this.

"Gay pride is an explicit statement that they have nothing to be ashamed of" And that's why it's wrong. Insert any other paraphilia into your formulation and decide if it holds up. Necrophilic, Incestuous, Zoophilic, Pedophilic, Polygynous, Polyandrous, Adulterous "Pride"? If you don't defend them all, then why prefer some over others? Isn't "love" love?

Hi all, sorry this one got fielded I'll pick it up.
It is totally different because homosexuality doesn't hurt anyone. It may offend certain sensibilities but, well tough.

It's never been illegal to be straight. Not many straight people have been killed just for being straight. Think beyond your little world and get over YOURself.

I was telling people who oppress others to get over themselves. Did you even read my comment? It was about how ignorant people are, and how gay people shouldn't feel like they need to do anything different than anyone else. Now, Mr overly defensive pants. You can say you're sorry now. I'm waiting. Lol

Your statement as written was a bit ambiguous, which is also why I replied. Your intent has been clarified, but it's fair to react strongly to the initial comment.

Texans.. We can't get a point through without major sarcasm.

Hah! Having a sister in Texas, that statement checks out as accurate.

My ancestors were both slaves (most people can claim this) and, more recently, indentured servants. A real horror show. For them, merely being a closet gay would have been a massive upgrade. However, it has nothing to do with me today. Heck, it had nothing to do with me 50 years ago. It is long passed. I have no right to claim it as my identity or some sort of personal pride in my "victimhood".
Further, I have no right to blame anyone for long passed behavior. Slavery and indentured servitude were widely accepted in every nation. It was the way of the world.

There are many people prejudice against LGBTQ people to this day. Society has made a lot of progress, but there's still a lot to do. Gay people can be fired for simply being gay in many (Republican controlled) states. Maybe one day pride won't be needed, but we're still a long way off from that.

Sin is sin. It shouldn't be celebrated.

MS has been teaming up with some great designers for these limited edition Surface accessories. I still like my burgundy keyboard but I am also liking all these other designs.

The best part of this comments section is that everyone was pretty respectful and polite even when an unclear post briefly caused a minor curfuffle. @hope

Rather than celebrate sin/depravity/mental illness, help those struggling with it.