Surface Pro X with Microsoft SQ2 chip and Platinum color option is on the way
A refresh for the Surface Pro X is around the corner.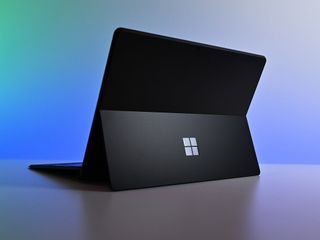 (Image credit: Daniel Rubino/Windows Central)
Microsoft's ARM-powered Surface Pro X is getting a refresh this fall with an updated Microsoft SQ2 processor, the introduction of a "platinum" color option, and new Type Cover colors that bring it in line with the standard Surface Pro color offerings already on the market. According to my sources, the new Surface Pro X won't feature any significant design changes, with contacts describing the refresh as a relatively minor one.
The most significant change aesthetically will be with the introduction of the platinum color choice on Surface Pro X. Platinum has been available on the standard Surface Pro since the Surface Pro 3, so its omission with last year's Surface Pro X was unique and unfortunate for anyone who prefers it over black.
Surface Pro X's Type Covers are also being updated with similar colors already available with the standard Surface Pro. The Type Covers between Surface Pro and Surface Pro X are still different; however, as the devices themselves feature different designs. Perhaps Microsoft is trying to give off the impression that Surface Pro X is "ready for mainstream" with the introduction of new colors and accessories.
Part of the reason why this may be happening is that Microsoft is more confident in the new Surface Pro X's performance. I'm told it will be shipping with the Microsoft SQ2 processor, which is likely based on the Qualcomm Snapdragon 8cx Gen2 with improved performance over last year's Microsoft SQ1 chip.
App emulation improvements?
I don't know what exactly Microsoft is going to change with the SQ2 over Qualcomm's stock offering with the 8cx Gen2, but it will likely follow a similar trend to last year's chip. Interestingly, I'm also hearing whispers that Microsoft is gearing up to announce x86 64-bit app-emulation, which might enter preview later this year.
If true, the introduction of 64-bit app-emulation will solve the "app problem" that Windows 10 on ARM still has. Some applications are 64-bit only, and right now, Windows 10 on ARM can only emulate 32-bit apps. If Microsoft is ready to preview 64-bit app-emulation, the new Surface Pro X becomes a much more attractive sell, especially if the SQ2 chip is tuned for improved performance when emulating those apps.
Regarding 5G support, I've not heard anything concrete yet. If it does, the new Surface Pro X would be Microsoft's first 5G Surface.
I'm told that the new Surface Pro X will arrive in the October timeframe alongside a new sub-$600 12.5-inch Surface Laptop codenamed Sparti, designed for students in the education market. In the meantime, what are your thoughts on Microsoft's upcoming Surface Pro X refresh? Let us know in the comments.
Windows Central Newsletter
Get the best of Windows Central in in your inbox, every day!
Zac Bowden is a Senior Editor at Windows Central. Bringing you exclusive coverage into the world of Windows on PCs, tablets, phones, and more. Also an avid collector of rare Microsoft prototype devices! Keep in touch on Twitter: @zacbowden.
Neat! I'm still a lover of the black. I think it looks more luxurious. ;) Question... have we heard anything about the performance of the new ARM chip revision? The only other articles I saw just talked about 5g being added, I wondered if they've also mentioned what the performance of the chip is compared to the first version?

I'm happy to hear that Microsoft is still committed to the Surface Pro X and WOA in general. The new chip should help with any future x64 emulation, since that would take more horsepower than emulating 32-bit apps. However, even with x64 emulation, the issue of drivers will still be an Achilles' heel for this device, because Windows drivers written in x64 would need to be recompiled to ARM and can't really be "emulated" (unless Microsoft comes up with some sort of workaround).

I bet in 5 years, most new Windows PCs will be ARM.

It will probably still be a mixture, and I think x86 will still be dominant by far. Looking at the progress Intel is making with the 11th Gen core chips in power consumption, graphics and overall performance, I don't think anymore that ARM is the guaranteed winner with regards to power consumption, instant wake, always on, graphics etc. Intel chips are really catching up in these areas. And of course there's AMD, who knows what they are working on in the mobile segment? When the Surface Pro 8 is released, I think the discussion will change significantly in favour of x86.

What Intel promises and what it delivers are 2 different things, I would wait and see what 11th gen can do, so far Lakefield is extremely disappointing and far below what ARM can do.

No way. Not until Microsoft show some real commitment to it, which I don't think we will in the near future.

That's not the Achilles heel, but one of them. We need decent x86 app emulation in general first and of course more ARM64 apps.

Yes, native apps please. Not emulation.

I need to buy a new surface, do you know when in October usually they release new products?

Usually 4 to 6 weeks from announcement.

Hey Zac, is it possible that the future of Surface and Windows converges? I'm trying to fill the major gap in my heart left by W10M. Is it possible MS will reenter that market with a Windows mobile device with WOA or Windows 10 X with telephony enabled? I'm not keeping my hopes up, just wondering whether you think some kind of scenario like this possible. We now know that the Duo used to run Windows, could this somehow be in the cards still?

That's not happening. Panos even stated that phones will run Android, PCs run Windows. The fact that the Duo runs Android guarantees that Microsoft won't be adding telephony into Windows any time soon, especially with 10X being shifted to take on Chrome books.

Yeah exactly Hanley. People need to move on now from Windows 10 Mobile.

How about a GoX?? 10" Surface ARM!

That's where Microsoft missed the boat. A laptop form factor of X with laptop kind of pricing will make sure it sells low numbers 😐 GoX is the best for ARM and I am sure Microsoft will bring one in future but hope it's not too late.

Given that performance is already an issue on the Pro X, why would a slower Go X be nice to use?

Arm is only an issue while running heavy x86 apps, ARM apps and light x86 apps aren't an issue. The Go is a small and cheap tablet, I'm not expecting people editing photos and videos on it, so for those people an 7c or 8c would be more than enough and the 8c in particular would perform better than even the expensive M3 version.

But here lies the problem with WoA in general. There are no native ARM apps available, and I don't see that changing ever.

Any word if x64 emulation will be backwards compatible to the OG SPX?

I'm not reading that it's excusive to the Pro X Gen 2 but they're running side by side. That's how I'm taking it anyway.

Do you know if there are plans to upgrade Surface Pro as well? Or sometime next Spring/Summer.

I want to know about this too. Are they moving the fanless models to the SPX form factor? That would be cool. In that case, will the models with fans still keep the traditional form factor? 11th gen Intel sounds very promising for Surface Pro. Any digitizer improvements? LTE options?

Remember it's possible the Pro 8 will be thicker than the Pro X as space is a consideration with Intel.

We're hearing next spring, not fall 2020.

This isn't a Pro X 2 remember. It's just a spec refresh as Qualcomm have made faster chips available and Microsoft need to be showing commitment.

I don't understand the purpose of 64bit emulation.. If the app is available only in 64bit, in most cases it means that this is complicated app for high-end CPUs. So.. It won't give you normal speed on ARM anyway. There will be no workable usage.

Bad assumption. There was a simple parenting app that I wanted but I couldn't run on my SPX because it was only x64. I reached out to the dev and they acknowledged the prob but said they had no plans to recompile it. Also many drivers are compiled only for x64 (which I assume can't be emulated). For example, the Konica Milolta drivers, who are big boys in the enterprise copier/printer space, don't have x86 drivers for windows anymore. So no, it's not a good assumption to say only software with high end requirements are locked into x64. Now all that said, this whole topic is way over blown IMO. I think this move is more addresses a PR prob than a functional prob. I rarely encounter issues on my SPX that hold me back and I'm a power user. I'm not a developer or video editor but I am an IT pro who uses my device at least 5+ hrs/day and the lack of x64 support has had a .05% impact on my life. The biggest impact thus far has been that Minecraft completely broke on my SPX on their last update I think cause WoA got tagged as a windows mobile device which MS just depricated. I hope they fix that soon.

@Kros: The development is for 64-bit app support, not 32-bit or 64-bit drivers. That's not happening. It wouldn't make a difference if your Konica had 32-bit drivers. I'd think drivers are built into Windows 10 though?

The assumption that all x64 apps are only written for high performance use-cases in inaccurate. Some developers simply make a choice to not compile in x86. That said, I've literally only had this happen once but it was for a very simple app. Regarding drivers, MS makes a Konica driver but you miss extended functionality like picking paper size/drawer, scanning, etc. Konica made a choice to only compile in x64 leaving WoA devices in the cold, which is prob a miniscule demographic.

Correct. It's only wanted because Adobe Creative Cloud apps are 64-bit only but people shouldn't be expecting nice performance.

I've been a fan of Windows on ARM since the Galaxy Book2. I had to upgrade and got the Surface Pro X and absolutely love it. I'm not a heavy user and ARM based chipset is just the perfect thing for me to use for Windows. Hours on end battery life with LTE service. Thin, fanless, and extremely functional. I love the 1st gen of MS ARM chip and it feels like it's heavy utilized for the Pro X the way they intended for it to be. I won't be buying this because I just bought Pro X, but if MS commits to their chip, I look forward moving forward using Windows on ARM and Surface products.

I'm the same AITT. Aside from a little lag opening Skype and Spotify it's fine for me. I wish Spotify was recompiled but I use my phone or music more anyway. I was using mostly Ede + Office on my Pro 4 and still am on my Pro X so the emulation doesn't really affect me. Agreed. I love the form factor, hours of battery, never overheats (synonymous with Intel/AMD).

Use the browser based Spotify and install as a PWA through edge. The ARM edge browser works perfectly for me as do PWAs

Is the pro X noticably better? I was actually thinking of buying a galaxy book2 because it seemed to offer better battery life and it comes with the keyboard and pen.

I would spend the money on the Surface Pro X. It's better all the way around. I bought the dock for dual screen but was able to use both the Pro X USB-C ports for dual monitors as well. I wasn't expecting that. The book2 uses the first ARM processor geared to Windows. Only has one USB-C dedicated to display. The battery life on the Book2 is phenomenal though. That thing would last days. But all around the Pro X is just going to be better. If budget is your thing, you can find the Book2 for good price. I would actually still be using it had I not cracked the screen.

cool thanks, appreciate your thoughts.

I'm pretty happy with what my Lenovo Miix630 (SD835!) offers, ready to go with a pro X2!

"If true, the introduction of 64-bit app-emulation will solve the "app problem" that Windows 10 on ARM still has." Come on Zac you know this statement is false. The app problem isn't 64-bit, it's software emulation. 64-bit apps if anything will run worse, they use more memory.

It all depends how much better 32-bit app emulation is. If the difference is slight many people will still ignore them. The issue with the Pro X isn't hardware though, so those who own a Pro X aren't going to be missing out o much. Microsoft still need to release Teams and Skype for ARM before anything concrete will change.

This is good, but no changes to ports is a disappointment. Without Thunderbolt on any Surface, you can't use them on 99% of docking stations in use. I wish Microsoft understood the importance of Thunderbolt as a docking standard in pretty much every business out there.

Prior to USB4, Thunderbolt is Intel only so it is not possible on an ARM PC.

Thunderbolt isn't required for docking stations.
Thunderbolt isn't required for external monitors. Thunderbolt *is* required for external GPU, and that represents less than 0.0000000000001 % of users. If dedicated GPU is your thing, then you'll probably want a desktop tower PC, not a portable 2-in-1. No Thunderbolt on any Surface is sensible.

I am glad that Microsoft is not giving up on WOA. Hope the apps catch up. Windows apps are in a dreadful state, generally speaking. Getting a Duo recently, just made me realize that even Android apps are catching up (kinda) to iOS apps. But the stuff on Windows is just way behind unless you are a power user using Visual Studio and so on. Hope Panos heading up Windows will be the shot in the arm (no pun intended) it needs.

Let's hope the battery will be much better. My current SPX is good enough for me, except the battery life. I cannot get whole workday from one single charge in the morning.

That's because lots of stuff is running in emulation, which eats up the battery.

Try to use more PWA's from edge chromium, I heard it helps. Installing browser tracker blocker / adblocker also helps (modern ads can make sites slow/heavy).

The hardware is not the problem. It's the software. Most of the included Windows apps are still x86. Mail, calendar, Weather, Windows Media Player, Groove Music, Notepad, Office, etc. Some background Windows services are also X86. This is unacceptable. I was very excited when I first got my X. 2 months later I sold it on eBay. If Microsoft can't be bothered to recompile their own stuff, no one else will either. Emulation is not a permanent solution. The fact that MS is desperately trying to get X64 emulation working tells me all I need to know. WOA has no point and no future if it is running everything in emulation.

I still do not understand how stuff like the mail and groove music apps are x86 only?, it screams Uwp and Uwp means that if the dev leaves all the 3 compiling checkboxes (x86, 64, arm) checked it works native on all 3 on Windows 10. Are you sure there is nothing wrong with your Windows 10 installation?

Now that dotnet 5 has been completed with lots of arm64 performance improvements, hope they can help arm emulator and native arm apps run smoothly

Oh great...wonderful. Fab news. *stares at first gen pro x he bought brand new less than 3 months ago* :(

But on a price discount right? Considering this is just a simple refresh (it seems) a price discount is better than a slight performance increase imo. ;-)

https://thesurveys.onl/ click this link for customer satisfaction survey guide

I'm waiting on another faster, smoother Surface Pro X device. I would love to see how Windows on a Surface with a higher refresh rate would look like.
Windows Central Newsletter
Thank you for signing up to Windows Central. You will receive a verification email shortly.
There was a problem. Please refresh the page and try again.