Microsoft is building a new midrange Surface clamshell PC with a 12.5-inch display
A smaller, midrange Surface Laptop is on the cards this holiday season.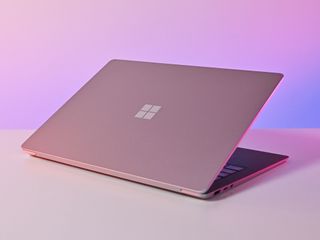 (Image credit: Windows Central)
What you need to know
A new, midrange Surface laptop is in the works.
It features a smaller footprint with a 12.5-inch display.
Pricing will begin between $500 and $600.
Microsoft has seen success with its budget friendly Surface Go tablet thanks to its $399 starting price, and it appears the company is hoping to further capitalize on that success with another price conscious Surface PC, this time in the form of a laptop. Codenamed Sparti, I'm told that Microsoft is working on a lightweight midrange clamshell PC designed with students in mind.
According to my sources, Sparti has a 12.5-inch display with a 10th-generation Intel Core i5 processor, 4GB RAM, and 64GB storage in the entry-level model. It'll ship with Windows 10 in S mode and be priced somewhere between $500 and $600. I'm told that Sparti is being positioned as a more affordable Surface Laptop, similar to how Microsoft positions the Surface Go alongside the Surface Pro today.
Microsoft is essentially bringing a "Surface Laptop Go" to market with Sparti, featuring a slightly smaller footprint and significantly lower starting price compared to the actual Surface Laptop which begins at $999. Sparti will hit the market during a time where people are spending less money as a result of the ongoing pandemic, so a new lower priced midrange Surface device couldn't come at a better time.
If the information I have is correct, Sparti will fill a pricing gap between Surface Go and Surface Pro, which start at $399 and $749 respectively. With Sparti coming in somewhere in the $500 range, Microsoft will have a Surface offering of some kind in all major price brackets. Sparti is going to be Microsoft's answer to the Google Pixelbook Go, which plays nicely into its ongoing Chromebook compete strategy.
Sources who have had eyes on engineering prototypes say Sparti looks and feels like a typical Surface product, meaning Microsoft hasn't compromised on build quality to achieve a lower price. It's also very lightweight, and its smaller display means the overall device size is more compact, making it a great travel laptop.
I hear that Sparti will be announced alongside a handful of other Surface products and accessories, some codenames of which have already leaked, in the October timeframe. For now, what are your thoughts on the idea of a possible "Surface Laptop Go" from Microsoft? Let us know in the comments.
Windows Central Newsletter
Get the best of Windows Central in in your inbox, every day!
Zac Bowden is a Senior Editor at Windows Central. Bringing you exclusive coverage into the world of Windows on PCs, tablets, phones, and more. Also an avid collector of rare Microsoft prototype devices! Keep in touch on Twitter: @zacbowden.
4gb Ram and 64gb of storage is way to low, it should've been 8gb and 128gb And for a mid-range machine AMD would be the ideal choice, a 4th gen Ryzen 3 would be more powerful, cheaper and with a longer battery.
It's weird how MS uses the objectively worse but cheaper 3rd gen Ryzen CPU for their premium laptop but for a mkd-range they use a less powerful, more power hungry and more expensive CPU.

Surface Go has 4GB / 64GB as well. It's the sacrifice you have to make if you want a premium built device for less. As in the case with all Surface PCs, there will be options for higher RAM/Storage for more money.

As I said in my comment, my main problem is the configuration, replacing an i5 for a more powerful, more efficient and cheaper R3 4300U and use that saved money on double the storage and Ram would be much better.

Isn't Surface Go cheaper though?

Yes, but only because it has a smaller display, lower CPU, and no keyboard/trackpad. Sparti has a better CPU, bigger screen, and a keyboard and trackpad included

....but the Surface Go is a Tablet format device and functions; the Sparti is not

Right, but the BOM doesn't care about that. Components cost the same regardless of form factor.

You can get away with 4GB but 64GB isn't enough for Windows + Apps to be operational. My Windows + Storage (not any Media/Personal folders) totals 38GB.

It isn't the sacrifice you have to make. OEMs are choosing this. Why not include an i3 or m3 if they want to reduce costs?

I think this has gotten better with s mode and the new windows delivery options so things come in at a lower overall space consumption.

Luckily, HP, Lenovo, and Dell all have multiple low- to mid-range laptops aimed at schools and those on a budget. Problem solved. Don't' worry about Surface sales.

My problem isn't the price, but the configuration, a Ryzen 3 4300U + 8gb Ram + 128gb of storage would be much better than this for a similar price.

You cannot exactly compare those though. All use much cheaper materials. Point is a laptop has to be useable and Windows with 64GB you'll struggle. This is the sweet spot for ChromeOS not Windows.

The storage possibly does not matter if one is a heavy cloud/onedrive user (which makes considering students get Office pricecuts).

It does. You still need enough for Windows + Apps + Space for updates. 64GB you're stretching it.

Depends on the apps. I do not think a CAD user or such will buy these, it is obviously a more lightweight but zippy device (hence the i5 and ssd instead of emmc). Also consider that some apps are entirely web based.
Whatever the case, you cannot have it all, its always concession at some area (where it is a specific part/feature or price). ps: room for updates is not needed on the ssd if this has a microsd slot (and yes in my experience this works fine and is cheap)

Not only space is the problem. These students will also have bunch of bloated electron apps on top of Edge chromium and Chrome. Teams, Spofity, Discord, VS Code, Skype, Whatsapp, Messenger. Awful unoptimized UWP apps. 4GB isn't enough today.

Why doesn't MS just lower the price of the Surface GO across the range and be done with it?
All this kerfuffle and at the end of the day, it'll still cost $1000 if you want decent performance.

What kerfuffle? If you think Surface Go is too expensive and you can get a better device, go do that. That's how the market works. Microsoft not responding to the market by dropping price should signify that they don't feel the need to do such a thing.

The title reads "cheaper surface laptop" and misread it as "cheaper surface go". This thing will come with a fixed keyboard and therefore removes the kerfuffle. I can confirm never go full retard!

There are oem devices for that.

This is correct. Got this info as well yesterday.
First heard about it as Surface Pro 8 going 12.5" but it was Sparti instead.
My view is 12.7" in Surface Pro 8, but not 100% sure on this one.

Watch, they're going to shock us all with Win 10x.

If the build quality and design is anything close to SL3, I think it will sell very well. Love my SL3 13" i7.

If that is a 64GB SSD, then OK. Still way too small for Windows, but at least it will be fast. If it is ANOTHER friggin eMMC drive, then that is absurd. No one should be using eMMC drives in 2020. There is no reason at all. Seriously. How much are 64GB SSDs in quantity these days? $1? They are $15 new on eBay.

Fantastic news. Thanks for this.

I've owned one eMMC device in my life. It was also the last eMMC device I will ever own. You're absolutely right. The only thing eMMC is good for is tarnishing a brand name.

Agree with the ssd but apparently it also comes with one. 64gb makes is not such a problem for heavy onedrive users.

Surface Laptop Go makes so much sense. They need to keep this consistent across the Surface family

Beyond ridiculous for 2020-2021. 4GB RAM and 64GB should not even be an option for Windows 10. Minimum 8GB with 128GB storage.

For coriosity I checked the price of Ram and Sata SSDs and this is the price I got 4gb DDR4 RAM = 19$ (so low that it's hard to find)
8gb DDR4 RAM = 23$ 64gb SSD = 14$ (no name brand because it's hard to find 64gb SSDs)
120gb SSD = 20$ (Kingston)
240gb SSD = 27$ (Kingston) I can't understand how they didn't started with an i3+8gb RAM+128GB SSD, or better if they started with a R3 4300U for cheaper. Actually looking at the prices I don't know how any device in the 400$+ range doesn't have at least 8gb+256gb, the diference is not even 20$, this just looks like a tactic to say that it starts at lower price for a version that you aren't supposed to buy.

Now you know what Apple customers are going through.

You are missing the materials and components used for the actual device shell. The display, chassis, keyboard/trackpad are all premium quality. You won't find another laptop this premium for less than $600.

And you are missing my 2 main points, 1 is that going from 4gb to 128gb is at most 10$ and 2 is that i5+4+64 is super imbalanced, a i3+8+128 is much more balanced while cheaper. The materials, build quality, screen, camera, etc. have nothing to do with my comment. The reason this stupid configuration exists is because we are not supposed to buy them, it's just there so they can say that it starts at a very cheap price.

Agreed about the 4gb to 128gb, that would have been better I think.
Still i5 has its benefits and speed (to a certain point) is never wasted while too much ram is.

While the i5 is faster than an i3 (it's slower and more power hungry than the cheaper Ryzen 3 4300U), I don't think most people will take advantage of an i5 using only 4gb of RAM and 64gb of storage, that's why I think the base model being an i3+8+128 with an upgraded model that's an i5+8+128 would be much better.

The target group for this could still use Office on it (/enough space), and for eg excel an i5 over i3 is preferable than 8 gb ram over 4gb ram.
I haven't looked at the latest differences but usually the difference between i3 and i5 is quite noticeable (eg double the cores) while the difference between i5 and i7 is usually minor.
The thing with ram (and storage usage also to some extent) is that it really depends on how efficient the apps are you use. In my experience (Spro1 4gb) especially with UWP apps with 4gb you can still multitask a lot of apps. I can imagine PWA apps from Edge Chromium are similar.

Please have optional LTE. I would buy this in a second if it has LTE.

It seems like MS has been moving away from it's intent with the surface brand and it's objective of the convergence of devices. Now there are a plethora of devices, Go's, Pro's, Pro X, Laptops, Books, etc. I guess this is good to showcase what MS can build and they are selling. However, build me a Surface Book with a built-in stand and a keyboard cover as an additional accessory, like the Pro, for when I want to travel light and leave the base keyboard on my desk. This device would be the Pro, Laptop and Book wrapped in a single device. Keep the Go at the lower end at 10", the 13" as the "Book" and the 15" as the Book Pro. It simplifies the product line, similar to Apple, but with a much more diverse product. Just my thoughts anyway!

Makes sense for students that use onedrive or other cloud solutions. I also think this device would be a match in heaven for writers that are often on the go considering that the Laptop also had one the better keyboards and the weight was already quite low (this device should be even lighter). @Zac @Daniel, do you think MS will release a 17 inch Surface too within the coming years?

Having a 12.5" Surface Lap is a nice addition to the product line. While I prefer the Surface Pro/Go form factor there is much to be said for a standard laptop. The base specifications (4GB / 64GB SSD / 10th gen i5) is an interesting choice. I used a Surface Pro 2017 with the M3 CPU, 4GB, 128GB for over a year and I found it entirely adequate for general tasks (Office apps, browser, and media consumption). Going to a Surface Pro 7 (8GB / 256GB/ 10th gen i5) was a huge win, especially the Windows Hello performance. My experience is Windows 10 runs perfectly fine in 4GB. The 64GB SSD for my purposes is too small but if you are a person that can live entirely in a browser with cloud storage (i.e. OneDrive) then local storage becomes a non event. Using a 10th gen i5 is a key specification as it is an excellent everyday use case CPU. That extra performance is what you really notice under the use model noted above. The 12.5 screen yields a box that can fit a glove box or in a bag, that is a win. I have owned a few 13" budget laptops and they were always a disappointment from the perspective of the screen quality and the build quality. This is not a knock on those machines. They hit a specific price point and functionally they worked pretty well, it was all the other aspects that over months came up short. A 12.5" Surface with all that excellent engineering ethos built in would negate those ergonomics disappointments while being reasonably performant. Microsoft's keyboards, trackpads, screen quality, aspect ratio, look and feel aspects - those wear well over months and years. As for the screen size, it is fine especially because of the 3:2 aspect ratio. I have written 10s of 1000s of words using my Surface Pros and never found them to come up short. Short version: Surface PCs are just excellent machines that you come to enjoy using without thinking about them. As someone who values highly portable machines with excellent engineering this new 12.5" laptop is a nice complement to the Surface Go. Double the SSD to 128GB and you have a near perfect go everywhere light duty laptop at an affordable price. With this PC out of the way what I would like to see is a Surface Studio that mortals can afford. Last thought about storage, EMCC since it came up in the comments. I get performance fully and how EMCC has issues. However, if you take a step back and think about what level of read/write performance is needed for the 80% computing use case all the fussing about read/write specs is exaggerated. I use a microSD as my primary data drive (i.e. OneDrive) on my Surface Pros. I term this as slow storage or write once and then read it forever essentially. It works fine and only rarely do I wish it was a full-blown SSD. I am not trying to run a transactional DB with 100s of concurrent users or loading huge AutoCAD files; those have very different needs, using a microSD for those would be just dumb. For me, EMCC, microSD and hard drive performance are generally equal. Given the plunging costs and increasing size of SSD storage, EMMC is a fading technology but for now it allows inexpensive machines to be built while hard drives still can't be beat for capacity. I like zippy fast computers, I really do, but given how much idle time our computers have waiting for us to do something the read/write aspect of storage from the general single user computing perspective is of lessor importance.

Man, you can't write a commentary longer than the actual article.

Finally some thing interesting! Although, I would have loved to see this running Win10X

Great idea. But to get the version worth buying (8GB/128GB) it won't be midrange anymore sadly. With 64GB you'll struggle to install updates even if you store all media in OneDrive. The Surface Go has the same problem. It's really $630, not $400.

This is not entirely true. 64gb is fine for Windows + updates + lightweight apps. Even home Office will fit. It is stretching it but on the other side you get premium body and screen etc for that price. ps: room for updates is not needed on the ssd if this has a microsd slot (and yes in my experience this works fine and is cheap)

Ram and memory is too low for the package. 8 Gb Ram and 128 Gb storage, in my Surface experience should be the norm. Windows is a big chunk of memory, with a few apps, several projects, images documents videos and more space and performance will dimish fast. For this package I think you can not sell over 300 dollars max.
The only way I think this device could be justified for this price and specs is if it supports built in design to replace easily (=high ifixit score) the battery after 2-3 years.

But why an entry version with 8 gb ram for such a small device? Eg if someone buys this for writing (which would make sense with the probably top class keyboard) why would he/she need 8 gb of ram? Does everyone have 40 browser tabs open and use chrome lol? Consider that to much ram is wasted ram since it will never be used, while faster performance is for (ultrabook) laptops always appreciated. Agree about the 128 gb ssd though.

maybe run smoother, RAM is cheap though, so why not ? Everyone would rather go with AMD to save $$ on memory

Agreed about AMD. While ram (+ mobo that supports it) is not as expensive as cpu it is not a cheap component.

It is excellent to see Microsoft getting more price competitive options on the market. I'm assuming the device itself will have the same build quality but just a smaller footprint/display and the lower starting point on storage and memory. With the option to ugprade memory and storage this gives anyone that wants to give Surface a try an option if your workload fits the specs. I still feel like the S Mode deal is nothing more than extra confusion for the average consumer. Especially when they by a Surface device and boot it up only to find they can't install a boatload of their apps and printer drivers. If Microsoft really wants to push a modern Windows that will compete in the ChromeOS arena they need to focus on 10X for this since it is suppose to be the next iteration of Windows 10 shedding it's x86 shackles.

8GB RAM is a must these days...

Depends on the workflow of the user.

He is right...8gb ram is a must...and its not about your workflow...just try an windwos 10 to run on a 4gb ram device..
Surface devices, should run fluid, or at least normal...its a "premium" line

I have a windows tablet with 4 gb ram and it can multitask fine. Obviously you should not open 40 browser tabs while making complex 3d models in Maya or whatever, but this device is clearly not meant for that.

Look at the target market.. Stusents in a school environment where Google docs or office 365 will do the work. This makes perfect sense.

It would kill Surface pro X with this release, Win 10 S maybe better than ARM.

Throw out a touch screen, bring a Microsoft SQ1 and 4-8GB of RAM or a fanless Core M. Do not compromise on build quality.

No, plz no more SQ1 chip....PLEASE NO
Its clear you didnt had surface pro X
Its ridiculous slow and x86 apps outside windows store are not compatible....yea, a windows 10 device that cant run x86 windows apps

It is clear you also never had a ProX, since windows On arm devices can run x86 apps by translation...
Windows Central Newsletter
Thank you for signing up to Windows Central. You will receive a verification email shortly.
There was a problem. Please refresh the page and try again.