Surface Slim Pen available to preorder for $150
Now you can get your hands on Microsoft's redesigned Surface Pen.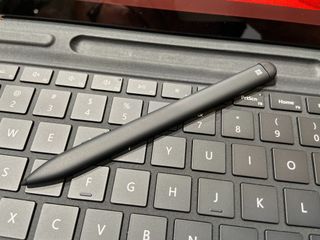 (Image credit: Windows Central)
What you need to know
The Surface Slim Pen is now up for preorder at Microsoft.
The redesigned stylus debuted alongside the Surface Pro X, and it packs wireless charging.
You can preorder the Surface Slim Pen at Microsoft now for $150

(opens in new tab)

ahead of its November 5 release date.
Along with all of the new Surface PCs Microsoft introduced at its October Surface event, the company also debuted a few new accessories. Chief among them is the new Surface Slim Pen, which is now available to preorder (opens in new tab) for $150.
The Surface Slim Pen, much the like the Surface Pro X it appeared with, is a complete redesign of the classic Surface stylus. It now features a flat side to help it fit into a cradle, and it includes wireless charging. When paired with the Surface Pro X, you can slot the pen in a cradle above the keyboard to keep it charging on the go.
Microsoft also says that the Surface Slim Pen is "compatible with a wide variety of Surface devices," though it doesn't provide a comprehensive list. Presumably, you'll be able to use it across all of the newest Surface devices, and likely ones from recent years as well.
The Surface Slim Pen is available to preorder now for $150 and is set to start shipping on November 5.
Slim down
(opens in new tab)
The Surface Slim Pen is totally redesigned, offering a slimmer profile and wireless charging to complement the Surface Pro X and a "wide variety" of other Surface devices.
Dan Thorp-Lancaster is the former Editor-in-Chief of Windows Central. He began working with Windows Central, Android Central, and iMore as a news writer in 2014 and is obsessed with tech of all sorts. You can follow Dan on Twitter @DthorpL and Instagram @heyitsdtl.
Put that on top of the Surface Pro X in any 16 GB Ram config, add the keyboard cover and suddenly the X makes zero sense from a pricing perspective. Bummer. I'll stick with my Envy X2 for now. That was $999 with pen and keyboard cover...

Surface has always run at a premium but $999 + $150 (pen) + $140 KB? So $1300 for an ARM device? Eek! Stick with SP6 or one of the OEM ARM devices like HP Envy X2, Samsung GalaxyBook, or Miix 630. All of them include the KB and Pen for lower than the price of just the SPX itself.

ARM with poor battery life and no audio jack.

As a long time windows tablet and surface pro user, with stylus', I would caution investing in this accessory. The ergonomics don't make sense for a sound use of the adults. Pens and stylus'es have been round for decades for a reason. This design is a gimmick. I've tried thevsnallerbslim stylussescto on earlier generations of the Samsung note and larger DIY carbon Hb slimlike pencils. Not great for actual productive writing on a digital screen. 150 dollars is not cheap. The older Surface stylus works on non wireless charging AAAA batteries. Thus far I haven't had to change them in the last 12 months and battery is still at 75%. This in contrast that this new pen is going to drain off of the Surface main battery. Take into account your Surface battery is going to perform with less capacity within 12 months, performance will be less in time. With daily use of my Surface pro 5 of normal use at work within 6 months all day battery dropped from a comfortabel 9 hours to 6-7 hours. From having to charge once daily at home to 2 times, work and at home.
Food for thought.

You say your current stylus works for over a year and yet you say the new pen is a battery drain. Why do you say that? Sounds to me like you would never know it used your computers battery. It is very expensive pen and will not make since for most people. But they will sell thousands of them, I hope they keep the older version around.

I agree, the use against the whole device's battery is probably negligible. However, the new Pen is also likely carrying a much smaller battery, plus wireless charging isn't the most efficient use of power, so you'll possibly be hitting up the dock more than you might usually do. As he said, that AAAA battery lasts basically as long as the product itself will, for most people. This new one probably doesn't have that luxury, and if the battery goes bad, you're out $150, rather than the $1 or less that swapping a battery on a current Pen costs.

150 dollerydoos! Tell him he's dreaming.

$150 is absolutely absurd. It was absurd when MS upped the Surface Pen from $50 to $100, then threw on the added charge for added tips, as well. Remember, the Surface Pro used to come with the Surface Pen FOR FREE. It also used to have Windows 10 Pro. It also used to cost less. I had tepid interest in this thing, at best, as a novelty to try W10A on a second device. At $150, it can kick rocks. At this point, it's just a principle thing, where it's clear Microsoft is just trying to sell you a brand over actual product advancement. 2019's Surface lineup, as a whole, is boringly incremental, so the ever-rising costs are increasingly difficult to justify or comprehend. This just makes the absence of a Surface Go refresh all the more pronounced.

"2019's Surface lineup, as a whole, is boringly incremental" What exactly did you expect? They can't really do much with the Pro while the Laptop changes are far more significant, but the Pro X is obviously the big change and shows what's possible when you change the architecture. If you want an Intel-based Pro then you're not going to get much better than you already have, other than spec updates. It looks like next year will be exciting but they're still not going to stop making the staples and, once again, they won't change much because there really aren't all that many improvements to be made.

Holy f'n s h I T! The pen went from being included to expensive to the "only the rich need apply"

It sounds like there are no differences from the last pen other than it being slim and can charge wirelessly. if so my wallet is safe.
Windows Central Newsletter
Thank you for signing up to Windows Central. You will receive a verification email shortly.
There was a problem. Please refresh the page and try again.