Surface Duo? What about 'Solo'? This concept shows a single-screen phone from Microsoft
By Sean Endicott published
What would a single-screen Surface look like?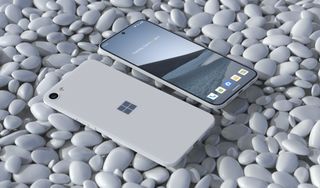 (Image credit: Jonas Daehnert)
What you need to know
A concept of a Surface Solo was recently shared online.
The concept shows off what a single-screen Surface phone could look like.
The concept mixes design cues from other Surface devices and popular smartphones.
Microsoft's Surface Duo launched recently, bringing its unique form factor and two screens to the masses. While the Surface Duo is one of the most anticipated Microsoft devices in years, one artist wondered what a single-screen phone from Microsoft would look like. Jonas Daehnert, also known on Twitter as @PhoneDesigner just shared a concept of a hypothetical device called the Surface Solo.
The Surface Duo can clip one screen around and be used while utilizing a single screen, but its aspect ratio makes it wider than normal "candy bar" phones. Daehnert's design features a more traditional aspect ratio for a single screen and a phone that takes design cues from other Microsoft devices.
The buttons on the side of the concept look similar to those of other Surface devices, and the hypothetical device comes in Surface grey. It has a single camera on the back and a punch-hole camera on the front.
Generally speaking, Microsoft's Surface devices push boundaries, innovate categories, or create a new category of devices. The Surface Pro helped popularize the now ubiquitous 2-in-1 category, the Surface Duo folds two screens around a unique hinge, and the Surface Studio brings a floating display to an all-in-one. That being said, there are some Surface devices that have more traditional factors, such as the Surface Laptop line.
A single-screen Surface phone seems unlikely at this point, but it's fun to think about what one would look like.
Order today
(opens in new tab)
Two screens are better than one

Microsoft delves into the future of foldables with an ambitious dual-screen device, featuring two ultra-thin 5.6-inch AMOLED displays bound by a 360-degree hinge. This pocketable inking-enabled Android smartphone marks the latest in the Surface lineup, geared for mobile productivity.
Main
Sean Endicott is the news writer for Windows Central. If it runs Windows, is made by Microsoft, or has anything to do with either, he's on it. Sean's been with Windows Central since 2017 and is also our resident app expert. If you have a news tip or an app to review, hit him up at sean.endicott@futurenet.com.
Almost fyll Body screen? This is not Microsoft. But if they make this and dont use old stuff in the phone like they did to duo i will get it. ( Leave Google and make windows OS will be a big + )

Seriously? How many Lumia's did you buy? If the answer is more than zero, how did that work out for you? (I have probably a dozen or more in my drawer of abandoned tech, and don't regret any of them). MS has figured out that they need apps to even be competitive and the way to do that is use Android, because Apple doesn't license iOS. MS would be yet another low volume Android OEM. The Duo is different. Nothing else like it. Yes there are foldable phones, but none that support a pen. Yes there are pen enabled phones, but none that have two screens, or fold. None that have applications specifically designed for productivity on two screens. A single screen Android phone from MS, is just another single screen Android phone in a sea of them.

I bought two Lumias and my last one lasted forever because it had a great camera that was still competitive with two generations of phones after that. If MS can create a great piece of hardware then a lot of people would be in the market for it regardless of whether it has two screens or not. You don't always need a "gimmick" to sell phones, just good execution.... Duo is good hardware, but piss poor execution.... MS would have been better off coming up with a Surface Phone 2 years ago with premium specs and then gotten into a foldable phone later on. Instead they spent a huge amount of time and resources doing something "different" using old specs and missing features only to have to spend even MORE time and resources figuring out how to get this "different" thing to work, and then they have to prove to people why they should want this "different" thing. They could have been in the market years ago with a premium Surface phone and wouldn't have to lift a finger to sell it, because that's what people have been begging for.

you haven't used a Duo so you can't say "piss poor execution." I have one in hand and I will never go back to a normal phone.

I can watch the reviews from beta testers and phone reviewers. I will never go back to a phone that doesn't have wireless charging.

Yes. Amen. The Surface Duo is significant because it defines a new paradigm in smartphone/pocket PCs, while another slab phone is just another slab phone. One is cutting edge, the other, no matter how well expressed, is old news.

"MS would be yet another low volume Android OEM." While I fully agree with that, I don't see how this is different. If they don't succeed, that's even worse than low volume Android OEM. If they do Samsung, Huawei and the likes will release dozen of similar phones next year and they will be another low volume Android OEM.

Surface Pro X is fully body.

It looks like an iPhone with a Microsoft logo on the back. There is nothing unique that this render would bring to the table.

It looks like all slab phones with a Microsoft logo. Also, iPhone doesn't have a hole punch screen.

Nah. We don't really need yet another slab phone. It does look nice, though.

I'm sorry isn't this a lumia 950 with android boot?

Speaking of which. I actually got an update on a Windows Phone app today! The Ookla SpeedTest

I would totally buy this. I have absolutely no need for the Duo, and can't justify the price. But this would be right up my alley

What would a "Surface Solo" do differently and/or better than a Samsung Galaxy Note with Microsoft Launcher?.. That's the real question and that's why I'm glad they went a different direction with the Surface Duo

Agree. This concept running win10 and continuum could work. Oh. 950XL. That like the duo was a work in progress. Will the duo too be dropped?

That's what I'm thinking. It looks nice, but the visual distinction of the back would be taken away the minute you put a case on it.

Note if it is polycarbonate. I never had a case on any of my Lumias. Didn't need one.

I agree. However, it would be interesting to see it as a alternative to the Note that uses the Surface pen. I would keep the aspect ratio for the screen I do agree with Dan's mention of the screen size for inking. Throw better specs in it and include the Surface pen, I think it would sale pretty good. It doesn't need to absolutely chase the Note in terms of spec for spec, but it will need to make people feel like they are getting an old device in a newer body. Considering the thickness of the Duo with screens closed, a single screen Surface "Tab" would be about that thick, allowing for a bit more tech to be included. Not to mention, cases could ideally be made to accommodate a pen with magnetic hold. I'm thinking something like an indentation to make a place for the pen, but not look too out of place. It's not a perfect solution, but it would at least feel like you wouldn't necessarily lose the pen sliding the phone in and out of your pocket.

I, too, don't think this is where Microsoft wants to be, a device manufacturer, but: Presumably, no Samsung Apps, or the related Samsung Account. Bixby, although that's largely moot as it can mostly completely shut off. They could take the One+ route and chase building a following with a small footprint on top of Android with rapid version and security updates. It could be a platform to better integrate and iterate the biggest features of the Dúo that's taking a hit: the camera/imaging and NFC. Personally, I would like to have seen Microsoft take a whack at a wearable again to match against the Duo's shortcomings.

Do everybody remember MS has a patent on a magnetic hinge? I could easily see that hinge in order to do something like this. 2 screens when you need to be productive, detach for one screen when out and about! That patent also states that it could be modular.

I recall a patent on a hinge with a LCD screen so there will be a smaller break between two screens

They should have started with this to dip their toes into Android, then released the Duo when it was ready. They are trying to run before they figured out how to even walk.

Yea yea yea. People said much the same thing about the first, even second iteration of the Surface Pro. At some point you have to actually commit and try something, not just talk about it.

They could have had this out a year ago, but I am sure they will work hard on optimizing Android for the Duo. Surprised it wasn't better optimized, thought Microsoft would have that right. I bet it will be a solid device in a few months.

Or maybe they should of completed Windows Andromeda and made a new mobile device.

Don't you ever get tired of trolling?

Whawhawhawhat? 🤣 They are not having bugs because it is android 🤣 It have bugs because it is the first product with 2 screens, and software is not there yet.

It's a Pixel 3a with a Microsoft skinned Android and a Microsoft logo on the back instead of Google...

You raise an interesting point. In the 2000's the average selling price of PCs collapsed because the underlying CPUs had peaked, they became more than good enough. The current smartphone activity in the $350 to about $500 price point mirrors that previous moment. The current crop of medium priced phones are more than good enough with the Pixel 3a / Pixel 3a XL being prime examples this development. Flagship slab phones with equally flagship pricing are not going away, new technology needs to roll out somewhere and this is the place where these advancements are justified financially. But this is not where the growth, in terms of units sold, will occur. Effectively, we have reached the point of "good enough" devices that are commodities, price drives the moment instead of feature expansion. Microsoft made a brilliant move to avoid the slab phone trap. The first thing they did right was to build up a critical mass of smart phone applications that gave them a toe hold in a market space where they controlled exactly nothing. Then they made a bold bet on radical reinterpretation of not only smartphones but what a PC could be in the ubiquitous world of persistent connections. And then they finally pitched Windows, correctly, over the wall for Android. These are some seriously brilliant and gusty moves. You have to conclude that somebody at Microsoft has been acting with purpose over the last half decade with respect to the mobile market. The Surface Duo is the full expression of that long game strategy. I am more than impressed, I am in awe. I got to fondle the Surface Duo for the first time today. Oh my, oh my, oh my. This is not a first gen product at all, it is so perfectly refined. The software might be challenging, but the actual package nails its purpose cold. The thickness, the dimensions, the balance, the aspect rations of each screen if are not perfect are the next best thing. If the software gels over the coming months I am going to be hard pressed to not purchase this version, it is the exact device I have wanted to buy for about a decade. Even if I pass on this generation I am all in on the next generation.

Why would Microsoft introduce another boring slab of a phone just to slap a Surface name on it? Don't we have enough boring slab phones that all do the same thing in basically the same way? Yea, no. Slab 'smartphones' are not interesting and we certainly don't need Microsoft wasting R&D resources on one. Eeesh.

Exactly. this is absolutely missing the point because this thing wouldn't bring anything new.

This is simply "a phone", not a "Duo Single". The whole idea reminds me of the concept of an "open sandwich". If it has a single loaf of bread it's outside the definition of sandwich, for crying out loud.

i think that's why they called it Solo, no Duo in the name

The conventional way is for losers who never stand out and never come out on top... Duo is the device. End of story.

Apparently a single screen Surface Duo would look like an iPhone 5C.

surface duo has physical camera button?

No. Certainly wouldn't want to highlight the camera on the Duo by a dedicated button for it. The 1020, now there was a camera that deserved a button.

It is so... so... so... meh bashing the Surface Duo camera. So boring.

The Surface Duo camera does not have a physical camera button, all camera controls are software based. As for the camera. It is quite good. I am a notch below a professional photographer so cell phone cameras matter to me. I was expecting pixelated hot mess of poor white balance, poor dynamic range, awful resolution, and color balance all out of whack. It is a good camera. Not cutting edge but rather good. It takes absolutely decent pics that I would have zero problem posting on my web site. Is it DSLR good? Not at all. But no cellphone camera can rival that image quality especially if you are using professional grade prime glass. I have lived with a lot worse cell phone cameras, like the Moto Z3, utter rubbish, and was still able to pull of some solid photographs. The current iPhone and Samsung devices are spectacular. The Surface Duo can't do that magic. Period. But is way better than I thought would be the case.

Bring back Windows Phone (or whatever you want to call your first-party mobile OS)! I'll even make an app for it so that you have 5 apps instead of 4 😂😭

Hey come on, it had everything I needed, including Skyscanner.

Please Microsoft, never put a punch hole or notch in the screen. Bezel's are fine, it's somewhere to put your fingers without activating anything. If anything put stereo speakers in the bezel's and a place to put your pen enclosed in the device, that would be nice.

Luckily Microsoft knows all that. We, workers, are safe.
People is so lost.

The bezels on the Surface Duo are just fine. I get the obsession with devices that are nearly all glass, it is kind of sexy. On the other hand, Surface device bezels don't bother me at all. Why? Because the devices are highly refined and reflect that usability. I am always amused by bezel dust ups; that last thing I think about with Surface devices are the bezels. In the case of the surface Duo, they are about dead on the money from a usability perspective.

No no ... it needs 5 cameras to even be considered a smartfone nowadays 😂

The force looks strong in this one...

I'm still of the opinion that the Duo and this phone, even if it does not exist, yet, could have been available with W10x as well.

Remember... There are no apps for 10x

I would like a single surface phone is it has build in pen (mini surface pen?), similar camera + bright flash as 950 xl and similar dimensions as 950 xl (as in nice wide screen but still fits nicely in the pocket).

So you want a phone. Last time I checked there were a million of them to buy.

There is nothing on the market that matches exactly what I described above. The Note is somewhat close but screen ratio matters a lot I think (especially for productivity and space for inking).

But you literally just explained the Note 20 Ultra though. LOL. And the Dex works better than continuum ever did.

Lol how hard is it for you guys to understand this? Go see a comparison photo between the Note Ultra and Duo and you will notice how narrow the ultra's screen is compared to a single screen of the Duo, like day night difference for productivity... And who said anything about continuum? I do not care about that or dex, YourPhone is generally a superior idea.

Tell me again how much they spent to buy Nokia

Would have made a nice lumia phone if Windows 10 mobile hadn't been killed off.

If they released this, with a better camera(s) than my current Mate 20 x, I would buy it. ONLY, if the camera is better. Android is android.

Rounded corner screen? Really? Are we going there? Are we going for the dumbest gimmick of this days? The one that does not offer advantages and removes pixels from a work oriented device? Microsoft don't make toys, Microsoft is not Apple, Google, Mi or Samsung. Microsoft makes PRO devices. We are not going there.

Some (a lot) of people is still in the past. Some (a lot) of people still thinks about devices being phones, devices being computers, devices being tablets. Can you believe that? In 2020.
After all those Surface products, people still think Microsoft wants to make a phone 🤣 No no no, my little boys. You learned nothing. come to the present where a device can have a SIM and is not a phone. Microsoft made the smallest Surface, and that is it. That is the Duo. The smallest Surface.

It's too small to replace a laptop. It's too big to replace a phone. It's way too expensive. I can't see anyone but a few business execs buying/using the Duo. There are phones. There are laptops. There are tablets. There are mainframes. There will never be an all-in-one computer. No one is looking for such a thing. There are cars. There are motorcycles. There are 18 wheel trucks. There are airplanes. There will never be an all-in-one-vehicle. No one is looking for such a thing.

it's a really fun device that can do things no other phone can really do. I can't imagine going back to a slab phone now. My Galaxy S20 is now relegated to backup status. never an all-in-one vehicle? My Surface Pro 7 begs to differ. the only thing it lacks is telephony.

It looks like an iPhone. Yawn.

That would be called a *Lumia Solo not a *Surface Solo because the Surface brand is about ground breaking products and new form factors. Yes I miss the Windows Phones days but I respect and love what Microsoft is doing with its Surface brand!

There is no Lumia brand any more so why would anything be called Lumia anything? As for what the Surface brand is about, there's nothing ground-breaking about the Surface Laptop. It's a nice machine, no doubt, but it doesn't really do anything that plenty of other laptops don't already do. It was introduced ostensibly to fill a hole in the Surface range and that is exactly what a device like this could be created to do and may be will be created to do in the future. The silly thing is that this is exactly the type of device that so many Lumia owners were begging for for so long when Windows Phone and Windows 10 Mobile were still a thing and now that the Duo has been unveiled everyone is all "oh no, a Surface phone couldn't possibly be just like other phones but with a Surface aesthetic". Of course it could. It may never happen and, if it does, it certainly won't be for a while but there's absolutely no reason that Microsoft could not release a single-screen phone under the Surface brand to fill a hole in the Surface range.

So many pompous people in the comments here. Back in the Microsoft Lumia days, every Windows Phone fan was bleating for a Surface phone and this is basically what they were talking about: a phone that was just like every other phone except with a Surface aesthetic. Now that the Duo is here and is being criticised for not being spectacular everyone is all like "oh no, we can't just a regular phone because Duo is where it's at". Bollocks, I say. There are still loads of people who would buy a phone like this and it needn't have any impact on Duo at all because the target markets would be different. Personally, I won't be buying the first-generation Duo because I don't think that it is good enough for the price, being missing some features that I consider deal-breakers. If they could get NFC and Qi into a device like this though, I'd buy it right now and get a Duo on the second or third generation.

if you just make a standard phone with standard functionality, you are entering a horrible rat race to the bottom or the top. Samsung is in an unenviable position. chasing top end specs is painful and it's never ending. and we've reached the point that consumers are not upgrading because the phones are pretty much the same. sure, the features are "more". more cameras. more speed. more ram. more everything. but the phone is essentially the same. There is little functionally different between a $1300 phone and a $300 phone. the camera is better but it's the same operations. the speed is faster but the phone does the same things. there needs to be a shift to truly get people to upgrade. It's not just cost either. I know very rich people that still rock iPhones 6 and 8.

Some folks like me have always wanted a 7 to 8 inch mini Tablet hybrid phone because we like
bigger screens than smart phones have. The "Cube" 7 inch windows 10 smart phone was sold but
died When windows smart phones died. Fortunately the Duo is a Mini tablet smart phone hybrid
sadly it runs Android And does not have the Famous tiles windows smart phones had. Perhaps
Microsoft will make a "Duo" with a custom made Launcher with some Windows tiles on it's
Android Launcher screen. That would make some windows smart phone fans real happy

Considering the fact that the Duo is nowhere close to having a full face screen, why would anyone assume that a Surface "Solo" would?

I can't see Microsoft doing this anytime in the future. Cell phones as of right now are stagnet. New form factors such as Duo add life to it. I think as Duo matures in version 2 we will see some incredible new uses than the standard phone. To me for productivity and gaming Duo makes sense. I hope to see a Duo with Windows instead of Android. Hoping at least.

I got to play with a Surface Dou hands on the other day at a Best Buy store. It is a remarkable device overall. Now about that price, if it came out of the gate under 1000.00, I would buy it.
Windows Central Newsletter
Get the best of Windows Central in in your inbox, every day!
Thank you for signing up to Windows Central. You will receive a verification email shortly.
There was a problem. Please refresh the page and try again.