Here are the Surface Studio specs
Here's what you'll find inside Microsoft's new Surface Studio.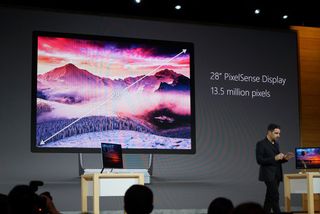 Microsoft has announced the Surface Studio – a brand new all-in-one touch PC which inherits a number of the traits that once made the Surface line unique. With pre-orders having recently gone live, the device is now available for purchase starting at $2,999 in the United States.
But what can you get inside this beastly machine? Here's a closer look at the Surface Studio specs.
Specs
Swipe to scroll horizontally
Category
Specification
Display
28-inch PixelSense™ Display
Color settings: Adobe sRGB, DCI-P3 and Vivid Color Profiles
10-point multitouch
Display Resolution
4500 x 3000 (192 ppi)
Aspect ratio: 3:2
CPU
6th Generation Intel® Core™ i5 or Core™ i7
Graphics
NVIDIA GeForce GTX 965M 2GB GPU GDDR5 memory or 980M 4GB GPU GDDR5 memory
Memory
8GB, 16GB, or 32GB RAM
Storage
Rapid hybrid drive options: 1TB or 2TB
Connections and expansions
4 USB 3.0; Full-size SD card reader (SDXC compatible); Mini Displayport; 3.5mm headset jack; Compatible with Surface Dial onscreen interaction
Security
TPM 2.0 chip for enterprise security, Windows Hello face sign-in
Wireless
Wi-Fi: 802.11ac Wi-Fi wireless networking; IEEE 802.11 a/b/g/n compatible; Bluetooth 4.0 wireless technology; Xbox Wireless built-in
Cameras
Windows Hello face sign-in camera
5.0MP front-facing camera with 1080p HD video
Audio
Dual microphones
Stereo 2.1 speakers with Dolby Audio Premium
3.5mm headset jack
Dimensions
Display: 25.09 x 17.27 x 0.44 in (637.35 x 438.90 x 11.4 mm)
Base: 9.84 x 8.66 x 1.26 in (250.00 x 220.00 x 32.20 mm)
Weight
21.07 lbs max (9.56 kg)
In the box
Surface Studio
Surface Pen
Surface Keyboard
Surface Mouse
Power cord with grip-release cable
If you're looking to purchase a Surface Studio, pre-orders are now available in the United States from the Microsoft Store.
See on the Microsoft Store (opens in new tab)
Windows Central Newsletter
Get the best of Windows Central in in your inbox, every day!
Matt Brown was formerly a Windows Central's Senior Editor, Xbox & PC, at Future. Following over seven years of professional consumer technology and gaming coverage, he's focused on the world of Microsoft's gaming efforts. You can follow him on Twitter @mattjbrown.
I want one, just to play Solitaire xD

I think gaming on this would be fenomenal. Not hardcore, ofc, I know it's not built for that, although it probably can with the 980M. Just imagine enjoying media on that screen.

I don't know about that, it's a 3:2, most of media out there is 16:9 so you would have massive black bars on YouTube videos and even bigger ones on movies

What is the obsession with black bars? Almost all 16:9 laptop monitors have black bars. E.g. HP and Lenovo and the Dell XPS has a huge one below the screen. The difference is they are made out of plastic rather than pixels. I know which I prefer.

What's the use of a big screen if you can't fill it out? And those plastic ones don't emit light unlike the pixel ones (unless it's an OLED screen), so it's not the same really. Besides, for media consumption, you're better off just getting a big 16:9 or 21:9 screen and hooking it up to a media PC (and it would be a lot cheaper). This has a different purpose

Too bad they went with older NVidia cards

Agreed - for the price I expected better than this

ASUS ROG G701VO costs $3999 at BestBuy, and has same Nvidia GeForce GTX 980M so I don't think its overpriced, its in line with the hardware containing high end gaming mobile video cards.

But that's a laptop (with 64gb memeory) and it's only $2500 on Amazon. It would be a fair comparison if you use ASUS ROG G752VS, which is 1070, 32g, 256SSD+1THDD laptop priced at $2500

Yeah, but, it's not meant for heavy use. It's meant for - creators, duh. And they don't need a 1080 in it. It's also made to look slim and pretty. Trust me, the 980M will do just fine.

Is "just fine" performance what you pay $4000 for? Posted via the Windows Central App for Android

It starts at $2200, and it's not something you buy for performance. Nobody's putting a gun to your head making you buy it. You're always free to buy a custom PC that will outperform this AIO like 10x.
This is a slim, pretty PC, something you show off with, also packed with some unusuall and rare stuff like a 12mm thin 28'' 13m-pixel screen with that ridiculous hinge. If you ask me, it's worth the money, and if I could, I'd buy it in an instant.

Surprised they even put a decent card in there tbh - more than gamers could have hoped for out of the surface line given it's target audiences.

Can't believe Microsoft is so stupid as to go with outdated old Nvidia cards instead of the huge leap that was made by the series 10 cards. Just blows my mind what brainless individual approved that decision, and I would be surprised if anyone with a brain actually buys this thing before Microsoft comes to its senses and upgrades it with a 1070 or 1080 GPU cards.

You don't know how GPUs releases are with the timing of developing a product right? When MS starting creating and tweaking the Surface Studio that card was available, they can just add a new one without testing it and simply launch the product. Sure you aren't in their planning team, thank God!

MS could have got a pre-production 1070 back in May, possibly earlier. That is PLENTY of time to get it to work with the Studio, its just a PCI-E bus standard...

Not that useful for me but it's so nice if I had spare money id just buy it in a heartbeat. The first video with the dial made me wanna cry. What is interesting is that they didn't show the onscreen use at all ok stage.

Probably just means on screen use isn't finished yet or too unreliable to use in a live demo on stage, its embarrassing to have something not work right in front of an entire room of press!

Like when Bill Gates got the BSoD when trying to demonstrate UPnP on a printer? http://m.youtube.com/watch?v=IW7Rqwwth84

My thoughts exactly but I was rather disappointed. I felt like a child when it was first shown on the advert. So cool and pretty even if it's useless for me!

Maybe is not ready yet. The apps, not the device...

The resolution is stupendous, It's higher than 4k! No wonder those AIOs use 965m graphics.... I wonder if someone could even play Diablo at native res... Damn!

For something that is being targeted for the creative industry, they should have more specs regarding the screen. For example, how do you calibrate it? I see somewhere that it is 10-bit color, does it have a LUT in the screen or hardware? Will not consider it until it is reviewed by site for creative types.

I suppose the rationale behind the 980M is that its meant for creative and office powerusers where graphics need not be in the domain of say the titan X's and 1080 series cards but why not just go with a 1060m, if i'm not mistaken, it should be cheaper than a 980m

yea right only problem is a 1060 outperforms it while using less power, they just went full retard here but probably it was too late to redesign for a different gpu, still not the buyer's problem so this just looks bad

Yeah they should have gone with the 1060
In this new series there is no m version

Because, for Adobe Photoshop, Solidworks and others, the 980M is plenty including for most video editing. The Adobe CC Tools and many 3D tools are not GPU heavy. If you are using it for office work, you will not be playing games. It is fine for the intended audience. Adding 1080 would increase the cost with very little benefit. What is more important that they do not discussion is how color accurate is the screen and can you calibdate it to make a specific target or other monitors in your office. The GPU power is otherwise plenty

I feel like you didn't even read his post. A 1060, as he suggests, would have cost less and performed better.

Great specs. The device seems to do all that I need, I just wish i had some more money right now. Eh, maybe a bit later, when it gets even better hardware.

"Grat specs" Lol seriously? How can you say that when they did not even bother going with the new much better and more power efficient series 10 GPUs, but instead used old outdated hardware.

The GPU is NOT outdated. A Pascal GPU would not do anything for Photoshop or desktop publishing which is the intended audience and I would say it is plenty for most people. This is not going to be a dedicated gaming rig and you do not need top end for everything. If you want to argue, argue why there is not a SSD drives

This is not a gaming rig. I'm not sure you understand the target consumer here.

they say "hybrid" drive but I saw an NVME ssd in the renders, also wth with the gtx9xx? didnt they know pascal is already shipping? same TDP? and why is it so difficult to make a 4k webcam? btw that 192ppi on a screen that size is insane

I think at that price the video card should've been better. Aside from that niggle, this is a beautiful looking hardware. So glad they stayed away from anything band or phone related.

Do people have to buy the dial separately?

No, it comes with it free now. Not in the same box.

Doesn't say Dial is in the box. That is interesting.

The Microsoft Dial will be sold separately. I'm not sure of the price at this moment but the demo devices I set up today did not come with the Dial. They did come with the wireless mouse and keyboard.

If you preorder the Studio then you get the Dial at 100% dicount and it is automatically added to the shopping cart (Microsoft store online). Otherwise it will be $99.

What the heck is 'Xbox Wireless'?

Basically allows you to connect an Xbox One controller via wireless rather than Bluetooth. I think with Project Scorpio they'll probably have a few more things too.

That's a really big phone.

I was excited about this Surface Phone but I think they went overboard on size. The dial is nice for putting in someone's phone number though.

Giving a whole new meaning to "phablet" :P

I guess they're OK, but the price is really high, the peripherals aren't to my liking, and I don't love hybrid drives. Still prefer to self-build and have a TV be the monitor. I'm just not sure what the market is for these, given the price and OK-ish specs. Are people THAT big on slim PCs? I feel like I could build a PC like this for almost half the price...and get it sooner, due to the delay until release.

Yes, people love slim PCs with no wires.

you have to remember that creators in the sense of photos and videos ,they would definitely get this.

...as if people can only use this PC and nothing else?

it's for creators..as that was the entire theme of the presentation and the name of the next update. This isn't just supposed to just be a normal desktop. Yes if you make your own desktop, it will be cheaper than buying anything premade. However, there's a lot of engineering and design that went into this product that is more than just buying pc parts and putting it together in a case. You can't make this on your own, or at least the normal consumer couldn't.

I feel like you guys are responding with "it's for creators" just as a buzzword phrase becuase that was part of the branding for the event, "Creators." My point is that the only thing this device has going for it over something you could get from Best Buy, or even Wal-Mart, is the touch display. The internals really aren't impressive. The mouse and keyboard aren't anything to be excited about, and they're absurdly overpriced. This is a $1,200 PC with a touch display jacked up to $3,000-$4,200. In fact, I just went and made a build on PC Part Picker. I aimed for the high end of the spectrum, meaning the $4,200 Studio. I didn't do anything like shop for combo deals or perfect it for what I'd actually build for. Instead, I went for basic, commonplace things, so the price might be higher than a well-done build would be (getting deals for buying parts as a package), but cheaper than what I'd go for (better GPU than this thing has). I didn't pick a mouse or keyboard, because they're so subjective. Still, I think my mouse (Logitech G700s) and keyboard (Steelseries Apex) are MUCH nicer, cheaper, and capable than the ones MS gives you here. They were about $120 combined. The actual build was just shy of $1,200. This didn't include a touch monitor because they aren't easy to buy off-hand. Still, add in the seemingly standard price of about $500 for those, as well as the $120 for my peripherals, and you're at about $1,800. If you want, add in $150 so you can get the Surface Pen and Dial. You're still under $2,000 for something they're charging $4,200 for, and you couldn't have to wat ove a month to get it. What's more, if a desktop has a hardware fault, you can get a specific part replaced with ease, where as all-in-one devices are a gigantic pain (and probably mean sending it to get repaired). It wouldn't be at all difficult to buy something much more powerful with a traditional desktop tower, hide that behind a desk or something, and get a thing, fancy monitor to go with it. People seem to really overestimate the "trouble" of wires and the mass of a PC tower, it seems. The only additional wires from an all-in-one to a traditional desktop are...the monitor cable. Other than that, the cables I have (mouse, keyboard, power) are either still a reality with an all-in-one (power) or optional (mouse/keyboard).

You don't think the regular Surface is overpriced? I totally agree that it is overpriced for what it is. I think you are going to pay a 500 dollar premium to have MS and the Surface name. There really is not excuse, but the average person doesn't even know what a motherboard is, they just want something that looks good on their desk. This is why PCs got smaller and smaller with no fans while producing twice the heat they used to.
Enterprises don't care because they have contracts to get PCs refreshed every 5 years or so for less than retail. Saying it is for creators really isn't an excuse, but some people will have the 'need' for it and others will just buy it because they really don't know or care about specs.

Wait, Xbox wireless built in? They built in the controller dongle?

Yup, Lenovo did that on one of their recent gaming PCs as well.

Impressive when you consider how oversized the dongle itself is lol

People tell me that all the time...

Is that a dongle in your pocket, or are you just happy to see me?

At that price you should be able to play Xbox games right on it!

Headphone jack...USB Ports?!? That doesn't seem very courageous to me, they should have dropped all those useful things and only supported wireless peripherals

whats the point? underneath a type C is plain usb3

I am not paying over 3 grand just to get mobile graphic cards. Posted via the Windows Central App for Android

Luckily you get a whole computer along with it.

hah I actually chuckled to your comment

To get the better gpu I do believe it's $4k.

Using m-class graphics cards, no thanks...

No Thunderbolt 3? Not even normal USB Type-C?

Agreed. I could be more accepting of not using a latest generation GPU if they had included a Thunderbolt 3 port so I could attach a Razor Core. This seems like it was either designed a year ago or not fully thought out. Why include XBox controller support on a device that isn't geared toward gamers or why include a 980m on a desktop device that is touted as being for designers (which includes 3D) as they are strongly pushing 3D for everyone in the presentation but give a lackluster support of the technology. I was expecting this to be VR ready. This isn't even close. The screen is beautiful and if I were in the market for a Cintiq 27 w/ touch I would be strongly looking at this device, but as a PC to be the family PC (I could not afford this to be otherwise), the GPU is not going to be sufficient the 4 years I would have to keep this around to justify the cost.

As far as the Xbox controller support goes, you'll likely be able to play Xbox Play Anywhere games on this just fine. Remember Xbox One is using 2012-2013 hardware, so the 980M should perform better. You also have game streaming from the Xbox to the PC, which should be even more interesting once Project Scorpio gets here.

6th Gen Intel? What happened to 7th Gen?

Not out yet. For desktop, 7th gen is next year.

Am I the only one that noticed on the left side of the audio or right if you are facing the audience, all the people in the front row were using Mac Laptops? Makes you think Apple was spying.

Also why you don't hear a thunderous applause when Microsoft shows a new item. That and the presenter is horrible.

You're the only person I've ever heard say that about Panos ever.

standard trolling (not you, but above you)

Really? He's so contrived in his presentation skills. Tries sooo hard to convince you as if you can't simply understand what your looking at.

I respect the opinions on this forum about not liking mobile graphics card, but I think their advantage is power usage which is much lower than desktop grade GPU so with Surface Studio you will get a much lower electricity bill than if it was using a desktop external GPU

The problem is not mainly about mobile or desktop graphics, but not the latest generation, which even the lower end is more powerful, uses less power and cheaper. I think maybe it's just due to it was not avaiable when it was designed, but still, at this price, it's disappointing.

don't know why you were downvoted so I gave you an upvote

Someboday here just "downvote" whatever they think is questioning or has any negtive word towards Microsoft, no matter whether what you said is meaningful or just a fact. I suppose there is only very people doing that, but they could click hundreds of downvotes everyday. You don't really need to care about that. (If they see this comment it would get downvoted as well because I'm talking about the fact of these few people).

Wow, that's all very underwhelming, I mean it's great to see MS do something in the AIO space but on paper it just reads "last generation" (except for that screen)! I wish they'd wake up and make what they could actually sell a lot of - a Surface Laptop!

It's called a Surface Book.

How long were you in that coma?

I can confirm the speakers are very loud and quality seemed impressive. All I heard was the Windows sounds, I didn't have a chance to play music on it.

I really like it, but since this is a 1st gen product it's gonna be buggy as hell especially coming from Microsoft. Will wait for 2nd gen. This is also wayyy too expensive for the specs it has.

Wait for the 2017 refresh.

It does have a Gigabit Ethernet port on the back.

I set up three of these awesome machines today at the Microsoft Store I work at. I noticed the hard drive listed in the task manager is a ST1000LM 024 HN-M101MBB which seems to be a standard 2.5" 5400 rpm laptop drive. But the thing was fast. Like not possibly a spinning disk fast. Also, the article lists it as having a rapid hybrid drive. I have seen other AIO's use a small SSD for the OS and a traditional drive for storage but this one only showed one disk in explorer. Anyone have any ideas?

Where do I throw my money?

In the bank, and wait for version 2 that will hopefully have up to date hardware.

Does anyone know who makes the display? I'd like to get a touch screen with the same specs that can be used with my own PC. The problem with all-in-one computers is the computer is obsolete years before the display is, and there is no way to upgrade them.

The fact that the base $3000 model only has 8gb ram and an i5 is LITERALLY pathetic.

Only the TOTAL fanboys will defend a $4,000 computer with a mobile-spec GTX 980. This Studio isn't even released yet and its just straight up using old gen GPUs. The 10 series absolutely stomps the old 9XXM ... Especially at that resolution the 980M will struggle with modern games. The issue is not "but the mystical 'creative' people don't need that power"; the question is why not have the newest graphics processors in a 3-4k machine, pre-production units were available in May.

do you think machines are designed in 3-4 months? Anyways you want to play a game build a custom PC.. Why are you spouting so much ignorance here? This isn't for gaming!! do you think an iphone has a 4k screen or 6 gb ram? there are phones that have it.. yet there is an iphone and you probably have one too..geez the arrogance on you..

Unfortunately the ingnorance is from the fanboys that will defend any crap Microsoft does, even asking $4K for old junk with outdated graphics and no SSDs. Now thats ignorant.

I'm a mac user at work, so not really a fanboy. An equivelant size drawing display from wacom comes in at well over $3000 after you put it on a stand...that's without the computer. I agree would be nice to have the latest gen hardware, but that's why I'd wait for a refresh.

Hi Mike, this article's now almost 2mth old, please don't respond to every post in it, tis the height of poor etiquette, 1 or 2 necro-posts, no prob, several or more, bad form, just a heads up! Best Regards.

Does anyone know whether the pen tech is by Wacom or still Intrig?

Bunch of bumbling chuckleheads in here. A Wacom 27QHD Touch with it's $400 stand comes in at over $3,000 alone. If you're interested I'd wait for 2nd gen so the bugs get worked out, but it's not really that bad of a value.
Windows Central Newsletter
Thank you for signing up to Windows Central. You will receive a verification email shortly.
There was a problem. Please refresh the page and try again.