How to select which system icons appear in the Windows 10 taskbar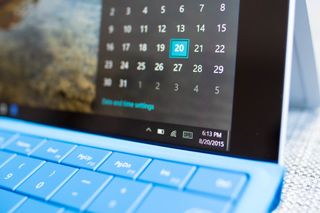 We showed how easy it was to pin apps to the taskbar, but now let's talk about those icons towards the right within the taskbar. Those are system icons, and you can choose which icons can stay or go. We'll show you how to select which system icons appear in the Windows 10 taskbar.
1. Go to Settings (keyboard shortcut: Windows key + I) > System > Notifications & actions
2. Tap or click Turn system icons on or off
3. Select which icons you want on your taskbar. You can select to enable them all, just turn on the ones you want to see. You can choose from Clock, Volume, Network, Power, Input Indicator, Location, and Action Center.
I've turned on the Clock, Network, and Power on the Surface 3 and turned off the rest. I don't need the Action Center icon since I can access that by swiping in from the right side of the screen. I don't need the volume icon since the Surface 3 has physical volume buttons.
I like having the power icon in the taskbar because tapping or clicking it lets me know my battery percentage and how much time is remaining. I can also manually enable the Battery Saver if I need to squeeze out more battery life before plugging in.
Which system icons have you turned on or off for Windows 10? Let us know in the comments!
For more resources, don't forget to check our Windows 10 help, tips, and tricks page. Or if you have any questions, you can always count on our Windows 10 Forums at Windows Central for more help.
Oooohhh, finally a how-to I didn't know. Thanks! This is actually pretty cool.

You can also use the right click context menu :) (yes, I'm being cryptic :P as I know you'll figure it out).

All I have are the clock, network and volume everything else is hidden. I can't stand a cluttered UI.

I didn't know that that was an option for this. This is really nice.. Surely I'll set up my icons later... Thank you, guys... For those tips and tricks. xD

It's been in there at least since Windows 8.

See what you did there ;)

Thank you I didn't know about this what so ever.

I've put the "send to onenote" tool in the tray. I find this extremely useful, since i can quick screenclip something to whatever notebook (or clipboard) i want.

Nice, I found out that we can choose some icons to enable in tablet mode too.

Great stuff, it does feel a little busy in tablet mode with all those tiny icons. Hopefully they'll tidy it up some by Threshold 2. The volume, battery, and keyboard buttons would be great in the action centre as there's currently three empty slots at the bottom. Plus, on the Surface, it's tough to touch the taskbar at all when the keyboard is on (yes, I'm one of those strange people who prefers my SP3 in tablet mode even when using keyboard/touchpad) so moving them there for tablet mode would be great, and more reminiscent of their positioning in W8.1 via the charms. Loving all these tips and hidden features articles guys, they're really helpful and I'm surprised how many options I've not even thought to look at yet to personalise my W10 experience further. Thank you! :)

Action center buttons means ACTION center BUTTONS. Not static center information icons. Those are for the taskbar.

I too keep my SP3 in permanent tablet mode, whether using touch, keyboard or pen. I would like the option to include the time and date in the notifications/action centre as it would be larger and more "modern", as I always keep the taskbar hidden.

I keep hiding the keyboard icon, and everytime I restart my pc the fucker keeps showing up, I hate that.,

Did you manage to solve this? I have the same problem!!!

Tip: Don't allow ugly third party icons. Done. Your Windows 10 looks like bright future.

Sweet now it looks even more like my win8.1 start screen AWESOME Posted via the Windows Central App for Android

You guys know how to enable the power icon on a desktop pc?

I've almost turned off all of them. I have never used the system tray in windows 8 and I don't use it in windows 10. I am so accustomed to the charms bar that I mostly use the toggles pane in the aciton center for my quick settings. Because the aciton center does not support a "live" battery status and system language quick settings I do leave them on there.

One minor gripe, you can't really change the order of appearance on the system tray to your liking. Also to change power plans you don't need to dive into settings - use the right click context menu on the battery icon then power options :).

freaked the heck outta some users..

If you hide the Action Center icon you won't know "at a glance" if anything is waiting for you. Makes sense to keep that one. Is it possible to rearrange the icon order? I haven't tried that yet.

I lost my speaker and battery power icons in Windows 10. One day they just weren't there!!! In Settings they ae greyed out!!! Can't select them to change them. So now it takes three steps to adjust my volume!!

I have this same issue and can't figure out how to fix it :-(

I also keep hiding the keyboard icon but everytime i login....there it is again

Hi, I am still not able to on or off the Volume, Power and Location Icons. All are showing like Location icon as above is showing. Please help me, how would I be to access all icons on.
Windows Central Newsletter
Thank you for signing up to Windows Central. You will receive a verification email shortly.
There was a problem. Please refresh the page and try again.