T-Mobile Touch Pro 2 to be $349.99 with 2-year contract; $549 retail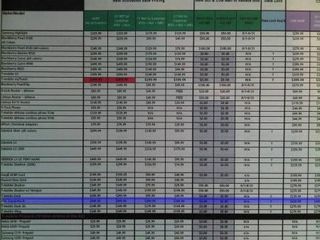 With the T-Mobile Touch Pro 2 set for release on Wednesday, pricing was still a bit up in the air. But TmoNews has tracked down some confirmation, and it's as we feared — this is gonna be pricey.
A two-year contract will get you the Touch Pro 2 for $349.99. A one-year contract takes it to $399, and the TP2 will sell at retail for $549. But as we've said before, you need to factor in the price of the voice and data plans when figuring the overall cost.
That said, it sounds like a good many of you are willing to drop that much, if not more, for one of the most anticipated phones so far this year. What say you?
Phil is the father of two beautiful girls and is the Dad behind Modern Dad. Before that he spent seven years at the helm of Android Central. Before that he spent a decade in a newsroom of a two-time Pulitzer Prize-finalist newspaper. Before that — well, we don't talk much about those days. Subscribe to the Modern Dad newsletter!
If the c-town shops can get me a X1 for $50 with a two year contract, I wonder what kind of magic they can pull on the TP2. We'll find out on wednesday.

What are the C-town shops

chinatown shops. the ones hidden deep in the bowels of an indoor flea market/jewelry shop/asian dvd store/etc. they can subsidize any phone from any market. The unlocked TP2's are $150 with 2 years t-mob contract, I am willing to bet they can do t-mob's own TP2 for about $100 less.

you talking about NY right ? if so where at in c-town between what streets? Thanks in advance

That price probably puts it out of my range. What is t-mobile thinking?

I've been waiting for the TP2 for Sprint, but if it ends up being over $300 I am seriously going to reconsider it. A $200 discount for a 2 year plan seems almost not worth it to get it subsidized.

it's expected for a new wm phone WITH A KEYBOARD to be 300-350! people need to stop complaining. you're in the highend when dealing with htc wm phones. if you're expecting cheaper, get a phone without a keyboard or even better... don't get a top of the line phone that just came out or is about to come out.

eeekkkk, I don't care what the guy above me said. Anything over 299 for a consumer phone is outragous. I PRAY that sprint does follow suit but we know suits. Can't wait to see what the other carriers charge.

Well then, good thing this isn't a consumer phone. This is a high-end business phone, and that price is consistent with the launch price of every HTC device (w/ hardware keyboard) launched since 2004.

Do you guys really think that this phone

With 4 carriers offering it, the prices will drop before long -- the non-exclusivity will pay off with price competition for the same device. Even when it comes down though, it's not enough of a consumer device to make much of a dent in anyone's market share. I'd say this is definitely one to hold of purchasing for 3-6 months, unless you have money burning a hole in your pocket ;)

I'll be there from Day One which Ironically is about One day away! lol I cannot Wait! - D

Not much of a subsidy to be their prisoner for 2 years. I'll wait now to see if competition lowers the price.

Maybe this will launch a price war, just like the snap did!

this is just stupid from t-mobile, whoever was going to switch to or stay in t-mobile due to their TP2 release prior others is now reconsidering. this now prompts me to wait for ATT or another carrier for the TP2. Just think what would have been of the TP2 share for t-mobile if it didn't wait till everyone else released the TP2 to put a competitive price. If it was $250 by the time other carriers released their TP2 many folks would have already purchased one from T-mobile.

This is the most stupid thing TMo can do.It was kinda expected though, coz tmobile is generally cheaper but thats the very reason why people are coming to tmobile. If they are going to balance that out with high prices for phones, then why not to move to someone else?
Anything above $300(w/2yr) is insane. I am waiting for competetion to lower down the price, and if that happens, TMo is screwed.$200 discount for 2 yr contract is worthless.I might have to move down to My touch 3G. just because its in my reach.

The fact that tmobile took away the beauty of the european version of the tp2 and then decided that it is to be by far their most expensive phone is down right insane. They got rid of the crome look to the phone and cheapened the buttons a bit? The att version looks close to the original. Tmobile really? Are you really this ignorant? All the same I will buy it and set up a damn payment plan so this thing don't bleed me right away. Oh and wm power users are not all rich business people, tmobile take notice

Tmobile offered me the phone yesterday for $187 including upgrade fee and with a 2 year contract! I'll be in line Wednesday morning! Or maybe because I let the cat out of the bag, I'll be camping out...

So I was waiting for this phone but now that I see it is going to be $350.00, I am now asking myself why should I get this phone? I can get the iPhone with a load of awesome apps for less! Can someone tell me why this is soo much better than the iPhone or even the $100.00 Samsung touch screen Windows Mobile phone that comes with a 5MP camera from Verizon?

What the hell kind of pricing is this? Will this phone do some tricks that no ther phone will? Unless this phone can attend my meetings for me, I just don't see why it's worth $350.

This is one hell of a price!

I'm on the fence on getting this when it comes to Sprint. I have a Touch Pro right now and don't know if I want to use my upgrade $$ to get this phone or just wait until next year when the Windows Phone OS (WinMo 7) ships. There has been no news on if this phone will support the OS or not and I dont want to be stuck without the upgrade offer if I want to buy a new phone for the new OS.

All the complaints about price, but no one complains about iPhone pricing. You can do wayy more with the TP2. Also I LMAO if you think ATT is going to give you a better price, yeah knowing ATT they will lower the price $50 and force you to get a data plan for $35. Just ask any AT&T iPhone user. Better bluetooth A2DP functionality, ability to bluetooth to and from other devices, ability to connect to a PC and use as a thumbdrive to transfer ANY type of file, ability to open PDF's, better call log organization.
These are just some of the advantages over the iPhone. Sounds like I'm bashing the iPhone, I kinda am. I went from the Tilt to an iPhone and I miss my Tilt oh so much. You will not believe how many times I have said "Oh I can't do that with this phone" since I have gotten my iPhone, shoot they just got MMS 2 monts ago and mention it in commercials like they are the first with it.
So I am GEEKED about the TP2, not so geeked about the price, but hey you've got the DASH 3g LOL. I wish they were getting the Touch Diamond2, It would be a little cheaper and I'd get it because it's slimmer. But I have been an HTC fan since my 8125. Bottom line: pricey-yes, will I get it-maybe. I've been with T-Mobile since 2005, I've always unlocked ATT phones to work with them. Hmmm since I have the loyalty plan I wonder if I get a LOYALTY discount. I'll know tomorrow. :)

$350 for MOCHA!!! design that looks like a throw back to the Osborne 1 NOPE.COM

349. for two years, Well guess i'll be waiting on the other carrier and see what price they will offer and if worst comes to it. guess i'll just get myself an Iphone 3Gs

I have waited for this phone, but at $349 I may keep waiting. Sprint, AT&T, and Verizon will also have the TP2 and the Sprint and Verizon phones will also have a 3.5 mm earphone jack. Once those phones come out, T-Mobile will have to lower their price due to the lack of the earphone jack. Yep. I'll wait........

hope verizon isn't this expensive. This price is just a tad bit too high.

Actually, if Verizon were to offer the TP2 for $349 on a 2 year agreement, it would be below previous launch prices. I paid $300 my XV6700 and XV6800 (on the day they came out), which was after MiR and NE2. The Verizon TP1 was $419 (minus $70 MiR) up until a couple weeks ago. AT&T is still asking $299 for the Fuze, Sprint is asking $299 for their TP1, and those are practically a year old. If Verizon offers the TP2 (from the start) at $419 - $70 (MiR) - $100 (NE2) = $249; that'll be almost 20% below where the XV6700 and XV6800 launched.

Yes,great.I love the article, I have the same belief with you,so let me introduce the area to you.Now vivienne westwood Jewellery become more and more popular within all kind of people. Juicy couture is a kind of juicy jewelry . It won a good reputation. Vivienne westwood often held its regular discount activities,such as vivienne westwood Jewellery ,juicy jewelry and fashion vivienne westwood jewellery earrings so on.In these activities vivienne westwood sale got great success. juicy couture consists of four main aspects, vivienne westwood necklace and vivienne westwood bracelet,vivienne westwood earrings ,vivienne westwood rings,vivienne westwood pins,vivienne westwood keyrings,vivienne westwood sale,vivienne westwood online ,vivienne westwood uk.
vivienne westwood series are worthwhile than other juicy charms coutures. They have a lot of vivienne westwood jewellery,for example vivienne westwood necklaces, vivienne westwood earrings, vivienne westwood bracelet , vivienne westwood rings ,vivienne westwood earrings and vivienne westwood sale. Vivienne jewellery is a new jewellery brand,it include all vivienne westwood keyrings ,such as vivienne westwood online , vivienne westwood necklaces, vivienne westwood jewellery ,vivienne westwood and vivienne westwood pins and vivienne westwood sale and vivienne westwood uk so on .We assure you of our best services at

Well I got my TP2 on Saturday. It's a fantastic device. Stock pics from T-Mo don't do it justice. It looks and feels great. As to pricing, yes, in these days of $200 being the default two-year-contract price, $350 is a lot more, or so it seems on the surface. But remind me, what did the iPhone sell for when it debuted. How much did Apple discount the iPhone because it had over priced it (hint: $100); what price did Apple eventually lower the price to, to stimulate sales? So $350 is not that much. And people quibbling over $50 to $100 on pricing, sorry to shock you, but the TP2 is not who the phone is being marketed to. The TP2 is for business and professionals. So stop comparing it to the iPhone, except for lessons on debut pricing mistakes. If the color bothers you so much, guess what: a) that's why they have so many different style phones, to cater to all tastes and opinions; B) if you are buying based on color and appearances, that's lame. That's as ridiculous as making a marriage decision based on outward appearances; and C) just don't buy it. And actually $350 is not that much. When I look at prices I simply recall what I paid for a Star Tac and Vader phones, back in the day, where the main feature for which one was paying $500 was the phone being smaller than others.

Listen wirefly.com provides a instant discount on their website where you can get this phone for $200!! (wirefly.com is legit I've used them before-theyre
always cheap with new activation deals).
HTC.com ALSO has this $200 offer!! Just remember you required to get a data plan
Windows Central Newsletter
Thank you for signing up to Windows Central. You will receive a verification email shortly.
There was a problem. Please refresh the page and try again.