T-Mobile's first Windows 10 phone will be the Alcatel OneTouch Fierce XL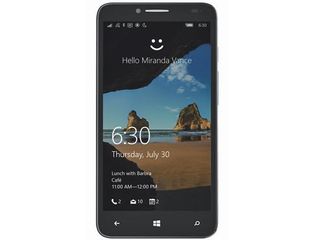 T-Mobile U.S. may have been brushed off for the latest Lumias, but they are not finished with Windows 10 Mobile. Windows Central has verified that the carrier is expected to announce support for the upcoming Alcatel OneTouch Fierce XL.
News of the Alcatel OneTouch Fierce XL was first revealed by @evleaks back in September with an unofficial render (see above) of the phone posted by him in October. (Note: despite the Windows Hello screen in the render the Fierce XL does not have bio-authentication). The Fierce XL is by all means an entry-level device and fits in with T-Mobile's previous efforts with Windows Phone.
Interestingly, the T-Mobile variant will ship in cyan and is a nice nod to old-school Lumia fans who preferred a more colorful phone. Marketing also appears to have dropped 'Mobile' from Windows 10 Mobile to keep sloganeering for the phone direct.
T-Mobile U.S. Alcatel OneTouch Fierce XL
Windows 10 Mobile OS
Black bezel but cyan back
5.5-inch 720p display
Capacitive buttons
Snapdragon 210
2GB of RAM
16GB internal memory with micro SD slot
8MP rear and 2MP front camera
WiFi Calling 2.0
VoLTE
Non-removable 2500mah battery
Alcatel OneTouch has an extensive history making Android smartphones e.g. the recent Alcatel OneTouch Idol 3. They have also boldly claimed that the future of Windows Phone is in the entry-level and that does look to be holding true.
As to when the T-Mobile version will launch in the U.S. it is expected in the coming weeks, and it should be less than $100 off contract. Alcatel OneTouch is likely to feature the phone at CES in Las Vegas next week and Windows Central will be on hand to cover it and any other launches.
On a final note, T-Mobile has also set up an extensive training guide for employees on Windows 10 Mobile suggesting the Fierce XL may be part of a larger portfolio. Although the Fierce XL does not support Continuum the Windows 10 Mobile training guides do hinting a higher-end phone that supports the 'phone as a PC' experience may be coming to T-Mobile.
Follow Windows Central all next week in Las Vegas for CES 2016!
Windows Central Newsletter
Get the best of Windows Central in in your inbox, every day!
Daniel Rubino is the Editor-in-chief of Windows Central, head reviewer, podcast co-host, and analyst. He has been covering Microsoft since 2007 when this site was called WMExperts (and later Windows Phone Central). His interests include Windows, laptops, next-gen computing, and for some reason, watches. Before all this tech stuff, he worked on a Ph.D. in linguistics, watched people sleep (for medical purposes!), and ran the projectors at movie theaters because it was fun.
indeed, and the specs on this phone are pretty darn nice for a $100 phone... 2 gigs of ram and 16GB storage with expansion? That's basically double the specs of most entry level phones from the last couple years... and the specs on the cameras are decent as well. I do love the cyan calback... I firmly believe that if the Lumia 950 was available in one or two bright colors besides the bland black and white, that it would have been a bit better recieved. Seeing the pre-renders of the 950 in cyan was an auful tease when that color option evaporated.

This is true. I miss the colors, greatly. I'm about to get a dose of it, but I wish the colors didn't go away.

I'm sure in the coming weeks you'll be able to pick up a 950 back cover in cyan. And all the mozo cases add some beautiful color options, but they're expensive.

@Mingu7:
By far the nicest thing I spot on this phone are them lovely capacitive hardware buttons.
If a manufacturer can afford to put them in a entry-level phone, why can't Microsoft on their mid- and high end-range?!

Because thru reduce screen area for a given set of overall dimensions, or increase the overall phone size for a given screen size. The 950 phones have big, gorgeous displays, but even the smaller 950 is quite a handful. I thought I would be annoyed by then, but frankly it takes only a couple of days before you don't notice them. The handset is so fast that even when you have to call them up it's no bother. Having the entire screen area displaying your videos and gamed makes it well worth it IMHO.

L925 is one of the most beautifull windows phone to date,even the most beautifull one,and had capacitive buttons.I had a 640 after and now a 950 and i still hate the on screen butons .They suck!

I think the on screen buttons are there for the other manufacturers that also prefer the on screen buttons. Even most Androids have on screen ones and it's one less future problem

It takes the bezels down so much. I'm actually pleased with the virtual ones on the XL. I was a skeptic, but man, these bezels are so small I'm sometimes confused which end is up. Totally worth it, and this is coming from a 920 owner.

The 950 and 950 XL would have been better received if they worked. I have a 950 XL that I'll be returning ASAP. Just too buggy. Maybe there are firmware updates and software updates. My 1520 kills it.

The phone unlocked at a retailer will cost much more then $100 , I suppose.

I'm a little worried about the processor

Maybe T-Mobile will bring Jade Primo?

Idk, although there are exceptions it seems like they mostly try to keep the costs light on customers...or maybe they are still just being overly thrifty with the "losers" in mobile? It would be nice tho =/

My Lumia 950 works perfectly with T-Mobile except for visual voicemail and WiFi calling. It's a bit annoying because visual voicemail worked perfectly fine on my old rogers 1020 running the same os version.

Is yours single sim or dual sim? People have said that it can more likely work with a single sim device, over dual sim.

Do they work with tethering? That's the only problem I have with my unkocked AT&T Lumia 1020 on T-Mo US.

Ewww.. HW buttons. But I guess there are people who still like them

Same here. I thought I would hate on screen buttons but my 1520's bezel looks horrible next to my 950.

Then when you ask an employee about windows devices, they trash the whole OS because they only carry "junk". Smh...

Very true you ask for a WP and they say just grab an iPhone or galaxy phone, WP is garbage and does not have apps.

Yea seriously. It's depressing. I used to work for a Verizon a few years ago, and my coworkers would use windows phone as a punch line. Not knowing that we had and still have the best camera, and we are the reason why all these phones are trying to put heavy weight pixels in their devices. (it's the tech not the pixels) there are so many hidden gems on windows phone that it blows my mind. We just need better marketing and advertising. Like something I never seen anyone talk about in their reviews (maybe I missed it) but in the map app, when you select to see traffic, you can also pull up street cameras. And see current traffic.

That kind of attitude just makes me wanna punch THEM... =/

They always said "Ignorance is bliss", just bad management and training.

True story though. Windows 10 Mobile isn't ready for prime time.

maybe that-s why it is not officially released? can people like you start thinking a little more? Windows 10 is not officially out, and even though with all the bugs and all, it feels faster than 8.1 on many things, and feels nicer.... unlike Android on most phones, but the OS sells more than WP OS. Anyway I don't know what Windows 10 has to do with this, if the problem started from Windows Phone 7.

Windows 10 Mobile IS officially out. The Lumia 950 and 950 XL is a shipping version of the OS. Windows 10 Mobile support for older handsets is not official yet, but the OS by all means is officially out. That being said, this OS is still not by any means ready for a prime time showdown with iOS and Android for EVERYDAY consumers

Take a step in my daily shoes dealing with android/ios customers as an actual JOB, and you will see that iOS nor Android is ready for prime time either. Looking at it from one side is never good. I can confirm that thousands of people a day, have ios and android issues, thousands. Hundreds upon hundreds of phone exchanges DAILY. Either through user error, app error, dev error, or OS error. Talk to me about prime time, when an android update doesnt brick VoLTE or SMS on devices, or cause them not to turn on during the middle of the night because of an update, or a google newstand update bricking htc calls, or google update bricking google search force stop on LG. This is not just one instance, this is a day in day out experience, I get to deal with, getting paid to deal with. I alone could fill the forums/posts with constant errors.

It is officially out ala the Lumia 950 and 950 XL and even then the OS is a riddled mess Posted via the Windows Central App for Android on my Frost Nexus 6P

Lol yeah it feels like they're sabotaging it with only having edge since its not as good yet as a replacement yet even after yr. Later

They may have a point with w10m on a low end device in its current state. MS had better get all the problems and performance fixed before 3rd party release dates.

The crazy thing about the low end devices, it (W10) seems to run better on my 635 than my 640. Low end doesn't really seem to be where the major bugs are.

Yeah I noticed that too. By comparison, Windows 10 still has quite a few issues on my Lumia Icon as well as my friend's Lumia 928.

Wow! Hopefully this is the start of them caring a whole line of entry level crap that has Windows Phone. Because that's exactly what we don't want.

If that's where the market is ,so be it . Wake up, WP/Mxx has 3.5% market share worldwide , do you prefer it to disappear ? Higher end phones can come once the ecosystem has become more popular .

Its raining Windows Phones!!!

Haha, exaggeration of the year! :) Posted via the Windows Central App for Android

LoOk Great WelCome IN WP KINGDOM

Daniel, do you think with Windows 10 Mobile, carriers will adopt the OS and the Windows devices more? Meaning they will instruct their Shop employees to sell more Windows Phones. I don't see that happening right now. When I walk into a Mobile shop, all I see is Android and iPhone devices with a few Windows Phones. And the store employees do nothing than sell Galaxy crap and iPhones... That has to change, right?

Read the end of the article. T-Mobile has a training manual for Windows devices... I hope the first chapter is attitude adjustment.

Sponsored by John Cena Posted via the Windows Central App for Android

You must Be talking about T-Mobile in the US. In The Netherlands 950 and 950 XL are in the T-Mobile stores. (some People think there is nothing outside the US).

Because we account for the large sales...or so I would assume could be wrong. But isn't this a US based site to begin with?

Last I checked US didn't account for large sales of windows phones when compared to outside of us and this may be a US based site but that has nothing to do with anything as hundreds of us are outside the USA. Could be wrong though.

Do you have any figures on that? I'm not talking about percentages, but actual numbers of how many have sold in each country. 3% of the U.S. market is more phones sold than 10% of Italy, for example.

Even so, percentages do matter because they potentially coulkd influence sales elsewhere.

Windows ecosystem is global, so stop pretending only because Rubino is from New York it means that all the news this site writes are about US and only US. I have to wonder, why don't you let Rubino do his job? he already changed the article to reflect it's about Tmobile US because whatever you think... Tmobile is in another countries other than US and it's good to explain what country the article talks about. When a site like Windows Central gets people from all the world, you can't be "oh US based site" crap. if you talk about Movistar, Claro, and Tmobile, and other carriers, the writer should mention which country they are referring to, so it doesn't cause confusion.

You seem to forget that i work with carriers, and know quite well US isnt the sole location. But this is a US site? That is like me reading a UK website and telling UK that there is more to the world. Yes i see he has changed it, i just find the comment dumb and having nothing to do with anything at hand, other than nitpicking. This is an opinion of course.

"USA site" That is rubbish as many articles here are world-wide based as well as Non- US country specific. This is WindowsCentral with a world-wide coverage and fan base. Please get your head out of your US myopic bias - thanks :)

So now a USA site can't post about world news? Really? There is no head pulling, bliss and ignorance are not an excuse. We can simplify it. I would argue that the majority of traffic on here is US, i would then argue that windowscentral is registered on godaddy, which in and of itself is a USA company, the writer is based out of NY, the mailing address is in FL, a USA state. All in all, its a USA site. While again its great he updated to reflect the wider audience, someone actually nitpicking that crap is useless flood of crap posts. Yes i took the bait, only because im bored at work after exchanging androids all day or fixing android OS errors all day for customers, iOS too.

There are writers from different counties, and each seem to cover county-specific news

I have updated the story with U.S. notation, thanks.

What are you talking about? Everything exists only in my imagination, you are all merely here for my amusement...lol =P

The EU certainly accounts for many more sales of Windows phone then the US , and if China starts to get on board, which I expect to happen first with tablets rather then phones , then Microsoft can laugh all the way to the bank , even with 1% market share in the US . And yes WP is a global site .

I meant windows central not WP

Well, I guess this is going to be my next phone.

I am shocked. Seriously?! I'm not a fan personally (too big, etc), but this is very interesting for sure.

Great. Another budget phablet.

To be fair, it's been a good while since they had one for WP/WM. They passed up the 640 XL, I don't think there was any in 2014 at all. I am kind of amused considering how fast they killed the 640 but choice is good, right?

Makes me wonder how long this one will last on the shelves...

Their shelves? You mean T-WalMart?

T-Mart would've been funnier :D.

Some here wouldn't get it...but I like it! My carrier.

While 640 and xl are good phone but feel cheap, I use 640 myself so no offense. Microsoft needs a good person for marketing and SN may be great for windows but harmful for WP, Microsoft is busy with posting apps for other OS than concentrating on wp or wp OS. They know only few diehard fans will buy so not worth it (economically).

I have handled the 640XL recently and I don't think it feels cheap at all. In fact, I do think it looks and feels quite elegant (with the black or the white back cover).

Actually, TMO had the 640, which I have and it had the wonderful WiFi calling...no such luck with my 950XL...

Yeah, I'm aware that they had it, since I also own one, lol. 5" is barely a phablet, and it seems more like the average phone size. For that reason, I don't consider it in the category personally. 5.5" and up, surely is one though. If I'm not mistaken (someone can correct me if I am), it seems like most of T-mobile's Windows Phones offerings have been no more than 5".

Everyone knows 3.5inch budget phones are better.

WiFi calling out the box? 950 get that yet?

WiFi calling for T-Mobile often requires specific firmware from the carrier.

And it STILL doesn't work on W10 for my 640, purchased through and locked to T-Mobile. :(

It makes sense that it wouldn't work though. T-Mobile did not approve of your W10M update to have Wifi calling work. If they did, it will work. It even works on the low end 435.

Maybe it will in the next build.

Works great on mine, both 8.1 and 10.

There is a thread on this issue at answers. Good info from Travis[MSFT] in it. http://answers.microsoft.com/en-us/insider/forum/insider_wintp-insider_c...

That's odd as I had the 640 locked to T-Mobile, upgraded it to Win10 and the wifi calling worked perfectly. Now, if only my 950xl would be blessed with this, I'd be very very happy :)

I feel like they should attach that to the sim, like how the account apps work or maybe an app would be better lol ;p

I didn't see a mention, does this support Continuum? Given it's a 210, and the 808 stutters on it, I'd imagine not.

Do you get stutters on the casted screen, or the phone itself? The XL sometimes likes to think for a moment on the phone side of Continuum, but no stutters or dropped frames when connected to the dock. (no Miracast adapter)

Snapdragon 210, with 2G Ram, 5.5" display? Now that's an interesting combination. This might be something to look into.

I think, like HTC did for the One M8, both the Android and Windows versions probably have the same specs and that might be why it sounds weird.

Alcatel may be right...the future of Windows Phones may well be in the low end...for Alcatel. The future of high end Windows Phones is probably purely Microsoft, since they are holding themselves out to be a premium brand. Let's see how 2016 plays out; Microsoft needs to fix Windows 10 mobile so it's fast and fluid on both low-end and high-end phones; it needs to convince more companies to produce Windows Phones (especially in the low and mid-end, which MS needs to abandon), and it needs to create the head-turning equivilent of the Surface Book on a killer Windows Phone. That's a tall order for any company, but Microsoft could do it, thanks to Windows 10 being so ubiquitous.

Do we think the Jade Primo will appear as well next week.

I'm curious about the possible other device. HTC perhaps?

I'm not betting on it. Jade Primo more likely.

They need to bring these goodies world wide, SA am waiting, what a piece of cake.

I don't know how they come up with these silly names, inappropriate for the device it is. Still though... Thrilled to have another WP device.

Same.
I kinda wish the 950XL was a slightly different class, like the 955 or something. The 'XL' part brings huge sweatshirts to mind, not an xtra large smartphone. :P

Just shut up and bring the phone to India....i will buy in pairs

Nice. The more the merrier.

Not one person can convince me that T-Mobile brushed off both the Microsoft Lumia 950 and 950XL while choosing to go for this especially after John Legere basically called them out and they didn't deny it. Same deal with HTC One M8 for Windows. You can get your phone on all three major carriers if you want to. Is Microsoft trying hard enough. One picture at a time -- LG V10

The question is did Microsoft brush them off because T-Mobile wouldn't let them update the OS and firmware without testing like AT&T? If T-Mobile threw down restrictions on updates then yeah, MS could have (and should have) not given them the phone to sell.

Yeah I see your point but did Verizon do so as well? The thing is we don't know and Microsoft hasn't come out and told us. They just said they chose to do a slow/limited release if I'm not mistaken. I'm still a fan of Windows Phone/10 Mobile but I wouldn't drop the full price of what they're offering(because I would have no other choice of getting the phone) for an OS that is still a long ways from the competition in terms of quality apps and services. Even the basic social apps are a pain to use on my Lumia 920. One picture at a time -- LG V10

"Yeah I see your point but did Verizon do so as well? "

If there would be one US carrier to control updates with an iron fist it'd be Verizon for sure.

Not to mention the mandatory "Verizon" logo on everything, an exclusive name, for twice the price.

Imo, they made the front of the 735 so ugly with their logo. I know a good amount of people don't care, but I do. Either smaller logo or just put the dang thing on the back only.

Verizon: The New Red Scare

Or maybe Microsoft could not show them a solid functioning phone when shopping it around. As a buisness I sure would not have picked up an 950XL to sell retail last month. The Microsoft store must be eating a sizable ammount of returns going by post in the 950XL subforum...

I love T-mo, but Legere "called them out" because he's loves attention from the media. He's the Donald Trump of carrier CEO's. I'm not knocking it, though, because most of the positive carrier changes in the past couple of years are because of him and what he's done at T-mobile.

True about Legere but you have to wonder. The Lumia 900, 920, 1020, 1520, 830 and 950 were all exclusives. Did T-Mobile really pass on all those devices? And how is HTC able to do something that Nokia/Microsoft couldn't do not even once as far as flagships go? One picture at a time -- LG V10

Yay... physical navigation buttons....!!!!

Maybe they can figure out how to sell it correctly this time. Maybe not price it way more than Walmart and then wonder why no one ordered it from you online only like they did with the Lumia 640...

Do unlocked Lumia 950/XLs work on T-Mobile (US)? I hope so, because we by a 30-day T-Mobile pass every summer when we visit.

It does, you just have to get the ones that support the correct bands, which for T-mobile are 2,4, and 12. If your devices have that, you should be just fine.

Yes, but with these caveats: WiFi Calling doesn't work. Visual voicemail doesn't work. LTE Band 12 doesn't work. Note that most of TMo's expansion over the past 12 months has been in Band 12, but if you've been using it every summer with no issue, then these shouldn't be problems for occassional / spot usage. The best W10M experience on TMo comes from the TMo/MetroPCS variants of the 640, though without WiFi calling.

Visual Voicemail will work on a single SIM 950 or 950XL. It is just dual SIM models (Like all the 950XL's they sell in the US) that Microsoft can figure out how to program for VVM.

In my experience with devices that have Band 12, including one that was sold with W10M (the 550), I got Band 12 and it worked perfectly. No issues there at all. Down to it, all that wouldn't work is VoLTE, and WiFi calling really.

Snapdragon 210 with 2 gb ram...sounds good...but will alcatel launch the phone in India?

crap ... i just bought a LG Lancet on Verizon prepaid after hating my Moto E ... looks like i will be going back to T-mobile ...

Good news for the pink team.

Hope its avail on MetroPCS too.<..>

Way back when this was a new rumor the plan was to hit MetroPCS first then T-Mobile.

Better than nothing. Glad to have it as an option.

Good finally a windows phone on tmobile i might pick this up if it's under $100 as a spare phone

release in canada please.

i was going to get 550 to play with at B&H

I would say go for it, really depends on what you are expecting. It's a nice, little device that can generally do the job. The screen is just like the 640s in quality, just a little smaller.


Nice small step up for Lumia 640 users. The 210 pretty close to the 400, and the added storage, RAM, and screen size are all nice upgrades. I, for one, am perfectly happy with 720p for a phone screen, even a larger one. I'd rather have snappy performance and long battery life than extra, barely-visible pixels.

Pixels? Hell, I have trouble reading the words.

Didn't Nokia buy Alcatel?

Alcatel OneTouch is a separate company and has no connection with Nokia.

waht Nokia bought is the network equipment company, Alcatel phone which used to be an joint venture partly by Alcatel. ​very similar as Nokia and Nokia phone(Microsoft) or Motorola and motorola phone(formerly Google, now Lenovo),

Meanwhile, smart watches are using SD410's... Posted via the Note 4/Nexus 7 (2013)/Lumia 1020/Lumia 2520

Because MS wanted 950 to be an AT&T exclusive.. Posted via the Windows Central App for Android

good to know other third party are making W10M Phone besdies microsoft and Acer.

So if you're on T-Mobile what would be better in the near future, this or an unlocked Lumia 550?

Great question! I would say it would probably go down to size preference and MixRadio. I know that is very simplified, but we would have to see camera samples to have a good idea of the difference. I'm pretty sure this will have WiFi calling and VoLTE, so if those things are very important to have, this will win. In my small experience, the 550s cameras were decent, along with sound being good and kind of loud. However, in low light, the 550 has a yellow cast over the pictures, and video (calls) in low light isn't good.

The Lumia especially for updates and Lumia features Posted via the Windows Central App for Android on my Frost Nexus 6P

Doesn't look so fierce to me, but I'll take it.

I wish MS would get there act together and bring the flagships to T-Mobile.. this is cool, but its a cheapy.

And... Should Windows phone be only for those that can afford high end devices?

I like the smiley face. Id like to see that on my phone after I key in my pin.

the best thing MS can do for W10M and to show a truly unified user experience is to completely drop the 'Mobile' part from all marketing and instead just use Windows 10 for everything. the average consumer doesn't care what version of Windows 10 they are getting on their device as long as the device works.

The good news first: this means there will be an official T-Mobile Wi-Fi calling app for Windows 10 Mobile...which means that I can potentially install the preview of 10 on my 925 and not lose half my coverage, which has kept me from using it thus far. I've been a T-Mobile customer for almost 3 years now. When I finally pick up a 950XL in 2016, I will be leaving for Cricket or AT&T. Mainly for 2 reasons: 1) Poor coverage in certain areas and large buildings (and a Wi-Fi calling app that has always dropped calls even over a dedicated T-Mobile ASUS router with 60Mbit line). And 2) Not offering the 950/950XL shows me that T-Mobile will continue their substandard treatment of Windows smartphones. No matter how high you escalate questions or issues up the ladder at T-Mobile, no one knows what is going on. No one can offer any assistance. They have some nice perks, such as streaming my mp3 list over Groove via LTE without using any data, but the competition seems to offer nearly as much for lower cost these days and better coverage. And now that contracts and archaic practices such as minutes and texting limits are fading into obscurity, T-Mobile's most distinctive feature is quickly becoming a lack of reception.

I would definitely buy it

More! More! More! Phone with Windows

Hope there will be more high end Windows Phones.

Acer Jade premo as the high end offering in t mobile later in 2016?

Another great food stamp phone! Really looks good, might have to pick one up. And I promise not to whine like a baby if it has any small glitches like the flagship segment does.

They're gonna start selling it many months from now, if ever, and before the week is over, they'll quit selling and supporting it.

I can finally update my Samsung ATIV S lol Posted via the Windows Central App for Android

Higher end Windows 10 phone could be Acer or HTC

Oh yeah baby
Love these capacitive buttons

Heck yes PHYSICAL BUTTONS

I was not convinced it was worth it until I read "less than 100". With better specs than the 550, I'm interested. Knowing T-Mobile and windows devices, it'll probably be for sale for about a month and then they'll ditch.

And hopefully Microsoft can push their own updates now

I'd much rather have a Lumia. Also, some people would rather have a phone that's not a phablet. However, I'm surprised (pleasantly) that T-Mo is getting another Windows Phone - it's about time. It does make me wonder when they'll retire this one, though, considering what they did with the Lumia 640. -_-

True... And true... But it seems like phablets are the trend now. And some of us T-Mobile customers that can't afford AT&T will take what we can get.

ATT is cheaper than T-Mobile, at least through Cricket. Use any ATT phone, too.

T-Mobile hates Windows users. Every once in a while they offer a Windows device to find out who the undesirables are (who buys them) and then does everything they can to drive them away.

Glad to see this and possibly the jade primo coming to T-Mobile. Will finally be able to get a new windows phone and use my 925 as a backup.

Hopefully this will come with the latest build....And hopefully it will get added to the Insider program... Along with whatever else T- Mobile gets (hopefully the Jade Primo)

If it's $100 or less I'm buying it!!!!! IF: I can get it unlocked by T-Mobile so it'll work on AT&T. Why? 2gigs of memory I think will allow it to out preform the 640 and 640XL. Besides the 5.5" screen is the ideal screen size, IMHO. :o) Heck if I can't get it unlocked I might even consider going back to T-Mobile. Afterall I was a long time customer till they droped Windows Phones. AT&T while having better coverage overall hasn't overly empressed me.

Ooops!!! Impressed not empressed. Drrrr!

geez why is this a better deal than a low end Lumia. Lumia 640 was like 120 with ****** spec. 1 gig ram is not cutting it for windows 10 mobile

Snapdragon 210? Seems pretty crappy.

Good move T-Mobile. If these are reliable, much better choice than Lumia 550.

Maybe tmobile is just against Microsoft and they'll be supporting non Microsoft OEMs.

I know almost nothing about how W10 runs on that processor. It's the most intriguing thing to me.

how do you get google on there
Windows Central Newsletter
Thank you for signing up to Windows Central. You will receive a verification email shortly.
There was a problem. Please refresh the page and try again.