Take control of remote computers with TeamViewer for Windows Phone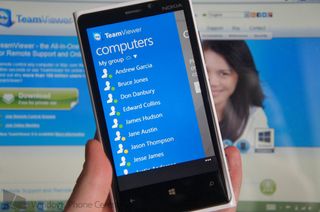 TeamViewer (www.teamviewer.com) is now available for Windows Phone and enables users to connect and remote control Windows, Mac and Linux computers. If you're not familiar with the brand, the solution is perfect for supporting others who require assistance, as well as accessing apps and performing tasks on your home PC while out and about. Best of all? It's completely free for personal use.
The app (and service in general) utilises 256 Bit AES encoding and 1024 Bit RSA key exchange for added security and peace of mind. Members of a particular group have their status icon visible to see exactly who's online and whether or not you can connect via quick access. The beauty of the app is there's no need to configure firewalls and proxy servers as the app boasts effortless access - perfect for those who aren't too involved with technology.
A simple reboot option is available, which allows the user to immediately reboot a remote computer or server. Multiple displays can be accessed and switched between when connected to a device that sports more than one screen. Overall, it's a quality solution for those who require connectivity to home and / or work machines. For corporate users, there's a licensing system that can be engaged with for more keys and support.
The most expensive plan features unlimited number of workstations and the ability to have simultaneous connections active. Be sure to check out the website for more details. Already available on iOS and Android, it's good to see the company support Microsoft's Windows 8 and Windows Phone too.
Initial reviews on the app are positive and since it's a free app we'd recommend you at least try it out if you're looking for a way to get into remote computers while not physically in front of one. You can download TeamViewer from the Windows Phone Store (Windows Phone 8 only), as well as for Windows 8 (opens in new tab). Thanks to everyone who tipped us!
Rich Edmonds is Senior Editor of PC hardware at Windows Central, covering everything related to PC components and NAS. He's been involved in technology for more than a decade and knows a thing or two about the magic inside a PC chassis. You can follow him over on Twitter at @RichEdmonds.
my co-worker's mother makes $85/hr on the internet. She has been out of a job for ten months but last month her paycheck was $18352 just working on the internet for a few hours. Read more on this site ---------> Rich6.comREAL

cool. thanks for the tip.

I will only sign up if I finally get that million dollars my long-lost aunt from Saudi Arabia left me.

Same for me, but she's doing some caritative work in Africa right now. Told me she would come back to me later.

I never understood the purpose of that woman in the background of all their apps (at least for windows). At least show a TEAM.

Edit: spelling.

You can change backround image on RT/Windows Store version

LEGIT?! I don't use it anymore, but that's good to know. Thanks!

It's always nice to see high quality official apps. Means companies are starting to care. Could have asked for a better Jetpack Joyride since how long they made us wait for a buggy and unstable port.

I haven't had any issues with it on my 920...runs buttery smooth! I'm more annoyed at how not so smooth both fruit ninja and gravity guy 2 run!!!

Gravity guy 2 us pretty horrid indeed. Drops so much frames! As for jetpack, runs very smooth for me, but I have to be connected to the internet to use my coin doubler. Only issue so far.

finally!..i hope logmein creates an app soon.

Ugh, LogMeIn is terrible. It installs a mirror driver (totally obsolete technology) that prevents 3D hardware acceleration from working across the entire system even when you're not even using it.

I prefer Splashtop 2. I was surprised when i found it on the market..

I tried this with 2 of my pc's and it ended up messing with my synced backgrounds. Anyone who uses this can comment if they have any problems with their backgrounds?

If you set for speed it removes background while attached. If it doesnt go back it is bugged.

Thanks, thats what was happening, it wouldnt change my background back and somehow Windows 8 wouldnt do it automatically either. So I presume if its not set for Speed the bg is left alone?

If set to quality it shouldn't change

Waiting for this app from long time for my lumia 620.

Fcuk me this app is the dogs danglies......Yeah!

Wonder if we can troubleshoot other Windows phone 8 who have downloaded the app ?

Guess not. Its more of a viewer. you also dont get your own ID

What would you troubleshoot in a phone anyway? :D

Sweet....downloading now!

Is it better than splashtop 2?

I tried splashtop 2 just after and it said I had to subsribe to use it when the devices are on different networks, so yes. You can use this without paying when actually away from the computer.

Oh cool so like this could work when you're not on the same network as well? Sweet, downloading then

Just tried it, seems to work really well even over 3G

Yes! Now waiting for LogMeIn.

yes! ive been waiting for ages...

Aw, come on! The HTML client works just fine if you're connecting to a computer with a screen resolution the same or lower than your phone's, and you don't mind waiting minutes for mouse clicks to register. How could that possibly be a problem?

Can i actually connect to multiple users on a system with unattended setup?

I've been using teamviewer to assist my mother and my girlfriend with tech problems when I'm not close to them and I could not be happier about this release. Teamviewer has easily been the most reliable piece of remote control software I have used (including its Windows RT app). If you haven't used it, its super easy to set up and works damn well.

works great...hope they could active the chat and voip in this app....

I've used this at work a million times...glad I can get it on windows phone now

Hi, any news on an app for wp7???????

ya i know, but everyone is already moving to WP8...

well for those of us who live outside the usa and have to pay for phonesnd not service have to hold on until we ready to change.... so im hoping that teamviewer brings outna wp7.x app..... until im able to upgrade :)

...and those of on mf'in Sprint...

Nice. I've been waiting for this since my day 1 on windowsphone.

This is such a wonderful app.
Thank you for finally bringing it to Windows Phone!

This is sweet. I just installed it on my laptop and daughters PC. Used the app, works perfectly.

With each app release, it seems time has come for me to finally break up with my 7.8 L800...
WP8 (and hopefully WP9), here I come :)

Omg yes. I always used teammviewer on IOS and Android. So glad it's come to Windows Phone. In the last 6 months almost every single app I've wanted has come to the platform. I rarely feel left behind. Instagram, snapchat, Pandora, tapatalk(coming), teamviewer, proper Facebook app, rugby league app, wiki, shazam, Spotify, utorrent, Skype, speed test, twotter, whatsapp and a ton of others.

Team viewer very useful for me, nice nice, keep those official apps coming!!!! Weeeeeeeeerr

It works with windows 8 but having a hard time with start screen navigation and closing apps. No gestures! Any advice or suggestions? Thanks!

Teamviewer rocks! We were given a 2 week trial license and they extended it another 4 weeks to give us more time to evaluate. We just made the purchase today. It's a one time cost as oppossed to monthly of competitors so you start saving money within the 1st year. Rock on!

and why the heck do the gestures inverted?

Teamviewer? Cute, should be here since 6 months at least.
I'm using Splashtop right now, not sure I'll be looking back at teamviewer even tho i understand people would prefer TV for their reason.

About fucking time! (pardon my french)

This is cool, I hated how spalshtop would ask for a fee to connect to computers on a different network (which really is the only reason one would want such an app.)

go Teamviewer!

Just installed this and I'm pretty impressed. Splashtop2 has been working ok, but I like this better so far. Seems a little quicker.

This sucks. It doesn't connect to computers with TeamViewer version 7 or older.

yep, requires version 8 or higher of Teamviewer to work. does suck since the office I work at is version 6.9 and the versions I have purchased for relatives is 7...

you have purchased this for relatives? You do know it's free for personal use, right? That being said, if Teamviewer would offer a (cheap) paid "supporter" Version for private use, I'd be glad to pay that, but no way am I gonna spend 500€ on a piece of software.

It does suck, we have hundreds of computers on Version 7.

Hurray! It's finally here!

BEST WINPhone 8 news of 2013!!

No WP 7.8 ? Android, here I come!

If you're going to upgrade, why not just get a Windows Phone8?

WP7 has different core than WP8. Windows CE kernel vs a Windows NT kernel. New apps coming out are coded for WP8.

Remote controlling another phone would be sweet, so I wouldn't have to explain my family and friends ways to get to some settings and stuff. Though that won't happen in the near future with those restricted systems.

You can control Android phones running TeamViewer QS :)


Yay! It's a life saver on my Surface RT, now also on my Lumia!

Yet again. Windows phone 7.x users are being left in the dark.

For Windows 8... Its better... They integrate features of PC REMOTE PRO...its just awesome... While the only issue is it needs the pc on the same network... So if teamviewer integrates the features in it...It would be the best remote app ever

118 reviews and 5 stars? Wow. That speaks volumes.

Not working with my Lumia 920 :( can not login to my TemaViewer account

Same here. Stopped working after i connected from a different WiFi... Now it won't login... Removed, rebooted and reinstalled... Still no joy...

Hey guys :) I use another app for remote access with WP8 - it doesn't require installation, works through the browser and has very easy access: deskroll.com

it's does'nt work at my Lumia 620 with GDR 3 Preview when connect via WIFI (by using Connectivy), PC as host & HH as Remote ?? i show nothing in my hh screen, tap keyboard but no respond.... any Idea???

Additionally, you may also try a R-HUB remote support server http://www.rhubcom.com/v5/remote-Support.html
Windows Central Newsletter
Get the best of Windows Central in in your inbox, every day!
Thank you for signing up to Windows Central. You will receive a verification email shortly.
There was a problem. Please refresh the page and try again.