Take a look at the Windows 10 boxes that you will likely never own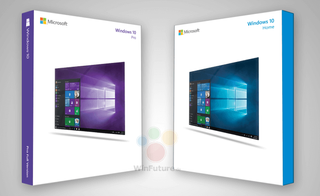 While most people will be downloading the Windows 10 update right from their computers, some people will be walking into retail stores to purchase the new operating system. New images have surfaced, showing off the design of the box, and they are quite simplistic. The update, which is set to release on July 29, will be available as a free download to Windows 7 and 8 users, but it won't be free for everyone.
Those who prefer to build their own computers, or want to run Windows 10 in a virtual machine, will need to purchase the OS. Microsoft is also apparently planning to sell the Windows 10 update on USB Flash drives, meaning even fewer are likely to ever see or own these boxes.
Source: winfuture.de
Jared started off writing about mobile phones back when BlackBerry ruled the market, and Windows Mobile was kinda cool. Now, with a family, mortgage and other responsibilities he has no choice but to look for the best deals, and he's here to share them with you.
a shame, it's practically art in itself

Totally agreed, I would buy it just to hang this box on my wall as decor.

Yeah those boxes are awesome! The discs are as well! Quite a bit thicker and better quality than regular cds! No kidding!

Windows is vey serious business.

Me too, I would buy the heck out of the Home version. Dat blue.

Hopefully 8.1 Pro goes on sale for like $20 and I'll be all over that!

Lol I was thinking that too

Why would they do that, they probably wont sell 7 or 8 in retail anymore. What would stop somebody from buying at a discount and then just upgrading to 10?

I think that was his point...

Ok why do I have blue background when my laptop says I have the pro preview

Off the topic - is windows phone app store down? I can't download or update any app on my 830 ( India )..

Got the same problem as you are.
Couldn't purchase any song.
Contact MS support don't seems to help.

What's going on ? I am facing the same issue. Btw, why hasn't WPC covered this. It's been 20 Hrs. already since this problem was first spotted ! Is it possible they are not aware ?

I have had that problem... if I wasn't on vacation, I'd hard reset to clean W10M.

You could always buy the box on the internet, though. I'm sure there will be people selling it.

Yep. Posted via the Windows Phone Central App for Android

God, I love the Pro version. All in for that purple wallpaper.

I was thinking the same thing :P The purple looks amazing!

Here you two go, quick PS edit and you have purple (I've matched it the best I could, pretty close imo)!! http://i110.photobucket.com/albums/n87/madotter85/Windows-10-Hero-Wallpaper-1920-x-1200-purple.jpg Enjoy, Iain.

Yeah just change the hue.

Maybe when you upgrade to the final version of 10 pro on the 29th hero wallpaper will be purple?

Sadly, I deeply disagree with you... Although I am really enjoying Windows 10 (both desktop and mobile) and all of its innovation and fine tuning, the overall communication design and branding looks unfinished and poor, in my opinion. If compared to the branding and design of the Windows 8 launch, this time around it looks like an Intel designer led the visual team. If you look at the current website (plain blue+couple of videos) and even these boxes (as someone mentioned below, they put shadows and a screenshot of a plain screen in a perspective angle)... Everything just looks amateurish. Not that is bad, but I expected something more refined from a multibillionaire company. I'm afraid the masterminds behind the previous launches were laid off on the lasts firings... Hoping until launch Microsoft refines the overall communication branding design of Windows 10 to match its awesome OS.

Awesome! I like how they feature the desktop rather than a logo this time around. Really helps show off that "hey, the start menu is back!"

What would be the cost of win 10 if I wanna purchase it?

Just guessing $120 usd about what every version has been were I live

probably $119 for Home and $199 for Pro. USD of course.

I love the box designs for the Pro version and the Home version.

It like just like W8's box, but better!

Haven't purchased retail in awhile only opk

Wow. Purple hero looks cool.

As long as looks don't outweigh performance, I don't really care about not having a windows 10 box.

I have at least 10 win7/8 keys that van be upgraded. If they run a sale on this on launch day for $40 or less like they did for the launch of win 8, I will buy at least one.

Gimme one of your keys if you have a spare......... :)

Just download kms pico windows loader and your windows will be activated :)

What's would be the UK price for Win10 pro? Because I build an new PC.

I thought MS gonna sell USB , not CDs.. Looking awesome

It'll sell both ..... I guess

More than likely, it will just be a USB drive in this box, as they do with Office keys.

We'll see .. Excited for W10 ;)

People who build they're own computers won't get it? What's the criteria they are using for the offer?

You have to upgrade from windows 7/8/8.1 in order to get windows 10 for free

I don't think W8 can upgrade to W10 for free, I think it's only W7 and W8.1. I might be wrong though.

Yep, you need to do the 8.1 update before you can move to W10

Just go to Best Buy and ask if you're allowed to take home the box. I've taken a Windows Vista one for free before.

I'll be getting it, I have all the boxed copies for all versions of Windows (only the higher-level editions like Professional or Ulitmate) since Windows 2000. Also that Purple coloring for the Pro box is nice, usually Pro has been blue and Home has been green, time to change it up I guess.

Same here. I have all the copies since Windows 95 in all editions. I have 12 copies of Windows 8, which also, has amazing art work. I'll be getting both home and pro for my collection :)

I've got them since DOS 6.1 (ugly box). i do wonder if the floppies work anymore.but not enough to get a working floppy drive.

Wow. You guys are super nerds. ... I admire that.

concur, I have multiple copies of Windows 7 and Windows 8 retail boxes and will want at LEAST one Windows 10 Pro retail box.

I love this.. But I kinda feel Windows 8 box looked better

Me too, Windows 8 box looks more creative than this. Especially the angled edges and abstract art on Windows logo

I might buy one, just to have it

I want that purple wallpaper... Oh wait I can already get it.. All hail Paint.NET! (or any other photo editor) :D

Did anyone notice the live tiles stacked in a way to look like windows phone? Genius!

It's a shame the menu doesn't allow resizing it to 3 tiles wide like in that picture and on the phone, for some reason the narrowest it goes is 4 tiles wide. Frustrating! People should go vote on that in the feedback app.

How many times do they allow to install from 1 cd?I mean for MS Office its only 3-4 times

Still can't believed my HP pavillion couldn't get the windows 10 upgrade notification. Had some issues with windows update but fixed already, tried re-install the update KB303xxxxx several times but nothing changed. Is it because I bought a bundled OS with the laptop??

I also have the HP Pavillion 15 Notebook. Got enrolled in the upcoming upgrade with no problem. The OS is bundled.

You could manually run the GWX.exe if it didn't automatically appear. Search Bing for this. Also WindowsCentral also published a post about it.

There is Win10fix program by ms for fixing it.

And how much just for the box? These are amazing!!

Actually the USBs will be bundled in these boxes too. Not just DVD.

That's good....and makes sense

They look superb! Now if the marketing of Windows phone could appear on TV elegantly like that but expressed from a useful mobile perspective, with beautiful hardware to match, with a suttle Windows 10 home screen like I have mine laid out right now, the phones would be jumping off the shelves practically by themselves.

I will always want the box with art and real paper docs with dvd.....i can make my own USB install if I want to.....but again im old school

Now if they could actually put something compelling inside the box.

You're a jack*ss; if only you could make a relevant comment that would be nice!

Well, damn. Those do look well designed.

Jared, I do not think your conclusion holds: If the software is distributed on flash drives at retail instead of DVD media, it will surely STILL come in the boxes... I am pretty sure that's just a change in distribution media, not a change in packaging strategy.

I couldn't see Microsoft distributing a tiny USB in that big box, but I could be wrong. We shall see. I could see a much slimmer, better packaging for that.

I have some experience in product management, and while what you suggest sounds logical, it turns out the size of the contents is less of a factor in package design than you'd think. With a premium-priced product such as Windows, the packaging needs to be of a sufficient size to have a "presence" on retail shelves, so it can't be too small. It also costs a lot to design, manufacture, and distribute multiple SKUs for the same item, not to mention the cost for retailers to inventory and track them. In fact, I am almost certain that Microsoft will bundle both the flash and DVD media in the same packaging, rather than place two different SKUs (flash and DVD) in the channel for each Windows version.

Definitely going to get one of these

I'm going to tattoo the image of that box on my lower back on July 29th.

trashy, but I admire your commitment I however, will not be perusing that particular representation

Great looking box arts...

Home box is much appealing to that of pro. Blue color

Hrm, I want the box, makes me feel like I own it, maybe Microsoft will mail out boxes, if requested, mind you you probably have to tell them some info, I don't foresee Microsoft mailing out Windows 10 boxes to everyone.

I don't think those will be the final packages. I mean, the perspectives for the desktop screenshot are different in both versions. Look closely and compare both. From the angle the blue one looks different don't you think so?maybe bad PhotoShop?

I just saw your comment and I agree. Also, I don't think it is wise that they use a snapshot of the desktop as the cover art for the box. They are more likely to use some sort of logo, just like all of their other software (Office, etc.).

Something tells me they are... FAKE

And it's sound like you'll be the one who actually never owns the box.

These are cool but I really want the case sticker that says Windows 10. I've been looking online for Windows 8 ones and I haven't been able to find them.

Yeah, the license sticker would be awesome with Windows 10 label.

The boxes look gorgeous. My wife doesn't understand my love for gorgeous packaging, usually when it comes to tech items I notice how much Thought has gone into it. I missed so far whether there will be different pricing for "Upgrade" and Regular versions, but assumed anything you buy outright now is one price and you can't get an "Upgrade" licence for Vista machines. If you buy retail is the licence tied to the first machine you install on,or can I build a new PC or change motherboard again and take my detail license to the new machine (Only ever on one PC at a time)

Retail products usually carry 3 to 4 activations in one year (only one machine at any one time, simultaneous machines - the latest activated is marked non-genuine), beyond that you will have to call to activate. However they may have changed the mechanics with WX.
Only OEI or System builder products carry a single activation for the life of the device and is tied to the motherboard. So you will need to call up and re-activate.

This is cool, though I want to have license stickers for my desktop. All parts of my desktop from the mobo, graphic card, power supply, and even the cooling system has stickers pasted on the face of my desktop, and they look cool. A Windows 10 license sticker would be a great addition.

They really outdid their selves with this one. Classic. Posted via the Windows Central App for Android

Call me stupid I like these boxes. Still have one more unopened Win 8.1 box too... :)

I've built my current desktop but already purchased 8.1 pro in the box

Clearly a tribute to the cover art of Pink Floyds best of album Echoes! ;)

My thought exactly. Can't not be Pink Floyd!

Microsoft may be able to scrape a few dollars by selling empty boxes and DVD media. Microsoft, ain't downloading Windows 10 on 9600bps modem. :D

Windows 10 pro box is very similar to Lumia 640 or 640 xl box

Is it just me or I still prefer the original Windows 8 box (not Windows 8.1). Looks good though.

I can just see the headline when the next Microsoft "flagship" is released: "Take a look at the Windows flagship Phone that you will likely never own". ;-)

Wow, those boxes look great. Looks like Windows through a Window. Seems like someone actually used their brain this time around. Wonder if they'll send me just a box so I can put on my shelf of other tech thingies and packaging... Lol.

Boxed software is so 2003.

Nyc boxes..... Nd flash drive concept is awesome!!! I wish I could make image of my Windows 10.. Which will upgrade over win8. Else each tym I format... First ill get win8 then install win10.. Since Win8 images r stored by oem on hard disk... Any idea how to do this??

I build my own computers and upgrade fairly frequently so the free version will not suffice for too long. I will want to buy a retail Pro version and am really hoping for a good sale in the next few weeks.

Well, FWIW, I think the boxes look really nice! A perfect compliment to a gorgeous OS. Posted via the Windows Phone Central App for Android

anyway, I would just download the pic and print it out.

There's nothing awesome about this design as far as detailing is concerned. On one hand they are advocating flat designs and user interface and on the other they have shadows all over the place. Their design team has poor performing people. Even in this box design they have put a shadow beneath the desktop screenshot. Pathetic. Concept wise it is good though. But could have been better. (Although I have some doubts if this is genuine or final.)

I'm going to print the box out and fold it proper, the precious!

I like the idea of the software being distributed on a USB Flash drive.

I still have the Bill Gates version of Vista :)
Windows Central Newsletter
Thank you for signing up to Windows Central. You will receive a verification email shortly.
There was a problem. Please refresh the page and try again.