TD Bank now supports Microsoft Wallet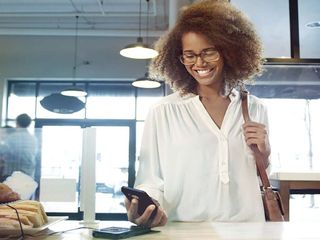 Another bank in the U.S., TD Bank, has now added support for Microsoft Wallet on Windows 10 Mobile. TD Bank was previously listed as "coming soon" to Microsoft Wallet, but the bank has now confirmed support is available on its website (via Winbeta).
With support for Microsoft Wallet, TD Bank customers can use their Windows 10 Mobile device to make payments using their TD Bank Visa card. Customers can use their phone for contactless payments anywhere that displays the Microsoft Wallet or generic contactless payment logos.
TD Bank follows the addition of support from PNC and US Bank earlier this year in August. Currently, Microsoft Wallet only supports contactless payments in the U.S., and it isn't clear when support may be added for other countries.
Are you planning to use Microsoft Wallet with your TD Bank card?
Download Microsoft Waller for Windows 10 Mobile (opens in new tab)
Dan Thorp-Lancaster is the former Editor-in-Chief of Windows Central. He began working with Windows Central, Android Central, and iMore as a news writer in 2014 and is obsessed with tech of all sorts. You can follow Dan on Twitter @DthorpL and Instagram @heyitsdtl.
TD Bank which stands for Toronto Dominion Bank is Canadian (NOT US). But the article might point towards the US locations being supported until Microsoft releases Microsoft Wallet in Canada.

TD has a large American presence. (They mentioned 'another bank in the US' not 'another US bank.')

TD Banks are all over New England/Mass, where I am.

They're in every city all across Canada - multiple locations. This is a Canadian bank .... you guys should mention that this isn't available in Canada - kinda misleading.

It's not mispleading. The article clearly states Microsoft Wallet is only supported in the US (see the last paragraph). The Wallet feature has nothing to do with where TD Bank is headquartered.

As well as Delaware/Maryland/Virginia... They have a decent presence and are growing steadily.

All over Chester County, Pennsylvania where I am.

@RohanRonWM TD Canada Trust is the Canadian bank, which is the merger of TD (Toronto Dominion) and Canada Trust many many years ago. TD Bank is a US based bank. However i have learned they also exist ouside of north america. Check your facts ;)

They (TD Canada Trust and TD Bank US) are all owned by Toronto-Dominion though so it's all the same :)
Also gives more hope that MS Wallet is coming to Canada soon.

TD also has banks all across New Jersey, and Pennsylvania.

Finally! TD Bank supports W10M. So gonna use it. Kudos TD!

I'm still waiting for the TD Bank USA app they said they were working on. I believe the Canadian app has been out for at least 6 months.

I didn't know they were working on an app. Well, I hope it comes sooner rather than later. At least they made a step in the right direction.

If it's as crappy as the Canadian app, there's no point. Might as well use the website.

Hey! I have that bank! WOOHOO!

Sigh, when will Chase come along??

I saw mention somewhere recently that Chase had said to expect it in 2017. I can't remember the source, but when I saw it, I asked Cortana to remind me to check the Wallet page in mid-February 2017 :-) Edit: Here's the source, including the tweet directly from Chase Support: http://www.phonearena.com/news/Chase-coming-to-Microsoft-Wallet-next-yea...

Congrats to TD users! I am patiently waiting for Citi credit cards. I have messaged them but with no response, ever......

C'mon hoss let's be real...
The only thing supported by this app is loyalty and store cards, no credit or bank cards. Just look at the ratings and comments for that app.

Untrue, if you have all the requirements (in US, supported phone 950/950XL, card from one of the issuing banks) then it does tap to pay.

What are you talking about... Didn't they just announce Master Card support coming?

I'm reeeeeeeally hoping Microsoft Wallet comes to Canada soon. TD is in Canada too, guys!

TD's full name is Toronto Dominion Bank of Canada.

Oh I know haha, exactly why I'm hoping there's a Canadian launch soon!

But that would require to release the feature outside of the US, then get the banks' buy-ins. As of now, Wallet is US only no matter if a Canadian bank wants to enable their cards on it or not.

.....which is why I'm hoping for a Canadian launch soon. Like I said lol

I worked for a major canadian player in tech and I'm very doubtful. There is just no marketshare for this in canada worthwhile putting together apps...it was all android/apple pay development if any.

Waiting for Wells Fargo, AMEX & Discover.... COME ON MICROSOFT! YOU CAN DO IT!

Idk if I'd hold my breath for Discover. I've emailed them multiple times, they appear to show no interest.

Whatever happened to the AMEX app? I remember reading here on WC that it was coming out.

Hopefully TD canada side jumps on board and updates their regular banking app and get me image cheque deposits... Actually I don't really care anymore about that... a nice mobile web layout is fine :) So many of my clients changed to EFT now so cheques are almost not a thing anymore!

I haven't written a check in 15 years.

Ya the TD Canada trust app is garbage...merely a web wrapper..

still better using that then the actual website on your phone! :)

That's debatable. There was about a month or two there when logging into the app, I'd have to answer my security question ever single time..so annoying

N​ow only if they would extend the Wallet tap to pay feature to the 640XL and other capable devices :/

Wouldn't this require an official Windows 10 update?

I believe it would be an app update, assuming the device is approved for the transactions (I saw a list that said the 640 XL was approved).

I've read comments that say it works with the 650. Maybe the 640 series will happen soon.

Patiently waiting for Canada!!!

My questions is, what stores support Microsoft Wallet? I've never seen the logo for it. Only the Android and iOS variants.

you don't need that, as long as the store support "tap" to pay , you can use Microsoft wallet. as it utilize a universal standard protocol.

at first I thought it was TD Canada trust Or Toronto Dominion and got excited, then I realized it was about TD America

Too bad the new Alcatel Idol 4S doesn't have mobile pay... But, I'll be at T-Mobile on November 10th anyway!

Nice, but still no App support. I use TD banks in two countries, and a lack of App support is one reason I'm switching to iPhone. Banking Apps are increasingly important, and as we know, Satya is deliberately doing nothing to improve the App experience on Windows Phone. I don't know why TD would bother with Wallet and not support the platform with Apps.

You know going to the mobile site provides an identical experience to the apps. Android app is a web wrapper and I'm sure iPhone is too. Windows Phone is a superior platform, a poorly designed bank app shouldn't sway your opinion

A good one for the platform, but MS really need to role it out in the UK and elsewhere that the market penetration is a tad deeper :)

Great addition to Wallet by TD Bank. When BOA pulled their app a while back, I was disappointed and only alternative for me was Wells. BOA did a great job in bringing back the app and supporting wallet. I am using more(transfers, check deposit, wallet etc) BOA mobile services than wells. Great job BOA!!! Successfully used wallet @ FoodMaxx, Subway, Ranch99...

Good to see. Too bad TD doesn't even have a basic app for its Canadian operations yet, let alone wallet support

Come on Australia! Get a move on!

Not in my experience. If iOS and Android were merely web wrappers then there's no logical reason not to provide an App for WinMo. So far I have yet to find an online portal that allows me to scan in checks for deposit, because they have yet to relaize that people have cameras on their computers and tablets, and there are several other missing features on line.
Windows Central Newsletter
Thank you for signing up to Windows Central. You will receive a verification email shortly.
There was a problem. Please refresh the page and try again.