TECLAST's X3 Plus is a budget 2-in-1 laptop with a fantastic display
This 2-in-1 PC from TECLAST is affordable, but does it make the grade?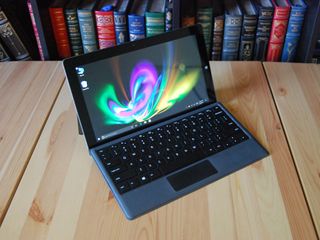 The Microsoft Surface Pro is an outstanding device, but its hefty price tag puts it out of reach of a lot of users. To fill the void, many manufacturers are putting out budget 2-in-1 laptops that employ the same attachable keyboard and kickstand design. These low-cost options are targeted at the larger market, but many of them fall short of what's expected.
This 2-in-1 PC from TECLAST, the X3 Plus, has some impressive hardware and a decent display. But is it worth the $360 price tag (opens in new tab)?
The details
TECLAST X3 Plus technical specs
Swipe to scroll horizontally
Category
XX
Processor
Quad-core
Seventh-generation (Apollo Lake) Intel Celeron N3450 (up to 2.2GHz)
Storage
SanDisk 64GB eMMC
TF card expandable up to 128GB
RAM
6GB DDR3-798MHz
Display
11.6-inch FHD (1920 x 1080) IPS, touch
Graphics
Intel HD Graphics 500
Ports
USB 3.0
Micro-USB
Micro HDMI
3.5mm audio jack
TF card reader
Audio
Dual front-facing speakers
Wireless
802.11b/g/n
Bluetooth 4.0
Camera
Front-facing 2.0MP
Rear-facing 5.0MP
Battery
8,000 mAh
Weight
1.9 lbs (0.87 kg)
Dimensions
11.61 inches x 7.2 inches x 0.39 inches
294.9 mm x 182.8 mm x 9.9 mm
OS
Windows 10 Home
Color
Smoky gray
Price
Starting at $360

(opens in new tab)
Heavy
TECLAST X3 Plus design
The design of the X3 Plus is immediately reminiscent of the Surface Pro. You have an 11-inch, 2-in-1 tablet that has a magnetically attachable keyboard and a kickstand on the back to keep it propped up while typing.
The overall build quality of the tablet is decent (we'll get into the keyboard later). The chassis is made from an aluminum-magnesium alloy, and, while quite thick (0.39 inches) for a tablet of this size, it is plenty sturdy.
The 5MP camera on the back of the tablet is a separate piece, and here you find one of the only places on the tablet where the seams don't sit flush.
The kickstand on the back of the tablet, when closed, blends in nicely, leaving only the seam in the middle from which the hinge extends. Instead of being able to set the kickstand wherever you want, there are two set spots where it sort of clicks into place and stays — one at a 90-degree angle, and the other at a 45-degree angle from the back of the tablet. This isn't ideal, but it's designed as one angle for your lap and one for a table.
Image 1 of 2
There are a decent amount of ports here — yet no USB-C — and they're spaced out enough to avoid congestion. On the left side you have Micro USB and a 3.5mm jack, and on the right side is Micro HDMI and USB-A 3.0. There is, thankfully, a physical volume button, as well as a physical power button. When using the tablet without a keyboard, the physical volume button is indispensible.
Colorful!
TECLAST X3 Plus display
The 11.6-inch 1080p, capacitive touch display with an IPS panel is definitely the shining feature. Many budget tablets of this type will go for a lower resolution or a TN panel, but not here. Testing the color of the display revealed a 97 percent sRGB and a 74 percent AdobeRGB, both outstanding results. You're getting a wide range of color, and the picture is crisp and clear. The only issue you might have is with brightness. Working inside is not a problem, but outside the dimness is compounded by the glossy finish.
The bezel around the display isn't egregiously large, leaving plenty of room for a Windows Start button and the 2MP front-facing camera. You likely won't mind the large bezel, as you'll want a strong grip on it because it weighs 1.9 lbs (0.87 kg).
Dual speakers are tucked in between the bezel and the chassis near the bottom of the tablet, and they actually deliver impressive sound if not pushed to their limit. I had no problem watching TV, but going to max volume with a few songs revealed a hollow quality.
Touchpad is frustrating
TECLAST X3 Plus keyboard
Like the Surface Pro, the X3 Plus has an optional keyboard (with touchpad) that attaches magnetically and can be folded up when not in use. The attachable keyboard is not included with the tablet; it costs an extra $50 (opens in new tab).
The material on the keyboard seems to be the same soft-touch stuff as Microsoft uses on its regular Type Covers (not Alcantara), and, when closed, it gives the tablet an appealing look.
The keyboard itself isn't bad. The keys are spaced well, there is ample travel, and a soft base means you won't feel keys bottom out when they hit the deck. There is no backlight, so working in the dark is tough.
It's a good thing the touch display works without a hitch, because I gave up on trying to use the touchpad after about 30 minutes. It's small — about 1.25 inches x 3.5 inches — and does a horrendous job of tracking. It would have been better if TECLAST had completely abandoned the touchpad and gone with a keyboard-only attachment that many iPad Pro users are used to. One other gripe is that folding the keyboard under the tablet and using it in conjunction with the kickstand isn't possible because the keys remain active; there's no sensor that tells it to stop taking input.
Powerful for the price
TECLAST X3 Plus performance
After using the X3 Plus for just over a week — and keeping the price in mind — I was satisfied with its performance. It's not going to blow you away, but it's a suitable device for entertainment or emergency work purposes. You can get about four hours of use from the battery if you're really taxing it, and expect an extra hour or two extra with light use.
CPU
Geekbench 4.0 Benchmarks (Higher is better)
Swipe to scroll horizontally
| Device | CPU | Single core | Multi core |
| --- | --- | --- | --- |
| TECLAST X3 Plus | Celeron N3450 | 1,426 | 4,232 |
| CHUWI 14.1 LapBook | Celeron N3450 | 1,365 | 3,818 |
| Kangaroo Notebook | Atom x5-Z8350 | 924 | 2,357 |
| Lenovo ThinkPad X1 Tablet (2nd Gen) | i5-7Y57 vPro | 3,965 | 7,259 |
| Surface Pro 2017 | i7-7660U | 4,513 | 9,346 |
| Dell Latitude 5285 | i7-7600U | 4,635 | 9,289 |
The seventh-generation Apollo Lake Celeron processor can handle a good amount of everyday work, and the benchmarks prove it. It holds up well against other, similarly priced laptops, and the quad-core score is impressive in its own right.
GPU
Geekbench 4.0 Graphics OpenCL (Higher is better)
Swipe to scroll horizontally
| Device | Score |
| --- | --- |
| TECLAST X3 Plus | 5,821 |
| CHUWI 14.1 LapBook | 8,027 |
| Lenovo ThinkPad X1 Tablet (2nd Gen) | 17,454 |
| Surface Pro 2017 | 30,678 |
| Dell Latitude 5285 | 21,921 |
Graphics are handled by the integrated Intel HD 500, so don't expect to do much heavy-duty gaming here. Minecraft ran alright, but the fanless design makes things get hot in a hurry when attempting anything intensive.
PCMark
PCMark Home Conventional 3.0
Swipe to scroll horizontally
| Device | Score | Comparison |
| --- | --- | --- |
| TECLAST X3 PLUS | 1,453 | Better than 7 percent of all results |
| Lenovo ThinkPad X1 Tablet (2nd Gen) | 2,461 | Better than 40 percent of all results |
| Surface Pro 2017 | 3,055 | Better than 57 percent of all results |
| Dell Latitude 5285 | 3,079 | Better than 57 percent of all results |
The PCMark score might look low on paper (and against these thousand-dollar devices), but in reality the tablet performs acceptably well for light tasks.
SSD
CrystalDiskMark (Higher is better)
Swipe to scroll horizontally
| Device | Read | Write |
| --- | --- | --- |
| TECLAST X3 Plus | 261.7 MB/s | 109.5 MB/s |
| CHUWI 14.1 LapBook | 265 MB/s | 118 MB/s |
| Kangaroo Notebook | 128 MB/s | 43 MB/s |
| Lenovo ThinkPad X1 Tablet (2nd Gen) | 1,353 MB/s | 1,275 MB/s |
| Surface Pro 2017 | 1,285 MB/s | 963 MB/s |
| Dell Latitude 5285 | 1,300 MB/s | 1,113 MB/s |
The SanDisk (DF4064) 64GB eMMC drive is a weak point here. Read and write speeds are considerably slower than a standard solid-state drive (SSD), but it still beats plenty of hard-disk drives (HDD). Keep in mind that storage can be expanded up to 128GB with a TF card.
TECLAST X3 Plus review: Conclusion
While using the TECLAST X3 Plus on a daily basis, I kept the price in mind. Anytime I felt let down by the device, I reminded myself that it costs about $360 (opens in new tab).
If I'm completely honest, the X3 Plus seems almost too heavy to live on its own as a tablet, and yet the separate keyboard, which isn't bad to type on, comes with the awful touchpad tacked onto the bottom.
But considering the price, it's hard to believe you can get this quality of a display and the non-Atom processor it has inside. The X3 Plus likely doesn't have what it takes to be an everyday device, especially if you're in a spot where specialized tasks are the norm, but for an entertainment tablet or an emergency laptop, the price is hard to ignore.
As for buying options, both Newegg and GearBest have the X3 Plus for sale, but only GearBest has a listing for the $50 attachable keyboard (opens in new tab).
Pros:
Strong performance for the price.
Quality touch display.
Fanless and quiet.
Did we mention the price?
Cons:
Weighs a lot.
Touchpad is almost useless.
Display is a bit dim.
Kickstand hinge feels flimsy.
Battery lasts about four hours when taxed.
Windows Central Newsletter
Get the best of Windows Central in your inbox, every day!
Senior Editor, Laptop Reviews
Cale Hunt is formerly a Senior Editor at Windows Central. He focuses mainly on laptop reviews, news, and accessory coverage. He's been reviewing laptops and accessories full-time since 2016, with hundreds of reviews published for Windows Central. He is an avid PC gamer and multi-platform user, and spends most of his time either tinkering with or writing about tech.
16:9 display is no-go for a tablet.

Still getting great use out of my three and a half year old surface pro 2. Works perfectly. Perhaps you prefer a different aspect ratio but 16:9 works just fine for me...

This is the kind of device I hope Windows on ARM will help become even more cost effective and power efficient :)
For a general lack of pure tablets, I like this, definitely a good thing to be able to do some work if need be