Teenage Mutant Ninja Turtles: Mutants in Manhattan makes its way to PC and Xbox this summer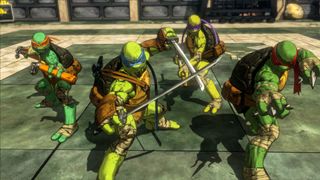 If you are a huge Teenage Mutant Ninja Turtles fan, then you'll be thrilled to hear that this summer a new title will make its way to the Xbox and PC. Teenage Mutant Ninja Turtles: Mutants in Manhattan will be the latest creation coming from the partnership of Activision, Nickelodeon and PlatinumGames. In this third-person action game, you'll be fighting to protect the streets of the Big Apple from aliens, mutants and the Foot Clan. You'll be able to play in a single-player campaign mode or partner with up to three friends in a four-player online co-op.
The game is due to arrive this summer, and it will be available on the PlayStation 3, PlayStation 4, Xbox 360, Xbox One and on Windows PCs through Steam. Will you be grabbing the latest Teenage Mutant Ninja Turtles title when it releases? Let us know your thoughts in the comments.
Windows Central Newsletter
Get the best of Windows Central in your inbox, every day!
Jared started off writing about mobile phones back when BlackBerry ruled the market, and Windows Mobile was kinda cool. Now, with a family, mortgage and other responsibilities he has no choice but to look for the best deals, and he's here to share them with you.
I like the cell animation. I'll have to check it out.

The original arcade game was best played on roller skates.

That game was so amazing! I never played on skates though but yeah it was cool. Spent many quarters on that one.

Same. Pizza money always went towards TMNT, Simpsons or Rampage when dropped off at the arcade/rink.

I always played it at pizza hut. Definitely a classic! I even had it on SNES I think.

They opened an old style arcade in my town called Coin-Op with cheap pizza and lots of old video games. I feel like I should pay them a visit today to see if TMNT is there!

I just played it the other day! There's an adult arcade here in Kansas City that has arcade classics from the 80's & 90's, and each game costs a quarter. I was playing so many of my old favorites: Galaga, Off Road, NBA Jam (1993 or 1994 version), Dig Dug, etc. They even have a Nintendo 64 with 4 controllers hooked up to large projection screen where people play Mario Kart. It was so much fun.

Sounds like an awesome place. I haven't been to an arcade in over 10 years :(

I will never understand why this franchise is still alive. Or why it began in the first place. But, alas, it has taken a treasured place in many a heart, and that's what ultimately matters, right...?

DC comics characters, GI-Joes and Star Wars were bland for many kids in the 80's who needed something new that their parents didn't have. They were born and bred at the perfect time. No characters since have been created that have their staying power. I feel bad for kids who grew up with SpongeBob and Frozen.

LOL. Good points. Also, I don't get the appeal of SpongeBob really. I've seen a few episodes but I don't know why it's this huge inside joke with kids and teens. It just isn't that amusing to me. Ninja Turtles had action, humor, minor slapstick and morality. I don't get what kids see in some of the newer cartoons.

It's the secret of the ooze!

Platinum games,? I played Bayonetta and it was good! I hope this game follows that same formula :)

These TMNT games tend to be bad. But let's hope though...

Now I remember the one made with Unreal Engine... it was kinda Meh. I finished it and uninstalled, felt it needed more work.

TMNT: Danger of the Ooze for 360 was a bit rough around the edges, but pretty good on the whole. There's always hope! Agreed that Out of the Shadows was so-so. They really needed to balance the difficulty and refine the gameplay more.

My son likes TMNT, I'll probably get it for him and check it out myself too.

I want my 1990's tmnt arcade and turtles in time to be re-released as a 2-pack on XBL

That would be a cool bundle...

Like all games from Activision this one will suck as well. I never bought games from Activision nor other game companies like THQ. I also stopped buying games from Ubisoft for they all seem to rush out games without giving much thought to there games. To me Assassin Creed Black Flag was the best game they have ever done, Watchdogs sold alot but like me there were so many disappointed person like myself. Guys all I am saying is, watch the companies you buy from. PS; SEGA been fall off!

Transformers Devastation was very good, and this probably will be too. You should keep your bias in check.

Well that's your belief not mine...I am very disappointed with the games they produce. Also yes all there games are a let down...now rockstar knows how to make great games.

If you never try them, you can't be disappointed by them. You just can't know a game's quality without playing it or at least reading reviews.

Hmm, It seems to me you're generalizing. DarkSiders 1&2 and Warhammer 40K Space Marine come to my mind. Very good games! And while both companies mentioned have released bad games, stating "All games suck" is just a misinformed statement.

Company of heroes, warhammer 40k, all classics and some of the best games I've ever played.

Every assassins creed installment after III sucked balls.

Watch dogs was awesome. And your grammar is weak. Learn the difference between "there" and "their" before you generalize in public. Posted via the Windows Central App for Android

My grammar is in check. Were I am from this is how we speak. Also I really don't care what people think about what I posted up, it is my statement....end of story. Jesus is the way truth an the life that's the only person's opinion that matters.

Out of the shadows will always have a piece of my heart. I really liked those hulky turtles

I'm extremely interested, but more details would be nice like open world/sandbox? RPG/upgrade elements? Posted via the Windows Central App for Android