Tentacles: Enter the Mind for Windows and Windows Phone with Xbox Live now available worldwide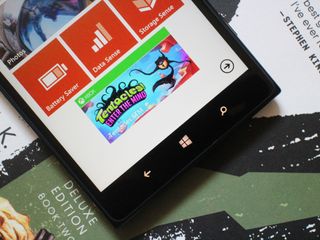 Over the last few weeks, we have been reporting on the forthcoming new game from Press Play (and published under Microsoft Studios). Named 'Tentacles: Enter the Mind', the game is an exclusive Xbox LIVE title for Windows and Windows Phone, with cloud synchronizing of game saves and data. The games have been available in Press Play's home turf of Denmark for a few weeks as a soft-launch, but as of today, the game should be available globally for everyone.
Tentacles: Enter the Mind is the sort-of-sequel to the previous Tentacles game, which came out years ago for Windows Phone. In the new version, the gameplay has changed to a more 3D view, along with a new story line, goals and that highly-desired cross-platform sync ability.
From the game's description:
We managed to do the region-switch trick last week and have been enjoying our time with the new game. Now, you can do the same, and since it is an Xbox Live title, you get those achievements too. Tentacles: Enter the Mind is free, with optional in-app purchases. The game is available for Windows Phone 8 and 8.1, in addition to Windows 8.1.
Via: @WPScoops
Daniel Rubino is the Executive Editor of Windows Central, head reviewer, podcast co-host, and analyst. He has been covering Microsoft here since 2007, back when this site was called WMExperts (and later Windows Phone Central). His interests include Windows, Microsoft Surface, laptops, next-gen computing, and arguing with people on the internet.
Great game and nice story

Why does this game's icon have a much thinner green Xbox bar?

There is no real standard for the green bar. It seems the devs just add it themselves, whatever size and precise green color they like. Some even put a white strip below the green. Hungry Shark Evo has an ugly Xbox One-ish green color, and so did Halo SA. This particular Xbox banner looks like a copy past job from the Win 8 version. Where the tile is much wider. When they stuck the banner on WP tile, it comes out thin and tiny.

The Xbox banner has been generally ugly. It's good that the dev take things into their own hand. MSFT need to update that thing.

Yeah, it's very odd that Microsoft doesn't have that standardized. It just looks unprofessional, which is unacceptable. I prefer the color and size of the most common version, the one on AC Pirates (minus the white line, though). They should standardize that. It's even more bizarre that Microsoft Studios themselves are inconsistent: Halo Spartan Assault is dark green, Tentacles Enter the Dolphin is super thin, Kinectimals is a lighter green with a thicker banner like AC Pirates. You can't tell me some intern at Microsoft can't go in and standardize all the Xbox banners on these games, including updating the WP7 white Xbox Live ones. I can't imagine that would take more than a day to fix.

Awesome. Thanks Danes for beta testing.

Still disappointed that the first game was never ported to WP8 for those of us that purchased it before. Makes me hesitant to support this ...

Probably still coming, look how long it took for other Xbox games. Over two years. Could be o in the works

Unlikely. I asked Press Play about it a few weeks ago and their response was "We get asked about that a lot...[but] that would be a lot of work."

Not sure the devs even had anything to do with the update last week. Was any WP7 game actually ported to WP8? This site mentioned a few, like Hasta La Muerte, Ms Splosion Man, and Harvest, but they have all since been pulled from WP8(and they were within 48hours of the intial publishing). Only one that remains is Glow Artisan, if I am correct, and it is unplayable on WP8 since it doesnt allow you to save your progress at all. Still unsure what to make of the last round of Xbox game updates myself....

Yea,. after a month after getting my first WIndows Phone 8 device, I got Microsoft on the pc and they gave me a full refund for the app.....Still disapointed that I could not finish the achievements due to getting a new phone and selling my old one right away...

Yes! Be sure to thank Press Play games and Microsoft Studios for this (#SaveXboxWP details here). And be sure to check out all of Press Play's other awesome games, including Max and the Magic Marker on WP, Max: The Curse of Brotherhood on Xbox One and Xbox 360, and their upcoming Xbox One game, Totem! I'm very impressed with their work.

Testicles: Enter The Mind.

Testicals: Enter the groin

Same here. The original was much better. Why not port it? I dont get it.

I keep a focus handy for a game here and there... Same with Pirates.

Guys, wasn't it two tentacles games stated here? What was the other one, do you remember?

One for Windows 8.1 (and 8.1 RT?), and one for Windows Phone 8

Tentacles: Enter the Dolphin is the other one.

It's nice to see the last two wednesdays an xbox title release for WP like the good old times.Lets hope MS resurected the Xbox branding on WP games because it hides huge potential on mobile gaming!(Especialy for achievement hunters!!!)

Store description says, "In-app purchases can be disabled through your device settings". How is it done?? Any clue??

Not sure if can be disabled, but if you have a wallet pin, you can atleast prevent someone from purchasing anything. Not sure of any methods though ;)

I thought you could disable purchases in Kids Corner?

Need to be constantly online for story to progress. :|

Well, that could be annoying. Hope they fix that soon.

It's because the game allows for cloud saving--i.e. 'pause and play' switching between WP and Windows 8/RT. That means it must be online all the time. We can have one or the other. Both have their pros and cons (I like playing games while flying, which can't be done with games that require online play), but I also like the ability to pick up and resume on any device. It's a tough call.

Oh finally, MS provides a good game for free.

How do you exit the game?

It doesn't do anything when I do that.

Testicles testicles everywhere

Actually not available for Peru, I guess it's the same for the most of Latin America. +920

Im in Honduras, and I just downloaded it. V1.0.0.0 Me fui a la tienda y busqué "Tentacles" pero no me salió nada. Lo que hice después fue escanear el código de barras y ahí si me apareció.

Yeah, now it is working fine here too.

Just downloaded it in Brazil. Working fine.

Yay! I can finally download this!!!

Ugh, have only been half paying attention to this despite loving the original. I didn't realize they were switching this to 3D. The original was far better.

This one has high replay value

Awesome! I'm kinda out of data bandwidth but cant miss this one!!!

This game needs to be optimized for 512 Mb. Performance isn't good on 512 mb

It runs good on my 520, at least i don't see any lag during gameplay

Got excited thinking this was Day of the Tentacle. I'm old...

More games with xbox support

Kudos to the developer for making such a great game with great graphics and so much less size!

I remember the WP7 days when they used to launch a new xbox game every week

Bought an IAP and got billed but didn't get the item. Might be just me but just putting a warning out there

Brought it to the attention of @xboxsupport and they said "thanks for your patience, this is now an issue we are looking into" glad its not just me.

Can be quite difficult (curse those three eyed flying enemies), but the game is very addicting.

Okay, fwiw:
I did the trick that allowed me to dl the beta version. The game play was okay and the visuals were rough - but it's the beta, I told myself. Once I saw that it was available globally, I uninstalled that version and dl'ed the new one. Much to my dismay the graphics look like, well pardon my French, fucking shit!!!
Look, I played, and loved (and commiserated the loss of) the original. I too have a hard time understanding why some games get the "Xbox" label when not deserved (this is a GREAT example), when other that are fantastic, are not.
I know I should shut up and be grateful that this iteration exists, and is free, but for fucks sake, really!?! This?!? At least clean up the graphics before you release the "official" version - it looks like a group of high schoolers coded it, not the original team that created the Tentacles we all knew and loved.

Finally I can download it. Last week I checked for it and it wasnt worldwide.

I did the Denmark region trick last week to download the game and had no issues with it. Today, I saw this article and thought I might have to uninstall what I had, and download the new version, but nope... same exact installation according to the store. Love the game btw!

It is the same version that has just been released for the entire world instead of only in Denmark.

Nice game, but very buggy. When I opened it today I've had the unpleasant surprise to see that almost everything was wiped out except the overall level progress. The list of things that are gone includes coins, powerups, eggs/hammers, and gear (oddly, the gear that was on the character yesterday still remained). Does anyone have any ideas about this?
Windows Central Newsletter
Get the best of Windows Central in in your inbox, every day!
Thank you for signing up to Windows Central. You will receive a verification email shortly.
There was a problem. Please refresh the page and try again.