The best pocketable power banks to charge your Windows Phone on-the-go
Keep your gadgets charged up with these ultra-portable power banks that are perfect for pocketing without breaking the bank.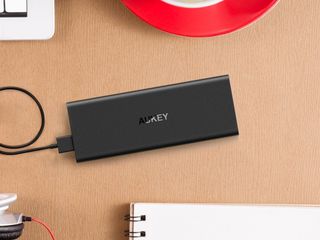 No matter how hard we try, hooking your gadgets up to a wall charger to top off your battery isn't always an option. Whether you're at a ball game, camping in the wilderness, or simply having a night out on the town, a pocket-friendly power bank can save your battery life from depletion when in a bind. Available in all shapes and sizes, these affordable batteries range from little packs that offer a single full charge for your Windows phone up to a larger and more powerful 10000mAh batteries that will charge your phone four or five times.
Anker PowerCore+ Mini 3350mAh Power Bank
This compact power bank features a sleek aluminum design that measures only 3.7 inches in length. Its durable construction means it can handle drops, and the built-in PowerIQ technology delivers a safe 1 amp charge to your device. You'll find an LED on the front next to a single USB output and a Micro-USB input. Safety measures have also been implemented, including surge protection and short circuit protection. Expect nearly 1-1/4 charges on most Windows phones.
See at Amazon (opens in new tab)
Aukey Mini 5000mAh Power Bank
Sharing a similar design to above-mentioned Anker, the Aukey Mini packs a larger 5000mAh capacity into a shorter 3.5-inch aluminum shell but is slightly larger in diameter (1.18 inches). This power bank has been drop-tested and utilizes premium LG battery cells inside that provide up to a 1.5-amp charge through its single USB output. There's a charging LED on the front, and a 3.3-foot Micro-USB cable is included. Expect around two full charges on most Windows phones.
See at Amazon (opens in new tab)
Anker Astro E1 5200mAh Power Bank
Anker's Astro E1 power bank packs 5200mAh into a 3.8-inch by 1.7-inch package. It sports a single USB output that's capable of charging at 2 amps for devices that can accept more than the typical 1 amp. The drop-tested shell is smooth to the touch and features four LEDs for checking battery life on top. The included Micro-USB cable recharges the unit at 1 amp. Expect around two full charges on most Windows phones.
See at Amazon (opens in new tab)
RAVPower 7800mAh Power Bank
This 7800mAh power bank from RAVPower features a 2-amp Micro-USB input for charging the battery and a single USB output that pushes a maximum of 2.4 amps to your connected device. Shaped like a small brick, it measures 3.86 x 0.71 x 1.46 inches, but is easy to store in your pocket. Four blue LED's keep you informed of how much battery life remains. RAVPower has also included safety measures inside to prevent charging mishaps. Expect just over three charges on most Windows phones.
See at Amazon (opens in new tab)
EasyAcc 2nd Gen 10000mAh Power Bank
The largest on our list is the EasyAcc, which rocks a 10000mAh capacity and measures only 5.67 x 2.95 x 0.58 inches. Its smooth outer shell slides easily in and out of pockets, and the convenient LED light on the front is perfect in low-light conditions. The Micro-USB input charges the bank at 2 amps while the single USB output is capable of pushing up to 2.4 amps. Expect about four charges on most Windows phones.
See at Amazon (opens in new tab)
Nekteck Micro-USB to USB-C Adapter
With so many power banks behind in the USB-C game, some of us still need a way to charge our USB-C devices. This mini adapter features a female Micro-USB input and a male USB-C connector on the opposite end, meeting all USB-C technical standards. Although not every device sports USB-C just yet, it's an affordable way to utilize your existing Micro-USB cables with phones like the Lumia 950 and Lumia 950 XL.
See at Amazon (opens in new tab)
But what's the one in the photo?

Looks like another model of the Aukey.

What about a Qi-based one for those of us who don't want to carry a cable just to charge the phone?

There are a few of these on the market, i've had one for a couple of years

Any batteries out there that support charging the l950 rapidly ?

I have been considering this one. http://www.amazon.com/RAVPower-Wireless-Charging-External-Qi-Enabled/dp/B00HYAZMU2/ref=sr_1_4?s=wireless&ie=UTF8&qid=1453326555&sr=1-4&keywords=qi+battery It is the thinnest one I could find, though I wish it had Qi pass thru so I could charge my battery on a Qi charge while charging the phone on the battery.

http://www.amazon.com/gp/product/B015OWZ1ZC?psc=1&redirect=true&ref_=oh_... Why this one? Its has USB-C and Quick Charge 2.0. If you have the 950XL, you only need to carry one cable (USB-A to USB-C) for both devices.

That's right. Buy a cable instead of an adaptor for a cable and then you won't have to carry three things.

That's probably the best one and you future proof your purchase. I't a pain carrying more than one plug.

Or better yet, just carry a spare 950 battery. =) ...when they eventually sell some.

Stupid question, but how do you charge that second battery?;)

Lay it on the dashboard for an hour.

The same way your charge all these power bank chargers. When you buy the batteries, you can also get a wall charger too. You charge it in advance of needing it. For my Windows Phone I have to two spares always charged. It is great. Too bad all phones don't have removable batteries.

It's not really the same, plugging in the power bank to the same micro usb charger you use for your phone vs. needing a separate wall charger. Also, that extra battery is only good for that phone model while you can use the power bank to charge any device.

I've got 3 spare batteries. 1 for a Lumia 635 that my wife uses, 1 for my 640 that I use, plus one for my backup phone. I have a Universal Battery Charger that allows me to charge pretty much any cell phone battery out there in a stand-alone fashion. The particular charger I use also has a USB port to plug in the phone at the same time, so I don't need more than one outlet to charge the battery and the phone. Between my spare batteries and the several power banks that I have, I could camp out for a very long time and keep both our phones charged the entire time. My wife and I can both get well over 100 hours of talk time each before having to find electricity to recharge.

I've got the best one (not self-made by the way, in case you were wondering). ;) Sorry for the not so good picture. https://onedrive.live.com/redir?resid=556FDB0FAA955552!516834&authkey=!A...

I'm using the CHOTEC 10400mAh unit. It has a built in USB-C port along with the standard ports. $32 on Amazon. It charges my XL very quickly and so far I've gotten 4 charges out of it. http://www.amazon.com/gp/product/B0188DIXX6?psc=1&redirect=true&ref_=oh_aui_detailpage_o02_s00

Try smarttools power bank 10000mAh in ebay. Its the world's smallest power bank with high quality and good capacity.

I have no use for this.. My 640 never dies seems.

How about some of the Nokia and or Microsoft portable battery offerings, such as the Microsoft DC-21 and some of their newer models DC-32, DC-33 DC-34?

I had a couple of pocket sized power banks, never really carried them in my pocket and for my backpack I use a HooToo TipMate Elite which can also charge phones off it's battery but I really need it more as a private router

Just received a RAVPower 20100mAh, can charge QC2 devices and can recharge itself using QC2, also has ismart for fast charging the nvidia shields and littlen's tablet. Paired with CHOETECH 60w QC2 hub and charging is no longer cumbersome..

I bought a CHOETECH product the other day (Car charger w/ USB-C cable) - Do you know if they are associated or part of Anker in any way? Their product I bought seemed really high quality and pretty much as good as the Anker products I own....They also had identical wording on the inside packaging/manual but printed in a slightly lower quality, and I wondered if they are related / owned by the same company or if one copied the other.

I'll vouch for Anker products, ever one I've bought has been absolutely perfect - I recently bought their 20,100 mAh product - Although it's not really "pocketable" like the ones featured I did carry it in my coat pocket around London for a weekend and didn't even notice it was there. In the end my 950 battery last longer than expected, so me and my wife only used it for a short amount of time

http://www.powerbank-perfect.com/product/parkman-t1-6200-mah/ It would be nice if you use a backup battery power bank that has quality and is 100 % . I certify products from this site in a quality product ever.

I bought one of the pocket chargers for my Lumia 950, but it will not register or charge the phone. It works on my Moto X and my iPhone 6+, but not the 950. Anyone else encounter this?
Windows Central Newsletter
Thank you for signing up to Windows Central. You will receive a verification email shortly.
There was a problem. Please refresh the page and try again.