The best pocketable power banks to charge your Windows Phone on-the-go
Keep your gadgets charged up with these ultra-portable power banks that are perfect for pocketing without breaking the bank.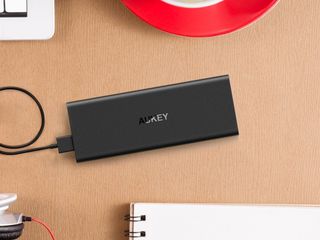 No matter how hard we try, hooking your gadgets up to a wall charger to top off your battery isn't always an option. Whether you're at a ball game, camping in the wilderness, or simply having a night out on the town, a pocket-friendly power bank can save your battery life from depletion when in a bind. Available in all shapes and sizes, these affordable batteries range from little packs that offer a single full charge for your Windows phone up to a larger and more powerful 10000mAh batteries that will charge your phone four or five times.
Anker PowerCore+ Mini 3350mAh Power Bank
This compact power bank features a sleek aluminum design that measures only 3.7 inches in length. Its durable construction means it can handle drops, and the built-in PowerIQ technology delivers a safe 1 amp charge to your device. You'll find an LED on the front next to a single USB output and a Micro-USB input. Safety measures have also been implemented, including surge protection and short circuit protection. Expect nearly 1-1/4 charges on most Windows phones.
Aukey Mini 5000mAh Power Bank
Sharing a similar design to above-mentioned Anker, the Aukey Mini packs a larger 5000mAh capacity into a shorter 3.5-inch aluminum shell but is slightly larger in diameter (1.18 inches). This power bank has been drop-tested and utilizes premium LG battery cells inside that provide up to a 1.5-amp charge through its single USB output. There's a charging LED on the front, and a 3.3-foot Micro-USB cable is included. Expect around two full charges on most Windows phones.
Anker Astro E1 5200mAh Power Bank
Anker's Astro E1 power bank packs 5200mAh into a 3.8-inch by 1.7-inch package. It sports a single USB output that's capable of charging at 2 amps for devices that can accept more than the typical 1 amp. The drop-tested shell is smooth to the touch and features four LEDs for checking battery life on top. The included Micro-USB cable recharges the unit at 1 amp. Expect around two full charges on most Windows phones.
RAVPower 7800mAh Power Bank
This 7800mAh power bank from RAVPower features a 2-amp Micro-USB input for charging the battery and a single USB output that pushes a maximum of 2.4 amps to your connected device. Shaped like a small brick, it measures 3.86 x 0.71 x 1.46 inches, but is easy to store in your pocket. Four blue LED's keep you informed of how much battery life remains. RAVPower has also included safety measures inside to prevent charging mishaps. Expect just over three charges on most Windows phones.
EasyAcc 2nd Gen 10000mAh Power Bank
The largest on our list is the EasyAcc, which rocks a 10000mAh capacity and measures only 5.67 x 2.95 x 0.58 inches. Its smooth outer shell slides easily in and out of pockets, and the convenient LED light on the front is perfect in low-light conditions. The Micro-USB input charges the bank at 2 amps while the single USB output is capable of pushing up to 2.4 amps. Expect about four charges on most Windows phones.
Nekteck Micro-USB to USB-C Adapter
With so many power banks behind in the USB-C game, some of us still need a way to charge our USB-C devices. This mini adapter features a female Micro-USB input and a male USB-C connector on the opposite end, meeting all USB-C technical standards. Although not every device sports USB-C just yet, it's an affordable way to utilize your existing Micro-USB cables with phones like the Lumia 950 and Lumia 950 XL.
Get the Windows Central Newsletter
All the latest news, reviews, and guides for Windows and Xbox diehards.