The Bridge, find your way in this beautiful puzzle game for Windows and Windows Phone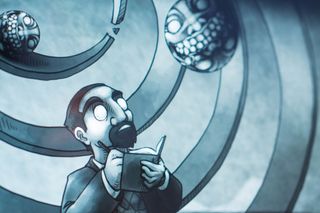 The Bridge is a puzzle combined with beautifully hand-drawn art in the style of a black-and-white lithograph. Before we continue, let's get one thing out of the way. It costs $5.99 at the Windows Phone Store without a free trial. We've probably turned off many people by now, but on a positive note, you can buy the game once, and download it both for Windows and Windows Phone. The Bridge has also won the Unity Game developer contest, standing out from over 600 other entries. Watch our gameplay video to see it in action.
The main objective is to get to the exit door and you'll have to figure out how to do that. There will be things that get in the way such as balls that can crush you, or a vortex that warps your body. You also need to analyze the architecture of each level to understand what you need to do and where to go. A lot of thinking is required.
The controls aren't hard to understand. Tap and hold in front of the character to make him move and tilt your phone left or right to rotate the levels. If you get crushed, float off, or get stuck, you can backtrack to try again. You can do this by swiping from right to left then hold. You tilt your device to rotate levels and define what's the ceiling or the floor. There's currently no way to pinch or zoom in a level, but you don't really need to.
There are four chapters with six levels each. You can revisit these levels if you want to challenge yourself to finish them in shorter time or to find other ways to solve them.
We enjoy playing The Bridge. It's challenging, but not too hard that it will make you give up right away. It has beautiful artwork too. The price is high, but it's great that you can buy it once and download on both Windows and Windows Phone devices. Your progress does not sync, though. We've installed it on our Surface Pro 3 and play using the keyboard.
Is this your type of puzzle game? Let us know in the comments!
Played this on steam, it's well worth $5.99. Will most likely double dip and get it again!

I was really tempted to buy this for my W8 tablet (SP3) but your comment made me look in my Steam library to discover I bought this already in December! I really should play it (along with the other few hundred games I still need to play)

I remember seeing this a year or so ago in the 360 Arcade. Interesting looking little game.

Looks like a great awesome idea, but $5 and the game doesn't even mention how many levels does it has. Not sure to buy it. I love puzzle games but the length of the game is something I wonder it worth or not.

You didn't read the article. Did you????

You can redeem Bing rewards points for store credit.

Just work on HD screen resolution , wtf?

This is a great game. I played it on my asus vivotab note and my 2520. it's one of the few games which makes use of holding and turning a tablet and does it in a fun way. It's also a visually stunning game. well worth the money.

Beautiful!!! But I can't understand how much cost. Because you say than you can pay $5 on Windows Phone and will work on Windows 8.1 but at the end of the article you show both PC and Phone price? And those prices are different. I am not so fluent on English, so maybe I didn't understand right

You understand it right. Seems strange that a universal app would have different prices in the two stores. They must figure Windows users would be willing to pay more for the game.

I bought this.It looks brilliant so far

Better than another endless runner, or awful tower defence game

Weird hey there are some really cool, graphical games for the 512 ram? Where wouldn't a 630 handle this? Strange

WOW!! Just wow. Mark Guim in full effect today.

I remember TotalBiscuit played this game a while ago - you can watch his WTF if you want to know more. It seemed like a fairly competent and honest game, so I can't image that the mobile populance will look at it very kindly (WHERE ARE MY HUGE + BUTTONS NEXT TO EVERY NUMBER SO I CAN BUY STUFF SO I DONT HAVE TO PLAY THE GAME!?!?). It's actually been on the Windows Store for a while and didn't seem too successful, so I'm a bit surprised that they made it universal. I guess the process is easier than I thought.

It's unplayable on my 930. The game is soooooo slow, too much latency !