These are Windows Central's top picks of CES 2015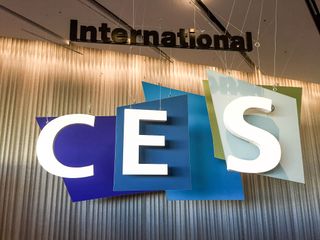 Our favorites from the traditional Las Vegas curtain raiser
CES is done for another year, and while Windows Phone wasn't exactly much of a thing out in Las Vegas – not that we were ever really expecting it to be – it certainly wasn't a slow show. We were treated to a wealth of new Windows 8.1 devices in both tablet and Ultrabook form that has us excited.
Of course, we've gone through the whole of CES with one eye on Microsoft's upcoming Windows 10 event out in Redmond. We're not the only ones, but it's also great to see that quality devices for both Windows 8.1 and Windows Phone are being announced so early in the year when it would no doubt be tempting to hold off.
And so, without further ado, here are Windows Central's top picks from CES 2015!
The Dell XPS 13
There was a collective reaction among the gathered press at Dell's Tuesday morning press event when the brand new XPS 13 was unveiled. Wow. The first thing that hits you is how incredibly small it is given the hardware inside. Part of that is down to the Sharp sourced "Infinity display" which has almost no bezels at all around the top and sides and allows Dell to squeeze a 13-inch notebook into a form factor the same as an 11-inch.
It's not a case of "all show, no go," either. With Intel's latest 5th generation Core i CPUs on hand, a full size keyboard, precision trackpad and an option for a QHD touchscreen display, the XPS 13 has set a high bar for the Ultrabook segment in the very first week of 2015. It's ultra portable, ultra beautiful, and with prices starting at $799 for non-touch versions, not overly expensive, either.
Yezz Billy 5S LTE
While we didn't expect much in the way of Windows Phone news or devices from CES, it wasn't a complete no-show. The excellent Yezz Billy 5S LTE was announced and shown off at the event and we came away pretty impressed. It's thin, it's light and it's going to offer excellent value for money when it eventually goes on sale sometime in the next few months.
Yezz isn't nearly as high profile as the Lumia line of devices coming out of Microsoft, but it's great to see the company having some success, notably doing pretty well in Europe. When someone's making Windows Phones that offer this much 'bang for your buck,' then we'll always take notice.
Lenovo Thinkpad X1 Carbon
Announced right at the beginning of CES, the Lenovo Thinkpad X1 Carbon was designed and built partly to celebrate 100 million units sold in the Thinkpad line. That's an impressive figure, and the X1 Carbon is an impressive Windows 8.1 Ultrabook. The Thinkpad line continues to have obvious business user attraction, but any consumer would also do well picking up a new X1 Carbon.
It's thin, light and even has a fingerprint scanner to secure your data with. Like many of Lenovo's other CES products, the X1 Carbon is running on the latest 5th generation Intel Core i CPUs, and has an option for a really nice looking WQHD touchscreen display. With prices starting at $1249 it's not going to be for everyone, but it's going to please anyone who buys one.
Lenovo Yoga Tablet 2 with Anypen
The Lenovo Yoga Tablet 2 isn't a new product, indeed it launched initially back in November 2014 alongside an Android version with the same name and hardware. What's new for CES, though, is the Anypen technology coming in this refreshed 8-inch model.
The rest of the tablet remains the same. Still Windows 8.1, still Intel Atom powered, but now you can write on it using just about any object imaginable. A fountain or ballpoint pen, a pencil, even a carrot or a pair of scissors. While scissors probably aren't something you're going to use on a tablet, Lenovo demoed all with success, showing just how amazing the Anypen technology really is.
The Lenovo/NEC LaVie
Lenovo had a strong showing at CES, but this one came out of left field and totally took us by surprise. We've billed it as the "world's lightest Ultrabook that you've never heard of," and that's absolutely correct. NEC is a big brand in Japan, but virtually unknown everywhere else. And the LaVie is its crown jewel, a laptop so light that at first you don't believe it's real.
That's because the LaVie is constructed from a Magnesium Lithium alloy. It gives the impression of plastic, but has no flex to it and allows for an incredibly light product. The touchscreen version weighs just 2.04lbs – with a non-touch option weighing even less, still – and it feels like a dummy unit. Lenovo is going to be bringing the LaVie to North America later this year under its own branding. If you want the lightest, you'll definitely want to check this out.
Samsung Ativ Book 9
It's been a little while since we saw a new Ultrabook from Samsung that impresses as much as the Ativ Book 9. At just 12-inches and incredibly slim and light, the Ativ Book 9 is a perfect option for the ultra-mobile laptop user. It's ridiculously thin and light, coming in at just 2.06lbs with its aluminum unibody construction.
It doesn't have a touchscreen, but we're prepared to look past that given how amazingly good the rest of the Ativ Book 9 is. For starters that display is 2560x1600 resolution panel, so it looks amazing at this size. And because it's using Intel's Core M CPU, there's no fan, and it all contributes to the diminutive size.
The Intel Compute Stick
If you're looking for the ultimate small, portable Windows 8.1 PC, then this is it. With an HDMI out port and coming in not a whole lot bigger than a USB stick, the Compute Stick has to be one of, if not the smallest Windows PC in the world. And it's not short on hardware given the size, either.
With 32GB of storage, 2GB of RAM, a microSD card slot, a USB port and a microUSB port for charging, there's plenty in this ultra-portable computer for the $150 asking price. And it's a lot smaller than a laptop.
So, that's what made our list of top picks from CES 2015. To check out the rest of the action from the show be sure to swing by our dedicated page here.
Windows Central Newsletter
Get the best of Windows Central in in your inbox, every day!
Managing Editor - Tech, Reviews
Richard Devine is a Managing Editor at Windows Central with over a decade of experience. A former Project Manager and long-term tech addict, he joined Mobile Nations in 2011 and has been found on Android Central and iMore as well as Windows Central. Currently, you'll find him steering the site's coverage of all manner of PC hardware and reviews. Find him on Mastodon at mstdn.social/@richdevine
The Intel Compute Stick is best

I agree and then that Dell xps!

Good to see regained trend by OEMs in personal computer products.

I like the focus on computing choices here. None of that show-wy smart cup, self driving car IoT stuff. :)

You guy pretty much nailed it as far as Window related. 3d printing was awesome as well.

How possible is insert the Intel Compute Stick into the USB port on the Surface RT and run Windows 8.1? (Translated...My english is not good).

The Surface RT doesn't act as just a dumb display. This is for plugging into something like a TV or a monitor.

MSI Shadow? The thing with the included graphics card box (btw, you guys didn't mention it was included for the price, and that lead to some confusion) Posted via Windows Phone Central App

I'd like to use the Intel Compute Stick as a media player for my kids, but I would love to have xbmc installed because it's easy for the kids to use... It would replace the terribly underpowered and noisy atv1 they have now... Could this be possible?

Then what, I still needs to carry a keyboard and a mouse.

Some pretty small options for those these days.

I don't think Intel's Compute Stick is a portable computer, not only the mouse and keyboard, because of the screen too! It is supposed to be pluged into a TV and with Remote Desktop from your tablet... Magic on a 65" screen being able to do 'Everything' from wherever! Touch Modern Apps or Desktop!

Wireless mouse and keyboard to be exact, since there's only one AS USB port.

XPS 13 or X1 Carbon? Which would you get?

I'm leaning towards the XPS 13. It's one of those "see it, want it" kind of deals

Thanks. Hoping to compare at the nearest Microsoft store soon. Salesman claimed that the XPS display unit would be in this week. I really wish they came out with the same form factor in the XPS 15 as I worry abou the 13 being too small.

Vegas MS store had an xps 13 non touch demo model in during CES so you should see one soon.

Ok, last question, touch or no touch?

Hp stream..?? I loved it....
Windows Central Newsletter
Thank you for signing up to Windows Central. You will receive a verification email shortly.
There was a problem. Please refresh the page and try again.