Quick look at the Samsung ATIV Book 9, the thinnest, lightest Ultrabook yet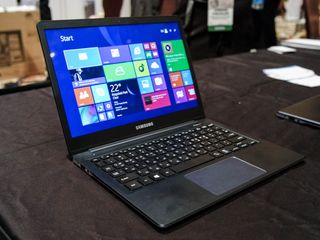 Samsung may be playing second fiddle on Windows Phone these days, but they are still all in on the PC and laptop front. Last night, Samsung showed off their latest creation, the ATIV Book 9, which is a refresh of their continuing ATIV Book series (there is also a 'Pro' version).
The ATIV Book 9 is quite the looker with its all-aluminum, unibody design and its razor-thin 0.46-inch profile. The whole package weighs just 2.06 pounds, and it sports a 12.2-inch WQXGA (2560×1600) display that is a non-touch screen.
The ATIV Book 9 is powered by the new Intel Core M processor – the same found in the new Lenovo Yoga 3 Pro. As such, it is not a powerhouse in terms of performance, but it can come close to the older Core i5 in certain tests. However, the big selling point with the Core M's is the ability for devices to be fanless, and that is the case here with the ATIV Book 9. Additionally, the ATIV Book 9 can be super thin and get decent battery life from that new Core M.
Impressions? I have been a big fan of the ATIV Book 9 series for a while now, having owned the ATIV Book 9 Plus in the past. The ATIV Book 9 shown here continues that excellent design aesthetic with the cut metal design and high-quality feel. The display, which, unfortunately, is not touchscreen, is one of the brightest available being able to achieve 700 nits outdoors. Samsung's displays have always been top notch, and the ATIV Book 9 continues that.
Who is it for? The ATIV Book 9 is ideal for students, professionals or those who need a lightweight, high-quality, device for writing, taking notes, managing email, and doing light work. Starting at $1,199.99 the ATIV Book 9 is by no means a budget device, but instead falls into the premium, high-end spectrum.
Speaking of ATIV Book 9 Pro aka the one with the bigger 13.3-inch touchscreen display and proper Core processors, Samsung is refreshing that line too. Customers can look towards the new Broadwell CPU to be included in that refreshed device in the "coming weeks". The ATIV Book 9 Pro is a more proper Ultrabook and with its Core i5 (or i7) CPU on board, is more ideal for those who need more power on the go.
Finally, in talking with Samsung, they seem very excited about Windows 10 and appear to be 'all in' with laptops and hardware later this year. It should be interesting to see what they bring to the table later in 2015.
Windows Central Newsletter
Get the best of Windows Central in in your inbox, every day!
Daniel Rubino is the Editor-in-chief of Windows Central, head reviewer, podcast co-host, and analyst. He has been covering Microsoft since 2007 when this site was called WMExperts (and later Windows Phone Central). His interests include Windows, laptops, next-gen computing, and for some reason, watches. Before all this tech stuff, he worked on a Ph.D. in linguistics, watched people sleep (for medical purposes!), and ran the projectors at movie theaters because it was fun.
I'm pissed with Samsung since they didn't update their ATIV S to Windows Phone 8.1 yet! I lost all trust with them!
I should've bought the Lumia 1020

I have Windows Phone 8.1 on my ATIV S for months !!!! And WITHOUT DP :D

Actually a lot of people have 8.1 GDR1 on their ATIV S for some time. They skipped WP8.1.0

Samesung sucks a big time..!!

No illuminated keyboard no money from me FAIL

Attractive side view...i like the design...

They have no choice, its not like they would make a Samsung Macbook

Samsung doesn't have to make laptops at all.

Ever hear of Chromebooks? Lots of companies investing in them... You folks are supposed to support Windows and Microsoft, the cynicism here is overwhelming sometimes even for me.

Seriously? We are the ones that have chosen to stick with MS no matter how much juicy the others offers are. Besides MS plays Santa to all its competitors.

Santa claus??? Ow wait the software company distributing its software. Omg how dare they??? Granted wp software should be on par.

Eh the cynicism is warranted a lot of times imo. On the note of this topic, it sort of looks nice but I am not a fan of Samsung products tbh. Still looks a little cheap as per the Samsung usual.

Same thoughts..Samesung makes cheap plastics..

Hey is it just me or did VLC just receive an update?

Though off topic, yes it did.

Long time back man! VLC got a little update, This is old news, wonder why windows central doesn't cover it?

Hey Daniel... Folks here are supposed to support Windows...lol
Then how come your crew took along iPhones and macbooks to CES.

App gap? And its not a war lol

Mark took a Macbook because he prefers Final Cut Pro, while the entire team took iPhones only to use Slack. CES 2016 will probably be a different story.

Have tried the slack third party app on WP? Its actually quite good.

The authors of this site? Yeah i guess they tried it lol. Read it lacked soms functions. Whats the big deal with them using Apple?

Yeah there are some functions missing but its being developed by one person to my knowledge. The dev is pretty good as responding to feedback too.

So they could communicate with other Mobile nations guys

@Daniel I've heard it. Not selling much as Windows & OSX . Even Samsung stop selling them at some area. Hope it dead asap. Lol. Btw glad to see Samsung still make windows laptop. They are top brands nowadays. If Samsung advertise their Windows Phone on YouTube just like they advertise their Galaxy Phone & Tab, I guarantee WP OS will rise up quickly. Even Android are famous because of Samsung not Google...

What the heck is a Chromebook ???? if I want a glorified browser as an OS I would be using BeOS or Firefox OS

Why would a awesome and REAL manufactier that make tons of parts of CrApple iJUNK and MacCrap, would waste their time make poop device like MacCrap? Samsung, LG, ASUS, Microsoft, Dell, Lenovo, Acer, MSI,.......just name a few that make REAL computer PC's, and NOT an overrated, Hyped-Up, 4 years behind others, Always Copying others and then pretending it was all their own idea,overpriced trash, pure poop, want to be PC, made for kids, MacCrap. MacCrap and iJUNK is ONLY belong to CrApple, design for iSHEEP.

Quite happy with 1st iteration of Ativ 9 apart from the fckd up charging port

Why go with this when the YogaPad 3 is outstanding.

Because this is lighter, thinner, and fanless.

But no touch screen. That is a deal-breaker.

Yoga Pro 3 is as thin uses the M processor is touch and can be used as a tablet. Hands down for the same price the Yoga 3 is a better product.

Choice is a wonderful thing, isn't it?

I have never liked their keyboard design.. Love Lenovo's a lot more.. Especially that Pg Up/ Pg Dn buttons..

Pretty sure they were "excited" about Windows 8 too, not sure their "new" excitement means much.....

Never liked Samsung. Probably the thinnest laptop Samsung have made but not the thinnest once there's ever been.

What about if Microsoft releases a Lumia tablet! That'd be cool!

Already exists Lumia 2520.

We want a new one! All made by MSFT:) not the old Nokia 2520

I think he meant with their Microsoft branding maybe?

Yup! You're right:) a mid ranged device which will sell like hot cakes all over the world would do. Surface pro 3 is too expensive for most :(

If they ever did, they better have the marketing ideas ready or they'd be confusing alot of who only associate the Surface as ms' only tablet. In saying that though they could use it to their advantage and position the Surface directly and only at the mba and have the Lumia tablet line running the mobile version of win10 and aimed directly at the iPad.

This is laptop, not a smartphone that we need to complain minute by minute. Is there anything wrong with this device?

Nope, but this site and its followers are getting more cynical and unreasonable by the minute.

....Samsung... But hey I'm completely against them. If you like em good for you. Hope you enjoy this product and good to see they are making Windows products

Tbh i dont haha, but this laptop doesnt suck.

@Daniel, why don't you use international accepted units instead of inches and pounds?

Because that's what our country uses as measurements which means:
A) it is what he's most use to
B) he's at a trade show in that country
C) the largest audience of Windows Central users are in the US.

C is not entirely true. Otherwise, you're right in the money. F*** metric!

F%]#& imperial... The dumbest measuring system that makes zero sense.

A) This is a professional blog, not a personal one. The writer must do what is best for the readers aside from what he likes or is used to, and yes, that means including both imperial and international units. B) CES is located in USA, but it is very much an international trade show. People from all over the world attend to it and check news about it. C) I have no data (do you?), but according to the comments I see on this site, I am pretty sure that non-USA readers are a large portion of WCentral users.

Because all the companies making these devices list their specs in inches and pounds for starters.

I have a samsung ativ book 9 plus. It is a very nice and attractive laptop, my biggest issue with it is that RAM is not upgradeable. The model I have has 8 GB but I don't think that is enough, I need 16 and I can't upgrade it.

Many systems are like that now, and most companies are realizing that consumers don't generally care about that anyway.

Sorry man, what do u use it for?

While I prefer the Surface Pro, the Ativ 9 Pro does sound like a pretty good deal.

Those are some pretty decent specs. Would definitely check them out, regardless of the hostility represented by folks here. Besides, the more Windows support, the better!

Samsung afraid to make touch screen 2 in 1 tablet or laptop because, it will kill all the android tablets that they have.

Lenovo is already lighter at 1,7

I'll never buy a laptop without touch screen again. The ATIV Book 9 Pro seems like a better match with Windows 8.

That's a Korean keyboard.

Please, Windows Central, try to include weight and size data in international units. If you do, the conversion is only made once, but if you don't, it must be done thousands of times: everytime someone from EU, JP, CN, etc. reads the article. Thank you! PS: no need to convert the screen size, as I think we are all used to that, even if we don't know how big is one inch. :-]

Doesn't look good enough for me, at least not in the first pic.

Lol how many times in this CES you have to say ' this is the thinnest tablet/ultrabook yet.
Windows Central Newsletter
Thank you for signing up to Windows Central. You will receive a verification email shortly.
There was a problem. Please refresh the page and try again.