These Ford themed Xbox One controllers look incredible but you can't have them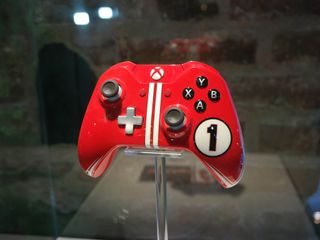 These special Ford inspired Xbox One controllers aren't new, but since we weren't at Le Mans for the 24hr race, Gamescom is the first chance we've had to see them. And we still can't have them, either.
These not for sale controllers are inspired by three historic racers made by Ford. There's a 1965, 1966 and 1967 controller in blue, black and red respectively. The 1965 controller commemorates the first American victory at the Le Mans race in the GT class in a Shelby Daytona Coupe. The black controller celebrates the win by Bruce McLaren and Chris Amon the following year in the Ford GT40, while the red 1967 controller marks Dan Gurney and AJ Foyt passing the 5,000 km mark for the first time.
Microsoft had them on display at its Gamescom presentation along with a very special Ford Focus RS decked out in Forza 6 colors. It's clear that Microsoft and Turn 10 are pulling out all the stops with the biggest Forza game yet. We'll have a preview of Forza 6 in the coming days but for now feast your eyes on the controllers in the gallery below.
Richard Devine is an Editor at Windows Central. A former Project Manager and long-term tech addict, he joined Mobile Nations in 2011 and has been found on Android Central and iMore as well as Windows Central. Currently you'll find him covering all manner of PC hardware and gaming, and you can follow him on Twitter and Instagram.
So some people have them?

Microsoft has them. And maybe Ford. But definitely not us common folk.

That's okay, we'll just make them. Yay for mods!

I just want the Xbox to get to a point where I can BURY my existing controller. I hate having to use it at ALL. Too many apps only work with the controller instead of taking advantage of the fact I have a Kinect.

Is this the Xone we're referring to?

Microsoft Store exclusives. Or the blue one is.

Wrong blue one. The MS Store-exclusive one is from the Forza 6 bundle. This blue one is part of a trio of Ford GT-specific ones made as non-commercial products.

So what you're telling me about this edition is that it probably won't turn on, will have to be fixed often, and is comparitively slow when up against other controllers.

Yeah, bit it'll sound awesome!

So what you're saying is you know nothing about cars?

My comment is because I know more about cars and the automobile industry in general than somebody such as yourself. Spent my entire life in and around it, and in many different capacities. They are nothing special but people have a strange and irrational loyalty to sheet metal and plastic, knowing very little about them and the company they "cherish".

Obviously you don't with what you're saying. You assume way too much and come off as irrationally biased.

That would have been funny and very cliche had the controllers just been celebrating Ford cars in general from the 70's (which would be silly). Instead, your attempt at humor is just lame. The cars these controllers are celebrating kicked European ass. Corvette is now following in those footsteps. I find it hard to get excited about any one mark. I appreciate companies getting into racing and through hard work are able to take down the current leader (Porsche at LeMans this year!). Quite a bit of Eurotrash comments lately on this site. Sad.

They look pretty, but I'm fine not being able to get those. They're glossy, and glossy electronics get gross in a hurry.

That red one is stunning.

Worst of all is that they look way better than the one's shipping with the Forza Limited Edition Bundle

I'm sure if u have the right amount of money, they can be purchased!!!

Forget the controller, I want the new Ford GT.

Nothing that a red and whithe can of spray paint can't fix...problem? :-)

Anything can be bought for the right amount of oil ;)

They should release it as an addon for 150$ to the forza Xbox edition, include all 3 + the forza one.

The slides don't work on Safari for Mac. Please fix them.

And now they work. Probably something on my end. Sorry.
Windows Central Newsletter
Get the best of Windows Central in in your inbox, every day!
Thank you for signing up to Windows Central. You will receive a verification email shortly.
There was a problem. Please refresh the page and try again.