When you're running late for work, the last thing you want to find is your phone running low on battery power. With the Elegiant Wireless Car Charger Mount, you can quickly charge on the way without even having to plug your device in. While it's normally sold for $30, you can pick one up at Amazon today for just $17.99 when you enter promo code JHTQIX97 during checkout.
Green Light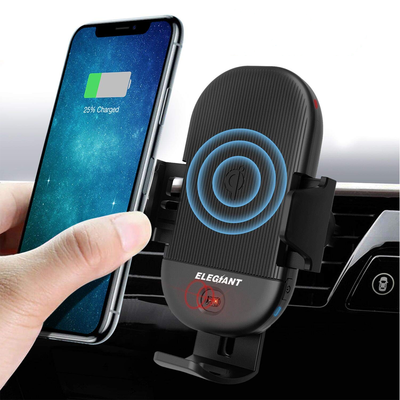 Elegiant Wireless Car Charger Mount
This wireless charging phone mount can charge Qi-compatible devices at up to 15W when paired with a QC 3.0 car charger and has an IR sensor to automatically grip your phone.
$17.99 $29.99 $12 off
This wireless charging phone mount utilizes an IR detection sensor to sense when your phone is near and automatically opens and clamps to secure your device. Meanwhile, a small button on the left side of the mount releases your phone from its grip.
Setting up the mount in your vehicle is as simple as clipping it onto an air vent and plugging its included USB-C cable into a car charger with a USB port. You'll need to have one handy already as one doesn't come with this mount, which means you may want to add one to this order. The mount supports charging speeds up to 15W for compatible devices, though you'd need a Quick Charge 3.0 car charger to reach them too.
Elegiant includes an 18-month warranty with this mount's purchase.
We may earn a commission for purchases using our links. Learn more.