Anyone with more than a few electronics knows the struggle of trying to find a way to plug them in all at the same time. Before moving anything else around at home, consider grabbing the iClever IC-BS03 Power Strip at Amazon. It's packed with six AC outlets and six USB ports, and while it's normally sold for just over $25 on average there, today you can pick one up for $21.99 by entering promo code 6A6UPCOD during checkout. This deal is only valid on the black model.
Powered Up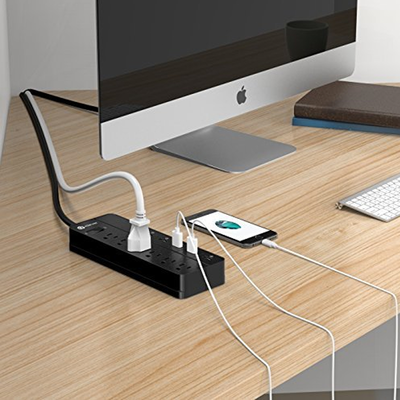 iClever IC-BS03 Power Strip
This well-reviewed power strip doubles as a surge protector and features six USB ports, six AC outlets, and an AC power switch.
$21.99 $24.99 $3 off
With all the USB-powered devices around these days, you should have a power strip that's built for USB charging. Luckily, this one comes with six integrated USB ports which feature protection against over-voltage, over-current, and high temperatures. The other half of this power strip is equipped with six AC outlets and a power switch that can turn all of the outlets off simultaneously.
This power strip doubles as a surge protector and has a six-foot power cable that's fire-resistant and extra thick. There's even a metal mounting plate to make it easy to place it on a wall or another surface without much work. At Amazon, over 600 customers have left reviews for it resulting in a rating of 4.2 out of 5 stars.
We may earn a commission for purchases using our links. Learn more.