With the right YouTube video or Google search, you can figure out how to repair just about anything. Rather than spending all your money bringing your electronics to a repair shop, why not just pick up ORIA's 25-in-1 Long Screwdriver Kit and get the job done yourself for much less? It's normally priced around $15 on average at Amazon, and entering code HA751ZJLSMA during checkout will drop its price to just $10.55 for a limited time. It's only been priced as low as $12 before without a code, so this deal even marks one of its best prices yet.
DIY DISCOUNT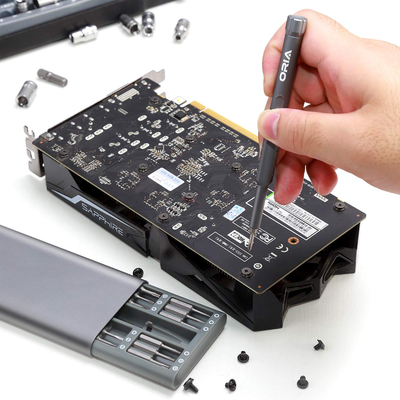 ORIA 25-in-1 Long Screwdriver Kit
From tablets and phones to eyeglasses, cameras, and more, this simple screwdriver kit can help you fix your things rather than replace them or spend all your money at a repair shop. Just make sure to enter the code below to snag the best price on it.
$10.55 $15.99 $5 off
This screwdriver kit comes with 24 S2 steel screwdriver bits, carefully selected to help with smaller electronics like phones, laptops, PC components, and game consoles, as well as eyeglasses, cameras, and so much more. These magnetic bits are easy to switch between, while the included storage box helps keep the rest from getting lost when they're not in use.
ORIA includes a one-year warranty with this set's purchase. At Amazon, nearly 60 customers left a review for it resulting in a rating of 4.4 out of 5 stars.
We may earn a commission for purchases using our links. Learn more.