Thrustmaster T.Flight HOTAS X review: You don't need to break the bank for a badass joystick
For the price, the Thrustmaster T.Flight hands-on-throttle-and-stick (HOTAS) X joystick is brilliant.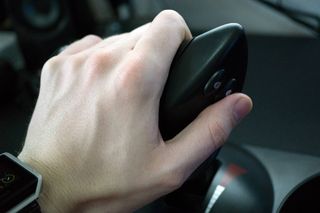 HOTAS systems are typically made up of a joystick and throttle handle. This form of input for gaming has been around for a very long time. But with space simulators now more popular than ever, there are a solid number of options available when looking to purchase a HOTAS. The Thrustmaster T.Flight X is functional and affordable.
About this review
We bought our T.Flight HOTAS for this review. While the model supports both PlayStation 3 and PC, we only tested the controls on a Windows PC. At the time of writing, the T.Flight HOTAS X costs around $48.
See at Amazon (opens in new tab)
A cheap and cheerful HOTAS
Thrustmaster doesn't try to hide anything with the T.Flight X. This HOTAS unit is cheap, and it looks and feels like it. Both the throttle and joystick are entirely made of plastic, though the bases feel sturdy and weighty enough not to move mid-flight. Putting this thing up against, say, the Thrustmaster Warthog (opens in new tab) will make you realize just how affordable this HOTAS is.
A single USB cable hooks up the HOTAS to a PC (or PlayStation 3), and the throttle and joystick can be operated apart or physically connected, which is achieved by a simple hook and double screw connection. Some may prefer them pulled together, while others may opt for a more natural experience. Thrustmaster uses a sound-cable management system beneath the throttle unit that keeps everything looking tidy.
Speaking of the throttle, there is a single axis with a central neutral setting. A total of four thumb buttons are located on the front, with a further three situated on the base. On the rear of the throttle are two interconnected shoulder triggers and a further two buttons. It's possible to perform numerous functions thanks to the ergonomic layout, and I've yet to struggle to activate something in-game.
Image 1 of 2
The joystick is an interesting one because even though it's a cheaply build, there are some features that make this a great stick to use, including a third axis achieved by twisting. A single trigger is located on the rear, alongside a secondary button, and two buttons are found on the front, next to a thumb pad (glorified d-pad). In total, there are 12 buttons that are fully configurable, and making full use of secondary shift capabilities, it's possible to map a good 30 or so functions.
In the cockpit
Regardless of how a HOTAS looks, the throttle and stick need to perform well in games. Thankfully, even though this is an affordable option, the T.Flight doesn't disappoint. I tested the unit in both Elite Dangerous and Star Citizen and had no issues with the experience, even before I spent a good 15 minutes fine-tuning button maps. Sure, it's not as good as more expensive alternatives, but it's not meant to be. For the price, you really can't grumble.
It's not all good though. There's a considerable dead zone with the joystick, and the throttle has some flex when in the neutral position. And because it's all cheap plastic, there will be noise as you move the inputs around. That said, both are comfortable to use and feel natural in a cockpit environment. It is fairly easy to see just how limiting the buttons and quality are once you grow accustomed to the HOTAS setup and need something a little more premium.
And be sure to keep your keyboard close, because you'll likely need to map a few key functions to it.
Conclusion: Thrustmaster T.Flight HOTAS X is a perfect entry point
This HOTAS is a must-buy for anyone looking to get started with space or flight simulators who isn't entirely sure if a throttle and joystick system is right for them. The inexpensive price tag ensures money isn't wasted and the solid performance doesn't leave one feeling regretful for not spending a $100 or more.
Pros:
Affordable.
A good number of buttons.
Comfortable to use.
Cons:
Feels and looks cheap.
Lack of premium materials.
Stick dead zone.
HOTAS setups can run into the hundreds of dollars, but the T.Flight X offers an affordable entry point around $50. There's also a newer, more expensive version (opens in new tab) for the Xbox One (and PC), though it's almost identical.
See at Amazon (opens in new tab)
Windows Central Newsletter
Get the best of Windows Central in your inbox, every day!
Rich Edmonds was formerly a Senior Editor of PC hardware at Windows Central, covering everything related to PC components and NAS. He's been involved in technology for more than a decade and knows a thing or two about the magic inside a PC chassis. You can follow him on Twitter at @RichEdmonds.
Just remember, though, that this is NOT the version for Xbox One. You have to get the T.Flight HOTAS ONE. That version is specifically to work with Xbox One AND Windows 10 PCs.

It says in the article. :0

Mine is currently collecting dust alongside my PC. Neither get used very much any more, but the HOTAS is pretty nice and works really well in Elite Dangerous once you get it configured. The dead zones are adjustable in the game itself so I'm not sure why that's a con in the review. I'm glad to see that Xbox One is getting HOTAS support as well. I might have to pick up the version that works with both the PC and Xbox and sell or give away the one I have. I'm really wondering what's different between the X and the One versions that you would need a specific version to work with the Xbox One. My HOTAS works with Windows 10 and isn't the Xbox One running a version of Windows 10?

Still rockin my 15yr old TM HOTAS Cougar. Glad to see them making more stuff than just the high end.