Tile Me! gets coveted GIF animation feature for social network sharing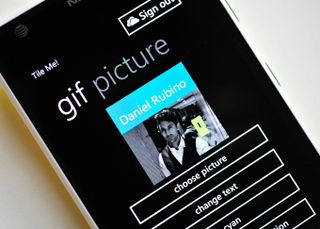 We've covered Tile Me! a few times in the last few weeks as the simple idea as transformed into a more feature rich application. For those who aren't familiar, Tile Me! allows the creation of a JPG or PNG image that replicates the Me Tile on Windows Phone. The idea is to then use that image for your profile on Twitter, Facebook, LinkedIn, etc. to give your photo a little Windows Phone flare.
Now, the $0.99 version of the app has another notch under its belt: GIF animation. Quite a few people wanted a non-static Windows Phone image and now with version 2.5 on the Store, users can generate an in-motion photo of themselves, replicating their Me Tile. While GIF support for profile images is limited to certain networks, for posting to blogs and forums, the animated version adds a neat twist to the application.
Other features of the $0.99 version include high resolution output (1000x1000 pixels), PNG format support and SkyDrive integration, while the free version shoots out a basic JPEG image along with custom text.
Tile Me! is a clever app and useful for showing your Windows Phone support. The $0.99 version is a drop in the bucket for what has turned out to be a surprisingly feature rich idea and we encourage you to download either option.
You can pick up Tile Me! Free here and the paid, version 2.5 with GIF and PNG support of Tile Me! here.
Tile Me! Free
Tile Me! Paid
Windows Central Newsletter
Get the best of Windows Central in in your inbox, every day!
Daniel Rubino is the Editor-in-chief of Windows Central, head reviewer, podcast co-host, and analyst. He has been covering Microsoft since 2007 when this site was called WMExperts (and later Windows Phone Central). His interests include Windows, laptops, next-gen computing, and for some reason, watches. Before all this tech stuff, he worked on a Ph.D. in linguistics, watched people sleep (for medical purposes!), and ran the projectors at movie theaters because it was fun.
Does Twitter & Facebook even support .gif profile pics? I've never seen one.

Twitter did a while ago, but unfortunately they removed that feature. But you can still use the GIF animations on other places (your blog/website for example).

they still did. here's a trick. head to www.twitter.com/welcome/profile then upload your gif there. some account just cant. at least mine can. been using my own animated me tile quite a while -> twitter.com/zhoulhas

Oh it works! If your file is too large you can use a service like http://ezgif.com/resize to bring it down to 700kbs. Thank you!

I will try to submit an update asap so you can create lower quality gifs (less than 700kb) which can be uploaded on Twitter with this trick.

No offence to you at all but I made my own custom one :) Hope you like this idea

https://twitter.com/backlashsid

Not at all :) Looks good :)

Hello everyone. Thanks for the feature Daniel. I am the developer of the app. If you have any questions or suggestions just drop a comment here. Note: The GIF support is currently available on the WP8 version only. I am still working on the WP7 GIF support.

Where can we see an example of this animated GIF?

Here you go: http://s2.postimg.org/j9u0oo0on/Rico.gif

Pretty nice, but maybe you could use some easing in the next update? Make it more like the actual Me-tile.

That's a good suggestion. I will try to add it asap :)

Something like I have on mine is good ?
https://twitter.com/backlashsid

Which social networks support the gif animation?

I am not sure. I only use Facebook and Twitter (which recently removed gif animations :( ). I only added this feature because it was the second most requested one.

Ahhh if only twitter allowed this...

Look at the comments above! A solution has been found :)

Here is another GIF generated from Tile Me!: http://sdrv.ms/18Eb8Wg

High Resolution?
If it doesn't support the Full versions 34/38 Mpx of the Lumia 1020 (and the panoramas)
then it's NOT "high" resolution
Otherwise ok

Lemme get this straight, you want a 38MP profile picture for Twitter...

LOL that got a laugh from me

High resolution does not have a 38MP requirement. This is a squared off image used an ID style pic.

Bought it straight away now the developer has spent the time to implement GIF animations, that's going to have been a lot of work well worth the money :)

Thank you very much Jay! I hope you enjoy it :)

Glad to support developers of great apps.

Thank you! I am very glad you like Tile Me!

Now with the GIF integration, this a great simple app!

I previously judged this app as "an inutility" (because it didn't allow you to do anything more you can do in a minute with paint), but now with the animated gif it makes sense.
Nice one!

Thanks :) The app does static me tiles in seconds, not a minute *wink*

Keep up the great work ErtaySh :) and i've bought it aswell!

Keep up the great work ErtaySh :) and i've bought it, liking the GIF add on shame its been removed from facebook and twitter.. can't wait to use it on WLM :)

Keep up the great work! I admittedly haven't bought or tried it yet (just saw it as a cool fan-made app), but with some of these features you're adding I'm starting to have second thoughts and may just have to buy it!

Thanks Racxie :) Let me know what you think if you get it :)

Daniel, I've noticed your love of Tile Me!

A workaround for Twitter has been mentioned. How about Facebook? Any way to make a .gif tile animate on Facebook?

I hate how the image renders white on red. When uploaded to Facebook, it looks even more crappy, due to FB themselves. Any help here?

Fails on twitter. Haaalp...

Did you manage to solve it? If not follow these steps:
1. If your GIF is larger than 700kb, go to www.gifreducer.com and reduce the size of the gif to less than 700kb.
2. Go to www.twitter.com/welcome/profile and upload your GIF there and then click Done. (it only works if you upload your image from that url)
3. Wait 1-2 min and it should be updated on your profile. If it is not, do the 2nd step again.

Just bought it. Probably never use it but will gladly support developers who build apps and actually take the time to listen and respond to their audience.

Oh dear. Here come all of the animated Twitter profiles...

Great app ErtaySh thanks!!! :)

You're welcome. Glad you like it :)

I really want my animated tile to work with twitter. It crashes Twitter in almost every browser (Firefox seems to work) but the gif is static :( Please help

I can't get it to work either... :(

I know this is off topic..but my me tile doesn't update..as in..it doesn't show the image that i have set on my hotmail and fb acc..instead it keeps showing an older image..that once was my display picture..can anybody help me with this.?? How do i get it to show the current image..??

Sir it's Trick, Still Working Until now? cause i try and not Working again. Please Anybody whos still Work Help me

Is Tile Me! working? I tried it today in Twitter but to no avail? Any updates on this? Thank you!
Windows Central Newsletter
Thank you for signing up to Windows Central. You will receive a verification email shortly.
There was a problem. Please refresh the page and try again.