A tiny bit of Windows 10 source code has leaked online
A small portion of the Windows 10 source code has leaked, but that's not as big of a deal as it may sound.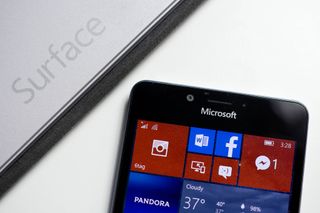 (Image credit: Windows Central)
On Friday, a small portion of the Windows 10 source code leaked online. The source code, believed to be related to Windows drivers, was uploaded to beta collector site BetaArchive and was briefly made available to the public before being pulled by mods for "review." As it turns out, however, the leak itself isn't much to get excited about.
The leak comes from Microsoft's Shared Source Initiative, a program where Microsoft itself shares source code with third parties such as partners. Sharing anything with third parties is always a risk, and Microsoft's is well aware of this. So, the code that has leaked isn't nearly as damaging as one might have first thought. Of course, the leak itself obviously isn't too great, but it's nothing that will permanently affect Microsoft.
In a statement to The Verge, Microsoft said:
Around the time of the source code leak, two British men were arrested for "hacking" into Microsoft servers and stealing internal tools, Windows builds and more. It's unclear at this time if the source code leak and the arrests are related, we'll keep you updated on that front. It's worth noting that the two men arrested stole no customer data, according to Microsoft.
This isn't the first time arrests have been made in relation to Microsoft. Back in 2012, a Microsoft employee was arrested for providing a popular leakster with Microsoft's "Activation SDK," which would have been bad news for Microsoft had it leaked. Microsoft used its own internal cyber team to track down the leak, scanning the Hotmail account of the leakster to find his source.
Today's source code leak is nowhere near the same level of importance for Microsoft. The Activation SDK would have been a brutal leak for the company, allowing the public to reverse engineer and essentially bypass Windows' activation systems. Luckily for Microsoft, that leak was stopped before it got started.
Over the last few months, several internal Windows 10 builds have been leaking to BetaArchive. Several ARM64 builds of Windows Server are available on the BetaArchive FTP, and over the years the site has collected around 70TB of Windows builds, ranging from 1985 all the way up to the 2017's latest Insider Preview builds. The source code was leaked separately, and is no longer available for download from the BetaArchive FTP.
Get the Windows Central Newsletter
All the latest news, reviews, and guides for Windows and Xbox diehards.