Tiny Tina's Wonderlands preorder guide: Every edition and what's in them on Xbox and PC
There are three separate editions plus a collectors pack full of physical goodies to choose from.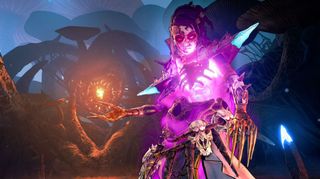 (Image credit: 2K)
Despite releasing its biggest game in the franchise to date with Borderlands 3, Gearbox isn't done with the series just yet. Tiny Tina's Wonderlands is an upcoming spin-off starring everyone's favorite demolitions expert in a new game of Bunkers & Badasses, an in-universe riff on Dungeons & Dragons. Players should remember it from Borderlands 2's DLC, Tiny Tina's Assault on Dragon Keep. With Wonderlands being its own game, it of course comes with a few separate editions that players can buy.
Tiny Tina's Wonderlands will launch on March 25, 2022, for Xbox Series X, Xbox Series S, Xbox One, PS5, PS4, and PC. Though it's set to release exclusively into the Epic Games Store on PC at launch, it will come to other PC digital storefronts in 2022.
Tiny Tina's Wonderlands: Every edition available
In what's shaping up to be one of the best co-op games on Xbox (no surprise given the series it comes from), players have the choice of getting the regular ol' Standard Edition or paying a bit extra for the Next-Level and Chaotic Great editions, each coming with their own bonuses. Preordering any of these grants players a Golden Hero Armor Pack which can be applied to any set of armor in the game.
Gearbox is also offering a Treasure Trove for collectors; however it does not include the game. It does include a Butt Stallion plushie, tarot cards, a cloth map, and more. Should you want to pick up the Treasure Trove, you'll need to buy the game separately.
A note on Series X/S enhancements: The Standard Edition of Tiny Tina's Wonderlands will not be optimized for Xbox Series X/S. New-gen optimizations are being tied to paid upgrades in the Next-Level and Chaotic Great editions. Here's what Gearbox has to say:
Tiny Tina's Wonderlands: Standard Edition
There's nothing special here, but that's what you always get with a Standard Edition. Just the game and nothing more. Though the physical Xbox One version of the Standard Edition will be playable on Xbox Series X, it will not include Xbox Series X enhancements. Only the Next-Level Edition or Chaotic Great Edition will be optimized.
Standard Edition
Without Series X enhancements

Jump into a new game of Bunkers & Badasses with Tiny Tina guiding you along the way. Create your own character and defeat the evil Dragon Lord in this magical adventure.
Tiny Tina's Wonderlands: Next-Level Edition
The Next-Level Edition is what fans will want to get for new-gen consoles. Enhanced for Xbox Series X/S, it's just $10 more than the Standard Edition. It's unfortunate that the Standard Edition doesn't seem to support Xbox Smart Delivery and you need to essentially pay extra for the upgrade, but this deal is sweetened with the Dragon Lord Pack, which includes the following:
A Legendary Weapon, The Apex
A Legendary Spell, Skullantir
Tyrant Attire Armor Preset (five items)
Villain's Visage Face Preset (two items)
Death's Head Makeup Pack (three items)
Emperor of the Dead Banner Set (three items)
Kwartz Hero Statue Material
Enhanced
Tiny Tina's Wonderlands Next-Level Edition
Get the game plus a bonus content pack

For anyone who's upgraded to new-gen systems, this is the edition for you. Battle fantastical creatures in a new adventure full of magic and mayhem — and Gearbox's signature style of humor with millions of guns.
Tiny Tina's Wonderlands: Chaotic Great Edition
The Chaotic Great Edition comes with everything found in the Next-Level Edition, including the Dragon Pack, but it also throws in the Season Pass for good measure. While the Season Pass will be available for purchase separately, it's convenient to have everything bundled into one package like this. Gearbox hasn't detailed what exactly comes in the Season Pass other than the Butt Stallion Pack, new boss fights, and new challenges. It's unknown whether the developer has larger campaign expansions planned for it.
The Butt Stallion Pack includes:
Diamond Guard Armor Presets (three items)
Crystal Glitter Makeup Pack (five items)
Adamant Throne Banner Set (two items)
Diamond Hero Statue Material
More content
Tiny Tina's Wonderlands Chaotic Great Edition
Comes with the Season Pass included

The most bang for your buck, the Chaotic Great Edition gives players access to everything they could want from Tiny Tina's Wonderlands. Stay tuned for what the Season Pass will hold.
Tiny Tina's Wonderlands: Treasure Trove
The Treasure Trove is meant for collectors who want physical items to hold onto. It's like your very own loot box, but it doesn't actually include the game. It's also only available in English and through GameStop in the United States.
Butt Stallion Plush
Illustrated Tarot Cards
Standalone Bunkers & Badasses Module
Enamel Companion Pins
Butt Stallion's Castle Papercraft Booklet
Cloth Wonderlands Map
For collectors
Tiny Tina's Wonderlands Treasure Trove
Game not included

Collectors are sure to love what the Treasure Trove has to offer, just be aware that the game needs to be purchased separately. It does come with a Butt Stallion Plush, though, so that almost makes up for it. Almost.
Get the Windows Central Newsletter
All the latest news, reviews, and guides for Windows and Xbox diehards.
Jennifer Locke has been playing video games nearly her entire life, and is very happy Xbox is growing a stronger first-party portfolio. You can find her obsessing over Star Wars and other geeky things on Twitter @JenLocke95.