The Teenage Mutant Ninja Turtles will return to Xbox 360 this fall in 'Danger of the Ooze'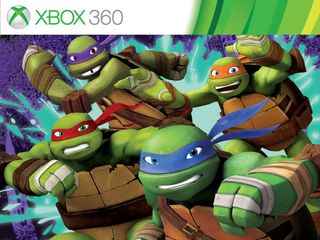 With the new Teenage Mutant Ninja Turtles movie doing fairly well (although this lifelong fan didn't bother to see it) and new episodes of the latest animated series airing on Nickleodeon, the Ninja Turtles have really returned to the public limelight once again. This would be a great time to announce an Xbox One TMNT game, but we're not quite that lucky.
Still, Activision does have a new title called Teenage Mutant Ninja Turtles: Danger of the Ooze on the way to Xbox 360 and other platforms. Turtles fans have two good reasons to be excited for this one. First, it comes from Wayforward Technologies, who have made some great licensed games like Ducktales Remastered and Batman: the Brave and the Bold. Second, it's going to be a Metroidvania-style platformer à la Guacamelee and Ori and the Blind Forest.
Here we go with the lean, green ninja team
Activision has previously published two Turtles games on Xbox 360 last year – TMNT: Out of the Shadows for XBLA and a retail title simply called Teenage Mutant Ninja Turtles. Neither was very well received, although Out of the Shadows has some genuinely cool fan-service elements. The new game Danger of the Ooze at least comes from a better developer, even if the announcement screenshots indicate it won't be wowing anyone visually.
Don't worry about seeing the Shrek-like behemoths from the latest movie in Danger of the Ooze. This one will be based on the excellent Nick series, taking place between the second and third seasons of the show. The Turtles will face familiar threats like the Shredder, the Kraang (a race of alien invaders in the new series), and Tiger Claw, a mutant tiger assassin. Not only will they defend New York, they also get to visit the alien realm Dimension X.
Danger of the Ooze will be a single-player game. Following in the footsteps of the original NES game, players will be able to swap between the four Turtles at will. Each has his own stats and abilities. The game world itself will be vast and nonlinear. The Turtles will have to discover new items and abilities to reach different areas, just like all the best Metroidvania-style games.
Teenage Mutant Ninja Turtles: Danger of the Ooze is due out in Fall 2014 for Xbox 360, Playstation 3, and 3DS. Don't miss our WayForward developer interview with lots of exclusive gameplay details!
Windows Central Newsletter
Get the best of Windows Central in your inbox, every day!
Paul Acevedo is the Games Editor at Windows Central. A lifelong gamer, he has written about videogames for over 15 years and reviewed over 350 games for our site. Follow him on Twitter @PaulRAcevedo. Don't hate. Appreciate!
Paul Acevedo I'm also a life long fan but I went to see the movie and I can honestly say that its good if you look past the fact that they are huge, but they're still tmnt.

It's so hard for me to get over how ugly they look. But I will check it out eventually. :)

I'm always amazed by so called lifelong fans who are not familiar with the comics. Were depending on the artist, the turtles were just as big as in the movie and their story of origin changed in all four official cannon volumes. Smh

Oh, I'm very familiar with the comics. My Gamertag EastX is derived from the name Kevin Eastman, and a letter I wrote as a kid was published in one of the original Mirage comics (issue 46 or so). That doesn't change the fact that I find the new movie designs absolutely hideous.

There is actually a reason, several in fact, given in the new movie to explain their increase in size.

There are reasons for why Shredder is a mech-looking thing and all the other changes too, but it doesn't mean anybody has to like 'em. Criticism of the Turtles' appearances in particular is widespread, so let's not act like it's a fringe complaint.

And i was one of them...untill i saw the movie that is. Give it a chance and watch it an open mind. Heck, Peter Laird made April an alien in the latest TMNT comic series and this movie doesn't do anything that radical. Watch it in the theatre of pre-order it ( i already pre-ordered the Blu-Ray lol). I don't know how but i would be totally interested in your thoughts when you do.

I'll try to let you know when I get around to watching it. I might just wait for Blu-ray, I dunno. I've heard how weird the Mirage Turtles comics eventually got - I never read past volume 1 though, other than reading the current series. If they collect the Volume 2-4 stuff into trades, I'll definitely buy them though.

They're worth a read cuz Peter continued the story. Turtles have aged in real time and are now middle aged, Splinter has died of old age (supposedly) and they are growing apart like families tend to do with time. I wouldn't call it weird, just an extension of the universe of Utroms and other dimensions.

Hey man, don't miss our developer interview: Danger of the Ooze Interview

Thanks! I was looking for a reason to get the new 3DS and i think i found it!! lol

Shredder as a Transformer = FAIL. Listen to the sounds.

Yes. The movie is awesome and I own every single TMNT comic ever released, including one a few days ago by IDW. I love them almost as much as I do Windows...Almost

Yup. Movie was great. I thought I'd hate it, by I enjoyed it.

Sounds cool. I'll definitely play this at some point.

I just want TMNT In Time HD and TMNT Hyperstone Heist HD, XBLA and/or PSN .... that would be sweet. It would be a great thing for the PS Vita too! Like they did for the TMNT Arcade. :0)

Those would be rad! Too bad Turtles in Time Re-Shelled for XBLA changed the game so much and didn't even incorporate the improvements of the SNES version.

And you can't even get that crappy remake anymore.

They can do all these remakes to ruin my childhood but can't remake Wild Things.

Original 4player arcade game was awesome... Fond memories

Why do you cover so much Xbox news?

If you don't know the answer to this by now, then there is really no hope for you....

Not a fan of the series, but I do love some easy achievements. Hopefully this title continues the trend of the other Tmnt titles!

I need anything from the turtles on Xbox One.

just put the original turtles in Time title up on Steam and I will buy a Turtles game again.

The 3D made the movie good, and the criticisms are just... Though explained, and some teenagers these days look like that...it just didn't sit well... Re the game, will have close look once gameplay trailers are in, but would most likely get a 3DS over XBox version...

This sounds kinda cool, I'm a big fan of the Nick series. Too bad it's not XBOX One though, my 360 isn't even plugged in anymore.