Teenage Mutant Ninja Turtles and Overwatch land on Xbox One today!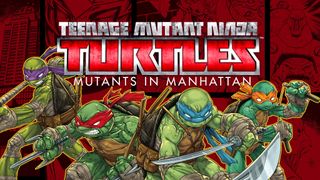 May continues to be a hot release month for Xbox One titles. Today three retail releases dropped: Teenage Mutant Ninja Turtles: Mutants in Manhattan, Overwatch, and Tropico 5; as well as two download-only games: Olli Olli 2 and Not a Hero. Read on for quick descriptions and store links, plus a Ninja Turtles hands-on video!
Teenage Mutant Ninja Turtles: Mutants in Manhattan
A week in advance of the June 3rd theatrical release of Teenage Mutant Ninja Turtles: Out the Shadows, Activision and Japanese developer Platinum Games have unleashed a brand new Turtles game. This one's not based on the movie, though – no hulking ogre Turtles here. Instead, it draws inspiration from the current IDW comic book series (which I hope has improved since I last read it).
Platinum Games gave us last year's excellent Transformers: Devastation, so hopefully they've worked that same magic on the Ninja Turtles as well. In single-player, you can switch between all four Turtles at any time, fighting solo or as part of a group. Less solitary players can hop online and play 4-player co-op, just as the Turtle God intended.
I've only played a few minutes of Mutants in Manhattan, including the Tutorial video shown above. So far, the combat is just as fast and fluid as you'd expect from a Platinum game. Combos come out easily, throwing shurikens and other objects is a snap in aiming mode, and the Turtles can double jump and wall run like all the best ninjas.
The lack of a catchy Turtles theme song is a bit disappointing, but otherwise the game seems to be filled with authentic characters and locations from the comics and cartoons. That includes Bebop, Rocksteady, Mouser robots, and the TCRI labs.
We'll be back soon with a full review. If you can't wait, grab Mutants in Manhattan for $49.99 on Xbox One, Xbox 360, or PlayStation 3 and 4.
Overwatch
Once upon a time, two asteroid movies came out at the same time: Armageddon and Deep Impact. Even now, a Warner Bros. Jungle Book will soon go up against Disney's successful version. And in games, two first-person team-based shooters must battle to the death: 2K's Battleborn and Activision Blizzard's Overwatch. The loser will forever be remembered as the team-based shooter that wasn't as good as the other eam-based shooter.
Unlike Battleborn (which Jez recently reviewed), Overwatch doesn't have a single-player campaign. This one's all about the online multiplayer and nothing else. Players will select from over 20 unique heroes, each with different abilities and roles to play on the team. Everyone will have to work together to come out on top against the opposing team.
Multiplayer shooter fans won't want to miss Overwatch's team-based gameplay and unparalleled character designs. Grab it now for Xbox One, PlayStation 4, and PC. As a bonus, buy this game to get stuff for World of Warcraft, Diablo III, Heroes of the Storm, and more. We'll have a full review soon!
Tropico 5 – Penulimate Edition
Tropico 5 is a simulation game from Haemimont Games and Kalypso in which players run an island nation as either a benevolent or cruel dictator. The Penultimate Edition for Xbox One includes two add-ons that were originally sold separately on other platforms, plus five exclusive maps.
Official description:
Tropico 5: Penultimate Edition's launch price is $49.99.
Olli Olli 2: XL Edition
Get ready for the sequel to the popular (and challenging) 2D side-scrolling skateboarding game from Roll7 and Team17. The new game boasts much improved graphics, local multiplayer for 2-4 players, and even more tricks for dedicated players to master.
Official description:
Olli Olli 2: XL Edition costs $14.99, with a launch week price of $12 for Xbox Live Gold members. Olli Olli 2 and Not a Hero are also available in the BunnyLord Pro hater Pack bundle for $17.84.
Not a Hero: Super Snazzy Edition
We all need more quirky run-and-gun shooters in our lives, such as Roll7 and Team17's Not a Hero. This game features a big lineup of silly characters, all rendered in a charming pixel art style reminiscent of Super Time Force.
Not a Hero focuses much more on action than that game, with lots of cool rolls and maneuvers to help keep players alive. This version adds a new campaign, "Me, Myself, and Bunnylord," with three additional missions and plenty of mayhem.
I haven't tried this one yet, but I'm itching to give it a shot.
Official description:
Not a Hero: Super Snazzy Edition costs $12.99, with a launch week price of $10.39 for Xbox Live Gold members. Not a Hero and Olli Olli 2 are also available in the BunnyLord Pro hater Pack bundle for $17.84.
Do you guys plan to grab any of this week's Xbox One games?
Get the Windows Central Newsletter
All the latest news, reviews, and guides for Windows and Xbox diehards.
Paul Acevedo is the Games Editor at Windows Central. A lifelong gamer, he has written about videogames for over 15 years and reviewed over 350 games for our site. Follow him on Twitter @PaulRAcevedo. Don't hate. Appreciate!