Bringing a wood finish to the Surface Book 2 with a Toast cover
Protecting your Surface Book 2 never looked so good with the custom Toast wood cover.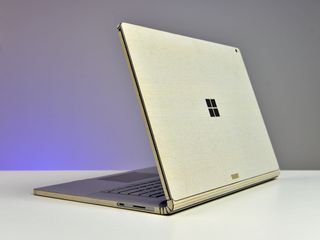 I recently reviewed the Toast wood cover for Surface Laptop. I liked it so much I was curious about adding Toast to other Surface devices, and, just as importantly, what were those other wood options (Ash, Bamboo) like?
Enter in the Ash Toast wood cover for the Surface Book 2 15-inch! How was it and what hilarious popular movie reference did I choose for the custom etching? You'll have to watch my quick video review and read on to find out!
Toast cover for Surface Book 2: What it is
Toast is a small company based out of Portland, Oregon. They make all sorts of custom covers for tablets, laptops, and phones out of real wood.
The Toast cover sticks with 3M tape and due to the design is easily removed (well, relatively and you won't damage your device either).
For Surface Book 2 I opted for the ash wood type, which is very light and should not contrast heavily with the magnesium chassis. There are a few parts to this cover including:
Top cover
Bottom cover
Hinge
Edges
The top cover starts at $69 while the optional bottom cover is another $30. If you want the Microsoft logo cut out that's an extra $5 as is getting some custom text engraved on the bottom.
Image 1 of 2
Other optional components include keyboard surround (+$20) and a screen cover (+$20). All combined you could spend anywhere from $70 to $149 depending on what you pick.
You can order the Toast cover for Surface Book, Surface Book with Performance Base, Surface Book 2 13-inch, or Surface Book 2 15-inch.
There are also four types of wood to choose from including ash, bamboo, walnut, and ebony and four unique fonts for the optional custom text.
How was it?
Installation for the Surface Book 2 15-inch took around 45 minutes. I was impressed with Toast's attention to detail in covering this device, including little bits around the sides of the fulcrum hinge and even the power and volume buttons.
I noted in the video that the ash wood seemed a bit tacky to me (as in damp and sticky), and that was accurate. But after a few days, the wood did dry, and it now feels normal, so you can disregard that criticism.
Image 1 of 2
Two weeks on and the Toast cover for the Surface Book 2 has held up with no issues whatsoever.
While I like the walnut cover for the cobalt Surface Laptop, I feel the lighter colors of bamboo, or the ash wood I chose, would look better. Either way, it's a tough choice, so hopefully, these photos will help you decide.
The only concern is the Surface Book 2 15-inch is already a relatively larger laptop and adding this much wood to it does make it, well, bulkier. It's not bad, especially for the look, feel, and unique aesthetic, but you will notice this more compared to the Surface Laptop or even Surface Pro.
Image 1 of 2
Regarding quality and craftsmanship, I think Toast did a great job. Everything arrived within a few days of my custom order, and I was very happy with the presentation and quality of the packaging.
Pros:
High quality, custom made, real wood cover.
Easy to apply and precisely cut.
Many options.
Helps protect from scratches or cover existing ones.
Cons:
Expensive.
Adds bulk to the Surface Book 2.
Whether you like the look of Toast is a personal choice, but the company delivers on what they promise, and for that, they get a high recommendation.
For those curious about the Surface Pro with a Toast wood cover, I'll be looking at the bamboo option in my next review!