Todoist preview for Windows 10 hits mobile, open to all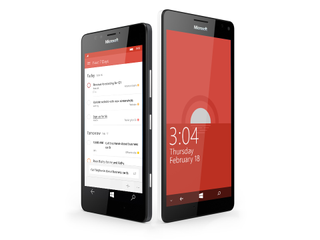 A short time ago the popular cross-platform task management service, Todoist, hit Windows 10 PCs in preview. The intention was always for this to be a full featured Universal App, but these things take time to develop properly.
Now, the time has come for the preview to get smaller with its first availability for Windows 10 Mobile.
The app has been created by Jan Kratochvil, formerly of TaskCrunch fame, who joined Todoist to build their Windows experience. It's important to remember that this is still a preview, as such it won't be perfect, with more features and polish still to come. Building apps is a time consuming process and while patience is needed for a full release, Todoist is putting it out there for folks to use and give feedback on.
If you're interested in finding out more, check out our look at the desktop version at the link below. It's set to be available from 9 a.m. Eastern, and the store link below is where you'll find it.
Richard Devine is an Editor at Windows Central. A former Project Manager and long-term tech addict, he joined Mobile Nations in 2011 and has been found on Android Central and iMore as well as Windows Central. Currently you'll find him covering all manner of PC hardware and gaming, and you can follow him on Twitter and Instagram.
Great, both the new app and that I'm first

ERROR- 56394629394783625292948482 "This browser does not accept cookies"

They were raisin cookies, not chocolate chip

Why didn't they do a Universal App (supporting continuum)?

Click on link? Hands-on with Todoist Preview for Windows 10

Does it have interaction worth Cortana? How about with the Outlook calendar?

Probably not if they can't work on speed and adding swipe gestures. It seems like they're testing the platform to see if it's worth investing more resources in. The same story since WP8.1. It is nice to see a new app though.

Interactions with cortana and outlook come free if they are there in the PC version, they don't need to change a single line of code for mobile. If they are not there it means that they are not in the PC version too, it's not something UI related like gestures and optimizing performance for low end processors.

I doubt Cortana and Outlook work with Todoist out of the box. For example, Fitbit had to release an update to have Cortana interaction. If I'm incorrect, then that's awesome!

Cortana may come in the future. If it does, it should be available on Desktop and Mobile at once ;-)

Yeah that's hard to do. I made an app for the Microsoft Band (coming to store soon) that has Cortana integration, and that is super hard

Not compatible with my 950XL - UK country variant.

It may still be rolling out in the Store, give it a few hours ;-)

Does anyone think Windows Mobile, and Windows10 in general,, would have this app if it weren't for the promise of W10, and the UWA?

Probably not considering that they mentioned their service on larger screens to be a priority...and even if they did plan on bringing it, it sure would have taken a lot longer for it to get here...

I thought it odd that they say the demand for a Windows Phone app is what prompted them to focus on a desktop app. But I guess the universal app explains that. I'm definitely trying this out since it's available for both now.

No. The uwp concept is the reason so many apps are coming.

The only ones that probably won't come are SnapChat and Google apps

Do you believe that if Windows received Google, and SC, apps tomorrow,, that things are turning around, and MS has definitely solved their app problem with the introduction of W10❓

Yeah I definitely do think so. I think we'll all grow wings before SC comes to Windows

I think it's fair to say that without UWP, it would be much harder to put this out, especially when you consider the feature set that it brings out of the gate :-)

"it's raining apps!" - Akira X

Yep, but it may still be rolling out if you don't see it.

The original preview worked on mobile also. I used it

Does anyone have the link?

It's a great app on PCs. Let's see

Very slick app. Even the Today Show logo is tight! :)

Then you love the wallpapers ours Alex Muench made: https://dribbble.com/shots/2315395-Todoist-Wallpaper​ ;-)

How is Todoist different than Wunderlist? I've only used Wunderlist so far.

Give it a spin and you'll see ;-) We'd love to hear your feedback at windowsfeedback[at]doist.io

it doesnt integrate with outlook calender like wunderlist does. major drawback for free version

I'll put this up against Wunderlist and see who wins my tasks! Wunderlist's app for W10 is pretty good, but only the 8.1 version is available for mobile at this time.

I'm watching this video now that compares both services. So far the calendar selection for a task and subtask are better in Todoist. Since Wunderlist is now a Microsoft product and is now an add-in for Outlook 365 (hopefully SharePoint 2016), what would be an advantage in a business environment (Microsoft/Windwos based) to pick a non-Microsoft solution?

Everithing is paid in Todoist, just everything. You basically can't use it as a free service. Wunderlist starts to ask for payment only on large installs and is effectively free for personal usage.

Has anybody gotten it on mobile yet?

I cannot find it on Windows Mobile store. (Lumia 830)

It's probably still rolling out, give it a few hours ;-)

On mobile in India? Not available?

In case anybody is interested Todoist blog post also says they are looking for Windows developers.

Cool, because I'm ready to dump Wunderlist.

Wunderlist on WP is good but needs major update. I'm glad to see todoist coming

This is all fine, you covering W10M, but where the hell is W10M?! :/

On new devices shipped with W10M and old devices running Insider Builds

I understand what they're doing. L950 and 550 get the update first because they're already with 10. Updating from 8.1 there's a lot to lose. That's probably why they're delaying it

I think some of the bugs people so adamantly complain about after Dir to their old Hardware running a new OS. That's why devices shipped with 10 has less bugs

Wait, the link below is taking me to the PC version. Am I missing the mobile link?

Mobile is still getting rolled out to the different markets I believe.

I hope it employs the Live Tile to good effect. No to do list I have used, with the possible exception of Clever ToDo does... And, I think, Live Tiles are the whole reason to be patient with Windows 10 M.

Link for the mobile version?

Love Todoist. Thanks for bringing it to Windows Mobile.

I am really loving being part of Windows 10 beginnings and seeing all the good that is coming from it!
Windows Central Newsletter
Get the best of Windows Central in in your inbox, every day!
Thank you for signing up to Windows Central. You will receive a verification email shortly.
There was a problem. Please refresh the page and try again.