Rise of the Tomb Raider goes Xbox One exclusive. Good or bad?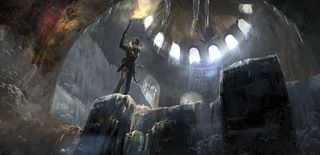 Today's announcements from Microsoft at Gamescom have been pretty exciting for console gamers. We saw the announcement of a brand new theme park simulator, ScreamRide, for Xbox One and 360, as well as fresh looks at several upcoming Xbox One games like Halo: The Master Chief Collection. And hey, Quantum Break looked pretty exciting in motion to boot.
But the real bombshell of the presentation was the news that Rise of the Tomb Raider from Square-Enix and Crystal Dynamics will be exclusive to Xbox One in 2015! Tomb Raider has been a mainstay gaming series since the Playstation One and Sega Saturn days, with this year's HD remake of the Tomb Raider reboot gracing both Xbox One and Playstation 4. But the sequel Rise won't show up on the Playstation 4, giving Microsoft a big peacock of a feather in its cap.
It's a good thing Microsoft had that exclusivity announcement today, because the Rise of the Tomb Raider presentation would otherwise have been very low-key. Instead of a new trailer or gameplay footage as we would typically expect from a press conference like today's, all we got were still images while the presenter spoke about the game. I'm still psyched though!
Crystal Dynamics promises that Rise of the Tomb Raider will redefine survival action. Big words considering it's likely to be very close to the previous entry, but that's not a bad thing considering how good Tomb Raider was! Players will explore vast areas in beautiful and dangerous locations around the world. The tombs will be "bigger, better, and more challenging." Shoot, I was pulling for small tombs. Oh well, I can tough it out.
The dynamics of exclusivity
The decision to make a previously multiplatform game exclusive to a single platform (even one as awesome as the Xbox One) is bound to be met with criticism from supporters of competing consoles like the Playstation 4. I guess technically Nintendo has a system too, but nobody was expecting Rise of the Tomb Raider on it.
Make no mistake, somebody always loses out when a big game (or series) goes exclusive to a single platform. Think of how annoyed we all are that Bayonetta 2 is stuck on the Wii U instead of more popular systems. But here at Windows Phone Central we are Microsoft supporters and Xbox gamers. Most of us will benefit from this exclusivity.
The Xbox One retail exclusives so far have sold okay but failed to really drive adoption the way Microsoft would hope. Was anybody climbing over themselves to get the pretty-but-shallow Ryse, or the always-sterile Forza 5? Dead Rising 3 certainly has its share of fans, although the widespread perceptions of the game's performance issues (and the series' slightly more niche appeal) have kept it from becoming a true system seller.
Rise of the Tomb Raider, however, is a game that players from the 32-bit era onward are likely to appreciate. The Tomb Raider reboot (and Tomb Raider: Definitive Edition) met with praise from critics and fans alike, despite a few questionable gender issues and greater focus on action than tomb raiding. Many Xbox and Playstation gamers have been looking forward to Rise since its announcement at E3 this year. Rise is the closest thing to Sony's Uncharted series that Microsoft has, come to think of it. Some of those Playstation owners and Uncharted fans will be tempted to give the Xbox One a shot now!
The decision to make Rise of the Tomb Raider an Xbox One exclusive is a financial one. As with Bayonetta 2, Microsoft must have made Square-Enix an offer on Rise that was simply too good to refuse. As Crystal Dynamics explains in a blog post meant to pacify Playstation owners, "We know [Microsoft] will get behind this game more than any support we have had from them in the past."
The combination of Microsoft funding and promotional spending could certainly help Rise do very well. I don't think it will sell quite as well on just the one system (even with Microsoft's backing) than it would have on two, but the developers still come out ahead thanks to all that funding and promotion. Xbox One gamers are going to want Rise of the Tomb Raider, and players who haven't hopped on-board with the latest console generation yet now have another reason to do so – and hopefully go with Xbox One as their system of choice.
Note that the wording of the announcement still leaves open the possibility of the game coming to another console in another year. I heard "exclusive in 2015," which doesn't promise exclusivity in 2016. But we shall see! And Playstation 4 gamers can still get Lara Croft and the Temple of Osiris this December. Being a smaller downloadable title, that one is not quite the same kind of game as Rise. But I'm very excited for it.
What do you guys think of Rise of the Tomb Raider becoming an Xbox One exclusive so soon after its announcement at E3?
Get the Windows Central Newsletter
All the latest news, reviews, and guides for Windows and Xbox diehards.
Paul Acevedo is the Games Editor at Windows Central. A lifelong gamer, he has written about videogames for over 15 years and reviewed over 350 games for our site. Follow him on Twitter @PaulRAcevedo. Don't hate. Appreciate!