Join us today for Microsoft's Build 2013 keynote speech! Wednesday 9AM PT/12PM ET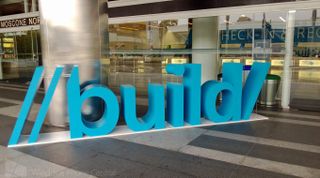 We're here in not-so-sunny San Francisco (seriously, it's cloudy and humid) but we're still gearing up for tomorrow's early keynote speech from Microsoft. It starts at 9AM PT/12PM ET (or your localized time here) and we'll be in the front of the audience to cover it live, all for //build/ 2013.
What will Microsoft reveal? We're not sure as the whole event is shrouded in mystery this year. We can bet they will focus in on Windows 8.1, Xbox Music, maybe some Xbox One news and maybe even throw Windows Phone users a bone (there are quite a dozen or so 'Phone sessions, which is good news). You can read our "what to expect" article here for more info.
Regardless, this is where CEO Steve Ballmer takes the stage and whoops it up for the developers, fans and media. You'd be crazy to pass it up, so make sure you join us for the event tomorrow morning!
Bookmark now: www.wpcentral.com/build-2013-keynote-live-blog
Daniel Rubino is the Executive Editor of Windows Central, head reviewer, podcast co-host, and analyst. He has been covering Microsoft here since 2007, back when this site was called WMExperts (and later Windows Phone Central). His interests include Windows, Microsoft Surface, laptops, next-gen computing, and arguing with people on the internet.
Is there a live broadcast we can watch tomorrow?

Will try to find one and have posted when the keynote goes live.

Yes there is, its at channel9.msdn.com

http://channel9.msdn.com/Events/Build

Really hope they give us some wp news, do you think there is any chance of a wp 8.1 announcement? Or even gdr3?

No, I wouldn't expect that.

Maybe a few new Sprint WP8 handsets. Maybe? Anyone? Bueller?

I really hope they at least mention WP8 at some point this week.. if it isn't ready, it isn't ready but at least give us SOMETHING...

I would be disappointed if they don't mention anything about WP8...

Then you will be disappointed

No there will only be news of office on iPhone....lol

Developers, Developers, Developers, Developers, Developers, Developers, Developers, Developers!

@ it should be in all caps man. DEVELOPERS!! DEVELOPERS!! DEVELOPERS!! DEVELOPERS!! DEVELOPERS!! DEVELOPERS!!

This totally. I feel like my WPC feed has been spammed with nothing but new app news lately. Which is delectable.

What was the link to that again?

Ha yeah, you got here right when it started raining haha. Hopefully Microsoft can brighten up your day :P

Can't wait for another Steve Ballmer performance!

Whenever Steve appears the conference hall comes alive. Wow. When he opens his mouth to speak,that's the most funniest moment!

I emailed Steve, and he actually emailed me back haha. Good guy.

I'd settle for every one tidbit of juicy WP news right now..

Still patiently waiting for Hipstamatics Oggl app.

Seriously. I want them to release it already. :/

They said the release for oggl would be sometime in June. You know how WP8 apps are with release's..

Like Microsoft said the update to the YouTube app would be a few weeks. It's been WAY longer than that.

LOL i even have forgotten about it

Thinking wp8 taking a backseat

the remaining hours will pass like ages -.-

Haven't seen Ballmer out and about for a while now, looking to see what changes for developers with 8.1 features

I understand that the main focus is windows 8.1 and server 8.1 and RT 8.1 and yadda yadda... but Xbox already had it's big moment in the sun.. now windows desktop (etc).. where is WPs big ordeal? I hope something comes out of this for WP8... if nothing else but as an aside of "by the way.. WP8 will be doing such-and-such later down the road"...

I'd just be happy with WAV and ALAC support in WP8
Oh and a Snapdragon 800 Surface RT or Haswell Surface Pro :)

I don't want any updates on the windows phone 8 platform right now as much as I want a fix for the 'other' category that's clocking at 3.01 GB on my Lumia 620 :/

I hope there is an appeal for developers. Lighten the restrictions and fees, or provide greater tools to developers. Flood the Window's stores with QUALITY apps and win back indie game developers for the Xbox One.

I want WP to be updated with its missing features/functions such as Folders (to many Tiles become confusing messy and slow to navigate, also need to have a good memory remebering each Tile's function and where it is) ..A all in one proper Notification hub. A Mute option and individual Volume control. A proper Calndar and all-in-one Clock. A touchdcreen slidebar to skip to any part of a video/music track - not 30sec skip forward/backwards as now on Windows phones...So many basic/standard functions and features that are missing on WP should be added with new exciting features...I hope MS sees why the latest Androids and upcoming iOS 7 is putting MS WP in the shade again as MS sit back and not care!
Windows Central Newsletter
Get the best of Windows Central in in your inbox, every day!
Thank you for signing up to Windows Central. You will receive a verification email shortly.
There was a problem. Please refresh the page and try again.