Top 10 Steam Summer Sale 2018 deals
PC games are selling for record-low prices. Here are 10 Steam Summer Sale 2018 deals you should absolutely consider adding to your collection.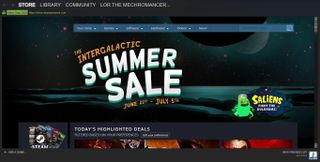 The time has come for our lord and savior, Gabe Newell, to once again distract PC players from their priorities with unbeatable prices on games. Steam Summer Sale 2018 is rife with opportunities to fill your Steam library, and we've done some scouting and found what we think are the top 10 best deals of the sale. Here's what awaits.
Portal 2
Portal revolutionized puzzle games, and it was hard to believe that a sequel could truly do it justice. However, Portal 2 gladly accepted that challenge and ended up being a resounding success. Excellent mechanics, clever puzzles, and a humorous story come together perfectly in this Valve masterpiece. It's normally $19.99, but you can get it for just $1.99 during the sale.
Fallout 3
Set in the Capital Wasteland (the ruins of Washington D.C.) Fallout 3 centers around the story of one adult as they search post-apocalyptic America for their father. It's usually $9.99, but right now it's selling for $3.29. You will want to run it in Windows XP/Vista compatibility mode, though, as it's not optimized for any operating system after that. (Why would you expect otherwise?)
Fallout: New Vegas
In Fallout: New Vegas, you journey through the Mojave Desert as you attempt to find a man who attempted to kill you. Your actions ultimately will determine the fate of the city of New Vegas, the Hoover Dam, and all of Nevada. Like Fallout 3, New Vegas costs $9.99, but it's on sale for $3.29.
Rust
In this multiplayer survival title, you start off with nothing but a rock and your wits. As you comb through the landscape collecting materials, you will run into other players. Whether you ally yourself with them or decide to kill them for their loot, you have the potential to benefit from this ... but the other person might be thinking the same thing. It's selling for $8.74, a 75% reduction from the original $34.99 price.
The Witcher 3: Wild Hunt
Considered by many to be the best role-playing game (RPG) of this generation, The Witcher 3 has everything you want from a modern RPG title. Between the well-written characters, solid mechanics, and gorgeous visuals, you can't go wrong here. You can get it now for $19.99, a 60% decrease from the usual $49.99.
Wolfenstein II: The New Colossus
Set after the events of Wolfenstein: The New Order, The New Colossus is a narrative that centers around World War II survivor BJ Blazkowicz and his attempts to spark the second American Revolution in an age of Nazi imperialism. Normally, it's $59.99, but currently it's available for $23.99.
Mark of the Ninja
Combining the hardcore stealth of games like Thief with the intense platforming mechanics of Ori and the Blind Forest, Mark of the Ninja is arguably one of the best 2D indie stealth games ever made. Right now, it's $3.74, which is 75% down from the regular $14.99.
Grand Theft Auto V
Set in the city of Los Santos, Grand Theft Auto V has the biggest map of any game in the series, and a plethora of side quests and activities spread all around it. It may be tough to run if you have outdated hardware, but few games offer this much bang for your buck, especially at the current sale price of $19.79, a substantial discount compared to the original $59.99.
The Elder Scrolls V: Skyrim Special Edition
Bethesda's remaster of their legendary RPG Skyrim has many benefits compared to the original. Sporting new lighting effects, updated textures, 64-bit support, and a plethora of bug fixes that never were patched out of the game from 2011, Skyrim Special Edition is worth every penny. You can get it for $19.99 during the sale, which is half off from the standard $39.99.
Baldur's Gate II: Enhanced Edition
Baldur's Gate was an RPG that ended up heavily influencing how the genre evolved over time, and its sequel is widely regarded as one of the best RPGs ever made. The Enhanced Edition is both better looking and more stable, so if you want to check out one of PC gaming's biggest classics, now is the time. You can grab it for $4.99, a 75% reduction from the normal $19.99.
Your thoughts
What do you think of these games? What are some good deals you've taken advantage of this summer sale? Let me know. The sale ends on July 5, so don't wait!
Get the Windows Central Newsletter
All the latest news, reviews, and guides for Windows and Xbox diehards.
Brendan Lowry is a Windows Central writer and Oakland University graduate with a burning passion for video games, of which he's been an avid fan since childhood. You'll find him doing reviews, editorials, and general coverage on everything Xbox and PC. Follow him on Twitter.
I am buying Cuphead + Xbox one controller

If you download and install GFWLIVE (Games For Windows Live) Fallout 3 will play flawless in Windows 10 : https://www.windowscentral.com/e?link=https2F%2Fclick.linksynergy.co...

I tried that fix myself...unfortunately didn't work too hot. The compat mode does though, at least for me.