Top 4 announcements from day two of Build 2018
Day two of Build 2018 was a little staid compared to day one, but it had some interesting tidbits of its own. Here are our picks for the top reveals.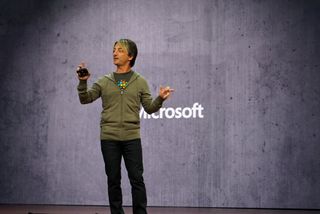 For its day two keynote at Build 2018, Microsoft mostly stuck to fleshing things out that were revealed during day one. Still, there were some interesting demos and glimpses of future features coming to Windows 10 and more. Here are some of our picks for the top announcements from Build 2018 day two.
Related: Top 6 announcements from the first day of Build 2018
Microsoft Launcher means business
Microsoft Launcher saw a pretty good reception when it was launched late last year, and now Microsoft is looking to bring that same experience to enterprise users. We got a small hint that this was coming when Microsoft announced Timeline for Android and iOS during day one, but the company expanded on things a little more for day two. There's no word on when it's coming, but it looks like it'll be an interesting option for workers and IT administrators.
Grammar wizardry with Word and machine learning
Machine learning and AI have been big themes for Microsoft in recent years, and Microsoft even launched an AI platform for developers called Window ML earlier this year. During its day two keynote, Microsoft showed off just one small way it is leveraging that machine learning power to improve one of its own products: Word. With a future version of the Office app, Microsoft will tap Windows ML to help you improve your grammar. It's a small addition, but it looks pretty neat.
Putting Sets in your Timeline
Windows 10's Sets feature is still in active development, but Windows experience head Joe Belfiore took to the stage to off what Microsoft is working on for a future Insider build. The biggest news? Sets are coming to Timeline. Just like with individual apps and files, the feature will allow you to go back in time and retrieve full Sets of tabs that you were working on in the past. Oh, and the Alt + Tab shortcut is getting some Sets love, too: soon you'll be able to move through individual Sets tabs, not just Windows.
Cortana is in on the timeline love, too
Timeline helps you return to stuff you were working on in the past with the Microsoft Graph (opens in new tab), and Cortana will soon tap into that capability as well. The digital assistant is getting a new UI feature in Windows 10 that will let you "Pick up where you left off." The section features suggestions on what you might want to start working again, along with a shortcut to see all of your activities.
And there's more
Outside of some live coding fun, the day two keynote felt like a fleshing out of ideas Microsoft introduced during day one. Still, it offered some interesting looks at the new "Your Phone" experience, adaptive cards in Outlook, and much more.
If you want to catch up on everything else, check out our Build 2018 landing page. And for the day two keynote, you can relive the whole thing now.
Dan Thorp-Lancaster is the former Editor-in-Chief of Windows Central. He began working with Windows Central, Android Central, and iMore as a news writer in 2014 and is obsessed with tech of all sorts. You can follow Dan on Twitter @DthorpL and Instagram @heyitsdtl.
Holy hell, I imagined boring, but this is beyond boring..... Zero interesting news after two days of Build.

It's OK to admit that you didn't understand any of it, no-one will think any less of you (as it's not possible anyway)

Are you a developer? Yeah, I didn't think so. This is a developer conference, not a cartoon TV channel meant to entertain you.

So you found it interesting then?

I actually did. Not blazing amazing, but it was nice to see what MS is up to, and how they envision the future, and what's to come. I can't lie, I'd also rather have them talkin' about new devices (especially phones) and all the consumer stuff, but that's not the situation right now, and it'll hopefully get better.

I have to say this build conference is bit bizarre. it's weird they haven't talked about Windows 10 s Polaris windows one Corps. and Educational market.

Oh and developers are suppose to find this riveting?

So, yes. It's not as mind blowing as some previous years, because the phase we're in with a lot of this stuff is payoff, rather than new announcements. But dear god, the tooling is so good, and so many of the platform apis and services for things like cognitive services, Microsoft Graph, and IoT are finally at a point of maturity that what can be accomplished with them, and more importantly, accomplished fairly easily, is very exciting. There's a reason why MS has so many partner showcases this year. And while it's pretty light on user facing features this year, what they're enabling in so many industry verticals is literally going to change the world.

Actually it was quite amazing and exciting. Only I am not working with Cloud stuff, so I don't feel related that much. But probably n IoT Developer would have felt dead boring about hearing anything about a new Fluent Design stuff on a new Mobile Phone. I think this Build was the first step in changing the audience of future Builds at Microsoft. Developers dealing with mobile development should get out, and people dealing with IoT should get in. Otherwise it will be considered boring by the audience.

Even if you are not an IOT dev, the new direction is that you can code once and deploy to not just PC but IOT, AR, MR and xbox (with #if). And if you go with C#, you can share codes between server and client. Plus Azure and AI. It's opportunity and new business model. e.g. I was thinking I might create a DreamCast-mem-card-like device in my free time and connect it to a XPA game and showcase it in our programmer meeting.

Hahahhaaha. How would you know what I understand? It's really not rocket science what they are telling. Second, even for developers this is boring. All the big tech websites are barely reporting on Build on their frontpages. This is telling enough.

Big tech sites are generally *not* developer centric. Build is especially focused on what MS is doing to improve workflows and provide tools to make awesome stuff this year. If you aren't involved in the process of doing that, even if you understand what's being said, it isn't going to actually mean anything to you.

While Big Tech sites DO report on what Google is doing at I/O which concerns developers as well besides other stuff...

The key is to seduce developers for their consumer side, they have to like the platform.
Look at the Google I/O, they understand it and they do not do badly, If MS wants developers they should take note.

It sounds like Google has two different keynotes at I/O. One for consumers that shows how the technologies are being implemented in their products and one for the actual developers they hope use the technologies as well.

Previous Builds were also similar to this format, first more on consumer/end-user facing keynotes to showcase new features and tools for developers to take advantage, then later an actual developer keynotes which is fills up the rest of the conference. Build 2018 seems to be more of back-end, enterprise, and bit of platform technologies, not much about end-users except for few things that we already know (at least for use who follow MS and participate Windows Insiders Program). For end-users, this Build 2018 is something uninteresting since things they announced though are great when it comes to broad technological standpoint, it will not directly impact to most end-users on everyday non-work lives, not until these technologies implemented by several companies to their own end-user services soon.

Developers and the whole tech reporting scene get excited by the developer events from Google and Apple. Developers have to like the consumer side. If you don't understand this, you are as stupid as Microsoft.

Not only for existing developers, but also for potential future developers that want their app on a platform that will return some revenue, not a boring dead one.

Yeah agreed. This year's Build is very much focused on developing for Windows and making Windows the platform for all developers of all development work. Timeline and Fluent showed up in last year's Build because these two features require developers to work on making their apps work with Timeline and Fluent, and of course Sets. So Build 2018 is truly all about the developers and what they can achieve with Windows, or rather Microsoft 365. I guess we'll see consumers-facing features in other kinds of events.

I cannot agree more on that. Boooooring.
Microsoft is the new IBM

But I found it very interesting. They talked about Azure, they gave space to IOs and Linux, they talked about the upcoming news on AI.
For being a developer conference, it was interesting.
Then I do not understand, if you find boring this conference I do not want to know what you think about that Google and Apple. Those are really boring.

Can't tell if you're sarcastic or stupid.

Google I/O boring? For one thing it was outside! In the sun! Not in a some dark, "window"less, cave. Secondly... did you even watch I/O this year? Self-driving cars and AI? Landmark and building ML recognition built into Google Lens? A/R built right into Google Maps? Linux now running on Chromebooks? Android Studio now running on Chromebooks? 9 new device types supported by Google Assistant? Google "Things" to manage all these new Internet of "Things" devices? John Legend as one of 7 new voices for Google Assistant? Young people dressed in young people clothes, not just old people dressed in young people clothes? Multiple simultaneous channels... not just "channel 9"? A CEO who joked about having Margaritas later? Build 2018 was like a Detroit in the dead of winter event. I/O was like a San Diego in the spring event. Like Hassan said, are you just sarcastic or stupid?

My jaw is tired from yawning so much.

I'm on GMT 10:00+ and unlike the first day, I didn't wait for it and just slept. I just watch the summary videos and when I got time I'll just watch the whole recorded keynote. There is nothing much I'm really hyped about except for things that I already know. What they do is still great, but not something will impact me immediately as an end-user.

So in other words it was a pretty boring day. They are not as progressive as a corporation in their state should be.

The grammar thing is probably US Only. We should all just speak English all around the world, that would make Microsoft's work easier. Oh, that would still leave us out of most Cortana and Windows features.

Or you can switch platforms. Today Google announced quite a few cool new features and wider availability and languages for their services. Their keynote blew Microsoft's out of the water. Duplex was really cool, I cannot wait for that feature. Google is actually putting AI to use instead of just talking about it.

I know, right? I've never watched an I/O until today, and wow, it's all about action not words! Self driving cars, Google Home in 7 more countries, Google Lens and visualization ML, an assistant that will make hair appointments for you, even John Legend as one of many new voices of Google Assistant, Google "Things" for IOT, and no less than 9 new device types that will work with Google Assistant, to name but a few. The real game changer though is Android studio on Chrome OS. With Android studio (and really any Linux app) running on Chromebooks now, pretty much so any kid who grows up learning how to code will be doing it on a Chromebook. Microsoft's stalling, and hemming and hawing, and resetting/retrenching/rebooting has allowed this plain and simple. After watching day one of I/O I'm ready to make a frisbee out of all my Windows products and jump on the G Train! Will see how I feel in the morning. But seriously, impressive!

For a developer conference, MS's showing off stuff that *actually matters* to where computing is going and that directly address the challenges developers will face in getting there. Google's got some nice product announcements, especially for consumers, but seriously, they're so far behind on tooling, platform coverage, cloud services, IoT, mixed reality, and web service integration that it's not even funny. There's not a lot of flash to this year's Build, but my god, MS is making so many extremely difficult engineering problems so much less so.

Completely agree with you and for the same reason I was thrilled after the first day keynote but they could've done much better on the second day. I thought they will elaborate a little more on how they are making Windows better by explaining the CShell, Windows ML ...etc.

MS is ahead in web service integration? :))) with what? LOL. integration into what? Platform coverage, web service integration, APPS, mature platform are all decades ahead on Google's compared to the joke MS has. MS leads with their office cloud and Azure, for now..that's it. Mixed Reality :))) phaleaseee

@jp144: If you really look at it, Microsoft explained about the AI tools and capabilities available in Azure and left the imagination to the developers, where as Google just showed some of the AI capabilities that they built in their Apps ("Teaching how to fish" vs. "showing a shark"). Honestly speaking, I didn't see anything in Google IO, as interesting as the meeting room demo MS showed yesterday... Try the Azure Custom Vision Cognitive services and you can build an App like the Google lens. In fact Nokia /here maps developed the "City Lens" App in 2012 (along with the Lumia 920 launch) which had some of the capabilities that Google demoed today. I am not too much excited about the additional voices the assistant got. Out of all the Digital Assistants today, Cortana's voice is the most "human like". You might have noticed this in the Cortana-Alexa demo yesterday. Coming back to Waymo, we still don't know when it will be coming to market and what will be the price of that. AFAIK, many Auto OEMs are not ready to use Waymo technology. Tesla Auto Pilot is already available and you can buy it today. Waymo demo appeared to me as a filler :-) to kill the time. I completely agree with you that the Day 2 keynote could've been better, but when you consider Day 1 + Day 2 Build key notes, it was not really bad compared to Google IO keynote.

That was Google's consumer facing keynote. They had a developer keynote later in the day. They actually are using AI in their apps now and have a developer AI platform. All Microsoft has is soon, maybe, if developers pay attention. The biggest difference is, Google actually has engaged mobile users for the developers to access. Microsoft just has legacy desktop users. Not much more developers can create for a machine tethered to the desk or lap.

no, I watched everything with the Microsoft thing in they have AI it's already here Microsoft. Why do you lie about Microsoft all the time?. And why are you here?

Google have A lot of problems

Where exactly is MS with AI?? Where..? Seems only fanbabies see it and nobody else does. Cortana? :))) please..that joke is not even worthy of being called an assistant. Even Samsung's new born Bixby is more useful than Cortana

lol, so Cortana is Awesome now work with Alexa.

That move with the assistant actually making a phone call reservation, speaking naturally with a real person was mind blowing!

Don't say that you will upset the French, Macron is already annoyed because the E.u is still going to use English and not French after we leave the E.U.

I can't even get timeline to work on my brand new surface pro. Pathetic and probably the last straw for me.

Not to mention, it doesn't matter how awesome timeline is, if developers don't hook in, it's only functional for a few Office apps. Microsoft has no more developer support.

That is the thing, while Time does work with some files, it will only work as it should do with software that is developed for it, saying that cinema 4D works with it, which shocked me.

I dont think ill ever use timeline.. im good with chrome and i like the way recent tabs work.. i do use office a lot but i dont need this feature at all.. my work computer is on windows 7 and home is on windows 10.. both not connected.. i cant come up with a scenario where i would use timeline..

Maybe the surface is not a very good machine then :)
I updated a few machines with the new April edition of Windows 10 and time works fine on all of them, or as well as can be expected with the software that is on them. Timeline works well with MS own software and apps, but is hit and miss with other software.

https://media.giphy.com/media/3eNx5SV39lH6o/giphy.gif ...and more of this : https://giphy.com/explore/disappointed

Day one key note was much better compared to Day 2.
I am amazed by the fact that Microsoft didn't have anything to share on CShell , Polaris, Andromeda (OS Part) or even the Red-stone update and APIs. They talked so much about a stupid Android launcher and the timeline option in iOS Edge. Well done MS !!

from their smallest project to the biggest ,they repeatedly said ,we need you, the developers to write for our platform ...the same developers they are begging for the last 3 years now....nobody writes anymore for a legacy platform, they bragged about 700 million devices ,apple ecosystem have already 1,2 billion expensive devices that grow every year, android has according to Google almost 3 billion devices and these devices run mobile operating systems that people and business actually use every single day.

This is true... So what do you suggest MS do now?

Lead by example. Show off all the awesome apps they are building and the new capabilities they have. I see none of that, just empty words and promises. Did you watch Google's keynote? Actual apps and services available today actually using the AI that Microsoft just talks about. Actual features for their platforms that will make a difference. Microsoft just announces features for other platforms coming Soon™.

Yeah, the difference was fairly striking.

What's really interesting it is that both Microsoft and Google is really pushing AI, Machine Learning and the concept of edge-computing, but the difference starts when Google actually lead it by implementing those technologies directly to their end-users, means on their Android, their apps and under Google Services. There is too many "AI" buzzwords, but at least they are delivering that future now (or sooner) than Microsoft where they are mostly catering it to enterprise, back-end infrastructure that end-users won't immediately feel nor know that it's a Microsoft tech. Cortana should be prime vehicle to deliver these technologies and they kinda do it, but really small way. Cortana has yet to get conversational interfactions while Google Assistant can actually make appointments for you and call the respective establishments to book, with pretty convincing voice and conversation that we are getting closer to Turing test level of machine conversation. Cortana was great at the start but it slowly lags behind because of slow implementation of needed features and changes, and not to mention stalled expansion to more countries. Hey at least its not as worst as Siri, so that's something.

Bleached, Of course he never. it did not involve anything Microsoft. As a MS fanboy, you are strictly forbidden to look at what the other companies are doing or you will be permabanned from fanboygroup forever! I agree, Google is WELL ahead of MS.

Just watched a couple of hours of Google I/O and wow! What a difference! Machine Learning and Visual Recognition in action on Google Maps. In Android P using Google Lens you can tell where you're at in a city just by pointing your camera at the nearest building. Self-driving cars. And they just announced full web development can be done on a Chromebook and that soon Android Studio itself will be available on Chromebooks. Sorry everybody, but I think this marks the beginning of the end. Now every kid in America (and soon the world) will be learning how both to code and to do word processing on a Chromebook. In a decade those kids will enter the workforce, and well... its not looking good for Microsoft.

btw here's a link if you're interested: https://www.cnet.com/news/googles-chrome-os-and-chromebooks-get-new-app-... Chromebooks will also run pretty much so any Linux app now too.

If you think anyone will ditch Visual Studio (or even Visual Studio Code) for Android Studio you don't do any serious development work. If your only education in coding is with it, you will be hindered trying to move into becoming a professional. Google has a massive amount of catch up to do.

You cannot do serious Android development using Android studio?

Microsoft has been talking "future, future, future". If these kids grow up using Android phones and tablets, GSuite for productivity, and Google Chromebooks /w Android Studio for development, when those kids enter the workforce in the NOT too distant future, and become decision makers, just what makes you think they're going to choose Microsoft services, and Visual Studio? I tell you truthfully, that as an IT decision maker today, who grew up using MS products, there's no way I would choose IBM products! And btw your thinking is completely flawed. There is plenty of serious work being done in Android Studio. If I credit Nadella with anything it's his at least trying to rid the MS culture of such condescending arrogance as you perfectly display by saying such a thing! It's that same arrogance IBM folks must have displayed when they said "who's doing serious work on a 'personal computer'? Personal Computers all just a bunch of toys, right?" And yes they DID say that.

@jp144, no. the beginning of the end was when Nadella was appointed CEO. CLOUD ONLY CEO. Yep...making boat loads of money from enterprise...but the consumer side of things is TRASH. I am rethinking my investment in the windows platform once again, and moving to fully google.

Build & I/O 2018 convinced me too Steve. I think if a guy's looking to squeeze another ten or so years out of an IT job in a big corporation and then retire and get a low stress job like a Walmart greeter, or that guy who drives the golf ball picker-upper, stick with Microsoft. Ten years is pushing it though, and certainly anything past 15 years to retirement and I'd be checking out this website: https://www.android.com/enterprise/ If a guy's looking to build a Consumer facing app of any kind Google is the right way to go. I'd be shocked after seeing Build 2018's dismal showing in consumer if Andromeda sees the light of day. And I think even Apple has too much of that resting on our laurels mentality that Microsoft is showing. Google is innovating. And more importantly putting those innovations into action.

It's sad too. They (Microsoft) were so close to having a great system.

Is it just me or does that picture of Joe make him look like a marionette?

Its not the picture, he always looks like that.

I think he is also flipping us off:(

Did anyone really understand what the "Microsoft Graph" was? I listened to both days of the program, and just spent an hour Bing'ing it and still I'm scratching my head. And yet many sites claim it is "core to the company's strategy". But what the heck is it, and how do you use it?

Graph is like an enterprise bus but easier to extend. You call one end point to get data rather than many different api endpoints. It's extremely useful. I wouldn't say its the most awesome thing ever but it is a nice way to store and retrieve data from all sources you place on the graph.

Microsoft Graph is an app that makes the Andromeda (ripped from google btw), a sheet of graph paper. simple. ha ha ha.

It's really funny to watch but some people defend company called Google. You do realize you talking about a company that people can't think for themselves. ps google = 1984 lol

Microsoft = 1972. The next device is the windows typewriter. Who needs a screen at all, just print right to paper. after that the MS exercise.....comes with 32 pages, and an ink filled "stylus" no charging needed....just replace the ink in the stylus every few months. Guaranteed to work EVERYWHERE in the world, not just the US. Also, it has every language built in...SMDH

https://www.youtube.com/watch?v=ahwW8laJYrc
lol my thoughts

deniability is an incredible coping tool. LOL

Anything exciting? I thought so.

Nadulla's goal is to destroy MS...

Useless crap compared to what Google has shown and is showing at I/O.

lol this developer conference lol I sorry lol

At the end of the day two keynote the camera panned out and you could see a large swath of empty seats. It didn't inspire confidence, but I'm hopeful for the future. My guess is they are going to *coming soon* the crud out of whatever happens after RS5. The features for windows they showed off this week were tepid compared to years past. Good but not great. Sorry if this is word salad. Need my coffee.

wow. if MS can't show off a bunch of wiz-bang toys, simpletons find it all boring. .. go figure
Windows Central Newsletter
Thank you for signing up to Windows Central. You will receive a verification email shortly.
There was a problem. Please refresh the page and try again.