Top 6 announcements from the first day of Build 2018
Microsoft launched into its first day of Build 2018 with a slew of announcements. Here are our picks for the top ones.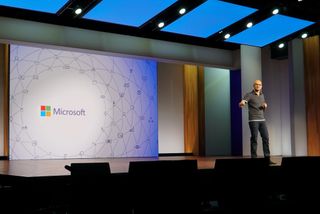 As has become tradition, Microsoft kicked off its Build 2018 developer conference today with a lengthy keynote from CEO Satya Nadella. This year saw Microsoft focus squarely on developers with a slew of announcements related to AI, the intelligent edge, and Azure. Here are some of our picks for the top announcements from Build 2018 day one.
Related: Top 4 announcements from day two of Build 2018
Your phone is coming to Windows 10 (sort of...)
Though it reared its head in the Microsoft Store a couple of days before Build started, Microsoft officially took the wraps off of a new "Your Phone" feature for Windows 10 PCs today. The experience takes Microsoft's phone integration a step further by giving users instant access to text messages, photos, and notifications from your phone. The goal? To let you focus on what you're doing at your PC without having to pick up your phone to deal with interruptions.
It's time to take Timeline to Android and iOS
Windows Timeline is a handy new feature in Windows 10 that allows you to quickly go back in time and resume files you were working on or websites you were browsing from up to 30 days ago. That's neat on your desktop, but soon, the experience will be available on Android and iOS as well. For Android users, you'll now be able to resume activities as part of the Microsoft Launcher app. Over on iOS, Microsoft is bringing the feature to the Edge app.
Kinect is back (for Azure)!
In what came as a bit of a surprise, Kinect is back in the limelight. Microsoft introduced Project Kinect for Azure, which is a new sensor bundle built to run Azure AI services and equipped with Microsoft's next-generation depth sensor. While built as a way for developers to experiment with and create new spatial mapping and depth sensing solutions, Microsoft also quietly confirmed that the Project Kinect package will appear in the next HoloLens headset.
Mixed Reality + Work = Wowzers
Yes, mixed reality is still very much on Microsoft's radar. The company took to the stage today to introduce two new mixed reality apps built for firstline workers: Microsoft Remote Assist and Microsoft Layout. Remote Assist allows workers to remotely collaborate on tasks and receive hands-free assistance from experts, while Layout lets users see 3D models at real-world scale in the space around them. Both are pretty interesting additions, particularly as HoloLens sees more industrial and enterprise applications.
Partnerships, ahoy!
Microsoft had two major partnerships to announce today. First, the company is teaming up with drone maker DJI to build an SDK for Windows 10 and build commercial drone applications. Second, Qualcomm and Microsoft are teaming up to put together a vision AI developer kit. The running theme? AI and edge computing are a big focus for Microsoft this year.
AI takes on accessibility
Last year, Microsoft announced a major program intended to tackle environmental problems with AI. After that program's success, Microsoft is tackling another problem area: accessibility. The new AI for Accessibility initiative is a $25 million grant program that the tech giant hopes will provide a boost to developers, inventors, and organizations working on AI-first tools for people with disabilities.
And that's not all
Those are our picks for some of the top announcements, but that's certainly not all. Microsoft had a lot of new Azure tools and Visual Studio features to show off. There were even some new tidbits that went slightly under the radar, including a new revenue-sharing split for developers, Fluent Design for Win32 apps, and more.
For more, be sure to check out our Build 2018 landing page for everything from the conference.
Dan Thorp-Lancaster is the Editor in Chief for Windows Central. He began working with Windows Central as a news writer in 2014 and is obsessed with tech of all sorts. You can follow Dan on Twitter @DthorpL and Instagram @heyitsdtl. Got a hot tip? Send it to daniel.thorp-lancaster@futurenet.com.
Andromeda? (Sorry just couldn't resist starting that up...)

That's later this year. Build is a dev event, not a hardware event.

Software runs on hardware! Can't have one without the other.

//build is not, and has never been, for announcing hardware.

Any other year I wouldn't care. But a release addressing the concerns of consumer facing mobile developers would have been a great exception to the rule this year. Plus... Nadella has had no bones about "hitting reset" on just about everything else, frankly I think they SHOULD consider some limited HW releases during Build. As I said before, it's a symbiotic relationship, you can't have one without the other. Both affect developers directly. At least they did "demo" (tease) that pyramid looking AI meeting room device. Which was cool. Although I do wonder how people will react to a "big brother" type device recording every off topic conversation, ill stated remark, or side joke that happens during just about every meeting ever held, and putting that into official meeting transcripts?

I agree. Not sure why people downvoting you. Bit weird, but then again, that's a fanatic for you.

So L930 was never announced on build?

Microsoft announced an event in China for next month I believe. They said they're going to announce a new product that will make the rest of the industry follow their lead. Hopefully it's Andromeda but most likely it'll be a new Surface Pro, I think.

Honestly, this is the most bland and uninteresting Build by far... boring as hell.

Wasn't so much that it was boring, it was just a lot of neat stuff that doesn't affect me, and I think average consumers. Granted it Build is not a consumer show, more of a B2B.

As a developer, it was the most uninteresting build ever.

Yes if you are building using the old world model of programs (1=1) then it was very uninteresting. But, look at Google as well they are doing the same thing, everything is about sharing, and connecting, using the cloud and services. "AI-Cloud-Connected" is this years color for developers.

Google does not p!$$ on developers like Microcrap did several times with their neverending UWP crap changes. Any sane windows dev would never ever trust Microsoon regarding that pathetic app store. As a consumer and business user I will never waste my money to an app from that junk store. You want my money, give me a classic win32 desktop app bought and downloaded from your own website.

Day 2 is about Windows
And No one force you to watch it

How do you know he's not litteraly tied up in a dungeon, being forced to watch old reruns of Threes Company, and Build 2018???🤔🤔🤔

Do we need to form a search and rescue party, Rodney?

Mumus, Thighmasters, and Build. Sounds like a sitcom.

Day 2 is about Microsoft 365, not just Windows.

So normal then. unless you are a business and I mean a large corporate business that uses MS products, then build is 99.99% bland.

This build conf is bland for many business users as well. Many of us do not use that JUNK app store and do not believe any crap coming out of MS every time they are on stage.

Andromeda don't hold your breath 😤never will happen

Because his witch mother predicted so through fresh animal intestines. Legit source.

That's how my birth was foretold, Hans.

The thing that annoys me about Your Phone is the need for Microsoft Launcher on Android. I have no need for such an app however if I dont install it I wont get text messages, photo's or notifications. I'd rather do without

Sounds like you have a need for such an app. </trolling>

Then talk to Google. That is not Microsoft's problem . If you are not going to use Microsoft's option (Launcher) to connect your phone then yell at Google for not building in their own "good" connection capability and developing a program on Windows to make it so.

I think they can make use of Microsoft app and use background services to push Timeline content on Android devices. Microsoft app then can provide a widget to show Timeline contents that any Launcher supports. Also push notification when there is a Pick Up Where You Left notification pushed also after your session from Windows.

No, they cannot. Google has been reducing inter-App access, and even if Microsoft could find a way to work behind the scenes with 30+ launchers - Google wouldn't allow it according to the low level App access tricks they are restricting. Be thankful that Google hasn't pulled or blocked the Microsoft Apps 'yet'.

I see no mention of it using the Microsoft Launcher, though obviously it's going to need an MS app on the phone side.

The geek in me says that there's some pretty cool stuff in BUILD 2018. My favorites:
* Your Phone seems like it may save me digging into my pocket 50+ times a day.
* The natural language bot framework demos this afternoon were pretty cool.
* Visual recognition ML demos. cool. Especially the search and rescue demo.
* HoloLens remote assist pretty cool if you're a factory tech at a major manufacturer firm who can afford a few $3000 HoloLens devices. The practical, business-sided, guy in me says ugh!
* Until I can see why I may actually need to do this in my present job, it's uninspiring.
* No Andromeda just plain bites, if for no other reason than its a giant wiz on the heads of anyone who built a UWP app in the last three years. And so now Nadella that you've pulled the rug out from under all of us who bought into UWP, now you want us to drop everything and go write the next shiny object chatbot? My first (and only) chatbot will say one thing and one thing only in response to every query... "beggar off Microsoft!"
* Everything Consumer seems to be just plain dead. All of this seems primarily aimed at Enterprises with deep pockets and massive IT budgets.

And anyone who bought into Silverlight, etc., etc.

..and anyone who bought into their always changing mobile platform. their failed band, Zune, Music Service, their failed Win RT, their failed smart speaker attempt, and now, their pathetic Win S Mode and WinOnARM crap.

The majority of Build Sessions are about UWP - they aren't abandoning it and they aren't trying to shove developers to something else.

They have already shoved developers to the other platforms...long ago.

In years past there were lots of sessions about Silverlight too. Sessions and talk aren't proof of support. Action is proof of support. A mobile device to run our "universal" apps on is proof of support. Without it there's little reason to waste time writing a UWP app that targets only laptops and laptop-like devices. Microsoft's vast and diverse "intelligent edge" is made up of two retail devices... xbox and laptops. And that is the way it looks like it will stay for some time.

Regarding no mention of "Andromeda" - I get that Build is not meant to introduce hardware... but as a DEVELOPER if I knew Andromeda was coming I would be more excited about targeting Windows in my projects. Isn't Build the perfect opportunity to get developers on board??? Sorry, I see this as a missed opportunity (assuming Andromeda is still happening...)

I agree completely. Andromeda is not just any device. It addresses the Achilles heel of the entire MS ecosystem. Microsoft is firing on almost all cylinders EXCEPT one... mobile. Heck even stock analysts are starting to catch onto that: https://www.fool.com/investing/2018/05/03/how-much-optimism-is-priced-in.... Yes, an Andromeda release would have calmed some nerves, and made devs excited to target the Store again. Plus I just fundamentally believe that both HW and SW affect developers directly. I really wish they'd acknowledge that and start including some targeted device releases during Build.

Agreed! The phone is what brings it all together in my opinion. I am pretty sure now that Build is over, we will hear more and more about the phone. The FCC fillings give me the feeling something is one the way. We should see something official soon. I won't lie, I don't care to hear about any other products until we find out whats going on with the phone situation. Maybe it's just me, but I buy all of my electronics based on my mobile because that's the device I have on me more than any other, when I like my phone, it makes me want more of that ecosystem. The watches, tablets, etc. I like to go all out, and I can't right now. That's money lost and time wasted.

Maybe MS doesn't yet know if Andromeda is coming... What can we expect?
It's tough hardware to develop reliably. It has moving parts. I'm sure if MS was to make an actual Surface Smartphone that would've already been on the market. But, a device like Andromeda not only has to be useful, it has to be useful for long term. Quality issues can kill any device. If this was just another smartphone I'm sure software would be the focus, but this time around hardware is serious business. Can you think of anything like the Andromeda concept that's on the market today? MS will not put themselves in a position to have to apologize later because Andromeda can't pass testing process. As said over a year ago; don't expect anything till late 2018, if anything. If Andromeda does Surface version 1 will be so niche that it can stand to wait till Build 2019... B19 might be the one.

Axon M is quite similar to the Andromeda concepts. I am sure Microsoft will make something more graceful though. The Axon works, but the hardware is a bit rough.

No idea what they will or won't say about Andromeda. However, this is a 'developer' event, and if it is what is rumored, there would be no need to announce it for 'developers' as all existing software and 'focus' of software will just work on the device. (This is why Microsoft's development frameworks and platform is 'next generation' and rather brilliant. Software just works from a IoT device to Windows Server and everything in between.) I think one disconnect here is when people compare Apple or Google...
The reason Apple talks about new OSX/iOS devices/features at their developer events, is they ALWAYS require developers to write code specifically for the new devices. (Which is kind of insane that when Apple increases screen resolution or changes screen sizes, the Developers have to specifically code their software to work differently.

How long has there been a HoloLens with no pigtail?

Pigtail? Not sure what you mean. HoloLens has always been an independent device that doesn't physically connect to anything else. It is a MR head-mounted PC.

What's the battery life on hololens? I thought it was like 2 hours or something, did they ever improve it?

Did you miss the Cortana / Alexa collaboration? From the consumer view, that's probably one of their biggest announcements. Access Cortana from Alexa devices? Check. Access Alexa from the desktop (and presumably the Harman Kardon Invoke)? Check.

it was ok but I don't have Alexa devices lol

I'm surprised PWAs weren't a huge topic the first day.

Maybe not flashy for consumers, but this is where the future gets built. A lot of hope in their vision.

That's if developers see Microsoft's offering increasingly relevant.. MS has a lot of stuff going on, but there's also a lot of other stuff going on in the world. Developer interest is gonna have to pick up big time, at some point. It's still a huge issue for MS, and I'm not just talking about mobile.

Windows 10 phone with Android apps? Haha

SMDH.... You guys are still stuck in the past.🎠🎠🎠🎠

Ya, wishing for an OS that can run Android Apps in a secure environment where they would be far less likely to crash and run faster would be bad. /s Android is a really horrible OS built on several really horrible and outdated models - the best thing that could happen to it would be for Microsoft to shove it into a subsystem with a modified and 'modern' process manager in the subsystem. Also, sitting on NT would boost performance, especially graphical Apps and stupid things like Android arbitrarily shutting down processes as it needs RAM would disappear. Consider just this...
Windows 3.0 had a smarter/better process manager, and here we are in 2018 and we have 2 billion people using an OS that is based on older models/ideas and is not capable of meeting today's security needs - there are 2 billion devices just waiting for 'brick day' because of this.

Not surprisingly absolutely nothing interesting whatsoever!

This is not the Microsoft of yesteryear. The future is now.

:)) more crap talking as usual. Less than 5% of what that bald idiot barked about on stage will ever come to life...like always, and others will anyway be better.

Still no sign of #windows_andromeda_phone

Maybe they'll use day 2 to announce Andromeda hardware ;) *wishful thinking*

An no one will see it, because everyone is streaming the Google I/O !

If you are a developer Visual Studio Live Share is the best highlight.
It works on Visual Studio and Visual Studio Code (cross platform).

Please update whatever timeline feature for W10M too especially continuum.

I found the first day quite interesting.
What I took away from it was that the classical 1 app for 1 device model is pretty much history. As a developer, it is no longer about targeting a specific device, it is about creating a specific experience.
It seems also clear to me that I need to dump my view of an app being a siloed, independent container and move towards a model that heavily uses the broader framework, be it M365 or Azure and being interconnected.
It is a new way of writing applications and a news way of thinking, but this is the future.
Overall this stuff is really powerful.
Windows Central Newsletter
Get the best of Windows Central in in your inbox, every day!
Thank you for signing up to Windows Central. You will receive a verification email shortly.
There was a problem. Please refresh the page and try again.