Top 5 reasons for Microsoft fans to dump Google Docs for Office Online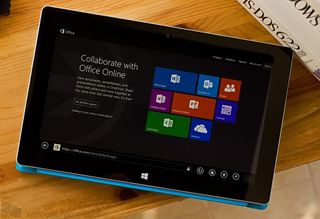 Most likely, if you are working online with office documents, you and your friends are using Google's Docs service. While the web-based office suite from Google has served a good purpose since February 2006, when the service was integrated into the major suite of Google Apps, it might be time to move over in 2014 and let Microsoft's Office Online suite (officeonline.com) truly shine.
The main complaint from users of Google Docs that you often hear is that it feels like a stripped down or light version of Microsoft Office. While Microsoft has had an online Office suite for a while now, it was buried within their OneDrive web interface. Now though, the company has launched its own site and revamped the service.
Here are the top five reasons you should be using Office Online instead of Google Docs to accompany your other devices.
1) It is a free version of Microsoft Office - not a stripped down editor
The most obvious reason you should be using Office Online instead of Google Docs is the fact that it brings the full power of the Microsoft Office suite to the web for absolutely no price. Simply login to the Office Online website and you have access to Word Online, OneNote Online, PowerPoint Online and Excel Online.
Such a great deal might even have you wondering why you should pay for the offline version of Microsoft Office when the online version is completely free – after all, Office 365 Home Premium is going to run you $9.99 per month.
While the offline version of Office is smoother in performance and includes a bit more features than the web-based version, the online service will be more than enough for many users and a breath of fresh air for those coming from Google Docs.
2) It will instantly sync your documents with OneDrive
When you work online with Office, your documents can be saved to your OneDrive folders and then be automatically synced to your main computer whether it is a Windows PC or even a Mac.
Windows 8 introduces tight integration into Microsoft's online cloud storage, and you might even notice that they make the OneDrive option more upfront than your local document storage within Windows Explorer.
Working with Office Online instead of Google Docs insures that your files always stay updated and available on all of your various devices. Sure, one could use Google's Drive application, but it does not have the same tight operating system integration that Microsoft's own solution offers within Windows 8 and even Windows Phone devices.
3) It allows you to collaborate in a familiar place
When working on a team-based project, the last thing that you want to have to worry about is whether or not your teammates are aware of how to use Google Docs (not to mention Google Drive along with that). When you work with Office Online, all of your team members probably already know how to use the world's most popular Office suite.
The fact is simple as that, you are collaborating in a well-known environment, so you will not have to worry about managing any of the technical details or teaching a coworker something new. Office Online looks exactly like the last few versions of Office with the now familiar ribbon bar design.
In addition, Office Online now has up-to-the-second collaboration abilities just like Google Docs, so you and your team members can work on the same document while seeing changes in real time. Do not waste time teaching everyone a new service – stay productive and use Office Online.
4) It is expandable with Office 365
While Office Online is a great free variation of Microsoft's offline Office suite, you can always upgrade and get more if you desire. By adding on an Office 365 subscription, you can expand the access and abilities of Microsoft's online services.
For example, if you purchase Office 365 Home Premium for $9.99 a month, you will gain access to the full offline versions of Office for up to five PCs and five tablets. In addition to making your money really worth it, Microsoft will also include 60 minutes of world-calling per month via Skype – the perfect way to collaborate with your friends and coworkers. If you are not sporting a family or do not need the extra computer access, you can sign up for the forthcoming Office 365 Personal subscription for $6.99 a month, which covers a single individual.
If your team is using Google Docs and needs to get a bit more creative or expand the abilities of the platform they are working on, then they are out of luck. Google Docs has no upgradable solution and you are always stuck with a lighter version of Office.
5) It works best with the Microsoft products you use everyday
These days, when you use various services, software, and hardware, living within a single ecosystem will make your situation easier. Statistically, you are already more likely to be using a PC and since you are reading this site, there is an excellent chance that you are using a Windows Phone and have an Xbox somewhere in your house.
The idea of a company forming ecosystems is not only to maintain control, but also to create a single universal user experience. As an example, Office comes pre-built into Windows Phone and offers quick access to documents from the cloud via OneDrive. Your devices are designed to work well with all Microsoft products and services – you are within the ecosystem.
Office Online fits perfectly into the Microsoft ecosystem and all of your devices are granted to play along. Google Docs, well you know their history with Microsoft – you might be waiting a bit of time (or forever) for an official Google Docs app to hit any Redmond designed platforms.
Conclusion
Google Docs is a great solution and that is why it has been used in the past by students, business persons, and stay-at-home moms alike. But with Microsoft's introduction of Office Online, it just does not seem to make sense to stick with a weaker online office suite in 2014.
As stated, Office Online is essentially a free version of Microsoft Office that you can always have access to on the go. In addition, by using the company's OneDrive solution, you can be sure that your documents are ready and backed up across all of your devices.
Want to upgrade? No problem, simply add-on an Office 365 subscription and you will find yourself using the world's most powerful and versatile Office suite across your PCs and tablets.
What do you think of Office Online – in spite of our top five reasons, do you still prefer Google Docs over Microsoft's Office Online?
Get the Windows Central Newsletter
All the latest news, reviews, and guides for Windows and Xbox diehards.