Top 8 Things to Know about Microsoft's New CEO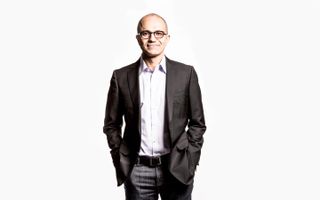 Satya Nadella was selected as Microsoft's new CEO this past Tuesday. He's only been on the job a few days, so there's no way to judge him just yet. His appointment as CEO was met with near universal appraisal. From tech journalists to Wall Street, everyone seems to be happy. Here are 8 things to know about Microsoft's new CEO.
He was born in India.
Specifically in Hyderabad, India. A city of nearly 7 million people located in the southern Indian state of Andhra Pradesh. He then came to the United States to learn, something he loves.
Worked at Sun Microsystems before Microsoft
Before Satya was a Microsoftie, he was Sun Microsytems'er. That's probably not a word, but you get the point – he worked at Sun Microsystems. While there he was a member of the technology staff.
Has been at Microsoft for 22 years
Before becoming CEO this week, Satya worked at the company for over two decades. His legacy as an employee was moving Microsoft to cloud computing. The past few years he's been the President of Server & Tools at Microsoft.
Loves cricket and poetry.
Doesn't matter where it's Indian or American poetry, he loves all forms and finds relaxation by reading. He also compares poetry and even goes so far as to say "the best code is poetry". Growing up in India he learned to love the game of cricket, specifically Test cricket. It's a form of cricket where games could take days and days.
Is already dropping quotes we'll remember for decades
Tuesday was Satya's first day as CEO at Microsoft and he's instantly quotable. Here's what he said that we'll probably be hearing fairly often:
He loves to learn
Satya is a very, very smart man. He joined Microsoft in 1992, but was working on his master's degree in business at the time. He obviously joined Microsoft, so did he quit working on his master's? Nope. Instead Satya would fly from Seattle to Chicago on Friday nights to attend Saturday classes. Returning to Microsoft to work during the week. It took two-and-a-half years, but he obtained his masters. Speaking of degrees.
Satya holds more degrees than you and me
We mentioned he loves to learn right? He's got quite a handful of degrees. He went to Mangalore University in India to obtain a bachelor's degree in electrical engineering. After that he came to the United States and went to study for his master's in computer science from University of Wisconsin – Milwaukee. His final degree, was the master's degree in business from the University Of Chicago Booth School Of Business. But his learning doesn't stop there. To this day he buys more books than he can read and listens to neuroscience classes when he gets ready in the day.
He's only the third CEO at Microsoft
Crazy right? Microsoft has only had three CEO's since its founding in 1975. Bill Gates, Steve Ballmer, and now Satya Nadella. Both Bill Gates and Steve Ballmer will still be around to help Satya out if he needs it. Bill Gates is now a technical advisor at Microsoft, while Steve Ballmer is still a member of Microsoft's board and its largest shareholder.
Have any more fun facts about Satya? Share them below!
Get the Windows Central Newsletter
All the latest news, reviews, and guides for Windows and Xbox diehards.