Top New and Rising Windows Phone Games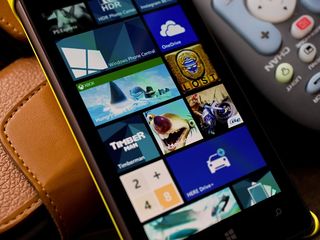 Windows Phone Central Roundup: Top New and Rising Games
One of the many nice features of the Windows Phone Store is the New and Rising category of games and apps. This category is showcased on the Store's main web page and is one of the handful of categories you can sort title listings by.
In a nutshell, this category will feature the newer Windows Phone titles that are riding a wave of popularity. These titles typically come out of the gate with high user ratings and a decent download rate as well.
We touch on this category from time to time with our roundups to highlight some of the titles you may have missed. This week we will touch on the top five New and Rising games. Some of which you may have already heard of, while others may be new games worth trying. Please note that this category of games is fluid. The current titles holding the top five spots may be different today simply because it takes a few days to try out these games, shoot the photos and write up the roundup.
Before we get started, let me go ahead and say that each title in this week's round-up is available for low-memory devices.
Hungry Shark Evolution
Hungry Shark Evolution is an Xbox title that has you playing the role of a hungry shark that swims the ocean eating just about everything in sight. You can dine on fish, swimmers, jet skiers, fisherman and other sea fairing creatures. However, you will have to avoid some creatures that aren't as appetizing such as electric eels, blowfish and other poisonous critters.
As you eat you grow and earn coins that can be used to upgrade your shark's abilities and power-ups to help your shark survive. Along with the poisonous creatures you'll have to avoid, you will also have to battle other sharks, submarines, shark hunting divers, harpoon boats and other odd sea creatures.
You start the adventure with the Reef Shark with four additional shark species that are progressively unlocked as you play the game. You have the Mako Shark, Hammerhead, Tiger and Great White Shark (you also have a few special shark species that are unlocked when you reach 500,000 points). And the game is more than just a devour everything in sight type game. Along with eating most everything you swim upon, there are missions available to help you earn extra coins.
Hungry Shark Evolution is also available for Windows 8 devices for those who want to terrorize the waters from the big screen. The only hitch I found playing the game on my Surface tablet was that the game screen didn't extend to full screen.
In taking Hungry Shark Evolution out for a short test drive, it comes across as an entertaining, challenging and addictive survival game with quality graphics. The arcade game mechanics were nicely responsive and overall, Hungry Shark Evolution is a nice addition to the Windows Phone gaming library.
Ice Age Adventures
Ice Age Adventures is the follow-up Gameloft title to Ice Age Village and features Manny, Diego, Sid and other characters from the popular movie series. The game is a time management styled game where you help Sid, Manny and Diego explore the gaming world to rescue various animals and care for them.
To help break the monotony that can occur with time management styled games, Ice Age Adventures has a nice collection of mini-games to give things more of an up tempo pace. The mini-games include a match-three styled game and a sled racer game.
The game does a nice job of walking you through game play with plenty of narrations by Sid and arrows to help point you in the right direction. I can see Ice Age Adventures appealing to Windows Phone users young and old.
We are in the midst of a full review of the game (should be up in the coming days) but in playing it for a short bit, Ice Age Adventures comes across as an improvement from Ice Age Village. Along with being available for low-memory Windows Phones, Ice Age Adventures is also available for Windows 8 devices.
Timberman by Digital Melody
We've touched on Timberman before, both the original version and 250K Games version, and it's no surprise that this title has made its way into the top five of the New and Rising list. While the 250K Games version has its appeal, there is a certain appeal with the original that pulls you in.
For those who may have been out of town, Timberman is an arcade styled game where you play the role of a lumberjack who much chop down and endless tree. As you chop, you must move from side to side of the tree trunk to avoid the tree's limbs. There is a game timer that you need to avoid striking zero. As you chop at the tree, time is added to the clock. Slow the chopping down too much and let the time run down, game over.
Just as we saw with the 250K Games version, the pace of the game has a little zip and can easily get the best of you. Timberman by Digital Melody will test your skills of timing, patience and speed.
Timberman by Digital Melody has twenty different characters (yes that was Lazy Bird you saw) that can be unlocked and the pixilated graphics give the game a nice retro feel. I'm not a big fan of the ad-support (banners get in the way and the full-page ad is annoying) but you can always vanquish the ads through a $.99 in-app purchase.
Timberman by Digital Melody is an addictive, time waster of a game and available for low-memory device.
AE Xtreme Moto
AE Xtreme Moto is a 3D motorcycle dirt bike racing where you are faced with a wide range of obstacle courses to conquer. Courses currently include factory, city and dock district settings with additional courses listed as under construction.
The game includes a small selection of motorcycle styles that focus on speed, jumping ability and weight. You also have the ability to customize your rider with a variety of racing suits. Naturally, these additional motorcycles and suits come at a cost and as you complete courses, you'll earn money to expand your wardrobe and garage.
On-screen controls are present to control your motorcycle's balance, acceleration, and braking. There's even a save button for those times you have to put the game away in mid-course.
Graphics aren't too shabby, game play challenging enough to keep things interesting and the physic's engine does a nice job of things as well. However, I'm not sure if you can make a motorcycle jump straight up.
Nonetheless, AE Xtreme Moto is an entertaining gaming option to have in your Windows Phone library.
Lost Words
There are numerous quality word games in the Windows Phone Store and Lost Words hopes to join the crowd. The goal of the game is to find all the hidden letters of a given word by creating words using the discovered letters. The challenge comes into play in that you only have six attempts.
Lost Words has two gaming modes, classic and arcade with both having four levels of difficulty (kid, easy, normal and hard). The kid difficulty is designed for our younger audience with easier, shorter words to find.
Arcade mode has a few features to point you in the right direction and you are awarded three lives. Miss a word, you lose a life. Where the arcade mode has hints and letter finding features, with the classic mode you are on your own.
While the game has a tutorial that walks you through game play, there is a well hidden help section that could do a better job of things. The very brief help section is located in the game's store (tap the "?" button in the upper right corner). Even with the tutorial and help section, it may take you a few attempts to get the hang of game play. It may be best to start off playing the kids difficulty until you get used to the game mechanics.
In a nutshell, you are provided two letters of the word you are trying to find. You have six chances to use those letters in words that will hopefully identify additional letters of the hidden word. The words range from four letter words to eight letter words.
Lost Words is a challenging word game for Windows Phone that may not appeal to everyone. It's one of those games you really need to get your hands on before you can say for certain if it's a buy or bust.
Best of the best?
Let me say up front that all five games in this week's roundup can be fun games to pass the time with.
For me, the weakest link is AE Xtreme Moto. While graphics are nicely drawn up, the game seems to be played at an angle view that gave the game a slight odd feel for me. I can live with the unusual ability to jump your bike straight up but the angle just felt uncomfortable.
Lost Words was a challenging word game but felt more like work than play at times. I do like the Kids mode and can see the game being a nice Kids Corner title.
Ice Age Adventures is a fun game but I can see it having less appeal to those who aren't a fan of the movie. It has a nice blend of time management and arcade styled game play to help the title have a little more staying power.
Timberman by Digital Melody and Hungry Shark Evolution were my two personal favorites. I will admit that while game play was addictive with Timberman, the ad banners noticeably hurts this game. I'm on the fence as to which version is better, Digital Melody or 250K Games. The retro graphics and character upgrades may be better with Digital Melody but 250K Games does a better job with the ad support.
Shark Evolution is just a fun game to play. There is plenty of challenges beneath the deep sea but for the most part, the game is mindless fun. You steer your shark around eating up just about everything that moves. I just wish your progress on the Windows Phone version carried over to the Windows 8 version (and visa versa).
There you have it, the top five New and Rising games from a few days ago. Do you agree with the Stores rankings? Which game is your favorite and what new gaming title do you think is missing? Feel free to share your thoughts and recommendations below in the comments.
Get the Windows Central Newsletter
All the latest news, reviews, and guides for Windows and Xbox diehards.
George is the Reviews Editor at Windows Central, concentrating on Windows 10 PC and Mobile apps. He's been a supporter of the platform since the days of Windows CE and uses his current Windows 10 Mobile phone daily to keep up with life and enjoy a game during down time.