Top Rated Windows Phone Games with a Retro Feel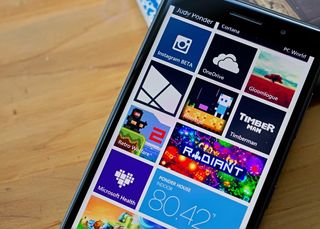 Video games have improved tremendously since the days of Pong with "knock your socks off" graphics and game play that pulls you off the couch and into the middle of things. We have seen this progress in our mobile gaming as well as with our console gaming.
We started out with a pixilated game of Snake) on the old Nokia feature phones to games with stunning graphics. Games such as Asphalt 8: Airborne, Contre Jour and even Subway Surfers. While games have improved over the years, we still have a nice collection of Windows Phone games that pay tribute to the days of old with a retro or classic gaming style. These are the games that hang on to the 8bit graphics or two-dimensional game play. Games like Terraria, Crossy Road and the now unlisted Star Wars: Tiny Death Star.
For this week's Windows Central roundup, we've searched the Store aisles for a few of the top rated games that have that retro feel. It is but a sampling of what is available and if we have overlooked your favorite Windows Phone game with a retro flair, feel free to sound off in the comments below.
Radiant
Radiant is a fast paced, arcade shooter styled Windows Phone game that pulls in elements from several classic arcade games. You have elements from Asteroids), Space Invaders and Galaga rolled into a nice time waster of a game.
The graphics are pixilated with that 8bit feel and even the space cannon sounds have that retro "ping, ping" sound.
Radiant has you fighting an alien horde that is intent on invading your stretch of the galaxy. You have three episodes with over one hundred levels of game play. You move your spacecraft left or right while it automatically blasts aliens into tiny pixels.
The game does take on a slight modern touch with upgradable weapons that can be purchased with the gaming cash you collect during combat. You will also have to face ten bosses and there are twelve power-ups that can be used to help give you a little punch to your step.
Radiant has three difficulty levels for game play to keep things from growing stale and overall, the game is an entertaining game to have in your Windows Phone gaming library. Oh and if you prefer gaming from a larger screen, there is a Windows 8 version of Radiant available in the Windows Store.
Timberman by Digital Melody
There are several versions of Timberman available in the Windows Phone Store, with the original version coming from Digital Melody. Timberman is not an overly complicated Windows Phone game but will challenge your sense of timing and tap speed.
The pixilated graphics helps add to the appeal of this time waster of a game where you are tasked with chopping down a tree of endless height. The challenge comes into play with the limbs you have to avoid and the game timer that is replenished as you chop.
Controls are simple. Tap the left or right side of the screen to have your lumberjack chop the tree to that corresponding side. As the tree limbs approach, switch your woodsman to the opposite side of the tree trunk.
The timer that is displayed at the top of the gaming screen will slowly deplete but as you chop, time is added back to the clock. The game has four different backdrops or environments that change as you progress through the game. You also have additional characters become available as your chop count increases. There are twenty characters to unlock that include the likes of the Hulk, a Knight, an Eskimo and what appears to be Mr. T.
While a fun game to pass the time with, Timberman by Digital Media is plagued with ad support. You have an ad-banner that sits at the top of the gaming screen and a full-screen ad that appears at random. On the plus side, you can remove the ad-support with a $.99 in-app purchase but on the downside, the layout of the ad-support seems to bully you into making that purchase.
Nonetheless, the graphics gives the game a nice retro feel and it's a fun, casual arcade game to have on in your Windows Phone gaming collection.
Download Timberman by Digital Melody for Windows Phone (Free)
Retro Warfare 2
Retro Warfare 2 is a platformer game with a combat twist. Think of it as a game of Super Mario Brothers with Mario being armed with an assault rifle. Instead of magic mushrooms and turtles to battle, you have enemy soldiers to deal with. The game play style, music and graphics give the Windows Phone game a nice retro feel.
In a nutshell, you guide your retro warrior through the various platform levels of the game, taking out the enemy, avoiding spiked pits and searching for a keycard that unlocks the next level.
On-screen controls do a good job of replicating the feel of arcade gaming controls of old. You have directional arrows to guide your player across the screen and button controls to make him jump and shoot his weapon. It does take a delicate touch to navigate the smaller platforms and avoid falling, which can be fatal to your gaming character.
I'm not sure if Retro Warfare 2 can hold up to marathon gaming sessions but the game is strong enough to help you pass shorter bits of time. At last check, Retro Warfare 2 is pulling down a 4 Star rating in the Windows Phone Store with the word Awesome being used by many to describe the game. We can see the appeal this retro styled Windows Phone game can have.
Download Retro Warfare 2 for Windows Phone (Trial / $.99)
AlterEgo
AlterEgo is a challenging platformer game where you have a ghostly alter ego that mirrors your gaming character's moves. The goal of the game is to navigate the platform and collect all the pixels that have gone astray. Collect all the pixels and you will advance to the next level of play.
The level based game allows you to switch between your hero and his alter ego to navigate past obstacles and avoid dangers to collect all the pixels. To add the challenge, there are some pixels that can only be collected by your alter ego.
Gaming controls consist of an on-screen joystick to control your character's movement and a button to change places with your alter ego. The number of times you can switch places per level will be displayed on the button.
There are evil skulls lurking about and if your character touches them, the game is over. The skulls cannot harm your alter ego though. While your character can survive drops from one platform level to another, he won't survive a fall off the edges into water.
AlterEgo is an entertaining casual game for your Windows Phone that will test your puzzle solving skills. There is a strategy to switching positions on the gaming screen within the limits to put your character in a position to collect all the pixels and advance.
AlterEgo, at last check, is rated at 4 Stars in the Windows Phone Store which is about right for this retro styled game. While there is not a Windows 8 version available for AlterEgo, there is a PC version (shown in the above trailer) that you can find over at the developer's website.
Download AlterEgo for Windows Phone (Trial / $.99)
Get the Windows Central Newsletter
All the latest news, reviews, and guides for Windows and Xbox diehards.
George is the Reviews Editor at Windows Central, concentrating on Windows 10 PC and Mobile apps. He's been a supporter of the platform since the days of Windows CE and uses his current Windows 10 Mobile phone daily to keep up with life and enjoy a game during down time.