Top Speed: Drag and Fast Racing is today's AdDuplex HERO App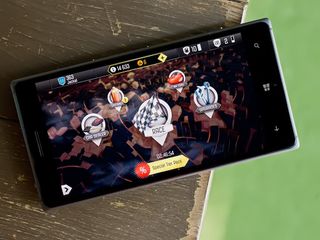 We visited the Windows Phone game Top Speed: Drag and Fast Racing over the summer and found it to be a solid racing game. Windows Phone gamers seem to agree, rating the game at 4.5 Stars and you can now add HERO App to the game's success.
The HERO Apps program is a promotional campaign for Windows Phone and Windows developers on the AdDuplex Network and partners AdDuplex with myAppFree, AppDeals, PluralSight and Windows Central to deliver a host of benefits to the top apps and games each month. Our role in this promotional campaign is to shine a little light on these Windows Phone and Windows titles.
Available from both the Windows Phone and Windows 10 Store, today Top Speed: Drag and Fast Racing from T-Bull takes center stage.
The main menu for Top Speed will have your gaming stats running across the top of the screen, button links to various gaming features and a hidden menu to the left of the main screen that will give you access to your achievements, player profile and settings. Top Speed's settings are brief and covers sound and music controls.
From left to right your gaming stats include your current vehicle being raced, you gaming cash balance, your fuel levels and your gaming level. Top Speed will start you out with just enough cash to buy and entry-level car to race. You'll earn cash during game play and even if you lose a race, you will win a little cash.
You will also find a ring of button links that will send you to the races as well as send you to the following areas:
Car Dealer: For the times you have saved up enough cash to buy a new car to race. The 69 cars are divided amongst five tiers, each requiring a certain experience level before you can race them.
Customize: Here you can change the paint job of your car or add decals to give your ride a little flair. Either customization will cost you a little gaming cash.
My Cars: Your portal to your garage where you can select the car you'll be racing.
Upgrades: As you move up the ladder and face faster opponents, you'll need to upgrade key aspects of your cars. Top Speed will let you upgrade the tires, nitrous booster, exhaust, engine, transmission, turbo and chassis. All at a progressive cost.
When you first launch Top Speed: Drag & Fast Racing the game will walk you through a series of races that serve as a tutorial to cover the basics. As new features become available, additional tutorials will become available.
Each race will require a unit of fuel. Top Speed starts you out with ten fuel units that will replenish over time. You do have the option to extend the fuel meter by five units ($2.49) or have unlimited fuel ($3.99) through in-app purchases. When you start a race, you will find four racing options, along with an option to hire a mechanic. Hiring a mechanic isn't required but will increase your odds of winning a race.
The four racing modes include:
Boss Battle: Race against the twenty bosses that populate the city. These aren't one and done styled battles and you will have to beat each boss multiple times before they will admit defeat
Ranking Race: Race for speed to see how your times compare to other Top Speed racers
Street Race: Quick racing to help earn a little cash. You can choose the difficulty of these races to increase the cash available for winning
Most Wanted: Daily races where you race a cop car against some of the most wanted criminals
Regardless of your race, the mechanics of the game are universal. Racing is conducted from a profile view of the cars (as opposed to behind the wheel) with you instrument gauge at the bottom of the screen. You start the game by tapping on the accelerator trying to keep your RPM needle in the green zone. If you do, you'll start the race with a little edge in momentum.
Once the 3, 2, 1 countdown completes your acceleration is automatic and all you have to control is changing gears. You have an up-shift button next to your RPM gauge that you will tap as the gauge's needle reaches the green area. The better your timing, the quicker your car goes.
Should you need a little boost of speed, your nitrous button (if equipped) sits to the left of the instrument display. As you upgrade your nitrous in the Upgrade menu, the duration of this booster will increase.
At the conclusion of the race, your cash rewards are based on your racing performance. You can also get bonus cash if your car is customized with certain decals. Your racing earnings can then be used to buy new cars or upgrade your existing fleet.
Overall Impressions
The drag racing gaming aisle of the Windows and Windows Phone Stores has become a little crowded these days. While there are a few standouts such as Drag Racing or CSR Racing, you can add Top Speed: Drag and Fast Racing to the collection of entertaining drag racing games available from either Store.
After re-visiting Top Speed, I am reminded how nice this game looks and how nicely the short races fit when you only have a few minutes to pass. The graphics with Top Speed are top notch and your opponents can be tough nuts to crack. I like the Most Wanted races to give the game a little variety. I do think the game plays out better on the Windows Phone, but the larger screen of a Windows Tablet does make the graphics shine a little brighter.
AdDuplex HERO Promotion
AdDuplex is a fantastic resource for the cross-promotion of Windows Phone and Windows apps. AdDuplex has launched a new program designed to help developers promote their apps even further with free access to various tools and resources from AdDuplex.
The HERO Apps promotion partners AdDuplex with Windows Central, myAppFree, AppDeals and PluralSight to provide additional benefits to the top apps every month that include:
Vouchers to advertise on AdDuplex
One month subscription to Pluralsight Plus
A featured campaign with myAppFree
A featured campaign with AppDeals
A review here on Windows Central
If you are a Windows or Windows Phone developer, you can sign up for the HERO Apps program here at AdDuplex's website. To participate in the program, you will need to apply within thirty days after your app or game has launched on the AdDuplex network.
Windows Central is already partnered with the myAppFree campaign and is proud to be partnering up with AdDuplex with the HERO Apps program. It is another excellent opportunity to help promote both the Windows Phone and Windows platform.
Get the Windows Central Newsletter
All the latest news, reviews, and guides for Windows and Xbox diehards.
George is the Reviews Editor at Windows Central, concentrating on Windows 10 PC and Mobile apps. He's been a supporter of the platform since the days of Windows CE and uses his current Windows 10 Mobile phone daily to keep up with life and enjoy a game during down time.