Top Transit Apps for your Windows Phone
By George Ponder last updated
Windows Phone Central App Roundup: Transit Apps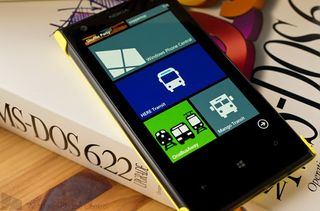 Our Windows Phones have the potential to deliver vast amounts of information to our hands that can help our day-to-day lives easier. For many, being able to check in on mass transit schedules and routes from our Windows Phones can make getting around while traveling or when using your local services a lot easier.
While several of your navigation apps will have the ability to chart mass transit, this week's Windows Phone Central app roundup will focus on apps that deal solely with mass transit. We will touch on three of the top rated transit apps in the Windows Phone Store that are not necessarily tied down to one city or transit system. And just to cover all the bases we'll mention a few that are more system or city specific.
OneBusAway (free)
OneBusAway is a Windows Phone transit app that provides access to real-time arrival information for public transit services in various U.S. cities. The app has a simple layout but the number of cities OneBusAway covers may lessen its appeal for some. OneBusAway will use your Windows Phone location services to identify which transit system it should pull up information on. If your city is not supported you'll get an error message and a lot of blank pages (as is the case in Birmingham).
Should your city be supported, you will find main pages that detail the transit service routes, stops, any recently viewed routes and any routes you have tagged as favorites. Settings are accessible up under the three-dot menu and cover turning on/off location services, using your Windows Phone system theme and sending anonymous feedback to the developer.
In tapping on a route, a map view will be generated with options to tag it as a favorite, refresh the route and to display all routes beneath the map view.
OneBusAway comes across as a handy transit app that may only be held back by the number of systems it covers. There is not a full listing for which cities are covered other than what is in the app description that reads, "multiple cities including Seattle, Atlanta and Tampa".
Luckily, the app is free and available for Windows Phone 8 and 7.x devices. You can download it without cost and see if your transit system is supported. If your city isn't supported and you would like some hands-on time with OneBusAway, you can turn off the location service setting and the app will default to the Seattle, Washington transit system.
You can find OneBusAway here in the Windows Phone Store.
HERE Transit (free)
HERE Transit is part of the Nokia Collection and available for the Nokia Windows Phone 8 devices. HERE Transit allows you to plan a trips relying on mass transit, check arrival and departure times and see how far you have to walk in between stops.
The transit app is laid out straightforward with main pages to plan your route and to view transit stops nearby. The Nearby page will offer a map view and listing of nearby transit locations. If you tap/hold on a station listing on the Nearby page, directions will be generated to get you there from your current location. At the bottom of the Plan Route page is a control button to view your favorite routes and up under the three-dot menu is options to view HERE Transit's coverage, access the settings, send the developer feedback and view the about screen.
Coverage is global with HERE Transit, covering over 740 cities. The coverage status of your current location is listed under the coverage option along with information on nearby or all coverage locations.
Settings cover adjusting your walking settings (pace and maximum distance), turning on/off your location services, and choose your units of measurements. You also have the option to synchronize your favorites with your Nokia Account.
Creating a route is simple. You establish your departure time, your departure and destination points then tap "let's go".
Generated routes will display a range of travel or route options based on arrival/departure times of the transit system. In tapping an route option you will pull up journey details. At the bottom of the journey details display you will find a 'directions' control button that will display a map view of the route. The map view will offer details on bus stops and portions of the trip that you'll need to walk.
HERE Transit also has a LiveSight feature for Nokia Windows Phones with a compass. LiveSight is an augmented reality that plots nearby transit stations on your camera viewfinder.
Navigation is easy to pick up with HERE Transit and while my town is not supported by HERE Transit, it comes across as a useful app for creating mass transit routes and monitoring the systems timing. HERE Transit is a free app that is available for Nokia Windows Phone 8 devices. You can find your copy of HERE Transit here in the Nokia Collection of the Windows Phone Store.
Mango Transit (trial/$1.99)
Mango Transit is a Windows Phone app that delivers public transit mapping and routing that is designed to be an extension of Bing Maps. The coverage is global and you can Bing Maps Transit Coverage (opens in new tab) website for a full listing.
Mango Transit works off a map view with options to generate directions, center the map to your current location and search for a location.
Up under the three-dot menu you will find options that include:
Viewing the Directions List
Viewing the Search Results
View the Trips List
Clear the Map
View your Favorite Places
Hide your Favorite Places
View the Transit Coverage (link to Bing Maps Transit Coverage)
View the About Screen
Access Mango Transit's Settings
Settings for Mango Transit include turning on/off location services, choosing your system of measurements and turning on/off the ability to use your location to provide public transit directions. You also have the ability to set the time when you would like to update any pinned places with transit arrival times.
Creating travel directions fall in line with what you will find with Bing Maps. Enter the Starting/Ending points and your route will be generated with options for walking, driving and transit guidance. The route will be mapped out with the above options becoming available.
The interface (which has a Windows Phone 7 feel) is straightforward but does take a little time to get used accustomed to. Just think of Bing Maps but with a transit angle.
Mango Transit has a free, ad-supported trial version with the full, ad-free version running $1.99. Mango Transit is available for both Windows Phone 8 and 7.x devices and you can find your copy here in the Windows Phone Store.
Alternative Apps
While the three transit apps in this week's roundups aren't tied down to one city or transit service, there are plenty of Windows Phone apps available that are. If you happen to live in or are visiting these cities, such apps can give you a more localized perspective on things.
Some of the top rated apps that focus on one city or transit system include:
Transit Seattle (free): This transit app offers real time bus/train arrivals, alerts and bulletins on transit services for the Seattle, Washington area. The developer offers similar apps for a wide selection of U.S. cities including Green Bay, Wisconsin, Salt Lake City, Utah, Dallas, Texas and more. (store link)
Muni Transit Guru (free): This app focuses on the Muni transit system that services the San Francisco, California area and is part of a small series of apps that focus on the transit system. (store link)
Transit NYC (free): A transit app roundup would not be complete without mentioning a New York City transit app. Rated at four stars, this NYC transit app gets good reviews and should help you make sense of the NYC subway and bus lines. (store link)
As with all of our roundups, if we've overlooked your favorite app feel free to toss out your recommendation on transit apps in the comments below.
George is the Reviews Editor at Windows Central, concentrating on Windows 10 PC and Mobile apps. He's been a supporter of the platform since the days of Windows CE and uses his current Windows 10 Mobile phone daily to keep up with life and enjoy a game during down time.
Commute Boston - MBTA is a great app for showing real time for buses.

I have bookmark to www.nextbus.com on my home page. Works even better in Beantown.

Yeah I use www.nextbus.com (thru UC Browser - IE on my mobile suggested that from the get go!!). I used to rely on Nokia's Transit on my Nokia Lumia 710 (It was always incredibly close to accurate and as you can get!) until sometime late summer last year when it started giving me weird routing. I thought it was just forgotten on WP7.x but I tried it [Here Transit] when I got my Lumia 925 and it's still giving me strange routing.. I wonder what happened..!!

For Canadians: TTC Transit Guru and TTC Scout are by far the best transit apps

"For Canadians." And people in TO just can't understand why the rest of the country considers them arrogant. "For Canadians," Calgary Bus 66 and CT Times are by far the best transit apps. See how ridiculous that looks? FOR CALGARY, Calgary Bus 66 is fantastic- simple SMS updates delivered from CT.

I'm sorry if that offended you, I love all of Canada, not trying to be arrogant at all, I'm not even born in Canada. Thanks for the correction

There's also VanBus which gives you real time locations of buses in vancouver

Worldbikes is a good app for bikeshare systems and supports citibike in NYC. Also Gmaps pro gives good bicycle directions and has a bicycle path overlay. (also gives good subway directions)

For Germany there's nothing better than the DB Navigator.

Bahn Connector is way ahead of DB Navigator.

Transit Chicago works for me.

I live by it and the ability to pin individual stops by direction and line is invaluable.

Indeed.....Great app, use it ALL the time. :)

I vote CTA Watch for Chicago. Busses are located on the map via GPS so you always know exactly where they are.

+1 from a Purple Line'r....

Buses Due - for London, UK

Here Transit is my go-to app when traveling. Love it

For SF Bay Area, don't forget BART Essentials. It's the only BART app in the store that has accurate, real-time information. The other ones aren't dependable at all.

Don't forget about TTC Scout for Canadians in Toronto!

BARTT is another excellent transit app for San Francisco Bay Area.

Thanks for covering OneBusAway! I was very happy to see they had a WindowsPhone version after the story on 11alive.com last week :)

OneBusAway has a Windows 8 app as well.

I'm actually disappointed in the coverage of OBA. This is everyone's go to app in Seattle. It provides accurate bus arrival times and how much time you have until you miss the bus. I waited to buy my WP just for this app, its that important to Seattleites.

Regardless of the one city, Transit Chicago is one of the best developed transit apps on the platform. And the dev doesn't make it a multi-city app, he releases a standalone for each, which, imo, is a much better system.

I love the name "Mango Transit". Sounds like a good ride in the tropics.

Here Transit is available for all Windows Phone 8 devices not just Nokia fyi. I have it on my HTC 8XT

Sorry to say this but this up is utterly usless in Canada's Capital.

Maybe they are in the process of adding information? Works really well in Toronto, so let's hope good services will come to Ottawa soon.

Agreed. Stop Mate works excellent though!

I just want mticket so I can buy my ticket ahead of time without cash and save my round trip if I don't use it that day.

WTF!!!???? MS-DOS 6.22 Upgrade Your are the best dude. And nobody notice this till now... it's because I'm toooooo old. XDDD

None of them working in Pakistan...damn them

HERE Transit would be good if it actually had train times for all regions of the UK. Only buses in Glasgow, which is piss poor. Doesn't matter how many times I've pointed it out, it's never rectified in any updates. Nokia likely don't want to pay the licensing fee for National Rail info.

Here Transit is great for finding routes and the user experience is nice but the times are always WAY off for me. On the other hand Muni Transit Guru is quite ugly and not very intuitive to use but the times are always spot on.

It's regionally focused but how about NJ Train Helper for use on New Jersey Transit, both rail and light rail.

Meanwhile in Canada Capital our only meaningfull option is to send text to 560560 with bus stop number and route number. Best part? You get back the ESTIMATE when the bus will show up. Check agian in a minute or two and you'll get much later time or arrival to a bus stop. So sad... Yea there are couple of OC Transpo apps but boy to they ever suck... I still dream of an app that will determine my bust stop number based on my location and let me pick the bus route and next accurate arrival time... Or just imagine the app that picks up your location... you go to address and presto... instant bus routes and arrival times for your trip... Yea we can do this at octranspo web site but boy is that page ever pain to use on mobile phone...

jakdojade.pl is probably the best for Polish cities: http://www.windowsphone.com/en-us/store/app/jakdojade-pl/c2eb426a-dd93-4...

Here Maps the Best by miles away

Here Transit works great in Europe - the rest, you'd better live in the US.

I use a rather city specific app, for Turin, Italy: "Bus & Bike Torino". It's created by a student of the Polytechnic of Turin and gives detailed information about bus timetables, rental bikes availabilities and parking spots inside automated parking structures.

When here transit works i use it when it doesnt i use grtimes(has offline scheduling but is a little out of date) or theres also grt lookup(basically just uses the text number to get times for bus not as effective) these are all the grt(Kitchener-waterloo region) apps

For Sydneysiders, TripView Sydney is awesome. For Londoners, London Travel is fantastic, and has an Oyster card live tile

i am getting sick of nokias evclusive apps. ehats the problem with releasing it for other devices? Windows phone isnt entirely nokia, i hope they know this.

Rather than complaining here write to your phone maker why don't they provide you with more cool apps. Nokia invests resources to please their customers and that's perfectly normal.

As an alternative navigator app for Germany, I can also recommend Fahrplan! Its free and even free of ads. Very old, thus very mature. I really like it and used it from the very beginnings of my Windows phone carreer, started at 2011.

For any commuters in Australia, City Transit is a pretty good public transport app for Windows Phone. It is currently available for Australian Cities only, but it will be expanded over time to cover US Cities. If you are interested in getting your city added - get in touch with the Developer. You can pin your routes/journeys as live tiles on your Windows Phone too... http://www.blindsleuthvisions.com/
Windows Central Newsletter
Get the best of Windows Central in in your inbox, every day!
Thank you for signing up to Windows Central. You will receive a verification email shortly.
There was a problem. Please refresh the page and try again.