Top Windows Phone Apps to help survive Super Bowl XLVIII
Windows Phone Central App Roundup: Super Bowl XLVIII Apps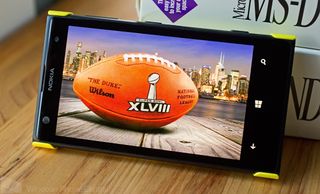 Just in case you were not aware, Super Bowl XLVIII (opens in new tab) kicks off tomorrow from the MetLife Stadium in East Rutherford, New Jersey. For those not fortunate enough to experience the outdoor experience, we thought a quick roundup of Windows Phone apps was in order for those roughing it from the comfort of home.
We've got apps that will help conquer the munchies, keep up with the game's stats, check in on player tweets, replay all those fantastic commercials and give your bartending skills a fighting chance. Plus, for good measure, we will toss out the available Windows 8 versions for some of these apps just in case you prefer the larger screen of your Windows tablet.
NFL Mobile (free)
So let's get the obvious Windows Phone app out of the way, NFL Mobile. The app is your one-stop source for information pertaining to the NFL and delivers news, video highlights, stats, scores and more to your Windows Phone 8 device. Verizon customers can upgrade to premium content that will give them access to NFL RedZone on Sunday afternoons and Live NFL games throughout the season.
NFL Mobile Main Pages and Super Bowl XLVIII Pages
NFL Mobile is a feature rich Windows Phone app and to help you make it through the Super Bowl, a special section has been added to the app that is dedicated to Super Bowl XLVIII. The Super Bowl section maps out all the Super Bowl events occurring throughout the weekend, videos of Super Bowl coverage, information about the MetLife Stadium (stadium policies, maps, etc.), and more.
NFL Mobile is a free, ad-supported app that is available for both Windows Phone 8 and Windows 8 devices. You can find the Windows Phone 8 version of NFL Mobile here in the Windows Phone Store (opens in new tab). The Windows 8 version can be found here in the Windows Store (opens in new tab).
Domino's Pizza (free)
There is no telling how many pizzas and hot wings will be consumed during the Super Bowl. Domino's Pizza alone expects to sell (opens in new tab) over 11 million slices of pizza and 2.5 million chicken wings on Super Bowl Sunday. And we have a Windows Phone app to make ordering all the pizza and chickens easy as pie.
Domino's Pizza Windows Phone App
The Domino's Pizza app will let you place delivery or carry out orders from the company's full menu. Other features include:
Coupons finder to help save a little cash
Track your order with Domino's Tracker
Speech recognition to select your menu items
Build Your Own feature lets you make the pizza just the way you like it
You will need to create a Pizza Profile to access saved addresses and payment information or you can order your pizza and wings as a guest. The WPCentral Staff uses the app often and it is sure to come in handy during Super Bowl Sunday.
The Domino's Pizza app is a free app for Windows Phone 8. You can find the Domino's Pizza app here in the (opens in new tab) Windows Phone Store. There may be regional restrictions for this app.
Cocktail Flow (trial/$2.99)
Along with pizza and wings, a large amount of adult beverages will be consumed on Super Bowl Sunday. From the cold draft beer to the fruity cocktail, bartenders will be busy practicing their mixology. For those are tending bar at their house, we have the Windows Phone app Cocktail Flow.
Cocktail Flow's Main, Drink and Cocktail Package Pages
It is a fantastic looking mixology app that will not only provide you with a healthy variety of mixed drinks but also help you manage your bar stock. Cocktails can be selected by category (base drink, type and color) or you can tap the "Surprise Me" option and Cocktail Flow will pick a recipe at random.
In addition to the core drink listing, Cocktail Flow also has additional cocktail packages designed to cater to certain events. One of which is the Big Game Package that contains 34 cocktails tailored for events such as Super Bowl Sunday. Cocktails such as Touchdown Tea, Lemon Blitz and Go For It On 4th Down are sure to liven up any Super Bowl Party.
Cocktail Flow for Windows 8
There is a trial version available for Cocktail Flow that gives you access to the core drink listing. The full version is currently running $2.99 and opens up the cocktail packages, bar stock tools, and a shopping assistant to find all your bar stock ingredients. Cocktail Flow is available for both Windows Phone 8 and 7.x devices and you can find it here in the Windows Phone Store. (opens in new tab) There is also a Windows 8 version of Cocktail Flow available here in the Windows Store (opens in new tab). It is a free app but lacks the cocktail packages.
ESPN ScoreCenter (Free)
ESPN ScoreCenter offers some of the most comprehensive global sports coverage available for your Windows Phone, including all the stats, scoring updates, news and videos concerning Super Bowl XLVIII. In viewing the Super Bowl, you will have access to game updates, Twitter feeds about the game, video highlights, photos, discussions and more.
ESPN ScoreCenter Main Pages and Super Bowl Pages
Even when the dust settles and either Denver or Seattle is handed the Lombardi Trophy, ESPN ScoreCenter is a handy Windows Phone app to have for following the NBA, NCAA sports, Major League Baseball, MMA, Hockey, Soccer and other sports.
ESPN ScoreCenter is a free app that is available for both Windows Phone 8 and 7.x device. You can find ESPN ScoreCenter here (opens in new tab) in the Windows Phone Store. For those looking for a little big-screen ESPN action, there is also the ESPN App that is available for Windows 8 devices that you can find here in the Windows Store (opens in new tab).
myTube (trial/$.99)
While many will be glued to their television sets cheering on either the Broncos or Seahawks, many will be eagerly waiting for those television time-outs and commercial breaks to see the latest and greatest advertisements. Just in case you have to take a bathroom break or get the door for the Domino's Pizza delivery and miss a commercial, many will land on YouTube.
myTube Categories, Popular and Search Pages
To help you catch up on all the commercials that lands on YouTube, we cannot think of a better Windows Phone YouTube app than myTube.
myTube features:
HD 720p video support
Double Wide Live Tile
Video viewing fades to allow you to read comments
Rate, comment and share videos
Browse playlists and add videos to your own playlist
Save videos for watching when you have a limited connection
Search Suggestions
Ability to bookmark your position in a "watch later" video
Whether it is catching up on all the Super Bowl commercials, you missed, checking out ads from Super Bowls of the past or just surfing YouTube for your favorite videos, myTube can handle it all.
The trial version of myTube limits you to watching one hour of video, every three hours. The full version is currently running $.99 and is available for Windows Phone 8. You can pick up your copy of myTube here in the Windows Phone Store (opens in new tab).
Bing Food & Drink (Beta)
Bing Food & Drink (Beta) hit the Windows Phone Store shelves this past week with limited availability and has made a rather nice first impression. While Microsoft is still testing and experimenting with Food & Drink to ensure the best possible user experience, if you can get your hands on a copy it may help you get through Super Bowl weekend with a wide selection of appetizers, entrees and drink mixes.
While Cocktail Flow will help your bartending skills, Bing Food & Drink will extend the aid to the kitchen as well as from behind your bar. The layout of Bing Food & Drink makes it easy to find cooking recipes, find cocktail mixes and find which wine is best for your meals.
Bing Food & Drink (Beta)
Toss in a shopping list creator and bookmark recipe collections that can be shared with the Windows 8 version (which you can find here (opens in new tab)) of the app and Bing Food & Drink becomes a serious culinary contender for our Windows Phone. There's even a section that highlights recent cooking/dining news, such as game day recipes for the Super Bowl.
Again, Bing Food & Drink is still in the Beta stages and while available in the Windows Phone Store, availability may be limited and some features may not be available or in need of a little fine-tuning. It is a free app for Windows Phone 8 and you can find Bing Food & Drink here (opens in new tab) in the Windows Phone Store. We think it's a keeper, not only for Super Bowl Sunday but also for everyday use.
Your Turn
We have tossed out our best picks on Windows Phone apps that can help you make it through Super Bowl Sunday, now it is your turn. Any recommendations on must have Windows Phone or Windows apps that you can't live without? Sound off below in the comments.
Windows Central Newsletter
Get the best of Windows Central in in your inbox, every day!
George is the Reviews Editor at Windows Central, concentrating on Windows 10 PC and Mobile apps. He's been a supporter of the platform since the days of Windows CE and uses his current Windows 10 Mobile phone daily to keep up with life and enjoy a game during down time.
If only Domino's pizza didn't taste like cardboard slathered with garlic sauce and ketchup.

Their new York style is a bit better.

The pan pizza isn't bad. Thoroughly enjoyed it. Pretty much made food love to it. Yep, food sex.

If only... Might as well go to Little Caesar's

All right everyone. Roll call... Who are you rooting for? I'm going with the Seahawks. My reasoning is that I like MS and they're from Washington and so are the Seahawks.

Its Mile High Country B!tches!!!!!! PFM!!!!!!!!!!

Mile high? They're playing in NJ.

Broncos; Payton needs this win to cap a hall of fame entrance.

Liverpool.... Oh wait its American football, I touched that man's ass hut hut.

*British accent* Aye, blokes, we're here, we're live in Liverpool, the queen is on her throne. Lets get ready to start this game.... And it snowed a little. Game cancelled! Try not to fake a shin injury on your way out (;

Oh wait it's association football, I fondled that man's scrotum.

Defense wins championships. Im going team hawks...i like the uniforms, defense, and they are in the nfc. (eagles fan)

#1 (record setting) offense vs. #1 defense. Seahawks haven't played against an offense like this. Saints probably come close and they shut them down earlier this season-that worries me. But cannot see them shutting Manning down completely-no way. (former Philly resident and still Eagles fan in Colorado)

I haven't watched American Football in 20 years, who the fu are the Seahawks?

Wow, great reasoning, the quality of a football team depends on the nearby tech companies.

Well both have legal weed now, I guess that took them to the Superbowl

Like I said!! Mile High Country B!tches!!!!

Cocktail Flow needs a frickin update..

Football Now is a good app for during the season. All scores and schedules easy to use.

Peyton Manning!!!!!! Broncos!!!!!

I don't need apps to survive anything...... I need food, water and an occasional prostitute.

and I can live for quite a while without food

Why, pray tell, are you propping your phones up with old copies of MS-DOS and Windows 3.11?

Thanks for the list. ESPN needs to update their app to scorecenter.

Am I the only one here who could care less about the super bowl? :S

No, I'm a hetero woman too, navidee.

Hey now! Im not a woman lol!

Nah dude. Watching sports is pretty boring in my view... Idk hanging out with people can be fun though... About the only point in professional sports IMHO.

Half the problem with WP. It's built in America. It is only doing half decent outside America. Most app developers are in America. Nobody outside America knows or cares about American Football. I don't even know who the Seahawks are, hadn't heard of them until i read the comments on this post. I guess they must be big in America if they are in the final. Given WP has 3% in the US, vs 11% here in the UK having a post on the Superbowl is really not that interesting to most WP users whereas a post about what apps to use during the Ashes would be far more useful for WP users. But nobody sees it that way, and thus WP struggles. Or something.

Yeahhh ashes and India vs Pakistan

Except that's incorrect, it is doing better internationally than in the US, but the majority of wpcentral visitors are in the US, and the US has a much higher population than the UK. And guess what? Every major mobile OS is US developed, not just WP. In the US, the Superbowl is as big as the World Cup. Comprende?

Si comprende. I am fine with all that, I just think MS need some dedicated teams that will concentrate on features for markets outside the US. I am sure they exist, they just don't seem to be all that visible. As for WP Central having a mostly US audience, again that's fine. Obviously 4% of America is more people than 12% of the UK, but even still you'd expect more British people here than there are. There should be a WPCentralUK or somesuch. But that is my point, sure the US is one of the biggest markets, it's developed there, most app developers are there - so of course it has to be the number one focus for MS. But not the sole focus, which at times it seems to be. Anyway, I guess being the morning here in the UK the game is over, I hope whatever team you supported won.

Dominos is great. Pizza Hut is worse, but here's the great thing.... Their pizza boxes promote that their app is on windows phone. Even the box has Windows Phone written first before iPhone and Android.

Awesome, wasn't aware of that.

Because a televised event is something to survive through. Like a nuclear blast.

How about focusing on events that occur in countries where WP has more than 5% market share? Oh and by the way its not football, its pussy rugby. Football, as the name implies, is only played with your feet... :)

I'm one of the 5%, that's why ;) hehe

Well done. Not that I care about proper football either, but considering the tiny % WP has in America it is quite amazing how this site is so US created and focussed. Kind of shows in some backward way why it hasn't taken off like it should.

Well let's see. MS is a US company. WPcentral is a (mainly) US based website. What are you getting at?
As far as why WP hasn't taken off here that's been discussed to death already. Hint-Android and Apple.

I said it somewhere else in these comments, but while I totally understand that I also think it shows a problem with the way WP is built and marketed. Sure 4% of America is more than the 12% WP has here in the UK, and I also realise most developers are in America as well; so of course the main focus for WP has to be America. But as you say it is a hard battle for it there because of the incumbent Apple and Google products. So I feel MS need to have more localised teams promoting and building support for WP in other, small, but key markets. I realise these teams exist, but I just don't feel they are visible enough. I think having Nokia as their partner has helped a lot as Nokia are more World focussed than Microsoft. Anyway, things are improving all over and while 2013 was good for WP, it wasn't quite as good as i'd hoped it would be. They got the key apps and there has been growth, but 5% overall, well I thought they would double that. Hopefully with WP8.1 coming soon, more OEMs taking up the fight and also (I think more importantly than many people realise) improvements to Windows 8 with 8.1 and Update 1 around the corner and general perception of the Microsoft and Windows brands will give a halo effect to improve WP uptake - like the iPhone boosting all other Apple sales. And I think there should be a WPCentralUK. And a WindowsCentral; but that's another topic.

Yeah, except the term football refers to it being played ON foot and the ball being advanced on foot, just like rugby football, association football, Gaelic football, Aussie rules football, etc. There are still more violent injuries in gridiron football than any other form, with the pads, and it's the most complex team sport in the world. That's a fact. Research something before making poor assumptions.

I think you are the one that has to research rugby, there are definitely more injuries there, and since you can't even kick or pass the ball forward, its likely more complex.

Think about it that way, you are getting to know more of an another culture; personally I don't think that posts like the Indian rickshaw taxi service app is more interesting for people living in Europe anyway, at least the Superbowl is sports after all.

I am a fan of rugby. I know it is also a complex game. How can you claim that if you don't research yourself either? I know rugby has more injuries overall, I said violent injuries, like broken limbs, torn ligaments, concussions, etc. Maybe "serious" injuries would have been clearer. It's a more dangerous game with pads because that allows players to run full speed into each other. Linemen can be upwards of 350 lbs. and have no more than 15% body fat. They study judo and sumo to hone their skills at the line. Would you be okay if one fell on you? There are hundreds of former and current players with permanent brain damage. Look up American football plays on Wikipedia. That's just a very basic introduction, there are thousands of variations and each coach has hundreds of personally designed ones. The intermittent style of gridiron football led to this, every player on the offense has a specific role in every play that they must carry out correctly or it will likely fail. Think of it almost like a game of chess or go. The whole game is centered around passing the ball forward, it is just generally done by one player and has to be done behind the line of scrimmage.

Broncos all the way. Ps. Nobody asked you for your unhelpful opinion Dare2Blink.

Easiest way to survive it is to not be an American. Job done.

Enough with the dam Superbowl already.... LMFAO.

WPCentral's app - this way I can learn about more great apps for other major events & holidays. You guys do a good job... probably.

I wish papa johns had an app for windows phones

Which one of these apps lets me watch if live for free?

Check out "FlashVideo" for Windows Phone http://www.windowsphone.com/s?appid=ff811366-4d1b-42be-9254-d9f6f3dd3e8e. Paid but great for sports streaming.

Yeah any apps work for streaming?

Check out "FlashVideo" for Windows Phone http://www.windowsphone.com/s?appid=ff811366-4d1b-42be-9254-d9f6f3dd3e8e. Paid but great for streaming.

I like papa johns but hate the fact that they don't have a WP app.

Seahawks! I wanna see Peyton hurt, crying and in total turmoil! They beat my Patriots, now its time for payback!
Windows Central Newsletter
Thank you for signing up to Windows Central. You will receive a verification email shortly.
There was a problem. Please refresh the page and try again.