Top Windows Phone weather apps for severe weather season
Windows Phone Central App Roundup: Weather Apps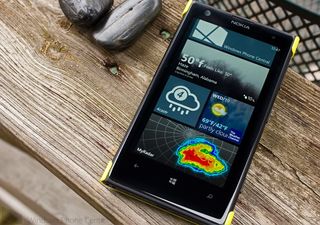 There is little debate on whether or not we have an ample selection of weather related apps in the Windows Phone Store. Some will argue we have too many Windows Phone weather apps, while others like the variety and options available. Regardless of your position, when the weather starts to turn south some of these apps can help you keep track of severe weather situations in your area.
As Spring quickly approaches so does the Spring severe weather season. Many parts of the U.S. will see weather events ranging from dangerous thunderstorms to deadly tornadoes. Some of us will also be facing Hurricane Season in a few months, which will present more severe weather potential. For this week's Windows Phone Central roundup, we focus on Windows Phone weather apps that do more than just give you the current temperature and weekly forecast. We will highlight four of the top rated weather apps that have a little more meat on the bone when it comes to delivering weather information to your Windows Phone.
Weather (free)
Weather is the official Windows Phone app for The Weather Channel and delivers an abundance of weather information to your Windows Phone.
Key features for the Weather app include:
Forecast information that includes your current conditions, hourly forecast breakdown, a 36-hour forecast, and a ten day forecast
Live Tile support
Radar and Satellite imagery
Weather videos
Severe Weather Center
Push Notifications on weather alerts (U.S. only)
Another nice feature of the Weather app is the ability to monitor your friend's weather. You can select friends from your contact list and view the current conditions from the address you have associated to the contact. You can also pick five friends to be highlighted on the My Friend's Weather page and view a snapshot of the current conditions at their location and view any weather alerts that might affect them. Being able to quickly view these alerts gives you the ability to contact your friends or family to make sure they are aware of the weather conditions.
We tapped the Weather app over the other main stream Windows Phone weather apps for this roundup because of the dedicated Severe Weather Center feature. To activate this feature you will need to go into the Weather app's settings and turn on the severe weather alerts.
Once activated, the Severe Weather Center will deliver pages covering local alerts, a National forecast, detailed information on any storm watches and a tropical summary. This information can come in handy when preparing for a severe weather event or monitoring the weather as the event unfolds.
The Weather app comes in two versions. There is a Weather app in the Nokia Collection that is exclusive to the Nokia Lumia Windows Phones. There is also a Weather app in the Windows Phone Store that is available for all Windows Phones. There are some slight layout differences in the two versions and the non-Nokia Collection version lacks the friend's weather feature.
Both versions are free, ad-supported apps that are available for Windows Phone 8 and 7.x devices. You can find the Nokia version of Weather here in the Nokia Collection (left QR Code) and the non-Nokia version of Weather here (right QR Code) in the Windows Phone Store. Lastly, there is a Windows 8 version (free) of the Weather app that you can find here in the Windows Store. (opens in new tab)
Amazing Weather HD (trial/$1.99)
Amazing Weather HD has been one of the more popular Windows Phone weather apps for some time now. Described as beauty meets brains, this weather app delivers a lot of weather information to your Windows Phone in eye-appealing fashion.
Key features of Amazing Weather HD include:
Current weather conditions and a ten day forecast
Daily forecast breakdown
Hourly forecast breakdown
Radar and Satellite imagery
Auto-location feature (changes your forecast location as you travel)
Live Tile and Lockscreen support
Weather alerts
One thing that makes Amazing Weather HD stand out from the rest is the customization available for the Live Tile and lockscreen support. Amazing Weather HD does a good job recognizing that one size does not fit all.
Amazing Weather HD has a combined seventeen styles for the three Live Tile sizes and support for front/back display. The lockscreen support includes seven styles and the options to use images from Amazing Weather, Bing, or a custom image from your Pictures Hub as the background (a fantastic feature).
Amazing Weather is well suited for severe weather situations with the push notifications for weather alerts and radar/satellite imagery. The only downside to the weather radar is that it is not animated.
Amazing Weather HD is a feature rich to consider for your Windows Phone. It does a very good job keeping you informed of the current and forecasted conditions, alert you when the weather could get bad and the weather radar will let you take a look at what is headed your way. There is a trial version available and the app is available for both Windows Phone 8 and 7.x devices. The full version is currently running $1.99 and you can find your copy of Amazing Weather HD here in the Windows Phone Store.
4castr (free)
4castr (formerly known as Weather+) is one of the more recent Windows Phone weather apps to land on Store shelves. Pronounced "forecaster" the Windows Phone 8 app has simplistic design and relies on swipe navigation to move from information panel to another.
The main pages include:
Current weather conditions with a banner for active weather alerts
10 Day forecast that you can pinch to zoom to view all ten days on one screen
10 Day hourly forecast
Weather radar
Just swipe up/down to navigate between the main pages and left/right to navigate around the various days in the extended forecast pages. Should you need help remembering all the gestures, there is an animated tutorial that is available when you launch 4castr that can be replayed (up under the three-dot menu).
Additional features for 4castr includes:
Live Tile support with a combined twenty-seven styles for all three tile sizes
Voice command support
Custom weather icons
Toast notifications for weather alerts
4castr is a handy weather app that lends itself to one-handed operation. It provides a decent amount of weather information and not a bad choice of weather apps to consider.
4castr is a free app that is available for Windows Phone 8. You can find your copy of 4castr here in the Windows Phone Store. Some of the customization features will require a $1.99 in-app purchase to become unlocked.
MyRadar Weather Radar (trial/$3.99)
MyRadar Weather Radar is the more limited option in today's roundup but is still an excellent app to have installed on your Windows Phone to help you track active weather situations.
Simply put, this weather app delivers animated weather radar to your Windows Phone. The radar map has three map type options (road, aerial and grayscale) and has three layers (radar, clouds and temperature).
The radar map is touch zoomable and scrollable with a "my location" button at the bottom of the screen to center the map on your current location.
MyRadar Weather Radar has two add-on opportunities that can add weather alerts ($3.99) from the National Weather Service and hurricane tracking information ($2.99). These in-app purchases can be found in the app's map layer menu.
There are two versions of MyRadar Weather Radar available for both Windows Phone 8 and 7.x devices. MyRadar Weather Radar Free (ad-supported) can be picked up here (right QR) in the Windows Phone Store. MyRadar Weather Radar (ad free) has a trial version with the full version running $1.99. You can find MyRadar Weather Radar here (left QR) in the Windows Phone Store.
Lastly, there is a free version of MyRadar Weather Radar (opens in new tab) available for Windows 8 that you can pick up here in the Windows Store.
Honorable Mentions
These four Windows Phone apps are quality options to consider when shopping around for a weather app. All four do a respectable job of delivering weather information to your Windows Phone that can be useful for planning out your day to preparing for/monitoring severe weather.
Along with the four apps we've highlighted in this week's roundup, we would also like to tap a handful of worthy weather apps that are worth considering as well. They may not be as feature rich (e.g. no radar) but do a great job of keeping you up to date on the current conditions and forecast. They include:
While we have mentioned several Windows Phone weather apps, we still may have missed your favorite weather app. If so, please toss out your recommendation out below in the comments.
Windows Central Newsletter
Get the best of Windows Central in in your inbox, every day!
George is the Reviews Editor at Windows Central, concentrating on Windows 10 PC and Mobile apps. He's been a supporter of the platform since the days of Windows CE and uses his current Windows 10 Mobile phone daily to keep up with life and enjoy a game during down time.
It's much better since Samsung updated the look. It still want update your current location. Also a flip tile with a 5-7 day forecast would be nice.

Vieather and bing weather are my pick.!!! Simplicity

I really like Amazing Weather (I have the paid version), but I wish they would add animated radar.

Most of these weather apps don't have animated radar, which makes them less than ideal for severe weather.

I agree. Amazing weather needs animated radar, without it it makes it hard when playing outdoors

Me too, Ismachado. I am very happy with it and won't switch unless I run into issues down the line. It gives me all the info I need in various well-presented formats.

It is under honorable mention.

Accuweather seems to be accurate in my location (no pun intended)

Accuweather.....accu...rate

Is it just me or the Bing Weather tile stopped updating again?

I noticed the same thing, for several days. I finally got frustrated and removed it in favor of Weather Flow. That's a shame because I really like Bing Weather.

Bing's tile backgrounds are more beautiful than the other apps, I hope they'll fix it soon.

It is working fine for me..Bing weather is the best weather app in the store..

Not just you. I just bought Amazing Weather HD yesterday because the Bing Live Tile stopped updating. So far, I like it fine, much better than Weather Channel. I keep That one solely for severe alerts, but I hate using it because every time I open it, I am treated to an annoying 90's style banner ad with animated snakes or spiders telling me to refinance my mortgage. It wasn't AS bad when the ads ran at the bottom, but it's almost unusable with them at the top.

Same here :( Bing Weather tiles are gorgeus!

Mine stopped updating too. The weather channel app does update and has animated radar, so that's now pinned to my screen

Which weather app is most accurate? I have three apps on my phone...and there could be 10 degrees differences between the three.

There's a simple solution. Buy a thermometer and verify yourself.

But but, I don't have one. Mind sponsoring me to get one?

Weather apps uses some sources for the predictions. There are few companies in the world that can predict weather mostly everywhere with theis own data. So, accuracy is not an app question, but weather data source question.

I found that Bing Weather is the most accurate. I tried several of them and also bought Amazing Weather HD, but still like Bing Weather more. In my phone the Bing Weather app always updates the live tile. For today, at my location, BW gives me 16ºC max and AWHD gives me 19ºC. And Bing got to be the right one.

Off topic Facebook gets an update and now its loads the app and feeds very fast. Viewing notifications and pics seems faster. Pics aren't that faster where it loads in a flash on other operating systems but this update is imp and was much needed seriously

go tip them rather posting here , or post the same on forums.wpcentral.com

Agreed. Install Bing Weather and call it a day.

Epic fail for me. I'm constantly traveling thru different cities and Bing weather doesn't update with my current city.

well - you have to pin the current location on the start screen. works alrlight

I'm in Savannah and Atlanta all the time. Bing want automatically detect your city on the live tile. The weather channel app is the only app that constantly keeps up with my current location.

Hmm... I'm in Georgia too, the Bing Weather app does change locations for me. Strange.

Well i don't go to many places so I love Bing Weather.

I have tried most of these and it seems there is a problem with updating the live tiles. I think, however, that Accuweather does the best job at updating the current temperatures.

This update problems are Windows Phone 8 fault. Next update will correct this kind of things...I guess

agree
It is very nice and accurate weather data ;-)

I prefer the Weather Flow... the lock screen AND brazilian portuguese support are decisive for me. I'd change to Amanzing Weather if they support other languages. This app is beautiful!

Is the WP7-version of the Weather Channel App able to show information on the Lockscreen?

You left out Weather Sense, it has the best notification alerts of all and is very similar to Amazing Weather too

Anything close to yahoo weather?

Yahoo Weather client is now available for all windows phone users. The app has just been released a week ago. Please share this news with your friends and other communities :)
http://www.windowsphone.com/en-us/store/app/yahoo-weather-pro/2b81e63e-5f66-4462-adc3-5a422653748d

Weather weather weather apps always...

For the UK I would say that the official met office is my favourite, its got all the best features but I just wish it had more info on the live tile.

Bing Weather *does* allow current weather images to be used in the lockscreen? So why does this article say it doesn't :P (oops just noticed the "local images" part. ignore :P

I love accuweather... It's been accurate so far

Is it me or does it seem like this article has been rewritten like three times now?

I think more like 5 times lol

Written only once; edited 5 times

When did the weather channel app get lock screen support s

My mistake. Dealt with so many apps this week they all began to blend together.

One of very few things I like about AT&T. When you buy apps using your phone the cost gets added to your phone bill. Just bought MyRadar.

I don't understand how any of these apps without animated radar can be considered best for severe weather.
I use Bing, but Weatherbug is the most accurate for my area - unfortunately their app sucks and is actually a downgrade from their WP7 version.

Totally agree. This is an important feature which is hardly ever mentioned in weather app reviews. Can't tell you how many weather apps I've loaded just to find out animated radar isn't included. Weatherbug is clunky and not very metro but it has everything I need. I'll take clunky and out of date over pretty and missing features anytime!

Weatherbug used to show weathercam images on the live tile, it was my favorite thing about it and as I said, it's the most accurate here, but after removing the webcam live tile I deleted it in protest.

Amazing weather HD is a complete weather app. I have the paid version and money well spent. I am sure it will get better and better in future. I love the lock screen icons, with Bing pictures.

Complete... completely without an animated radar.

Living in Kansas, the radar quality is my primary conern. I have a dedicated weather alert radio for alerts - its just a neccesity - so those features aren't so critical for me. Nice, but not critical. The radar on the other hand....I seem to like MyRadar the best. Its quick loading, zooms/pans well, and seems accurate. In short, an app that does its one thing well. Use the paid version. For everyday weather, currently using Viether. Trial'd Amazing Weather, but it just didn't jive with my tastes. Too much visual chrome I think. Do miss the lockscreen capability though. Had used Weatherbug before, but yeah, their visual style is meh, and they don't have an ad free option like they do on Android. Would love to see some weather app access the almanac data, particularly for precipitation. Being able to see a monthly/annual total would be awesome.

If radar is your primary concern, try Mobile Radar Level 3, AKA MRLevel3. http://www.windowsphone.com/en-us/store/app/mrlevel3/3a226a1c-d59f-43c0-8771-32b1014c9f94v

Tried that app a while back since I live in one of the most likely places for tornadoes in the USA. It hardly ever loaded properly, took forever to refresh, and often failed when trying to do so.

I'm the author of MRLevel3. Did you try to get support for the problems you were seeing?

Mike. I like what I think MRLevel3 does but for that price there should be more info. Better yet a trial of some sort maybe in app purchases.. I would pay the price for a good detailed weather radar with individual storm cell details such as cell direction, speed, altitude, and hail or rotation. Even then I would still want to be able to give it a test drive like anything else that costs more.

Where is super minimalistic, most metroish Weather app by Microsoft?

Try Strawberry Weather! It's a UWP app but with the Metro UI!

I've been using Weather and the accuracy has been horrible lately. I might have to switch to one of these other apps.

What about Weatherish ??, give it a try!!

Where is the forecast love :(

I love my 7 day forcast, except when it rains or is cold.

How about dogeweather? :DD

Needing to have multiple apps for weather just to get a decent animated radar is incredibly frustrating. Get on the ball Weather Flow!

I realize this is a fairly trivial feature, but, do any of these weather apps show the time on them? I'd like to replace my HTC tile with a nice weather tile, but I've gotten really use to have the time displayed on the HTC weather tile.

I'm working on a new weather app with some unique features and a focus on accuracy. It should be out in about a month.

We want Dark Sky!!! It's on iOS and very accurate!!!

This is exactly what I'm building currently.

Weather To-Go is my fav weather app

Are there any apps that will create an alert with sound (toast?) if there's an alert in your area? Such as, a lot of the apps will change to your current location, and if there are alerts they will show on the tile, but are there any that would do more than that somewhat passive alert? Or even, being in one area and an alert is issued, having it pop up? A lot of weather stations offer this for specific locations, where you can get text alerts, but that doesn't work so well if you're traveling. you can sign up for alerts for all areas you might be in, but that could be a pain if there's lots of alerts for areas you're not currently in.

Are there any weather apps that are as fast as the newest FB update?

Amazing Weather HD is awesome, I have the full version. I have been using it from WP7 days, it's the best weather app out there.

Can it predict the end of days? LOL

MRLevel3 is by far, the best radar-mapping app in the market. Not complete, yet but seriously robust for die-hard storm-chasers who appreciate Gibson Ridge Level2, Level3 and Dual Pole radar image usage.

WeatherFlow: Last updated 4/3/2013 Needless to say it isn't being supported anymore, so don't expect any new features.

Weather Radar Tile is excellent for severe weather for those that know anything beyond "I am wet so it is raining" about meteorology. It has all of the bells from radar, including base and composite reflectivity and velocity. The velocity field is key for identifying tornadoes.

I am looking for a weather app that covers Canada that has can show quick status on the lock screen. You know where you can choose 5 apps that display a small symbol and number on the lock screen. I don't want something that takes over the whole lock screen

For my HTC 8s the HTC hub is best

I didn't see Rad Now! In the comments. I've been using that since nearly the beginning and it doesn't have the alerts of MyRadar that you can purchase but it actually brings you to your current location and gives decent detail. It doesn't give storm directions and all the fancy storm chaser information but it works well enough and loads faster than others and animates. http://www.windowsphone.com/s?appid=4919d057-4feb-df11-9264-00237de2db9e

I enjoy the Met Office official app, but it does require frequent reinstalls. But does what I need, and they are likely to be the most accurate.
Windows Central Newsletter
Thank you for signing up to Windows Central. You will receive a verification email shortly.
There was a problem. Please refresh the page and try again.