Torrex Pro is officially available on the Xbox One for your BitTorrent needs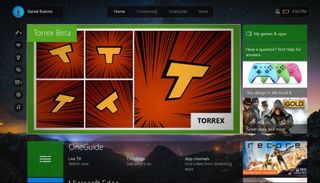 As promised, developer Finebits has launched the Xbox One version of its Torrex Pro BitTorrent UWP (Universal Windows Platform) app for $7.99 after a few weeks of beta testing. It has also launched its own web browser for the console for Torrex Pro users to download those files.
The app has been optimized to work well with the Xbox One controller. Here's a quick rundown of its features:
Simple and intuitive interface.
Smart adaptive design.
Fully universal application (UWP).
Background mode support.
Ability to play media files immediately after the start of downloading (streaming).
Built-in viewer for music, video, images and text files.
Plays MKV formatted video files.
Configurable content view (tiles, table, tree) and various color themes.
Download priority management, filters.
Possibility to stop seeding upon completing a download.
Connection encryption.
Download speed control.
As we have mentioned before, users will need to add the torrent files via an external USB drive rather than through the Edge browser. However, FineBits also has its own browser that can hand-off torrent files to Torrex when on the Xbox One. The app is just called 'Internet Browser' for now, but the name will be changed at a later date.
Download Internet Browser for Xbox One (opens in new tab)
Download Torrex Pro from the Windows Store (opens in new tab) ($7.99)
Windows Central Newsletter
Get the best of Windows Central in in your inbox, every day!
so how will this work say u download a album or movie is there a built in file manager with this as well?

Just curious.... but wouldn't it be cheaqper and faster to use a torrent client on your phone, PC, NAS, etc? For me, I initiate a torrent from my phone (lumia 950) to my Synology DS716+ (NAS) and once done, it's moved to a folder that has UPNP setup on it, so the Xbox one, or anything really, sees it with no problem.

You could initiate on Xbox and start watching while it is still downloading, no need for extra hard ware and it's faster to begin.

The RIAA isn't going to come knocking at my door, are they?

Depends on what you download.

Well they say you can encrypt the connection which is a must make sure you do this and you will be fine

Still shocked that MS has given this a green light. Whilst I acknowledge that there are many noble and genuine reasons to torrent, surely the none legal use, which is huge, would sway MS against this. And how easy, and more importantly, effective are the encryption options?

Is there any concern about viruses within a torrent? Posted via the Windows Central App for Android

Depends on what you're downloading and where from. I've never gotten a virus from torrenting.

Maybe I should have worded my question better...are the torrents stored locally so that a virus may be a concern on your Xbox? Has anyone heard of a virus corrupting an Xbox in any way, shape or form? Posted via the Windows Central App for Android

I have the paid version already on my phone and laptop(s), will I have to buy it again for my Xbox?

Not at all... Onestore on any device!!!

Nope. It told me I already own the product.

Does this mean that it will download/update again on PC? As I've had an error for a week.

Not sure how this works. I navigated to my favorite torrent site using their internet browser but when I click on the link to download, it doesn't do anything. Just asks me if I want to try an app in the store but Torrex Pro is already installed. I don't get it.

This app has some problems. Same torrent file downloading in utorrent @1MB/s and at 0/s in Torrex pro on the same computer and at the same time on the same internet

So can ya download Xbox one games for free now then

Cant open on my Xbox. Instant Crash
Windows Central Newsletter
Thank you for signing up to Windows Central. You will receive a verification email shortly.
There was a problem. Please refresh the page and try again.