Toshiba unveils new affordable Windows tablets with Wacom pen support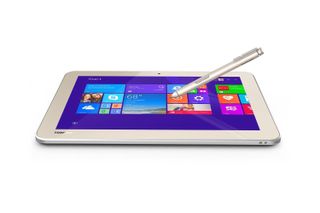 Toshiba has today unveiled the Encore 2 Write family of affordable Windows tablets at CES in Las Vegas. The devices support pressure-sensitive pens, just like the Portege Z20t, provided by Wacom's feel pen technologies. The new Encore 2 Write tablets are available in 8- and 10.1-inch configurations.
So what's inside the Encore 2 Write tablets? They're both powered by the Intel Atom CPU, sport 2GB of RAM, 802.11n dual band Wi-Fi, 64GB of internal storage (with MicroSD support), Micro HDMI, and can run for 11 hours straight. The specifications aren't bad for the price.
Toshiba states the tablets will be available for purchase from January 11, 2015 at select retailers, including Microsoft Stores. The 10-inch model will be priced at $399.99, while the cheaper 8-inch version will go for $349.99.
LAS VEGAS--(BUSINESS WIRE)--CES 2015, LVCC Central Hall Booth #11028-– Toshiba's Digital Products Division (DPD), a division of Toshiba America Information Systems, Inc., today announced its Encore™ 2 Write tablets featuring a pressure-sensitive pen and an ultra-responsive screen for more paper-like precision. These progressive devices are the first Windows 8.1 tablets to feature latest-generation feel™ pen technologies by Wacom®, enabling new productivity possibilities for everyday users, while delivering well-balanced performance in a thin and light form factor with great battery life. Available in 8-inch and 10.1-inch diagonal screen sizes, Encore 2 Write tablets are available for a starting price of $349.99 MSRP2.
"Committed to People, Committed to the Future"
"Whether you're a compulsive scribbler, sketch artist or simply prefer handwriting notes in meetings, this tablet features technologies that make writing on screen feel more natural than ever. And because it's a Windows tablet, it's compatible with your favorite Office programs and apps, so you can get going right out of the box," said Philip Osako, senior director of product marketing, Toshiba America Information Systems, Inc., Digital Products Division.
Toshiba's exclusive TruPen™, included with Encore 2 Write tablets, is a "pro-grade" pen with a fine tip and 2,048 levels of pressure sensitivity, enabling sharp strokes while minimizing lag for greater precision and accuracy. In hand, it virtually feels as natural as writing on paper.
"This is a very important milestone for Wacom, too, since the Encore 2 Write tablets are the first products adopting Wacom's Active Electrostatics pen technology (branded feel™)," said Hidetoshi Kamoto, Head of the Component Business Unit at Wacom Co, Ltd. "By working with leading partners like Toshiba for more natural and intuitive user experiences on mobile devices, we are aiming to make the world a more creative place."
Encore 2 Write tablets include a one-year subscription to Microsoft Office 365 Personal, featuring full-versions of the latest Office applications, including Word, Excel, PowerPoint, OneNote and Outlook. Work online or offline and keep files in sync across devices with unlimited storage through OneDrive.
Also included with the tablet is Toshiba's exclusive suite of Tru apps designed for the way you work. Included apps are:
TruNote™
Toshiba's powerful yet easy-to-use note-taking app lets users effortlessly take lecture or meeting notes, make markups on photos and graphics, draw, doodle, paint and more. Featuring an all-new user interface that works with Microsoft Office, TruNote makes it easy to switch pen colors and textures, import images and photos, and organize notebooks. The app's search functionality intuitively finds handwritten characters in any note, and any text, drawing or image can be easily selected and exported into Word, PowerPoint or Excel. In addition, left-handed users will love the app as it features a mode that switches the menus from the left to the right side of the screen.
TruCapture™
Use the tablet's built-in high resolution 8MP camera to capture notes from textbooks, blackboards, whiteboards and chalkboards and automatically straighten, sharpen and brighten the text for greater readability, which can then be imported into TruNote. It also features character recognition to quickly and easily extract information from printed text.
TruRecorder™
The next generation of audio archiving, Toshiba's powerful TruRecorder app makes it easier than ever to record meetings, lectures and conversation and revisit them later. TruRecorder can parse the audio of a multi-party conversation, differentiating each speaker's unique voice, and make it available for selective playback, providing an icon for each speaker.
Optimized for Productivity
Powered by the quad-core Intel® Atom™ processor and 2GB of RAM5, Encore 2 Write tablets provide all the performance and speed necessary for getting work done all day as well as fast start-up, browsing and multitasking in Windows 8.1. The tablets offer up to an 11-hour battery life6 for general usage and up to 8 hours of video playback. Stereo speakers plus Dolby® Digital Plus audio provide an immersive audio experience, while 802.11n dual band Wi-Fi® offers speedy streaming and smooth browsing. Encore 2 Write tablets additionally make it easy to enjoy content on compatible HDTVs with a built-in Micro HDMI® port (available on the 10") and wireless display support right out of the box.
"Toshiba's new Encore 2 Write with TruPen technology and Microsoft OneNote provide users with a new level of digital productivity," said Peter Han, VP of Worldwide OEM Marketing, Microsoft Corp. "And the ability to sync their OneNote data in the cloud enhances their connected experience across devices."
The tablets also feature 64GB of storage, a full array of tablet sensors, including GPS, accelerometer, gyroscope and e-compass, a micro USB 2.0 port for powering the devices plus easy syncing and sharing with smartphones as well as a microSD card slot that supports up to 128GB cards to expand the storage capabilities.
Pricing and Availability
The Encore 2 Write tablets will be available for purchase starting on January 11, 2015 at select retailers, including Microsoft Stores and on toshiba.com/us. The 10.1-inch Encore 2 Write is priced at $399.99 MSRP and the 8-inch model is priced at $349.99 MSRP.
Connect with Toshiba on Facebook at www.facebook.com/ToshibaUSA, on Twitter at twitter.com/ToshibaUSA, and on YouTube at youtube.com/ToshibaUS.
Windows Central Newsletter
Get the best of Windows Central in in your inbox, every day!
Rich Edmonds was formerly a Senior Editor of PC hardware at Windows Central, covering everything related to PC components and NAS. He's been involved in technology for more than a decade and knows a thing or two about the magic inside a PC chassis. You can follow him on Twitter at @RichEdmonds.
Where is the video to go along with these stories?

Would this tablet allow to install .exe ??

They are instant reports..

A link to specs, such as screen resolution would be nice. Google time...

Where is the coffee and muffins to go along with this review?? LoL

Will it be a 64-bit version of Windows though? That way it can take avatar of the touch features with the me Adobe products. I am very intrigued.

I really like the specs and want a 10" tablet with a real pen. I bet the price drops quick though, so I may wait. Anyone know if they use Cherry trail?

Sweet full OS, and wacom, I'm sold !

Hmm, definitely gonna have to consider this for myself. Need a new tablet to replace my HTC Flyer and looks like this will make the cut. It's also by a Japanese company where I'm emigrating to, so easier to get support.

Since when has $349 for an 8 inch tablet been considered 'affordable'?.....

When it has a pen and digitizer. Remember the Lumia 830.

Why did you say remember the 830?

I would have to agree with you on the 8 inch model I got a Asus Note 8 with pen for less then that and it is the 64gb one. So $349.00 is a bit high. But I am more intrested in the 10.1 size.

The Asus Note 8 was 350$ when it was first released, at least the MSRP was, similar to the DV8Pro.

It offers more than most tablets of similar size. An actual wacom digitizer, hdmi port, more sensors such as GPS and Magnetometer that most manufacturers omit (surface pro doesn't even have GPS for some reason). This is pretty feature packed for the size in comparison to whats already been offered on the market.

Way over priced, these will sit on the shelf.

You can still get a Dell Venue Pro 8 for less than $200.

But the pen on the DVP sucks. I've had both the DVP (with the redesigned pen) and the Asus with the wacom and it is no comparison. The DVP is essentially touch only.

That's only the MSRP. I'm you'll find them for less when they go on sale officially.

I was expecting $99 kind of affordable hahaha

Yeah affordable for me is less than $200

Well then you should only expect o buy low end devices. These are considered affordable for what they are. Regardless of your personal budget.

Can you upgrade this to WIN 10 ?

Why do people ask this? By now we should all realize that if it can run 8.1 today, it can run 10 tomorrow.

Quite a long post yet no basic specs like screen resolution, CPU details, weight, dimensions etc.

Intel Atom answers one of your questions

They haven't specified the clock speed..

So what is an acceptable clock speed for you? I'm curious as to why people only look at clock speed when that hardly ever tells the "entire" speed of the device.

Resolution is 1280x800 or such.

I heard that Yezz Billy 5S LTE will come with Windows 10 at GSMArena. Is that true?

That is what Daniel also said could be a possibility. He said that windows 10 for phone could cone out with the phone in a couple months. I was also confused by the comment.

Actually, it was the guy from Yezz that said that, not Daniel. @lzulmanMSY the guy from Yezz said that he HOPES to have Windows 10 on the Billy 5S by the time is launches.

Forget the SP4, the SP3 is still a better device than this. That said, it is good to see devices like this pop up can only help the ecosystem. Edit: The smaller versions may be good though as secondary devices.

Can't compare a 1000$ tablet computer to a 350$ tablet...... What I can say is that toshiba's product are often priced higher than, for example, Asus or Acer.

Looks like intel is lowering the "support dollars" for OEMs picking those Atoms. These tablets are a bit expensive with that low resolution even with the active digitizer and pen.

Why should I buy this when hp stream 7is only 99$ and even so dell venue is 299 with the same specs and much better quality also there us Lenovo

The Stream 7 is not really comparable. The Dell certainly is, but there are some differences. Wacom will be of interest to some folks; so will the GPS. We don't yet know if this is thinner or lighter, but that would help. And maybe this will allow you to use the port for charging and data simultaneously, which the Dell does not.

Plus HDMI port. That is something many have been asking for worth the smaller tablets. Few have offered.

Maybe you are right some people may want that feature... Maybe I am talking about my self ... And hp stream 7 is very capable device ... I even run android in vm ... And work very good for such low specs so it a matter of tast at the end ... For me i see this new Toshiba is so over priced and would go Lenovo yoga over it which is now start for around 349 for a full featured lap and tablet

Right but they aren't compatible. More ram, better processor, bigger screen, active pen, hdmi port. Huuuuuge difference. If you like the cheap HP tablet that is great! But it isn't comparable to these. I want the hp stream 8 personally.

That's called market diversity. People have different tastes, budgets, and needs.

Awesome. There are no more excuses to buy those ridiculous android tablets.

Except for the whole "it runs Android apps and integrates with Google services" excuse ;)

I would love to give toshibas apps a try, such as TurNote and TruRecorder on my surface pro. Just tried to look it up in the store. Unfortunately it's not there yet ;)

I'm expecting so many smart watches for windows phone on this event this year...

Hoping a surface mini comes out now! I'll wait for the pen reviews before diving into these though

With 4:3 rario, it would be perfect!

Out topic
Is im the only one who can't open youtube main page via internet explorer on my lumia 520 ?

How is this considered to be affordable, it costs more than my laptop!

Well you must have a crappy laptop...

I wonder if it handles power state better than the current Encore 2. Have 2 of them and sometimes it's a pain in the @$$ to get them to wake up.

Does it only come in IBM\Refrigerator Beige? Or there are other colors?

Active stylus and full OS. The two things we still have on the iPad. Good job Toshiba!

What abt screen resolution?

It has a digitizer and an affordable price, as well as a 10" configuration. This is what I've been searching for. I had already given up the search. A shame that there's no keyboard, but I can improvise for that. A pen can't be replaced with third-party solutions.

These should be huge in the education sector. If a school purchased them in quantities, these make sense for a 1 to 1 program.

I wonder if I should refuse shipment of my ASUS Vivotab 8 that is being delivered today from the Microsoft Store. I jumped on it because it was on sale for $149.99 and has 2GB RAM.

Is it dumb comment day today. Reading some of these comments from people is really painful.

great, now let's wait for those 4:3 or 3:2 aspect ratios on 8", 9" and 10" devices :-)

Toshiba tablets look so ugly. Hopefully these will look better.

I'm sold, I just have to dig a little deeper but for the price it is good !

This tablet is excellent, so much features and capabilities
Windows Central Newsletter
Thank you for signing up to Windows Central. You will receive a verification email shortly.
There was a problem. Please refresh the page and try again.