Trade up to an Elite x3 with HP UK and save up to £500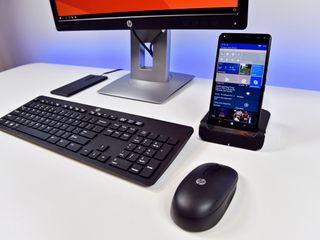 HP UK is offering a pretty tasty trade-in deal against the Elite x3 that could net you as much as £500 off the price of the phone by sending in your old one.
Sounds awesome, right? Before you go rushing off to trade-in your old phone, as the folks at Neowin outlined there are some pretty big caveats.
If you're going up to an Elite x3 from a Lumia 950 or 950 XL, you'll only get £125 trade-in value. If you're trading any other Lumia or general smartphone, it goes down to £100. To get the maximum £500, HP wants your iPhone 7 or Samsung Galaxy S7.
Either way, you're getting some pounds off the pretty high retail price of the Elite x3. The way it works is that you buy the phone between March 6 and April 30 of this year from a participating reseller, register with HP and send in your old phone to get a rebate. Your old phone also has to meet the following criteria:
You are the rightful owner of the Trade-in device and the Trade-in device is released from any contractual obligations such as leasing agreements or contracts
Your Trade-in device is no more than 3 years old
All user accounts have been removed
Your device powers on, has no water or screen damage and will be sent back with a working battery
Your device must be unlocked. If your phone is locked to a specific operator, please contact your operator to unlock your device
If this sounds like something for you, you'll find the full details linked below.
Richard Devine is an Editor at Windows Central. A former Project Manager and long-term tech addict, he joined Mobile Nations in 2011 and has been found on Android Central and iMore as well as Windows Central. Currently you'll find him covering all manner of PC hardware and gaming, and you can follow him on Twitter and Instagram.
You would have to be insane to trade an iPhone 7 or galaxy s7 in for any windows phone.

Why, because you can't get your bumble app? Lol

I had to look that one up. It looks like the kind of thing where you need pro shots to get results!
I don't use many more apps on Android than I did on Windows, but there are nicer and get lots of updates.
I still keep up with the updates on my Lumia to see what's going on though.

In fairness, HP's been very good about updating the X3 since they came out. I wish Alcatel would do the same...

You have to be insane to say that here 😁

Concerning the s7 this could be a good reason for exchanging it with a secure phone like the x3... even for a android fan: http://blog.checkpoint.com/2017/03/10/preinstalled-malware-targeting-mob... S7, a5, g4 and many more (phone which are years old to quite modern flagshipphones using android) have malware preinstalled by an unknown person in the supplier chain because android is too open and not very secure. Ios and windows phones are not a target, because the OSes prevent that by design.

Not for me it wouldn't. My most used app doesn't exist on iOS, have to use the web, and the Android version is pretty mediocre compared to the Windows 10 and 10 Mobile app. We all use our phones and that's why not all of us are rushing to get an iPhone or Android device. Because W10 mobile works better for US.

To me it looks like HP is the new driving force behind Windows Mobile, as opposed to Microsoft. If they are fortunate, this could have the same effect as Samsung and Android. In general though, Windows Mobile is great for enterprise but I am unsure about personal use. Either way, good luck to HP and Microsoft with this venture in the UK.

You are unsure about personal use ?? Why are you even here ?? Windows Ph 10 is breathtakingly beautiful as well as effective on my Lumia 735 and 830. Not so good on my old Lumia 720, but Win 8.1 still runs great on that one. I love my three phones, My 2013 Lumia 720 still beats most latest droids on camera and performance !

He would likely be referring to the app shortage. The OS can be the best thing in the world but the truth is that average consumers still desire the apps their friends and family use. And most of those just aren't available on Windows. And as much as you love your 720...its camera is nowhere near as good as the likes of the Galaxy S7 and LG G6 ;-)

I personally have a Lumia 650. I wouldn't change it, but in reality the app gap prevents Joe Bloggs from considering Windows Phone for personal use. UWP should begin to fix that, but until then I am unsure about its personal use.

Is this offer open wordwide or only limited to UK and Ireland

Thats why we have the 950.... Which has a camera which is very close to competing even with those of the s7 or newest iphones. And apps... That may be true to a certain degree, but really there is not much missing other than snapchat which was indirectly paid by google to not spread to windows phone... You decide if that is Something that should be supported yourself. Amd just a little note on the side: S7 has one of the worst security problems along with most other very popular android Smartphones at the moment... Malware if a third person in the supplier chain preinstalled. And if you are wondering: This has been discoveres recently but it has been in android smartphones since the likes of samsung note 2. In short: The mother of all security flaws i have heard of in a very long time... Ios and windows phone are not affected.

That's an awesome deal. Again, well done HP.

In Canada the Elite is on sale from$999 to $750. My wife just replaced her 640XL with it because she wanted something faster. It helped that she brought in her Band2 with a cracked band and got a full refund on it that she applied to the HP. It's a nice phone but the box it comes in is ridiculous.

If you trade in an S7 for an Elite X3, you're also given, COMPLETELY FREE OF CHARGE, a one way ticket into the nearest asylum! What a steal! ;P
Windows Central Newsletter
Get the best of Windows Central in in your inbox, every day!
Thank you for signing up to Windows Central. You will receive a verification email shortly.
There was a problem. Please refresh the page and try again.